Indian Tapas at The Peacock in Observatory
Experience the best of Indian food… tapas style!
On the corner of Trill Road and Lower Main Road in Observatory is The Peacock, a wood-clad haven housing some of the best Indian food this side of the city, served tapas style.
As you walk into The Peacock there's a wide, open seating area adjacent to the bar. With high-top tables and bar stools looking out onto the street of Lower Main Road, the floor-to-ceiling windows give patrons a great view of the world on the streets of trendy Obz. The space gets plenty of natural lighting and the interior is an interesting combination of palm trees, exposed brick walls and wooden finishes. Upstairs the space and the seating is comfortable, with warm orange walls, and decorated with peacock feathers, scatter cushions, bamboo and traditional Indian ornaments.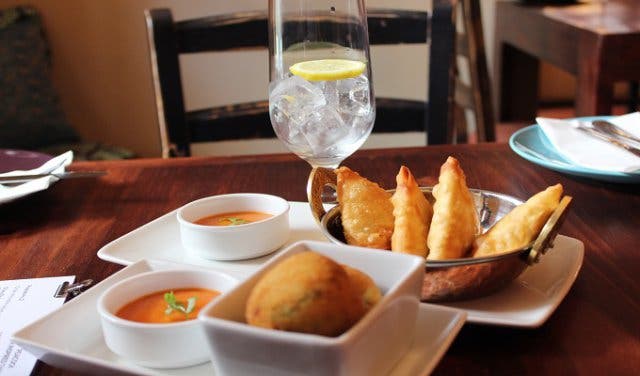 As we cosy up in a little booth upstairs, we can view the entire eatery, as well as watch trendy millennials go about their business on Trill Road. The rich aromas from the kitchen flood the space and after we settle in the lovely Chef Wadia Dramat comes to introduce herself. Her warm greeting immediately makes us feel welcome and I have no doubt that the warmth of this welcome will be evident in The Peacock's dishes too.
The Peacock's menu offers some of the most unique dishes you're likely to encounter at an Indian restaurant. It's clear that both the owner, Andrew Williams, and Chef Wadia are not afraid of experimenting with flavours and textures. On the menu is a bowl of samoosas, but not the way Aunty Yasmiena around the corner makes them. These gourmet sharing bowls contain fillings, such as the popular biltong, cheddar and caramelised onion; mashed potato with thyme, black pepper and white truffle oil; chilli prawn and spring onion and the vegetarian option with green beans, chilli chickpeas, ginger and lime.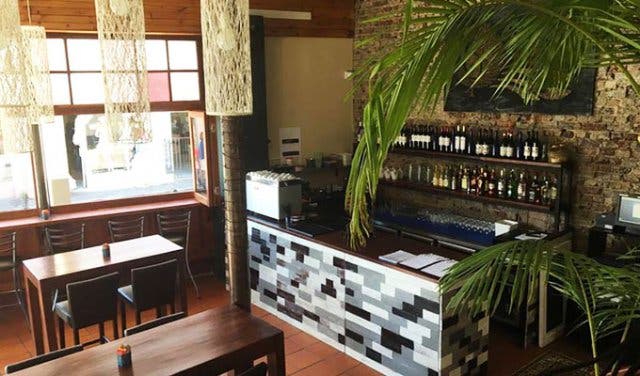 The vegetarian croquettes are also perfect for sharing, as each serving comes in sets of two. The potato croquettes are stuffed with blue cheese, coriander and chilli, served alongside a spicy tomato reduction dipping sauce. The soft texture of the filling blends beautifully with the crunchy outer layer, creating a sensational taste experience.
Up next is my all-time favourite dish, breyani chicken rissole! There is nothing ordinary about The Peacock's version of this traditional chicken and mixed vegetable dish though. As it arrives at our table, I look at Andrew, confused, as I was expecting a plate of delicious yellow edibles. "Now remember, The Peacock is a tapas bar," says Andrew with a chuckle. The Peacock added a new dimension to this favourite of mine by shaping the breyani into little balls and then crumbing and deep frying them to an extraordinary result! Served with mint raita, these little rissoles took my love for breyani to a whole new level.
While The Peacock specialises in Indian cuisine, they like to bring in culinary flavours from other parts of the world to spice things up a bit. The masala fish tacos takes its cue from Mexican cuisine and is a must-try for seafood lovers. This dish features masala-marinated yellowtail served in crunchy tacos with habanero raita, spring onion, rocket and coriander.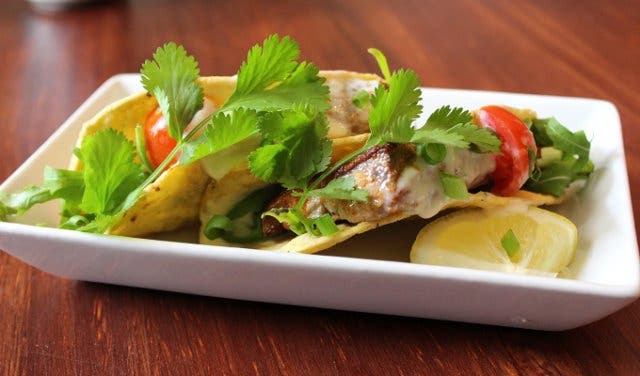 Last, but not least – as they say – it's time for the dish I've been eagerly waiting to try since I first got a glimpse of The Peacock's unique menu: naan bread pizza. This dish is made with traditional Indian flat bread enhanced with a choice of delicious toppings, including slow-cooked lamb, prawn curry, saag (a traditional vegetarian dish of lightly spiced creamed spinach, sprinkled with Paneer cheese and coriander), and butter chicken.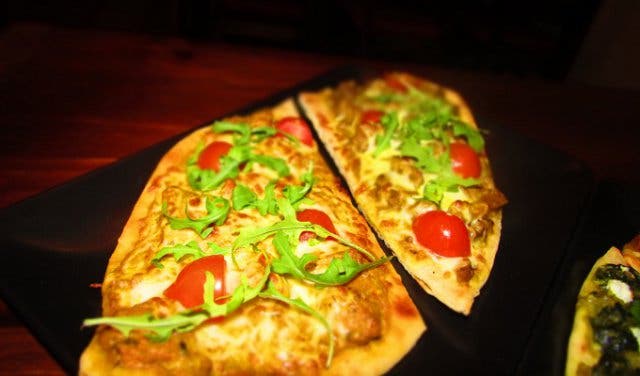 For dessert, The Peacock offers the deliciously rich chilli chocolate pot mousse. Expect to be blown away by a sensational taste as the dish hits you with an unexpected bite near the end. Get your partner to order the kulfi dessert so that you can enjoy the best of both! This decadent Indian ice-cream is infused with saffron and topped with roasted pistachios. Pair it with the chilli chocolate pot mousse for the ultimate flavour burst.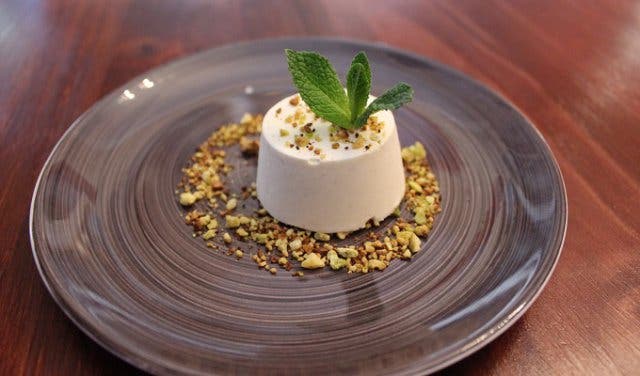 Opening Hours: Monday - Friday: 11:30am – 10:30pm | Sunday and public holidays: 5pm - 10pm
The Bill: Tapas: R30 – R104 | Naan bread pizzas: R82 – R106 | Mains: R72 – R106 | Desserts: R38 – R120
---
105 Main Road | Observatory | +27(0)21 300 3294
---
By Marian Volkwyn
---
ABOUT #CapeTownMagNew:
#CapeTownMagNew is a long-standing project that is dedicated to discovering exciting new places in and around our pretty city. We tell their stories, find out what they offer, and delve into what makes them unique. From cafés and restaurants to trampoline parks and dog hotels, there is always one new place in the city that we uncover each week. You can follow #CapeTownMagNew on Twitter and Facebook and subscribe to our newsletter to track recent features or read more here about more Hot Spots and New Restaurants in Cape Town and Surrounds.
DISCOVER OTHER EXCITING NEW SPOTS IN THE CITY: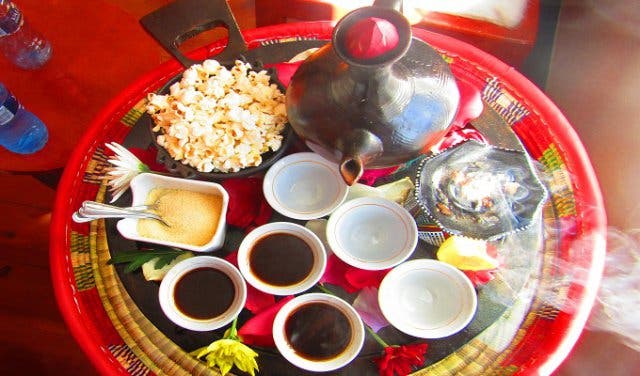 STAY TUNED AND SUBSCRIBE TO OUR NEWSLETTER FOR MORE INFORMATION
---
The Mother City is fast developing so to keep you clued up; we've rounded up some of the hottest latest additions to Cape Town in our New Restaurants and Hot Spots overview. Discover it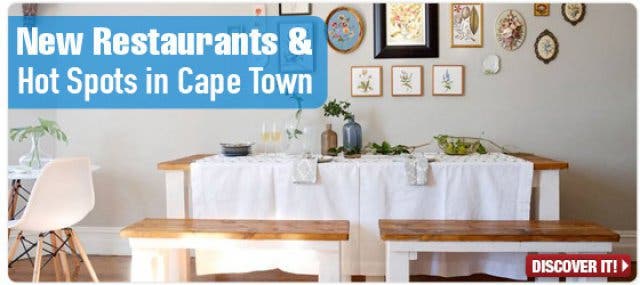 ---
Use our events section for an up-to-date overview of happenings in Cape Town. Also, don't forget to subscribe to our newsletter and if you have a smartphone, add m.capetownmagazine.com to your home screen for quick access on the go! Follow us on Twitter, like us on Facebook, join our Google+ circle, connect with us on LinkedIn, check out our photos on Instagram and follow our Pinterest boards for updates on what's happening in and around the Mother City