Daring diners indulge at Mavericks Restaurant and Revue Bar
Enjoy a bit of flirtatious fun at this risqué restaurant and revue bar
Sushi goes with beautiful women like cigars go with scotch, and at Mavericks you can have it all. Behind the burly bouncers, blackened windows, soundproof walls and burgundy velvet rope a whole world of wonder, reverence and awe awaits.
Easy (on the eyes)
My companion and I arrive rather early; we've heard about Mavericks' roaring reputation and want to ensure we have a table to enjoy our dinner, and view, in comfort. We are confronted by three storeys of insatiable entertainment. Elegance oozes from every inch of the restaurant and revue bar, which is covered top-to-bottom in dark wood, leather, marble and velvet. A number of golden poles stretch from the floor to as far as the imagination can go. There are a few couples who've taken up tables on the main floor and mezzanine gallery area; enjoying the evening's offerings of exotic dancers who have yet to take the stage, but instead are sashaying around the club mingling with patrons.
Just off the main floor is the Empire Lounge. A seductive golden statue of two lovers, entwined, is our welcome as we arrive at the exclusive area. Apart from the one syrup-coloured chesterfield panel, every other wall is a mirror (to provide patrons with a 360 degree view of their lascivious entertainment I'm sure). Velvet curtains add to the old Hollywood atmosphere, but they also double as a partition for provocative patrons who like to enjoy their entertainment in private.
Above the mezzanine floor is the Premium VIP Lounge which comes complete with a number of semi-private booths, a fully functional bar (as does the main floor and Empire Lounge) and a brass bird cage perfect for an evening of burlesque entertainment. Hidden behind another door is The Library.
Imagine, if you can, an immaculately kept private chamber of a judge, statesman or foreign dignitary. Floor-to-ceiling bookshelves cover every wall, chesterfield couches throughout the room. A locked chest, the size of a small coffee table, holds the memories of fun nights. The Library has a private waitron to ensure all your desires are met, as well as secret agent type rooms for private dances.
Easy (to eat)
By the time my companion and I have settled into the comfortable couches on the mezzanine floor, an attentive waiter has taken our drink and food orders. Going off his suggestion we settle on a sushi platter to share and two gin and tonics (mixed generously I might add).
Mavericks sushi is mouthwateringly fresh and a perfect dish for the occasion; it won't get cold if you find yourself distracted for moments at a time. The dancers are as easy to watch as the delicate finger food is to eat. But if you're in the mood for something hotter; pineapple chicken skewers, nacho baskets, vegetarian rolls and bar snack platters are available too, amongst other things. The menu has a selection of satisfying food stuffs as well as an offering of sultry lap or table dances. Relaxing Chinese massages are also available for patrons wanting to loosen their ties, let their hair down and relax after a stressful day.
Easy (does it)
Mavericks marries dinner and dancers seamlessly. The classy club presents gorgeous girls who don arousing attire, while dancing to mesmerising music as you dine and admire your surroundings. I'm two potent drinks in and as I try fix my gin-tinted gaze onto the waiter who is proposing a third, I realise that Mavericks is working its magic.
The night has been filled with a kaleidoscope of skilled dancers whipping themselves around the two poles found on the main stage and VIP section on the mezzanine floor. A number of sociable ladies have walked through the club and offered dances, drinks and cigars to the patrons. It has been an evening filled with uninhibited fun and my companion and I have a comprehensive understanding of why the risqué revue bar is so popular among Capetonians; it is the ultimate indulgence.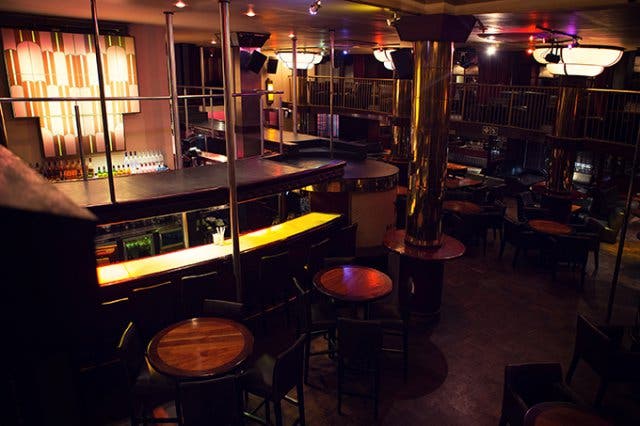 Mavericks' bottom (ahem) line
Mavericks is the perfect place for a night of flirtatious fun and risqué business. If you're a daring diner looking to enjoy mature entertainment amoung beautiful company, sipping on gorgeous cocktails then this is definitely the place for you. First-timers might need a minute or two to catch their breath, but even the most bashful of people will be made to feel welcome and comfortable.
BOOKINGS AND ENTRY TO MAVERICKS RESTAURANT AND REVUE BAR
Basic entrance to the stripclub is R100 for men and R50 for women; Entrance to the VIP sections is an additional R400p/p.
Bookings are available in advance ensure maximum advantage is taken of all that the club has on offer. You can either book online at Mavericks.co.za or you can call the club to make a reservation.
Dance prices at Mavericks are R300 for a table or lap dance that lasts two songs, and R750 for a VIP dance in one of the private rooms. The Library is R1000p/p.
VIP Membership to the clubs:
| | | |
| --- | --- | --- |
| Membership | Price (per annum) | Package details |
| Silver | R4000p/p | Unlimited access to all VIP areas, all year round, with one guest |
| Gold | R7500p/p | Unlimited access to all VIP areas, all year round, with five guests |
| Platinum | R12500p/p | Unlimited access to all VIP areas, all year round, with 10 guests |
| Corporate | R25000 | Unlimited access to all VIP areas, all year round, with 25 guests |
Words by Inga Sibiya
---
To stay in the loop on all things Cape Town, subscribe to our free newsletter and connect with us on Facebook and Twitter.