Ben Wei Asian cuisine in Wembley Square, Gardens
Ben Wei (meaning "original taste"), at Wembley Square in Gardens, offers authentic Asian fare
If your taste for Asian cuisine expands far beyond the point of sushi and prawn crackers, then the recently established Ben Wei is a hotspot that you cannot miss out on!
Neatly nestled within the contemporary Wembley Square in Gardens, the venue teases patrons with the best of both man-made and natural worlds, combining key elements of nature like wooden flooring, natural lighting and trees sprouting out from beneath the polished laminated flooring, with the modern touches of bulbs within bulbs, partly exposed steel joist ceilings and the funky bar area that looks like it's ready for a party with the hidden blue and green LED lights, all brought together by the artwork by Francois Mostert from Robin Sprong Bespoke Wallpaper. Interior designer, Philip Tyers from Lyon & Tyres managed to encapsulate the essence of this new Asian eatery in every aspect.
Ben Wei is the creation of business partners Chef Jim Dai and entrepreneur Ian McMahon, owner of Crew Bar and co-owner of MCQP (Mother City Queer Project). The determined and strong-willed Ian started his culinary career at the tender age of fifteen when he embarked on this journey as a waiter at the Spur franchise, where he worked himself up to director level.
With co-owner Jim Dai's ten years' experience in cooking up some of the best Asian fare in Cape Town, and taking the former venue, Fugu, to the top 15 sushi restaurants in Cape Town, one can't be surprised when you are blown away by the unique flavours on offer at Ben Wei. For starters, the Tuna Tataki will export you to another dimension, as it features the freshest tuna, spiced and seared. For the more adventurous palate, try the Tom Yum Soup. This delectable hot and sour soup traditionally served with shrimp in Thailand will have your taste buds come to life in a single sip, and because of the spicy nature of this dish, and the generous portion, prepare to be fully fuelled mid-bowl. Ben Wei also offers various spring rolls, including veg, crab and prawn with cheese, and chicken and veg, as well as peanut chicken satay, edamame beans, prawn tempura and crispy tempura tuna roll to name but a few.
As for mains, Ben Wei caters to chicken, beef, and seafood lovers, with meals varying from salads and stir-fries, to curries and western or traditionally styled sushi. The Chicken and Cashew nut main meal definitely stood out from the crowd as it beautifully combined the tender texture of the chicken with the crunchy cashew nuts and juicy stir-fried vegetables. Add an extra side of egg-fried rice with mixed vegetables, steamed rice or noodles. You can even opt for the gluten-free glass noodles, which can serve as the base to your main meal, or if you're like me, this generous, wholesome serving of flavour which Ben Wei calls a side, could definitely work as a main meal as well.
Note: Banting lovers will be pleased to know that Ben Wei also offers a twelve-piece banting sushi platter which features a four-piece salmon, tuna and avo bamboo roll, a four-piece slimmer's rice-free maki, as well as a four-piece banting salmon roses. This is such a decadent hit for all to try, carb and guilt free!
Last but not least, dessert is served, and out comes the coconut ice-cream drizzled with berry coulis, which was the most refreshing way to end off an afternoon of delicious Asian fare! Ben Wei also offers deep fried banana with ice-cream, Irish coffee, Kahlua coffee and Don Pedro's as dessert.
Tip: Ben Wei stocks the world's oldest beer, Sapporo Premium Beer, which also happens to be Asian. Be sure to get a taste of this authentic Asian alcoholic bevvy when you get here!
The Bill: Starters: R22 - R68 | Soups: R35 - R50 | Salads: R50 - R70 | Mains: R58 - R98 | Curries: R65 - R98 | Western Style Sushi: R55 - R100 | Ben Wei Sushi Platters: R92 - R150 | Chef Specials: R50 - R99 | Sushi: R26 - R64 | Desserts: R28 - R48
Opening Times: Monday - Saturday: 11:30am - 9pm | Sunday: Closed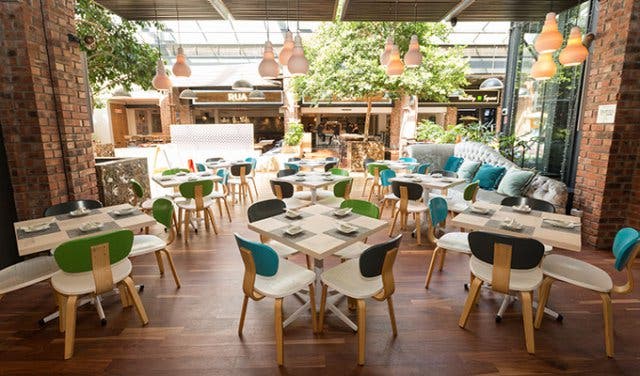 Shop 3 | Wembley Square | Solan Street | Gardens | +27(0) 21 461 2966
---
By Marian Volkwyn | Video credit: Josh Oates
---
ABOUT #CapeTownMagNew:
#CapeTownMagNew is a long-standing project that is dedicated to discovering exciting new places in and around our pretty city. We tell their stories, find out what they offer, and delve into what makes them unique. From cafés and restaurants to trampoline parks and dog hotels, there is always one new place in the city that we uncover each week. You can follow #CapeTownMagNew on Twitter and Facebook and subscribe to our newsletter to track recent features or read more here about more Hot Spots and New Restaurants in Cape Town and Surrounds.
DISCOVER OTHER EXCITING NEW SPOTS IN THE CITY:
---
STAY TUNED AND SUBSCRIBE TO OUR NEWSLETTER FOR MORE INFORMATION
---
Use our events section for an up-to-date overview of happenings in Cape Town. Also, don't forget to subscribe to our newsletter and if you have a smartphone, add m.capetownmagazine.com to your home screen for quick access on the go!
Follow us on Twitter, like us on Facebook, join our Google+ circle, connect with us on LinkedIn, check out our photos on Instagram and follow our Pinterest boards for updates on what's happening in and around the Mother City