The Cape's First Golf Environment for Disabled Children
Cape Town's Sport, Recreation and Amenities Department, in partnership with the South African Disabled Golf Association (SADGA) has opened the city's first modified golf course
Last Updated: 18 October 2016
The City of Cape Town's Sport, Recreation and Amenities Department, in partnership with the SADGA has officially opened the first modified golf course suitable for children with disabilities at the Astra School for the Disabled in Montevideo.
The new environment, which is part of SADGA's First Swing Programme and opened on 18 October 2016, strives to enable disabled children to become involved in the sport. The programmes was first implemented 13 years ago, and in the last five years the organisation has modified 34 golf courses providing sporting opportunities to more than 900 children living with disabilties across South Africa.
"Large numbers of disabled children are not able to take part in any school sport. Unlike many other sports, the pace of the sport in these modified golf environments can be adjusted to the needs and limitations of the individual," says The City of Cape Town's Mayoral Committee Member for Community Services, Councillor Anda Ntsodo.
"We want opportunities for leading a healthy, active life to be available to everyone. Golf, as with any other sport, plays a role in promoting inclusion, fostering social participation and creating friendships."
For the past three years, the City of Cape Town has partnered with the South African Disabled Golf Association to provide golf equipment and balls to five schools as well as transport for the participants. The Astra School for the Disabled has provided a dedicated area for this golf programme and SADGA has modified the space accordingly turning it into a fun golfing environment that is not only therapeutic for the children but also educational. The programme currnetly takes place at the school with six sessions per week catering for more than 150 children.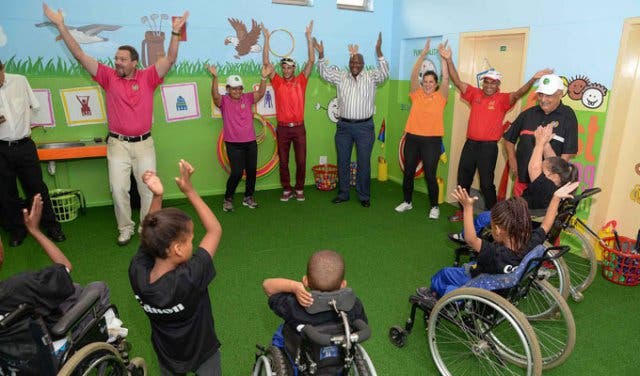 "Golf provides a platform for acquiring life skills. The sport builds confidence, lowers stress levels and encourages outdoor activity," concludes Councillor Ntsodo.
"The course is designed to be more inclusive inside the school, which means the children can take part in these activities in all weather conditions. This is not straight-up golf. The activities have been modified to allow for people with any type of disability to play. There are a number of smaller activities which lead to golf development and teach them the basics of the game."
Source: The City of Cape Town
---
Use our events section for an up-to-date overview of happenings in Cape Town. Also, don't forget to subscribe to our newsletter and if you have a smart phone, add m.capetownmagazine.com to your home screen for quick access on the go!
Follow us on Twitter, like us on Facebook, join our Google+ circle, connect with us on LinkedIn, check out our photos on Instagram and follow our Pinterest boards for updates on what's happening in and around the Mother City!