AQ8 ElectroFitness in the City: Burn up to 2000 calories - in 20 minutes
Get two to four hours' worth of training in just 20 minutes (and a R99 special offer...)
If you think you know fitness, think again. AQ8 ElectroFitness are the South-African agents and distributors for the world's most advanced Electro Muscle Stimulation (EMS) system. Regardless of your fitness level, this is a workout like no other! Whether you are a power lifter, personal trainer, Yogi & Pilates or simply an exercise newbie, AQ8 ElectroFitness' high resistance training programme is sure to make you feel the burn.
AQ8 System® are the only producers of wireless radio frequency "individual and group" EMS training in the world. AQ8 ElectroFitness have brought that innovation to not only our country and continent, but to our shores. That's right, thanks to founders Candace Kentridge-Britton and her husband Damien Britton, fitness and health enthusiasts can sweat it out and push themselves harder than they have ever done before.
How it works: clients are fitted into a suit with 18 carbon rubber electrode pads and receive (via radio frequency) electrical impulses which are emitted to produce muscle contractions throughout your entire body.
A qualified EMS instructor will then take you for a 20-minute training session in styles ranging from weight training to kickboxing, Pilates to Zumba. The flexible suits, which have a range of 5km from the controller, allow you to go for a run, hike up a mountain, or do the downward-facing dog with ease and full mobility.
The AQ8 ElectroFitness training options are limitless. The levels of intensity and the areas of focus can be adjusted according to the clients fitness goals and stamina.
You can burn up to 2000 calories in a single session, activating 300 muscles simultaneously and contracting them 36000 times.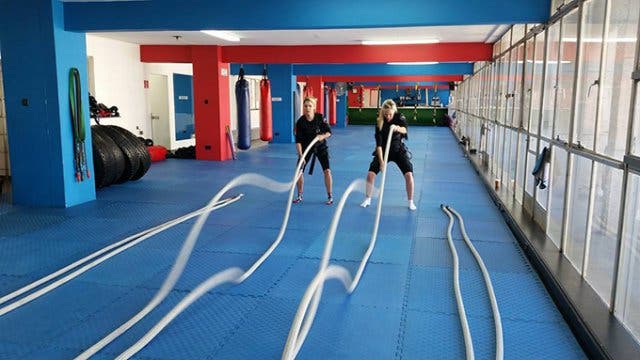 "We always ask our clients what their fitness and body goals are, and we are happy to tailor-make a training programme to suit their desires, limitations and even injuries," Damien says. "Not only is the AQ8 ElectroFitness system effective in fitness and body shaping, but if you have any injury or muscle imbalances the training can help rehabilitate your injuries and even strengthen those muscles again," he adds.
The power couple are no strangers to the fitness industry. Candace is a qualified fitness instructor, South African Dance Champion for Hip Hop for which she ranked first place as a solo artist in South Africa and 18th place at the world championships. Damien is a competitive kickboxer, mountain biker and is a qualified ski- and snowboarding instructor. Their passion for fitness and feeding the body through an active lifestyle sent Candace all the way to Madrid, Spain, to train with the creators of the AQ8 System®. She brought the system back to Cape Town to test the limits of their clients, some of which include boxers, Extreme Fighting Championship (EFC) fighters, bodybuilders, rugby players and personal trainers.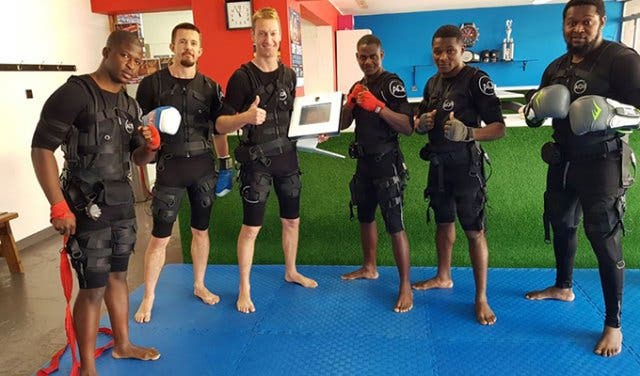 "Professional athletes will be challenged just as much as beginners, regardless of their strength or fitness levels," Candace says. "We simply increase the intensity of the impulses, to constantly push new boundaries," she explains.
The groundbreaking, wireless EMS device has various pre-set programmes some of which include cardio, fitness, cellulite & slimming, rehabilitation, core and meta. "We customize these programmes and adjust the intensity level of each individual muscle group according to the client's goals and stamina, " Damien says.
Some of you "gym bunnies" might be sceptical about how effective training for only 20 minutes can really be, well AQ8 ElectroFitness would be happy to prove you wrong! Pop in over your lunch break or wait out post-work traffic by squatting, swinging, jumping, lifting and ricocheting your way through an incredibly intense training session. Word to the wise: expect your muscles to know they've had a workout for a couple days afterwards. "If you track your progress over 4 weeks (30 days) you will notice a change in your muscle tone, weight, posture and fitness level. A case study in Madrid had incredible results with a female client who lost 30kgs in three months," Damien says.
Watch one of our very own tackle a tough session with Candace:
Tip: AQ8 ElectroFitness offers a 'trial special' which includes complimentary training sessions at Redemption Fitness Centre. Damien and Candace are more than happy to explain the AQ8 system to personal trainers and gym owners who might be keen to integrate it into their training programmes and workout regimes.

The Bill: A SPECIAL OFFER FOR CapeTownMagazine.om readers: R99 for a first session.
A 20-minute session costs R250/p and ElectroFitness can take up to 8 people at a time in either their Tokia base or in the CBD, where they share space with Redemption Fitness Centre. You can sign up for a monthly package; R1000/p gets you one 20-minute session a week for a month. A six-month package costs R880/p per month, and you get one session a week, monthly.
Take advantage of these new specials:
1. Pay R1 650 per month for two people to train together once per week.

2. If you sign up for the special before the 15 May 2018, receive 50% off your cotton training clothes.
---
Want to kickstart your health regime to get that summer body? Check out our list of Unusual Ways To Stay Fit.
---
Use our events section for an up-to-date overview of happenings in Cape Town. Also, don't forget to subscribe to our newsletter and if you have a smartphone, add m.capetownmagazine.com to your home screen for quick access on the go!
Follow us on Twitter, like us on Facebook, join our Google+ circle, connect with us on LinkedIn, check out our photos on Instagram and follow our Pinterest boards for updates on what's happening in and around the Mother City!