Sotano: Enjoy Mediterranean Dishes Across From the Mouille Point Promenade
A bonus is the exquisite views, and there's a sushi menu, too
Sotano Mouille Point is where you pop in for a quick glass of wine after work, and it turns into tapas, then another glass of wine and before you know it, the sun is sinking over the Atlantic.
Or turn up in the early afternoon when the sun is still high in the sky and order a glass of wine, only this time the view is a gentle flow of people walking dogs, drinking in the panoramic views and moseying about on the promenade. It's that kind of place, easy and relaxed.
THE MOOD IS CLASSY, BUT ALSO EASY, BREEZY MEDITERRANEAN
Sotano Mouille Point, set opposite the iconic barber pole lighthouse, just five minutes from the storied V&A Waterfront, means "cellar" in Spanish. Outside, the Trudeau range of furniture converted from French Oak wine barrels aligns to the theme, but it's the wine list that makes it live up to its name. The eatery offers close to 80 wines by the bottle, and 40 by the glass.
Inside the decor is masculine with greys, bronzes and a touch of mustard here and there. Owners Brendon Crew, Jean Muller and Marc Langlois have created an easy, breezy but sophisticated Mediterranean feel.
TAPAS, WINE AND SUNSHINE
"Sotano is all about simple, uncomplicated food made well," says Brendon, a man who's drawn on the lessons he learned from his Lebanese mother. "We let good ingredients speak for themselves."
That means fresh bread, homemade tzatziki, squid tentacles and full-flavoured, pared-down fare pulled fresh from the ocean, picked straight from the garden or reared free range on the farm.
On those beautiful days when one glass turns to two, tapas is usually the way to go. There's vegetarian tapas (grilled corn, curried chickpea and spinach, Spanish garlic mushrooms), calamari a la plancha (garlic, chilli, chorizo, cucumber and tomato salad with salsa verde) or lamb koftas in a Catalan sauce (garlic Napolitano) topped with grated Parmesan and toasted crostini. It's an offering that is perfect for soaking up wine and sun.
FROM DUCK AND SQUID TO SHAKSHOUKA FOR BREAKFAST
If need be, dinner can be a more serious affair. There's a full menu of delectable options, from squid ink risotto and seafood linguine to duck pithivier.
They make a cracking breakfast, too, with dishes including Israeli-inspired shakshouka (red pepper and chilli-tomato chutney, baked with two eggs, and toast) or a breakfast bowl (smoked salmon, quinoa, sautéed kale, avocado, tomato, poached eggs, basil and Greek yoghurt). Add to this the fresh sea air, and it's an invigorating way to wake up.
THERE'S ALSO A SUSHI MENU
Sotano Mouille Point has a sushi menu along with an open-plan sushi bar where, besides the classic dishes and platters, there are the chef's unique creations such as the Sotano Fashion Sandwich (spicy salmon, prawn, avo and mayo with teriyaki sauce) or the Sotano Crunchy Salad, consisting of finely chopped marinated salmon, tuna and crispy bacon (among other tasty ingredients), plus a special Asian sauce as a topping.
Once you've taken your pick from the menu, all that's left to do is sit back and take another sip of wine and enjoy the view.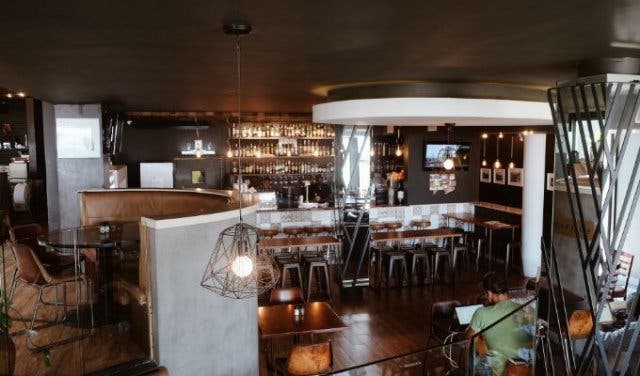 Tip: Visit on Friday 7pm–9 pm, Saturday 3pm–6pm, and Sunday 2pm–7pm to see the sun down with live music, and go for Wednesdays for Sotano's towering 2-for-1 lamb burger special.
---
Cure the Monday blues with Sotano's Sirloin & Sauvignon Special. Read more about the other joint in the city centre, Sotano on Bree.
There are plenty of restaurants with a sea view as well as places to enjoy tapas in Cape Town.
Or how about restaurants with great sushi or seafood.
---
Use our events section for an up-to-date overview of what's happening in the city, suburbs and dorpies. Join our newsletter and add us to your mobile home screen for the ultimate guide to discoveries in Cape Town.
Follow and like us on Twitter ❤ Facebook ❤ LinkedIn ❤ Instagram ❤ Pinterest for updates.