The Lindt Chocolate Studio at Silo 2
Chocolate making classes and a window into Charlie's world, Lindt Chocolate Studio offers an experience you don't want to miss
The world renowned Swiss chocolate makers, Lindt & Sprungli opened up a new chocolate boutique at Silo 2 at the V&A Waterfront in April 2017.
Just in case you are unaware of the Lindt difference (anyone with taste buds ought to understand), Lindt chocolate opens your eyes to the beauty and art behind chocolate making. With deliciously smooth chocolate that melts in your mouth, Lindt uses the finest ingredients to create a chocolate that not only tastes like a fantastical world of unicorns and sparkles, but also whisks you away on a chocolate journey like none other.
With the finest cocoa beans and unique roasting methods, Lindt finely grounds their beans to a thin texture, resulting in the smooth melting flavour of Lindt chocolate. The attention to detail trickles down to the sophisticated packaging, the creamy taste, the well-skilled chocolatiers and finally, to the final product: an irresistible five senses experience of chocolate heaven: sight - the sheen texture and rich colour; touch – the smooth, melting sensation when you rub a bit of chocolate between your fingers; sound – a crisp, clear snap as you break a piece of Lindt; scent – the subtle smell of cocoa when holding the chocolate close to your nose; and finally the signature melt in your mouth moment that only Lindt can offer.
Can you envision the experience? Perhaps not quite as much you'd like to, and with a product held in such high-esteem, surely you would want more than mere words. The Lindt Chocolate Studio in Cape Town offers so much more than just the taste of an internationally recognized brand.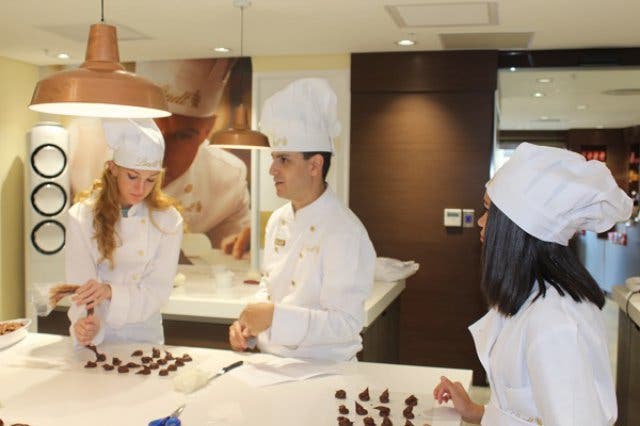 Immerse yourself in one of the interactive and engaging classes with Master Chocolatiers, and lose yourself to the sweet smells and taste of the new-age Willy Wonker of our time. The Classic category of classes at the Lindt Studio includes Lindt chocolate tasting, Lindt chocolate cupcake-making, and the ultimate Lindt chocolate cake baking. The Lindt Master Classes are for those who may feel for something a bit more advanced, and includes two separate sessions that will either teach you the art of praline making, or the art of Lindt chocolate décor, in addition to various kids classes, private functions and team building classes.
As part of the Classic classes, CapeTownMag, participated in the Lindt Chocolate Truffles class, which was led by Master Chocolatier, Dimo. Apart from teaching us how to make our own handmade Lindt chocolate truffles, the highly interactive class also educated participants on the Lindt choco-making process, as well as opened a window into a whole new world of various specialty Lindt chocolates and products that one could only find at the modern boutique store at the Silo in Cape Town. For instance, the polished new store offers Lindt brownies, macaroons, chocolate truffles, gelato and a coffee section that even offers Lindt milkshakes!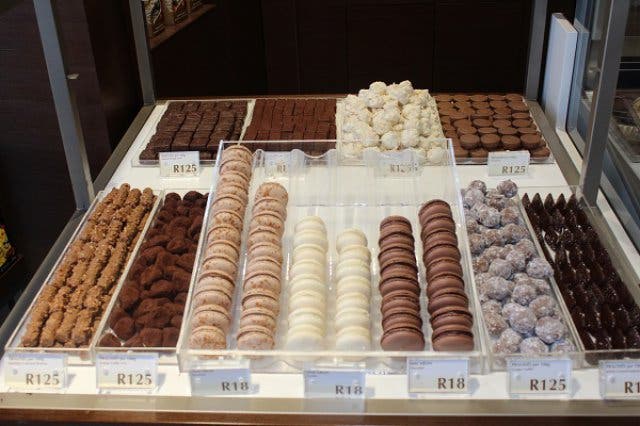 Tip: As a unique spin on things, the Lindt Chocolate Studio also offers participants of their classes to dress up in a Master Chocolatier uniform, making one feel as if you are a honourary member of the Lindt chocolate family!
The Bill: Lindt products: R18 - R125 | Classes: R245 – R895
Opening Times: Monday – Sunday: 9am – 6pm
Shop 2 | Silo 2 | V&A Waterfront | +27(0)21 831 0360
---
By Marian Volkwyn | Video credit: Garth Prins
ABOUT #CapeTownMagNew:
#CapeTownMagNew is a long-standing project that is dedicated to discovering exciting new places in and around our pretty city. We tell their stories, find out what they offer, and delve into what makes them unique. From cafés and restaurants to trampoline parks and dog hotels, there is always one new place in the city that we uncover each week. You can follow #CapeTownMagNew on Twitter and Facebook and subscribe to our newsletter to track recent features or read more here about more Hot Spots and New Restaurants in Cape Town and Surrounds.
DISCOVER OTHER EXCITING NEW SPOTS IN THE CITY:
---
Come to Noordhoek and awaken your inner deity at this Shakti-flow Workshop.
---
Use our events section for an up-to-date overview of happenings in Cape Town. Also, don't forget to subscribe to our newsletter.
Follow us on Twitter, like us on Facebook, connect with us on LinkedIn, check out our photos on Instagram and follow our Pinterest boards for updates on what's happening in and around the Mother City