(Watch) and Learn How to Kitesurf
After a full kitesurfing course with High Five, you'll be riding independently
There are lots of ways to describe kitesurfing – the adrenaline-pumping sport of riding the ocean's wave propelled by a flying kite. It's exhilarating, technical, difficult, even life-changing, some have said. At the High Five kitesurfing school, they also want to make sure that you enjoy yourself.
"We are the ones who provide the most fun," says Alex Vliege, one of the owners of High Five Kitesurfschool in Bloubergstrand, Cape Town.
And the reason why you can relax and relish the experience when taking lessons at High Five is because they work according to the highest standards. Their trainers are accredited: the gear is top notch; they teach in all the best locations and at good rates; and they can teach anyone from beginner to pro.


CERTIFIED TO TRAIN INSTRUCTORS
High Five is certified by the International Kiteboarding Organisation (IKO), which guarantees that they use top-notch gear and instructors. "We are the only ones that are allowed to actually teach advanced kitesurfers to become certified instructors," says Vliege. "By IKO standards, we can teach up to four people with one instructor. But we choose quality over quantity and have only two students per instructor."
KITESURFING IN ALL THE BEST SPOTS – BLOUBERG TO LANGEBAAN
High Five is situated adjacent to Kite Beach, Bloubergstrand, which is right where Red Bull King of the Air "the most badass, big-air kiteboarding contest in the world" takes places. It's a buzzing spot during kitesurfing season in the summer. "Kite beach is just in front of our door," says Vliege. It's a buzzing kite spot during kitesurfing season in the summer. High Five is also in other prime kitesurfing locations in the Western Cape, including Big Bay, Hermanus and Langebaan. After the first lesson, most of the training takes place at the Flatwater Lagoon called Shark Bay, in Langebaan, that's where their kitesurf shuttle heads to every windy day.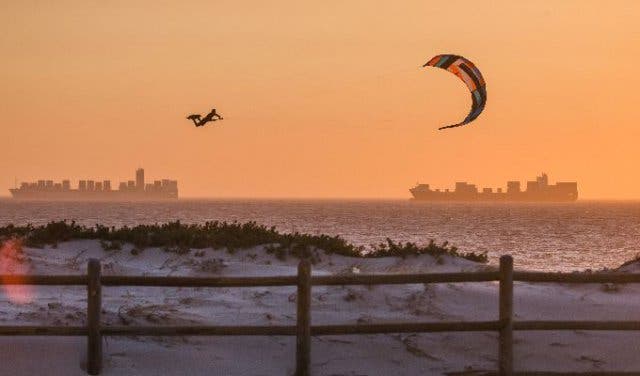 WAVE CLINICS FOR INTERMEDIATE TO ADVANCED KITESURFERS
For the Wave Clinics, you have to be a high flyer or getting there. Or, as High Five says, you have "to be stoked to hit the waves." You choose between two: a one-day lesson of three hours, or a three- to four-day lesson of about 12 hours.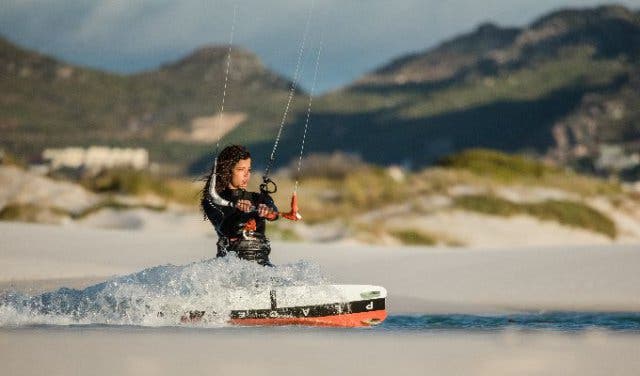 FOR ALL LEVELS AND MOST LANGUAGES
Beginners are also welcome, High Five has great IKO-recognised introductory lessons and complete courses at good rates. They have a large volume of foreign students, so can teach in German, Dutch, Spanish and Italian as well. They have another appealing promise: "We guarantee that you are able to ride independently after a full course; if not, we keep teaching you for free until you can."
SAND TO SEA – WATCH THIS EXHILARATING KITESURFING LESSON
Note: High Five has a 3-for-2 lesson special for kitesurfing and stand up paddling lessons.
To Book: Email info@high-five.co.za, call +27 (0) 72 902 7899 or simply drop by the shop (it's adjacent to Kite beach). For more information, visit www.high-five.co.za.
---
It's all about sun, sand and epic kitesurfing stunts at Kite beach Cape Town.
Off-the-radar beaches: Rocky coves, hidden hamlets, isolated enclaves at these beaches in the Cape.
High Five embodies the surfer lifestyle and runs surf hostels in a chilled atmosphere, and they have hostels and apartments from Table View to Blouberg.
High Five also has other outdoor adventure activities, from abseiling to skydiving.
Once you've got the hang of kitesurfing, why not try surfing or stand up paddling.
Maybe check out our list of things you have to do in Cape Town before you die, or awesome activities you probably have never tried before.

Indulge your inner adrenaline junkie with our pick of the best extreme sports in Cape Town and surrounds. There are tons of other fun and exciting things to do in Bloubergstrand.
Go paintballing, kitesurfing, sandboarding or on an adventure tour at Zeestock Adventure Lodge.
---
Use our events section for an up-to-date overview of what's happening in the city, suburbs and dorpies. Join our newsletter and add us to your mobile home screen for the ultimate guide to discoveries in Cape Town.
Follow and like us on Twitter ❤ Facebook ❤ LinkedIn ❤ Instagram ❤ Pinterest for updates.