WATCH: Let's Get Some Gigs For This Talented Guy (We'll Promote Them All)
Check out this 19 year old's golden voice – 3 videos, plus: let's share this and get him gigs
Heard of Naelon Andrews yet? Videos of this remarkably talented 19 year old singing have started going viral. Here's why:

WATCH: NAELON ANDREWS' ANGELIC VOICE
He was discovered by George local Jessica Basson, who was at work when she heard Naelon, an Environmental Biology student from Pretoria who now lives in Knysna, singing outside the office window. She called him in and asked him to sing for her colleagues, where she recorded the video, as reported by our friends at goodthingsguy.com.
WATCH: NAELON SINGING ON THE STREET IN GEORGE
The video went viral, after a friend of ours who wanted to support him getting famous shared it on Facebook.
Since then, Andrews has gained major exposure and uploaded a new video onto his own Facebook page, also later noting that he is being flown to Joburg for an interview with Groot FM 90.5.
WATCH: A NEW VIDEO OF NAELON PERFORMING


NOW LET'S GET HIM SOME GIGS
CapeTownMagazine.com wants to take Naelon and others like him to the next level: a paid gig at a music venue. So, we're employing you, our readers, to get the word out.

Let's spread the word and get this man paying gigs. For every gig Naelon gets, CapeTownMagazine.com will promote that event and venue free of charge :)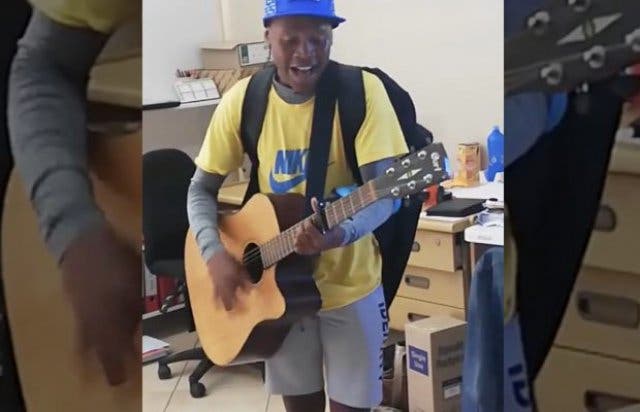 HOW TO SPREAD THE WORD AND GET HIM GIGS
Send these vids to all your friends who work at nightclubs, bars or restaurants

Know someone in the music industry? Forward it and get Naelon noticed

Share, share and share this with everyone you know and ask them to share – someone will know the right person somewhere, right?
Plus: Connect with Naelon on Facebook here.
----
Discover more up and coming South Africans and places to catch live music in Cape Town.
---
Use our events section for an up-to-date overview of what's happening in the city, suburbs and dorpies. Join our newsletter and add us to your mobile home screen for the ultimate guide to discoveries in Cape Town.
Follow and like us on Twitter ❤ Facebook ❤ LinkedIn ❤ Instagram ❤ Pinterest for updates.