Love Thy Neighbour on Bree Street
Authentic Greek-inspired dishes are here to stay!
There is a new Mediterranean eatery in town and as far as we've seen they're up there with the best. Love Thy Neighbour, occupying the space that was formerly known as Beer & Wine Garden, and which was formerly formerly known as &Union (if you're from the Mother City you'll remember this local watering hole), has opened its doors for anyone looking to indulge in what we are dubbing "The Big Greek Feast".
There has been much speculation lately by the locals as to what exactly the new guys there are up to, but now we know and we're loving it. The large and inviting outdoor area is a favourite place to stop for beers and cocktails after work on a hot summer's day... or actually, according to Cape Town standards – any time you damn well please. But it's not only about sundowners at this popular Bree Street spot because a light has been shed on their food offering, and we're sold.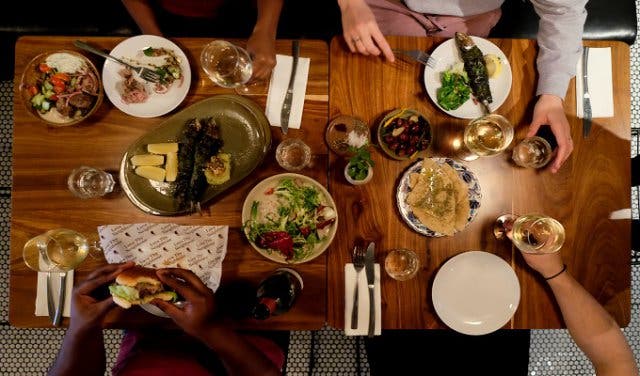 Unless you already have a serious affinity for Greek cuisine or grew up understanding the intricacies of its food culture, I think that almost everyone is going to be absolutely blown away by what they have to offer at Love Thy Neighbour. Forget anything you knew about a Greek salad, or hummus, or even feta for that matter, because their selection of authentic Greek-inspired dishes are here to teach Cape Town a thing or two about great food.
Chef Nick Charalambous, who is of Cyprian descent, has decided to truly bring through the flavours of Greece with dishes that include ingredients like white anchovies, almonds, celery and extra-virgin olive oil. There's also Fava (a traditional Greek dish of yellow split peas – delicious!), fire-roasted shallot, capers and nigella seeds. Personal favourite is the Halloumi Saganaki with pumpkin preserve and walnut salsa (the perfect balance of salty and sweet). Their wine list is comprehensive and fitting for all palates, and of course, you can always choose from a great selection of craft beers or cocktails to accompany your feast.
Central to the menu is a large woodburning hearth, situated in the top left corner of the courtyard. Yes, it adds beautifully to the ambiance but in fact most dishes on the menu are in some way or another grilled on the open flame or embers before it finds its way to your table. "We choose to cook over embers to acknowledge the historic food culture of Mediterranean cooking, whilst growing and creating something unique," Nick explains.
The style of dining is casual and easy, perfect for sharing with a large group of friends, but just as wonderful as a romantic meal for two. If food is your thing we suggest even going alone and making your way through their selection of dishes while enjoying a crisp glass of wine.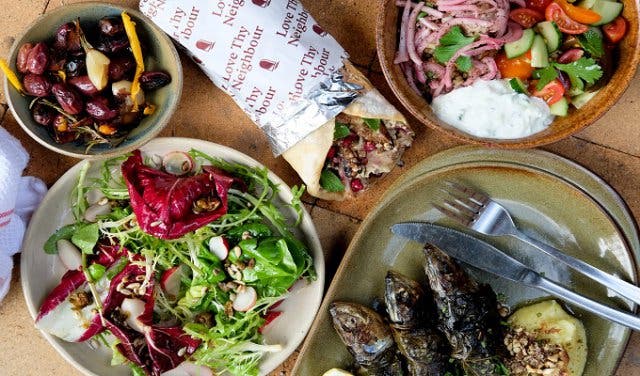 Our advice? Enjoy their modern and cosy interior in winter, but gradually make your way outside as the weather starts to warm up and Cape Town becomes a-buzz with that summer feeling. We also suggest picking up the phone and making a booking because we have no doubt this is going to become one of the places to be this summer season.
The Bill: Meze: R30 - R65 | Grill: R65 - R190 | Sides: R35 - R50 | MCC: R35 - R230 | White wine: R40 - R250 | Rose': R45 - R330 | Red wine: R40 - R345 | On tap beers: R20 - R45 | Local beers and ciders: R28 | Imported beers: R35 - R65 | Whiskey: R35 - R50 | Spirits: R25 - R40
110 Bree Street | St Stephens Church | Cape Town | +27(0)21 422 2770 | +27 (0)82 413 2299
---
By Chevaun Roux
---
Love the vibrancy of the inner city? Here are 17 things to (re)discover Bree Street in Cape Town.
---
ABOUT #CapeTownMagNew:
#CapeTownMagNew is a long-standing project that is dedicated to discovering exciting new places in and around our pretty city. We tell their stories, find out what they offer, and delve into what makes them unique. From cafés and restaurants to trampoline parks and dog hotels, there is always one new place in the city that we uncover each week. You can follow #CapeTownMagNew on Twitter and Facebook and subscribe to our newsletter to track recent features or read more here about more Hot Spots and New Restaurants in Cape Town and Surrounds.
---
STAY TUNED AND SUBSCRIBE TO OUR NEWSLETTER FOR MORE INFORMATION
---
The Mother City is fast developing so to keep you clued up; we've rounded up some of the hottest latest additions to Cape Town in our New Restaurants and Hot Spots overview. Discover it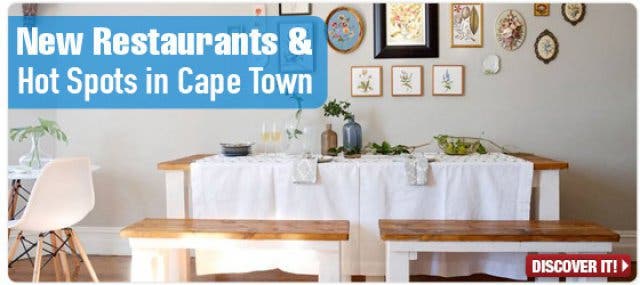 ---
Use our events section for an up-to-date overview of happenings in Cape Town. Also, don't forget to subscribe to our newsletter and if you have a smartphone, add m.capetownmagazine.com to your home screen for quick access on the go! Follow us on Twitter, like us on Facebook, join our Google+ circle, connect with us on LinkedIn, check out our photos on Instagram and follow our Pinterest boards for updates on what's happening in and around the Mother City