La Mer Restaurant & Grill and Cpoint Bar & Lounge in Sea Point
Savour five-star cuisine and premium cocktails on Cape Town's Atlantic Seaboard
Step into an international world of class, with a price tag that will make locals smile, nestled along Cape Town's Atlantic Seaboard.
When considering the culinary world, people are always looking for a taste of adventure that will spark their fancy and feed their bellies. La Mer Restaurant and Grill, situated inside the Radisson Blu Le Vendome Hotel, just happens to be one of those hidden spots about which people should be shouting from the rooftops. This very unhotel-like eatery, is not the simple hotel restaurant where the main objective is to fill the tummies of overnight guests only. An exciting and international menu will attract those looking for an exceptional dining experience, and with the reasonable prices attached to fresh and enticing dishes, it will soon become a regular favourite for locals far and wide. The restaurant can boast itself as a real contender on the Sea Point culinary scene.
La Mer Restaurant, which originally opened in May 2015 (its name meaning 'the sea' in French), is situated within the Radisson Blu Le Vendome Hotel building on London Street in Sea Point. From its inception the restaurant has gone through a number of transformational changes, now settling in the talented hands of Chef Chad Inder as contemporary eatery with a Mediterranean twist.
Chef Chad has moved La Mer away from its fine dining roots to a more easy going and relaxed menu and atmosphere, while maintaining an elegant and stylish finish on both design and presentation of each dish. Continuing this refinement La Mer's interior boasts an elegant ambience that has none of the clinical staleness of typical accommodation-based eateries. My visit takes place on a sunny winter afternoon; the large glass windows allow the sun to stream in and warm the space. The décor is sophisticated (hues of gentle greys and whites adorn the walls) and gives the venue all the class of a fine dining restaurant, with small bursts of colour here and there help to strip it of any pretension.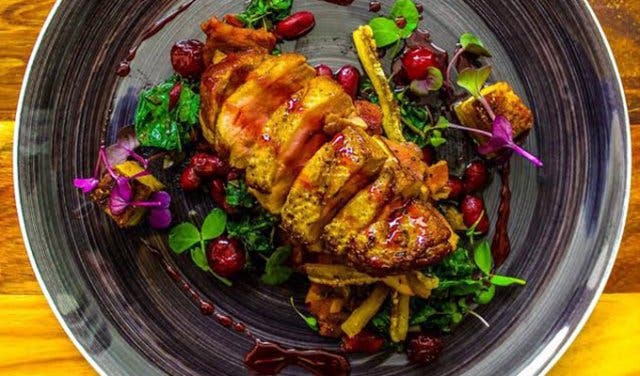 However, you could have fooled me; the food that "The reason that we wanted to move away from the fine dining menu is that it is an over-saturated market, especially in the hotel business. And there also is an association of an over-priced price tag attached," says Chef Chad. What follows has all the precision and presentation of fine dining fare, with the presence of a real understanding of Mediterranean cuisine. Chef Chad, with extensive travelling under his belt, has picked up a few tricks along the way to turn the entire menu into his own interpretation of what it means to be Mediterranean – hearty and full of flavours, but sophisticated with a polished finish.
The lunch starts off with a trio of dishes, with each impressing me more than the next – Moroccan Chicken Soup, Beef and Kidney Bean Chilli with Cumin Crema and salsa and my favourite – Wild Mushroom Arancini with Mozzarella (a deep fried ball of mushroom risotto and cheese, essentially) – it was difficult not to fall in love with this dish.
The main that stood out for me was the line fish – grilled to perfection (in the chef's secret style) – and served on a bed of grilled vegetables and wild rice. A creamy chive jus is drizzled over the fresh fish to complete the flavour combination – it sits up there with some of my most favoured seafood dishes, a heart-warming meal perfect for the wintertime. Other stand out options on the main menu include a seafood pasta (served with two gargantuan prawns) and a beef fillet medallion, with a side of mushroom, onion, carrots, mange tout and potato cubes. The aromas filling the restaurant are delicious, and quickly we are absorbed into the food that we're eating – far more than any conversation that could be happening.
The menu inspiration is due to change every three months, maintaining the Mediterranean theme but drawing inspiration from different countries each time, ensuring that La Mer's offering remains fresh and exciting.
Le Mar boasts an extensive wine list, including some pretty stellar MCC's and champagnes. As well as a cocktail list that includes delicacies such as an Espresso Martini, Strawberry Mojito and the self-titled Le Vendome; vodka, peach schnapps, Blue Curacao, fresh lime and litchi juice; "mixed by us and shaken by you".
Cpoint. Bar & Lounge
The restaurant sits adjacent to the chic Cpoint. Bar & Lounge. Also forming part of the Radisson Blu Le Vendome Hotel, the spot treats folk to dazzling cocktails and a selection of pastries freshly baked in-house.
With its brown, blue and white colour palette, the lounge follows on with the same sophisticated feel and is thus ideal for those seeking a tipple at a venue that has none of the grunginess often associated with pubs in Cape Town. As a whole La Mer and Cpoint. both offer much more than standard hotel eateries or bars are traditionally known for. Pop them on your radar as two of the finer places to frequent in Sea Point.
Tip: In addition to the above venues, Radisson Blu Le Vendome Hotel is also home to the #add Restaurant & Pool, where patrons can enjoy breakfast or lunch by the pool, and sip on a range of delicious cocktails while they relax. You don't have to be a guest at the hotel to enjoy this wonderful rooftop swimming pool (a must in summer).
The Bill: As mentioned, La Mer Restaurant & Grill offers good value for money. Starters range from R60 to R85, mains are priced between R75 and R195 and desserts ring in between R65 and R95 (the R95 being 'The Three C's – Hennessy VS, a double espresso and a chocolate
by Chevaun Roux
---
Looking for a sweet treat in the neighbourhood? Then check out My Sugar Chocolate and Coffee Shop in Sea Point.
Wanting to get something tasty to eat nearby? Why not try Coco Safar?
---
Use our events section for an up-to-date overview of happenings in Cape Town. Also, don't forget to subscribe to our newsletter and if you have a smartphone, add m.capetownmagazine.com to your home screen for quick access on the go!
Follow us on Twitter, like us on Facebook, join our Google+ circle, connect with us on LinkedIn, check out our photos on Instagram and follow our Pinterest boards for updates on what's happening in and around the Mother City!