Ajeless Africa: The Generation of Make-Up
The first proudly South African lipstick brand, catering for Africa's diverse skin tones
There's something inspiring about walking into a room with a strong woman in the midst. There's a tingle in the toes, a favourable flush… It could very well be Cape Town's not-here-nor-there weather conditions, or it could be the manner in which businesswoman Astrid Jonker carriers herself and the respect she demands upon meeting. Whatever it is, I want what she's having… Preferably in a plum shade with added SPF for extra moisture. Let me introduce the homegrown cosmetics line, which will give you just that: Ajeless Africa.
At first glance, I knew that there was a tale to tell, and Ajeless Africa was so much more than just a catchy name."I come from a long line of strong women," says Astrid as she turns to her mother and business partner, Lehane. "At church they'd call us the four generations because my great-grandma, grandma, mom and I would always stick together".
Ajeless, derived from: AJ (Astrid Jonker), E (Esme, Astrid's second name), Le (Lehane, Astrid's mother's name), ES (Esme which is Astrid's grandma's first name) and S - "because it just makes sense", says founder Astrid with a playful chuckle. Today, Astrid and her business partner and mother, Lehane plan to take South Africa's cosmetics industry by storm with their innovative offering.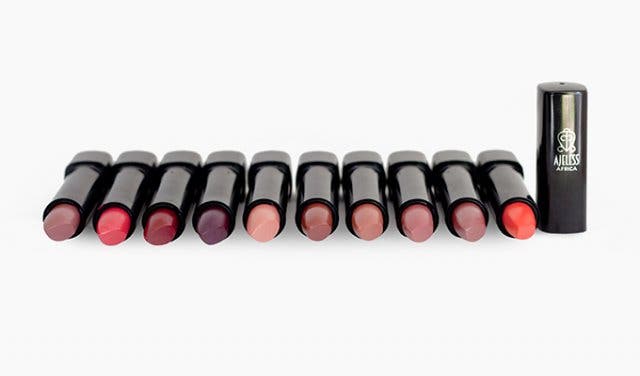 With 10 gorgeous shades of lipstick to match every unique skin tone, Ajeless Africa considers the tones and complexions that have been excluded in the beauty industry for a long time. Upon applying Ajeless Africa's lipstick, the nourishing texture softly caresses the most delicate skin of the face, replacing the lost moisture caused by the UV rays of the sun and dryness of the air. Ajeless Africa understands how the African climate affects the skin and as a result, caters to the various needs of the skin.
After studying at The Make-Up Issue in Cape Town's well-loved Kloof Street, Astrid knew that beauty was her calling, and continued to pursue a career in beauty therapy by working at some of the biggest global cosmetics brands, including Inglot and Bobbi Brown.
With her extensive knowledge and experience in the industry, coupled with her mother's business expertise, Astrid was advised: "To be a good business person, sometimes you don't have to come up with something new, sometimes you have to improve what's already there." And in no time, Astrid found a gap that she felt the need to fill: a cosmetics brand that caters to the various shades of women of colour in Africa.
As a passionate woman of colour herself, Astrid believes that beauty products can and should be inclusive of all skin tones.
Astrid understands that make-up is not just about looking good, but that there's a science behind it. With her understanding of the pharmaceutical background of these products, coupled with the understanding that different brands cater to different women in various parts of the world, Ajeless Africa offers a product to African women that not only makes you look good, but feel good from the inside and out.
As we converse, I find that the confidence which Astrid oozes from every pore comes from a place of self-love, but moreover that high level of self-esteem is worn on her face, in the oxblood shade of Ajeless Africa's lipstick, emphasizing her bold demeanour. "Lipstick is an accessory to the face that completes an outfit. It's the one thing you should never leave your house without," says Astrid with a sparkle in her eyes.
Tip: Ajeless Africa's line of unique nail colours will be available soon. The brand also has plans for a department store in the pipeline.
Note: Orders placed after 12pm can be expected to arrive the next day (this applies to deliveries in Cape Town), while in the broader Western Cape region and nationally, delivery will take three or more working days to arrive.
Contact Astrid on +27 (0)76 701 9571 or sale.ajelessafrica@gmail.com. For more information visit the Ajeless Africa Facebook page.
queries@ajelessafrica.co.za| sale@ajelessafrica.co.za| +27 (0)76 701 9571
---
By Marian Volkwyn
---
Pick up make-up skills and goodies at the Beauty Squad expo in Cape Town.
The Mother City is fast developing so to keep you clued up; we've rounded up some of the hottest latest additions to Cape Town in our New Restaurants and Hot Spots overview. Discover it.
---
Use our events section for an up-to-date overview of happenings in Cape Town. Also, don't forget to subscribe to our newsletter.
Follow us on Twitter, like us on Facebook, connect with us on LinkedIn, check out our photos on Instagram and follow our Pinterest boards for updates on what's happening in and around the Mother City.