LIFE Grand Cafe in the V&A Waterfront
The best eats combined with breathtaking sea views and stunning interior design
The highly acclaimed LIFE Grand Café opened its doors in December 2016, and its unique menu offerings from various parts of the world, interior design that will blow your mind and service that will leave you with a smile will certainly help you draw the conclusion that it's one of the best restaurants at the V&A Waterfront.
With more than 100 meal offerings, drink variations, sushi and tapas selections, you are spoilt for choice! From the avo and tomato ceviche from the crudo bar and the crispy crab sushi made with black sushi rice to the eight-hour braised pork belly and beef carpaccio served with fennel, pickled mushrooms and Dukkah phyllo your palate will undoubtedly be satisfied. And these options are just the tip of the proverbial iceberg. LIFE Grand Café's menu has enough offerings to feed you for a month without having the same meal twice!
And if the food is not enough to keep you hooked to LIFE Grand Café (as if!), the stunning view of the working harbour, and luxury yachts, coupled with the intriguing interior design by the LIFE Grand Group ought to keep you excited.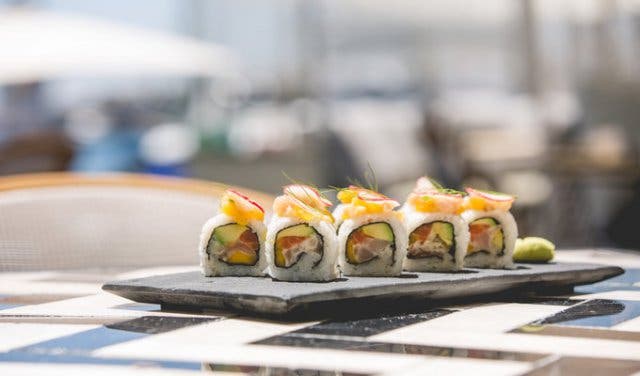 Owner Maira Koutsoudakis and her team from LIFE Interior and Architects managed to graciously encapsulate the history of the building. "It was a long journey to get it done beautifully but with respect", explains senior account manager Natalie Jardine. And respectfully beautiful LIFE Grand Café definitely is.
The experience starts at the entrance courtyard with its festooned lights hanging from six mature trees. Walking into the venue the elegant reception and wine cellar leads to what is now the conservatory. Back in 1902, this space was commissioned by Queen Victoria as a post office when there were no postal systems: "That's like thinking this was the Wi-fi energy hub of the day," says Maira with a little chuckle. This light, bright space includes post-colonial African elements, palm trees and fans opening out to the sprawling views of the ocean, leading off to the outdoor terrace, which is where we were seated. We enjoyed wrap-around views from billowing banquette seating under aged olive trees and subtle music accompanying the sea gulls' cries.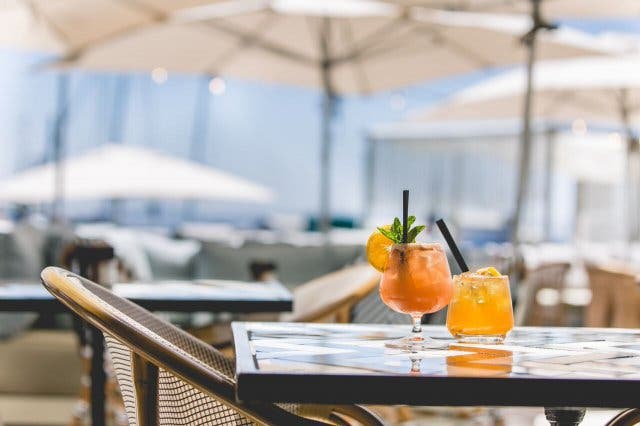 The pier promenade which is just below the outdoor terrace, is simply stunning. With casual seating for 50, the ocean-side dining experience includes cocktail bars, an artisan ice cream stall, and with Maira's 15 years' experience in the Seychelles, the outdoor terrace of LIFE Grand Café resembles a paradise of sorts.
The interior is filled with little gems from one of Maira's antique favourites at the entrance to a plantation chair, original Cape Dutch antiques and Delft ceramics, which are all properly listed and spread throughout the venue. LIFE Grand Café tells the story of the Heritage Building and Victoria and Alfred, as opposed to the colloquial referencing of V&A: "What's nice about the house is that it humanises V&A. Victoria and her son, Alfred, were real," says Maira.
Mairas passion for the history of the site, paired with her extensive interior knowledge creates a work of art at the LIFE Grand Café. Besides the breathtaking harbour views, my favourite features are the underrated private rooms situated upstairs where Alba lounge once was. This section of the Heritage building was Queen Victoria's library.
The venue's interior design was conceptualised based on its historical value, and each room feels like a whole new world. Upstairs the story unfolds even more: "The four walls talk to the geographies of the place," states Maira. "This one looks towards the sea," says Maira gesturing towards a light blue wall watermarked with maps, true north, and sea monsters, "It's all the things that people really used to believe in".
"This is something that belongs to Cape Town, a place you can be proud of," says Maira with an enlivened smile.
Note: A little seagull whispered that plans to include a yachting experience with LIFE Grand Café are in the pipeline. Keep an eye out for that one!
Tip: The private rooms upstairs at the LIFE Grand Café are available for bookings. So if you have a birthday coming up or any other reason to celebrate, embrace the privacy of the LIFE Grand Café, while wallowing in the stupendous views of Cape Town. Maira and her team from LIFE Interior and Architects also added 4 more fireplaces to the venue, which means that the LIFE Grand Café now has 5 fireplaces, making the venue really sexy during winter.
The Bill: Breakfast: R24 – R98 | Salads: R68 – R96 | Tapas: R198 – R220 | Gourmet loaves: R68 – R220 | Crudo: R70 – R162 | Pasta bar: R80 – R220 | Pizzette: R72 – R165 | Sushi: R62 – R160 | Sliced: R120 –R128 | Coals: R98 – R210 | Forno: R98 – R153 | Platters: R690 – R900 | Dessert: R58 – R270
Opening Times: Monday to Sunday: 8am - 11pm
V&A Waterfront| Cape Town | +27 (0) 21 205 1902
---
By: Marian Volkwyn | Video credit: Josh Oates
ABOUT #CapeTownMagNew:
#CapeTownMagNew is a long-standing project that is dedicated to discovering exciting new places in and around our pretty city. We tell their stories, find out what they offer, and delve into what makes them unique. From cafés and restaurants to trampoline parks and dog hotels, there is always one new place in the city that we uncover each week. You can follow #CapeTownMagNew on Twitter and Facebook and subscribe to our newsletter to track recent features or read more here about more Hot Spots and New Restaurants in Cape Town and Surrounds.
DISCOVER OTHER EXCITING NEW SPOTS IN THE CITY:
Nomad Bistro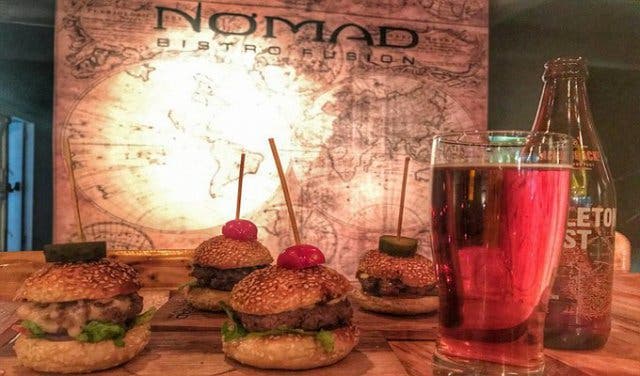 Chefs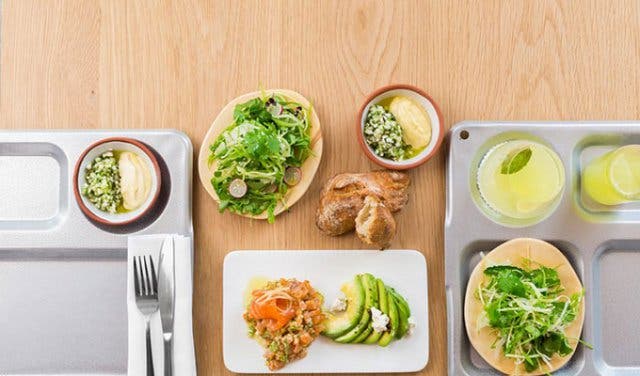 STAY TUNED AND SUBSCRIBE TO OUR NEWSLETTER FOR MORE INFORMATION
---
Use our events section for an up-to-date overview of happenings in Cape Town. Also, don't forget to subscribe to our newsletter and if you have a smartphone, add m.capetownmagazine.com to your home screen for quick access on the go!
Follow us on Twitter, like us on Facebook, join our Google+ circle, connect with us on LinkedIn, check out our photos on Instagram and follow our Pinterest boards for updates on what's happening in and around the Mother City