La Parada On Bree Has Live Music, Tapas And Spanish Flair
Croquetas, tacos, popcorn made from cauliflower and an all-over good time, plus happy hour from 5PM to 7PM every weekday
If Bree Street is Cape Town's hottest foodie and bar strip, then La Parada, the ornately decorated and Hemingway inspired restaurant, is undoubtedly one of its special treats.

La Parada has become a mainstay with locals for the food; a selection of tapas, including prawn croquetas, tuna tacos, cauliflower popcorn, and tomato cacciotta; the electric vibe, especially now that DJ Rene The Frenchman, plays there, and the infectiously jovial crowd and nearly-endless drinks menu, including champagne, Prosecco, red and white wines, beers and ciders, spirits and cocktails.



SPANISH TAPAS AND SUCCULENT MAINS
The bustling kitchen at La Parada rolls out a variety of well-priced Spanish tapas. So are the mains, like the succulent wagyu beef burger with sharp cheddar, red pepper chutney, and patatas bravas, or attention-grabbing chicken espetadas.

La Parada brings Spain to Cape Town with its decor. Wide open windows give an unbridled view of Bree Street, and the ornate pressed ceilings give an airy, open feel to the restaurant. You can sit outside, too, at a window-sill-turned-table or one of the leather couches. Inside is a mismatch of chairs, brightly-coloured tiles, and there's even a golden bull's head on the wall for good measure. Keep your eyes open for the signature tiled "Bar de Tapas" pillar outside, with a blue and yellow design.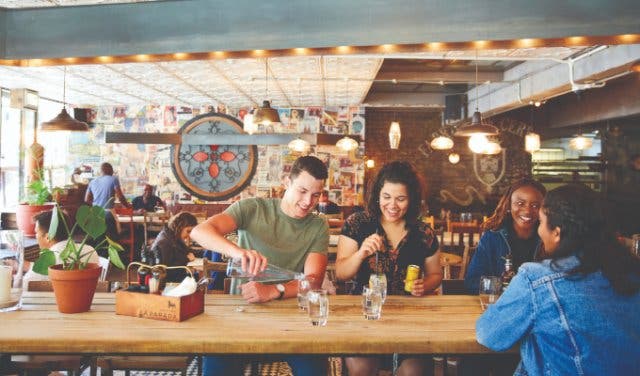 DJ RENE PLAYS ON FINERY THURSDAYS
It's these lush surroundings that make La Parada such a great hang for after-work drinks with friends or colleagues, even more so on the weekly Finery Thursdays (it's like being at First Thursdays, but every week). On these Thursdays, you'll find yourself surrounded by other revellers chatting over small plates of food and whatever the drinks activation of the week is (usually Finery Gin: if you buy a double, the mixer is on La Parada).

One of the highlights is resident DJ Rene The Frenchman, who plays an eclectic mix of Latin and Cuban-inspired house, with live trumpet and percussion.



SUNSET SOUNDS ON FRIDAY
Good times continue into the weekend. Sunset Sounds carries the party over to Friday, with live acts, gin activations (look out for the pop-up bars outside) and a bustling vibe. DJ Tanner, DJ Cosher, ALT EGO and Acoustic Element, who play genres ranging from house to hip hop to eclectic guitar and violin duos with electric synth beats thrown in, play in rotation, keeping the crowd pumped.



PLAN YOUR NEXT FUNCTION HERE
La Parada is the destination for your next function or your end-of-year office party. With outdoor seating on comfy leather couches, plenty of tables inside and out, the occasional pop-up bar, and decor that enhances the Spanish feel, you'll feel like you've been transported to another world. There are even mist sprayers outside to cool you off when it's hot.

The venue can accommodate between 120 and 400 people, depending on the type of party you're hosting, plus they can customise a set menu for you. Alternative, contact La Parada for their function menu. There's also an underground mini bar/club that can host 120 people, perfect for any type of party. Reserve your spot by sending an email to breestreet@laparada.co.za or calling +27 (0)21 426 0330.



---

Here's the (legal) trouble you can get into on First Thursdays.

Discover the best live music venues in the Mother City.

Find out why it's best to party on Bree Street.

Here's what you should be getting up to on First Thursday.

Here's to having the ultimate weekend.

Cocktail lover? Find the best sundowner spots in Cape Town.

---
Supercharge your event? Our Events Support Programme gets results. Contact support@capetownmagazine.com or +27 (0)21 565 0415.

Use our events section for an up-to-date overview of what's happening in the city, suburbs and dorpies. Join our newsletter and add us to your mobile home screen for the ultimate guide to discoveries in Cape Town.

Follow and like us on Twitter ❤ Facebook ❤ LinkedIn ❤ Instagram ❤ Pinterest for updates.