Join our team: Exciting positions available at CapeTownMagazine.com
EDITORIAL INTERNSHIP
Duration: 6 Months
CapeTownMagazine.com is looking for a hardworking and go-getting intern to join its content team. We're looking for a bright-eyed, bushy-tailed content producer with a spirit of discovery. They will help our team in crafting content and articles. Who will help craft articles, collate overviews, dabble in social media and lend a logistical hand around the office (note: the only coffee you'll be fetching will be your own, so don't worry about that). You must have a passion for digital media, and be someone who loves to learn and grow.
The editorial intern will contribute to all our content sections from events, to overviews and features. You will conduct research, do interviews and learn about social media.
The intern will need to work quickly and well under pressure and will need to be gifted with words and be a go-getter.
There's an opportunity to shoulder some serious responsibility here and to gain some valuable insight into the world of online publishing. Plus, there's also a chance that the internship could evolve into a permanent position should you prove yourself an invaluable addition to the team.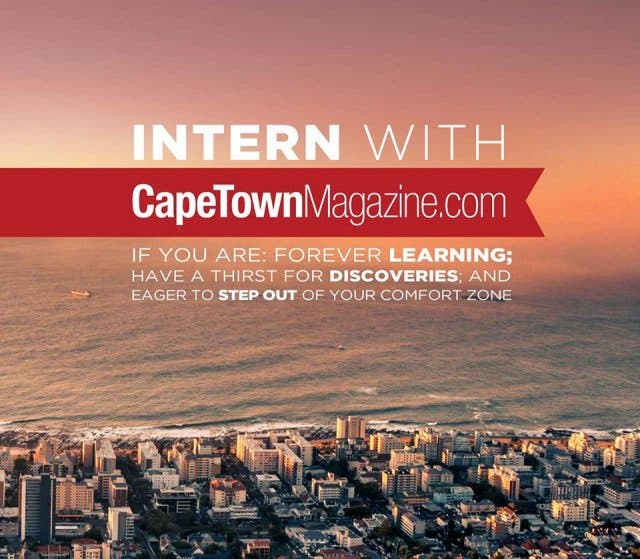 Responsibilities
Write events

Research, fact-check and update overviews and put together new overviews

Conduct interviews, research and collect accurate information for overviews and features

Source photos and videos and edit pictures using image editing software

Learn and Incorporate SEO best practice into the articles

Upload content on the CMS

Write content for partners

Assist with social media tasks when requested

Partake in monthly content planning meetings and pitch ideas for future stories

Upload articles and pictures onto a CMS system

Make a concerted effort to meet all deadlines

Provide support to the editorial team in their drive for excellence, and be a resource to the company


Requirements
Strong writing ability with a good grasp of grammar and spelling (this will be tested)

A degree/diploma in Journalism/English/Media Studies (advantageous but not essential)

Accustomed to a fast-paced environment

A positive can-do attitude

A hard-core work ethic and a serious interest in getting the most of this experience

Understanding of SEO (advantageous but not essential)

Experience using CMS (advantageous but not essential)

Social media experience

An aptitude to understand different processes

A structured multi-tasker

Knowledge of Photoshop (advantageous but not essential)

Sound research skills

Must be on social media.

Need to assist with Google analytics, being able to monitor the performance of content produced


Advantageous
Knowledge of Later.com

Familiarity with Google Analytics

Own transport and driver's licence


Personal Skills/Attributes
Solid worker that can handle pressure and create good content quickly.

A person that loves to be in the know about all things in Cape Town and the Western Cape

Positive attitude

A key interest in SEO and online media channels


If interested, send your CV, a short letter of motivation and two writing samples to now@capetownmagazine.com (please use 'Application for Editorial Internship 2021/2022" as your email subject line).
Deadline: Applications close on 18 November 2021. If you do not receive a response two weeks after the deadline, please consider your application unsuccessful.
Shortlisted candidates will be required to complete a challenge.