In The Zone creative space in Plumstead
Get your creative juices flowing at this fun, family-friendly art studio!
'The artist is not a special kind of person; rather each person is a special kind of artist.'
– Ananda Coomaraswamy
In the unsuspecting KFC Centre in Plumstead, your new favourite family hotspot awaits. Featuring paint brushes, canvases, easels, and aprons; In The Zone will reveal your inner Picasso!
Whether you are right-brained or not, In The Zone caters to both the artistically curious and creatively inclined. From kiddies, to adults, to corporate team building activities; In The Zone offers an opportunity for all ages to indulge their inner child. Participate in the activity we always looked forward to when we were kids: getting down and dirty with some acrylic paint!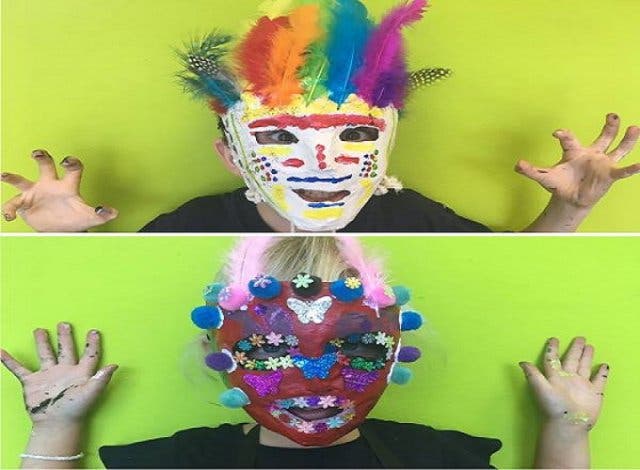 In The Zone offers customized creative sessions, which range from bridal showers and kitchen teas, to birthdays, anniversaries and so much more. Perfect for any occasion, In The Zone will facilitate a group painting of a pet, picture or photograph of significance, which can then be framed and given back to participating painters as a take-home gift.
At our teambuilding activity at In The Zone, we are welcomed by the warm smiles of owners Kim Watermeyer and Rose du Preez. As we take a look around, we see tables set up for our session, and because it's a chilly winter's afternoon, Kim and Rose offer us a warm cup of tea and coffee accompanied by some delicious homemade muffins. And once we're all settled in, out come the aprons!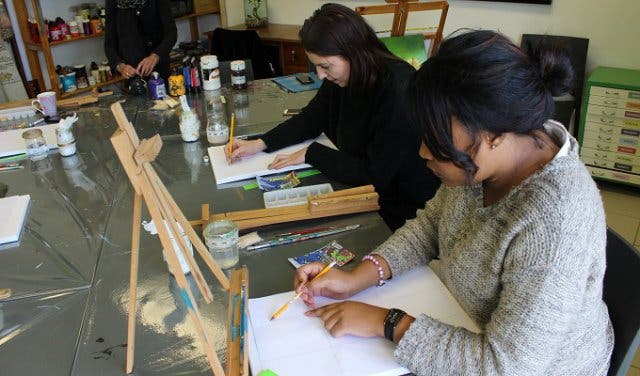 Kim and Rose explain that we don't need any artistic skills to participate, and that the point of the activity is for each person to bring their own character and style into the collaborative piece that we're assigned. We start off opening our canvases and once our instructions are given, communication amongst each other is imperative - a life lesson worth re-learning! All of us are handed a section of an image to work on individually, which we will assemble as pieces of a puzzle, fitting together to make one large image.
As we chat and come closer to the completion of our artwork, Kim and Rose offer their expert guidance in bringing out the best in our paintings; constantly making us feel supported throughout the process.
And in the end, nostalgia hits us and we remember why painting is such a fond childhood memory.
After our team-building session, we realize how much fun activities, like painting, are so necessary in our adulthood. As a team, we grew in understanding one another and were afforded the opportunity to experience our colleagues in a whole new light: the blabbermouth who always has something to say is now mute behind a canvas, the uber professional reveals how competitive they are, the joker sits and observes how each member of the team is responding to something a bit out of their comfort zone, and the perfectionist wonders why they got the most complicated section to paint.
Tip: Run out of options for holiday activities with the kids? Don't sweat! In The Zone is offering a week-long school holiday workshop from 17 – 21 July 2017 for kids between the ages of six and thirteen.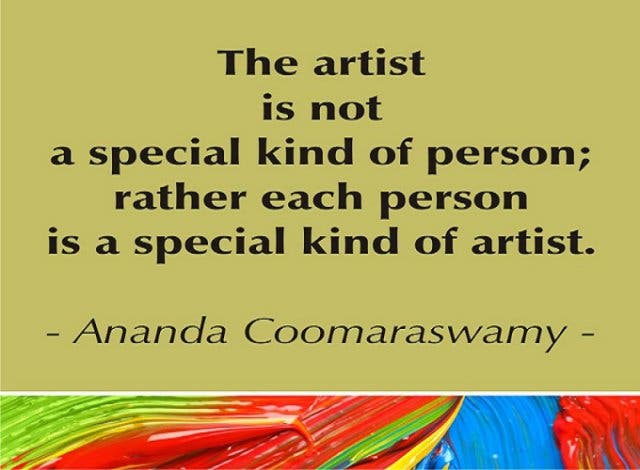 Note: In The Zone not only offers art parties in Plumstead, but is also willing to facilitate these sessions in different venues. Contact In The Zone directly to find out more!
The Bill: Non-refundable booking deposit: R300 | Children's art parties: R195 per child for a two-hour party | Adult art parties: R270 per adult for a three-hour party | All prices include a canvas and all necessary materials
Opening Hours: Schedule sessions
Shop 7| KFC Centre | Wicklow Road | Plumstead | info@inthezone.co.za | +27(0)79 346 6559 | +27(0)79 343 5953
---
By Marian Volkwyn |
---
ABOUT #CapeTownMagNew:
#CapeTownMagNew is a long-standing project that is dedicated to discovering exciting new places in and around our pretty city. We tell their stories, find out what they offer, and delve into what makes them unique. From cafés and restaurants to trampoline parks and dog hotels, there is always one new place in the city that we uncover each week. You can follow #CapeTownMagNew on Twitter and Facebook and subscribe to our newsletter to track recent features or read more here about more Hot Spots and New Restaurants in Cape Town and Surrounds.
---
DISCOVER OTHER EXCITING NEW SPOTS IN THE CITY:
The PlayStation Adventure Park & Café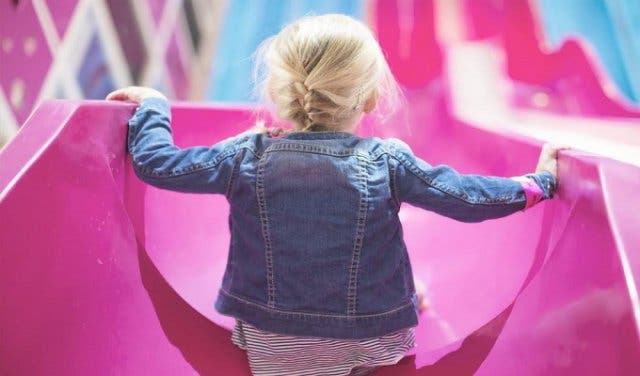 ---
STAY TUNED AND SUBSCRIBE TO OUR NEWSLETTER FOR MORE INFORMATION
---
Use our events section for an up-to-date overview of happenings in Cape Town. Also, don't forget to subscribe to our newsletter and if you have a smartphone, add m.capetownmagazine.com to your home screen for quick access on the go!
Follow us on Twitter, like us on Facebook, join our Google+ circle, connect with us on LinkedIn, check out our photos on Instagram and follow our Pinterest boards for updates on what's happening in and around the Mother City!