Restaurants at wine estates in Franschhoek
South Africa's gourmet capital
Franschhoek is one of the oldest towns in South Africa, notable for having some of the top restaurants in the country and a handful of five-star chefs who take their food pretty seriously. Coupled with excellent wine culture and natural beauty, Franschhoek is our little France.
ENJOY SOUTH AFRICAN CUISINE AT THIS WINE ESTATE
Visit the culturally-rich wine estate of La Motte for a taste of the culture and heritage of the Franschhoek region. With a unique and modern interpretation of South African cuisine, Executive Chef Eric Bulpitt pays a special tribute to the late, great South African artist Jacob Hendrik Pierneef (1886–1957) through the menu at Pierneef à La Motte
Wine to try: La Motte Pierneef Syrah-Viognier
Top tip: Grab a seat near the fireplace in the colder months, or a table on the enclosed patio – the latter offers scenic views of the La Motte wine estate.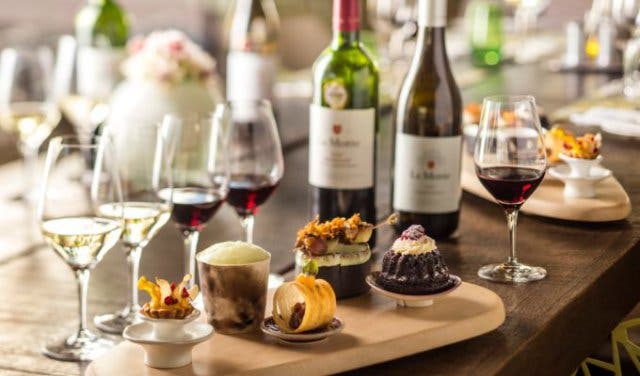 R45 Main Road | Franschhoek Valley | pierneef@la-motte.co.za |+27(0)21 876 8800
Bistro Allée Bleue
Visit for a stylish atmosphere, a menu featuring South African delicacies and fresh ingredients, paired with Allée Bleue wines. Save some room for traditional desserts including banana samosas served with Cape Velvet ice-cream.
Wine to try: Allee Bleue Sauvignon Blanc.
Signature dish: confit of duck, served with creamy mashed potatoes and pinotage jus.
Top tip: they also do picnics on the expansive lawns.
Junction of R310 and R45 | Franschhoek | Cape Town | +27 (0)21 874 1886
Bread & Wine Restaurant
Bread & Wine, on Môreson Wine Estate, is a small deli with a dining terrace, where magic happens on the palate. Sample charcuterie cured on the premises and unusual pizzas from super star chef, Neil Jewell.
Wine to try: they make amazing bubbly; try their range of Méthode Cap Classiques.
Signature dish: charcuterie platters with Parma ham, Mortadella, Chorizo, Coppa, as well as Scotch eggs and chicken liver parfait.
Top tip: our verdict on their pizza? Yum! Make sure to do a wine tasting. We did, and it knocked our socks off.
Môreson Farm | Happy Valley Road | Franschhoek | Cape Town | +27 (0)21 876 3692

Dieu Donné Restaurant
Dieu Donné offers a selection of cold starters, pasta, grills and game. Seafood lovers should try lime and chilli tiger prawns with Mauritian Rougaille sauce.
Wine to try: Dieu Donne Merlot.
Signature dish:grilled zebra rump served with a Gorgonzola and cranberry wong tong, as well as wasabi and sweet potato mash.
Top tip:relax in a natural theatre, overlooking the picturesque, Franschhoek Valley.
Dieu Donné Vineyards | Uitkyk Street | Franschhoek | Cape Town | +27 (0)21 876 3384

Fyndraai Restaurant
Anyone for vegetable samosas, Delta rolls or malva pudding? Situated on the Solms-Delta Wine Estate, Fyndraai offers a modern take on traditional Cape cuisine. You'll also notice a glass floor, which affords a view of wine cellar dating back to 1740.
Wine to try: Solms-Delta Amalie.
Signature dish:Cape snoek velouté, vinkel curry scented fishcake croutons, turmeric bokkom bruinsalie with mayo emulsion, served with buttered vetkoek.
Top tip: not just big on Cape cuisine, but also on Cape heritage music, visit the adjacent museum, you might even be lucky enough to catch a performance.
Solms-Delta | Delta Road | Off the R45 | Groot Drakenstein | Franschhoek Valley | Cape Town | +27 (0)21 874 3937

Grande Provence
Executive chef, Darren Roberts offers innovative dishes including Asian braised pork belly with oranges, tatsoi and roasted onion mashed potato. The Restaurant and wine-tasting area of Grande Provence projects a chic, industrial presence and the striking bar dominates the room.
Wine to try: Grande Provence Sauvignon Blanc 2010.
Signature dish: Caramelised eel and foie gras terrine.
Top tip: do a wine tasting, visit the gallery or browse the shop for curios and homemade jams.
Grande Provence Heritage Wine Estate | Main Road | Franschhoek | Cape Town | +27 (0)21 876 8600

Haute Cabriére Cellar Restaurant
Haute Cabriére Restaurant, which overlooks the Franschhoek Valley, has undergone a glamorous makeover, including an interior redesign and a menu update; both inspired by recently appointed Chef Ryan Shell, who continues the tradition of creating the "perfect marriage of food and wine". The ever changing menu and the wine recommendations that accompany each dish revolve around Haute Cabriére wines and the range of Pierre Jourdan Cap Classiques.
Wine to try: The popular blend Haute Cabriére Chardonnay Pinot Noir, and also their newly released Haute Cabriére Unwooded Pinot Noir.
Signature dish: Pierre Jourdan Belle Rose Cap Classique served with steamed mussels in a Pierre Jourdan Belle Rose and cream reduction.
Top tip: book for a sabrage demonstration (the opening of a champagne bottle with a sword).


Lambrechts Road | Mountain pass| Franschhoek | Cape Town | +27 (0)21 876 3688

Mon Plaisir @ Chamonix
A traditional and authentic French restaurant overlooking Franschhoek Valley on Chamonix wine farm. Expect a blackboard menu with special delights to pair with wine from their private French wine cellar.
Wine to try: Chamonix Chardonnay.
Signature dish:you cannot leave until you have sampled their authentically French, macaroons.
Top tip:the restaurant is very small, so book in advance.
Chamonix Wine Farm | Uitkyk Street | Franschhoek | Cape Town | +27 (0)21 876 2393

Rickety Bridge Restaurant
The sunny wooden deck stretches right into the vines as you sip crisp, estate wine and enjoy a gourmet picnic. In winter, the emphasis is on hot and hearty fare including home-cooked soups and traditional curries.
Wine to try: Rickety Bridge Merlot.
Signature dish:lamb shank.
Top tip:wine tasting (R15 per person, for five wines) is best coupled with a lazy summer picnic, or a cheese platter.
Rickety Bridge Wine Estate | R45 | Franschhoek | Cape Town | +27 (0)21 876 2129
By Lisa Nevitt


PLUS: Discover farm-fresh cuisine and an awesome atmosphere at the place where the winelands' famed chefs eat on their day off. As well as live music and dining every Friday night at La Paris Bistro in Franschhoek.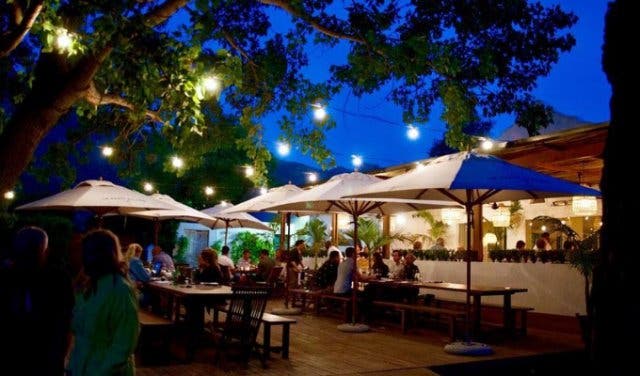 Read our overviews of restaurants at wine estates in Stellenbosch, Paarl, Durbanville, Somerset West and Constantia.

Subscribe to our newsletter, follow us on Facebook and follow us on Twitter.