Hokey Poke in Church Street
A globally infused dish with a Hawaiian and Asian twist
At the top of Church Street, Hokey Poke eatery offers a first for Cape Town's diverse palate: the Hawaiian poke bowl, enveloped in a sneaky tongue-in-cheek fashion.
Filled with wholesome goodness, this mouth-watering offering combines fresh flavours and juxtaposing textures to bring a new sensation to the Capetonian palate. Poke, the Hawaiian verb for "section" or "to slice or cut" incorporates cubed bits of protein, from tuna to tofu, and everything in between, giving patrons the opportunity to opt for what they like or to experiment with flavour palates that entice them.
"There's a global way of building a poke bowl," says owner and chef Max Botha. Building a bowl is a bit of an art at Hokey Poke, as patrons are encouraged to play around with flavours and textures. As Capetonian palates are very familiar with sushi, poke is on the verge of blowing up as the next craze. "Sushi is very disciplined and set in its traditions, but poke is a lot wilder," says Max. "I thought it was fun and fresh, and right down Cape Town's alley according to their taste. A lot of people are going healthy too, so it's a fun way to eat healthily."
The poke hotspot understands that not everyone is on the know-how end of the poke stick, which is why a step-by-step guide to creating a smooth sailing process is needed:
Step One: Pick a base of either sticky or brown rice, kale slaw, baby leaves or gluten free nachos.
Step Two: Pick your protein including tuna, salmon, tofu, prawn, chicken and beef.
Step Three: Pick from a wide variety of toppings including shredded kombu, edamame beans, radish, sprouts, corn, carrots, sugar snaps, green beans, sweet or crispy onions, pickled beetroot, jalapenos, ginger and pear, avocado, pineapple and mango.
Step Four: Pick your garnishes, which includes spring onions, coriander, mint, furikake, tobiko, almonds, macadamias and pistachios.
Step Five: Choose one of Hokey Poke's out-of-this-world sauces, including the Hokey Poke House Sauce, which is the secret soy-based sauce infused with garam masala; hot sauce; hot mayo; wasabi mayo, lime and yuzu dressing and pomegranate and ponzu dressing.
For those new to the poke world, Max recommends trying the Original No.1 bowl, which is the traditional bowl. "That's the way we first tasted it and loved it," says Max enthused. "I really love the balance between the delicate protein and crunchy seaweed, the sharp sweet onions and the meaty tuna with the toasted macadamias. It just blends itself beautifully".
The space in Church Street is clean cut, with little elements that really encapsulates the fun side of this serious super food. "Other than the food, we don't take ourselves too seriously," says Max. "There's also these bazaar touches," exclaims Max while pointing at the Hokey Poke name written in red lipstick in the corner of the mirror-finished wall. "This makes people feel like they don't need to be too serious. You're just in here, eating food and having a good time."
Hokey Poke also offers unique beverages to wash down the culturally rich experience. From Thai strawberry milk tea, "it's like a Taiwanese Steri-Stumpie", says Max with a chuckle. The poke bar also offers The Dutchess' Virgin Gin and Tonic, Kombucha and Uber ice tea, all served in classic glass bottles.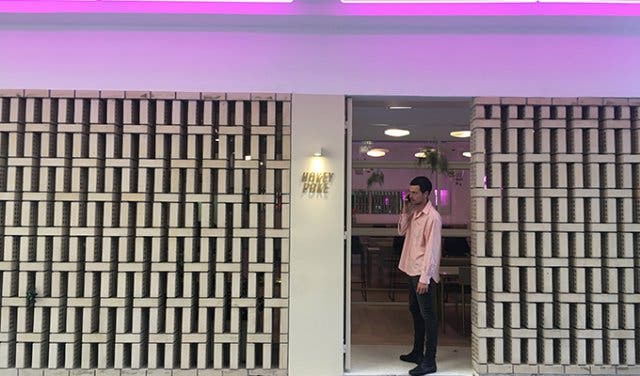 Note: Hokey Poke is in the process of obtaining a liquor license. Keep your eyes peeled to their Facebook page for updates as plans to bring in Saki, Japanese beers and Hawaiian cocktails are in the pipeline.
The Bill: Medium Poke Bowls: R85 – R110 | Large Poke Bowls: R110 – R140 | Build your own bowl: Varied
1 Church Street | City Centre | +27(0)21 422 4382
---
By Marian Volkwyn | Video credit: Josh Oates and Garth Prins
---
ABOUT #CapeTownMagNew:
#CapeTownMagNew is a long-standing project that is dedicated to discovering exciting new places in and around our pretty city. We tell their stories, find out what they offer, and delve into what makes them unique. From cafés and restaurants to trampoline parks and dog hotels, there is always one new place in the city that we uncover each week. You can follow #CapeTownMagNew on Twitter and Facebook and subscribe to our newsletter to track recent features or read more here about more Hot Spots and New Restaurants in Cape Town and Surrounds.
---
DISCOVER OTHER EXCITING NEW SPOTS IN THE CITY:
Shio Japanese Restaurant at The Grey Hotel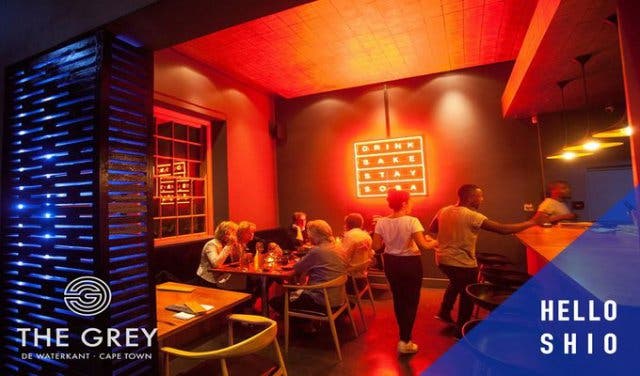 STAY TUNED AND SUBSCRIBE TO OUR NEWSLETTER FOR MORE INFORMATION
---
The Mother City is fast developing so to keep you clued up; we've rounded up some of the hottest latest additions to Cape Town in our New Restaurants and Hot Spots overview. Discover it
New beginnings: Church Streets Ash replaced by Riverine Rabbit restaurant.
---
Use our events section for an up-to-date overview of happenings in Cape Town. Also, don't forget to subscribe to our newsletter and if you have a smartphone, add m.capetownmagazine.com to your home screen for quick access on the go! Follow us on Twitter, like us on Facebook, join our Google+ circle, connect with us on LinkedIn, check out our photos on Instagram and follow our Pinterest boards for updates on what's happening in and around the Mother City