Seven MORE Reasons to Love Rick's Café Américain
As if you needed any
There are a whole host of things to love about Rick's Café Américain. From their vibrant interior, with ornamental lanterns hanging overhead and multicoloured cushions dressing the chairs, and charming staff who ensure you feel right at home, to the idyllic rooftop bar that boasts a beautiful view of both Table Mountain and Signal Hill, there's nothing not to love about this inner-city haunt. But we did find, if you can believe it, seven more reasons to love this eatery. Round up the usual suspects and let's begin!
A Daily Dose of Casablanca
The 1940s classic film is arguably one of the greatest love stories ever told and every day, at 12pm, you can expect to catch the dashing Rick Blaine whisper sweet nothings into Ilse Lund's ears on the main TV. "It's my favourite movie," owner Per Menkö shares. The seasoned chef and enthusiastic host pays homage to the script, which he says was voted the best in the 20th century by maintaining the Moroccan motif throughout the restaurant.
Weird and Wonderful Menu Items
You would think Rick's theme was enough to set it apart from other restaurants and cafés in the area until you look at the menu. Patrons can look forward to mouthwatering offerings of authentic tajines and tapas dishes, but if you want to take a walk on the wild side you can try a serving of smoked crocodile. For R105 you can enjoy thinly sliced crocodile tail, accompanied by a warm orange granadilla vinaigrette. It's more delicious than you think!
No Meat? No Problem!
It's very easy to feel left out if you are the only vegetarian in your group. Eating out can become a headache when the only meat-free substitutes restaurants give you are garden salads or jacket potatoes... but Rick's Café is as committed to providing filling, flavourful food to vegetarian diners as it is to catering for customers who appreciate a thick piece of meat. Tuck into tasty tajines, scrumptious stuffed aubergines, pastas, pitas and satisfying risotto, all made to suit your dietary needs. Belly-busting burgers are not off limits either. Rick's kitchen is happy to substitute any chicken, beef or ostrich patty with a vegetarian one made to complement the flavours of the burger you've chosen.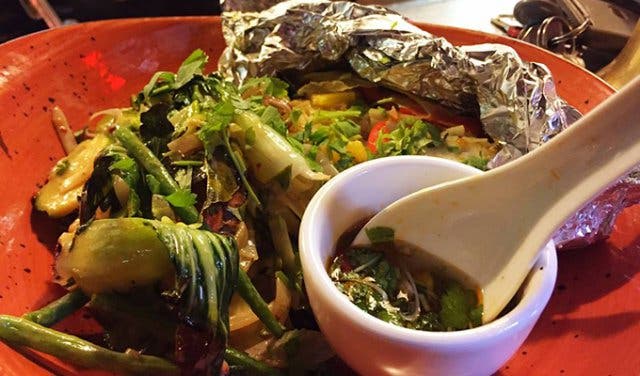 Food me Once, Food me Twice, Food me Three Times!
Rick's menu is pretty extensive and with over 60 dishes to choose from you are bound to find the perfect meal. However, Per offers a curated lunch special "Every week [the dishes] will change and there will be something different. It will be the best we can offer for R69," the plucky German/Hungarian, who is also a seasoned chef, says. Keep an eye on their Facebook Page or Twitter profile so you can be the first to see the astounding menu when it's published on the preceding Friday. Whet your appetite on these offerings: Thai chicken curry with coconut basmati rice, gnocchi with blue cheese sauce, Moroccan style flame-grilled calamari on a chickpea tomato salsa with couscous, Hungarian pork goulash with homemade spätzle, or Cape Malay beef roti with tomato and cucumber salsa. YUM! Expect options like these, and so many more, during the lunch special that runs from 3pm to 5pm daily.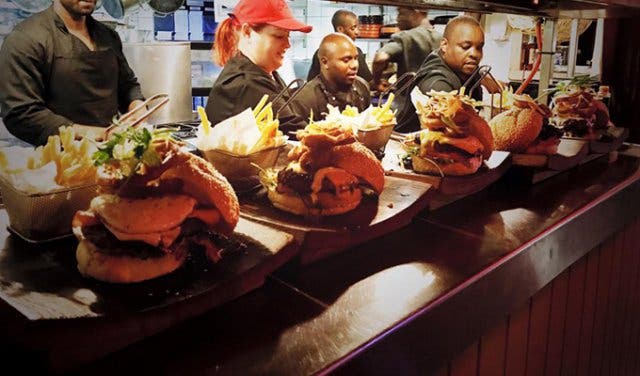 "Of All The Gin Joints...
… in all the towns, in all the world", as the famous movie quote goes! And although Rick's Café offers more than just gin, with over 600 drink items you're certainly be spoilt for choice. Similar to the weekly lunch special, Rick's have a cocktail of the week. For R44 you can sip on colourful and creative cocktails like the Bloody Maria. This twist on a classic substitutes the vodka base with El Jimador Reposado tequila. If you want to suss out the mysteriously named weekly specials like Shark Bite and Chimayo then you'll have to head to the charming eatery and see for yourself.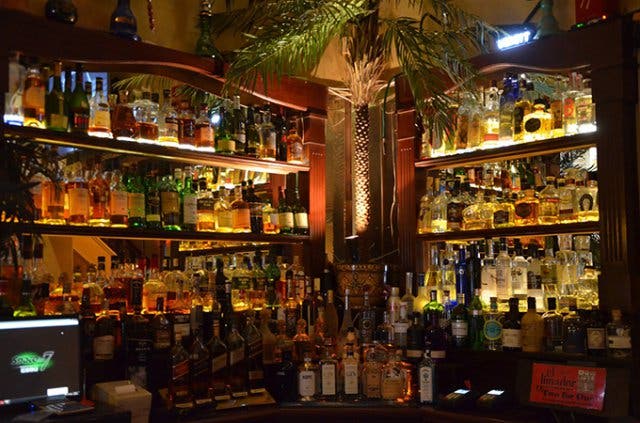 Hooray for Happy Hour(s)
Very few things beat celebrating the end of a successful (or dreadful) day by cracking open a cold one. It's as if, as the refreshing nectar glides down your throat, all the frustrations, aggravations and stresses of the day wash away. Well Rick's wants to celebrate with you, and in the spirit of having a good time, and in keeping with the flexi hours many professionals observe, the perfectly located restaurant and bar runs an incredible four-hour happy hour special. From 3pm until 7pm every day you can toast to R44 mojitos, Moscow mules, martini's, daiquiris and cosmopolitans. Champagne cocktails go for as little as R58 each and long cocktails are cheaper, but just as potent, at R52 each. Jack Black lager, ale and weiss go for as little as R26 each too. It would be a travesty to miss out on such a hospitable special.
The Host With The Most
This popular hangout is as loved and frequented as the Rick's Café Américain in Casablanca. Because it is a local go-to for fun, fine food and fantastic drinks it comes as no surprise that patrons often want to host events at the eatery. Rick's is happy to oblige. Per, with the assistance of his lovely managers and friendly staff, will help you plan a birthday party, farewell, bachelorette or corporate event that all your guests are sure to enjoy. Rick's can accommodate 25 to 60 people in their upstairs dining area and on the rooftop deck so there'll be ample space for a casual, but still intimate soiree. You'll have 140 wine options, over 60 beer varieties and 30 different gins to choose from, and with their mouthwatering menu you'll want for nothing.
If you've managed to make it this far without getting on the phone to book your table at Rick's Café what are you waiting for?! I implore you, treat yourself to a tajine, traditional tapas dish or a mixed meat skewer – it'll be the beginning of a beautiful friendship!
Words by Inga Sibiya
---
Eager to learn more about what's on offer at this trendy restaurant? Read more about Rick's Café Américain. Check out other spots to enjoy at sunset in our Rooftop Bars overview or make the most of Happy Hour in the CBD.
---
Use our events section for an up-to-date overview of happenings in Cape Town. Also, don't forget to subscribe to our newsletter and if you have a smartphone, add m.capetownmagazine.com to your home screen for quick access on the go!
Follow us on Twitter, like us on Facebook, join our Google+ circle, connect with us on LinkedIn, check out our photos on Instagram and follow our Pinterest boards for updates on what's happening in and around the Mother City!