Spend a Day at: Spice Route in Paarl
A wine-land playground that'll satisfy your every desire!
Most people have heard of Paarl; it's only an hour outside of the city and it boasts some of the most famous wine farms in the Cape. The town is scattered along the Berg River, and the wine farms certainly benefit from this natural water source (both in water access and in added aesthetic beauty). Paarl is home to Nederburg, Avalon, Backsberg, Fairview and Laborie; all of which warrant a visit too, in case you were wondering.
In our Area Spotlight category, we like to take you to place we know you'll be kept busy all day long and in Paarl, there is no better place to take the family (to find something for everyone) than Spice Route. It was founded in 2011 and has grown bigger every year since. We are going to take you through the entire estate and detail to you exactly why Spice Route is a definite 'must-see' in Paarl.
The estate boasts over seven separate venues/experiences and we've got the scoop on them all. Let's start with wine, as it is my favourite beverage and because Spice Route is primarily a wine farm. The wine they craft on the estate is delectable, and they offer their entire selection for you to taste; and it's only R30p/p. Their red wines are legendary and their white wines are well known too. The Chakalaka, in ode to the well-loved African dish, is strong in flavour and very complex on the palette. Their Chenin Blanc is light and subtle, making it the perfect wine to sip on during the hotter months. While tasting their delicious wines, you'll be seated outside on the lawn with amazing views of the Paarl wine valley, and the mountains framing the background. Spice Route is decorated in the most stunning of styles; dark wood, old blue and white ornate tiles, climbing ivy plants and even some statues sprinkled around the estate. Sit back and enjoy the wines at the olden-world feeling estate nestled in Paarl.
Next up, let's talk about beer. Beer has been brewed in Africa for centuries (and usually by women, so there's a fun fact for the day), and by 2017 we are pretty close to perfection. Rather conveniently located at Spice Route is the Cape Brewing Company, or CBC for short. This craft brewery is one of the bigger and more well-known breweries in the Cape and it's not hard to see why. Their beer selection is extensive and their craftsmanship is exceptional. At their beer showroom/actual working brewery they offer a tasting of four or six beers (depending on who's driving and how much wine you've already tasted). Some of the beers they offer are only available at the brewery itself, so any true craft beer fan needs to get down there and be able to say they've tasted all of CBC's golden brews. Now I am no beer fan, but their Krystal Weiss is really delicious; as is the peach flavoured Weiss. For tasting, they offer their Lager, Pilsner, Krystal Weiss, Amber Weiss, the Cape Coastal IPA and their limited edition Harvest Lager. To be perfectly honest, it is definitely worth having the six-beer tasting, just simply so you've experienced their entire range and can decide which one you'd like to buy (which you can do directly from the Tasting Room).
Moving in a purely geographical manner, next up is De Villiers Chocolatiers. These purveyors of all things chocolaty and delicious are also located at Spice Route, much to our delight. Their adorable Cape Dutch building houses plenty of scrumptious treats and if you're clever, you'll also bag some to take home for later! De Villiers offers two tasting experiences; a guided one and an independent one. I did the independent one and the experience was amazing. For only R25p/p, you will be set free in a room of chocolate, working your way around the counter sampling each chocolate one by one. You start with a raw cocoa bean; still in the shell. Once you crack it open and have a little nibble (I cannot emphases 'nibble' enough; unless you're a dark chocolate fanatic, you'll find that the raw bean is incredibly bitter so just be careful about popping the whole thing in your mouth). From there you go to the 70% Dark Chocolate, which tastes sweet in comparison to the bean, then to the Dark Chocolate with Salt, then through their whole dark chocolate range. Once you're done there, you go onto their milk chocolates and nougat ranges (all of which are delicious). If you like any (which you will), make a note of the name and head through to the shop once you're done and get some to take home. The 70% Dark Chocolate, the Hazelnut Nougat (made with honey, not sugar) were personal favourites, and some dark chocolate covered mango, which was amazing. They also have a glass case filled with ornate and freshly made artisan chocolates, crafted from their internationally sourced cocoa beans. Make a note of this place people, it is a haven for chocoholics (of which I am definitely one).
Once you've indulged in wine, beer and chocolate, you might feel the need for a bite to eat; something a little more substantial and we have the info on all the places that Spice Route can offer you. Bertus Basson is a big name in South Africa; the tall bearded man that loves meat, open fires and strong flavours. Bertus Basson at Spice Route truly reflects this talented chefs food ethos; fresh, local and full of flavour. His menu features South African classics with a modern-foodie twist, as well as South African spins on international favourites. Their chicken liver pate is to die for; the best I have ever tasted and I adore pate. The bread is freshly baked on-site and even as we sat inside, we could see the outdoor ovens being readied for a day of meat smoking,. On arrival, we were brought fresh bread with an olive oil mousse and pear poached in red wine. The strong pear and the silky smooth mousse paired beautifully and the addition of deliciously soft bread rounded off the whole experience. Their drinks menu features wine both from the estate and further afield, as well as gin cocktails, most other spirits and soft drinks. Bertus Basson at Spice Route has the highest price point on the estate and they do not have a kids menus, so please keep that in mind.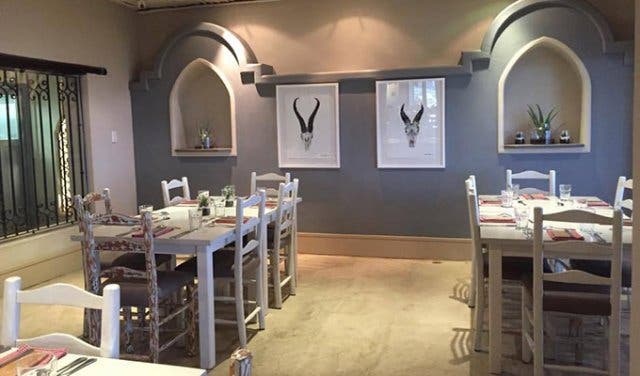 La Grapperia is a mini experience in-and-of-itself; they have a restaurant and in the same building they have Wilderer Gin and Grappa tastings, which is also a 'must-do'. Let's first start with the restaurant; the warm interior is incredibly inviting and after a long day of beer, wine and chocolate tasting, there is nothing better than sitting down and enjoying some flavourful Italian classics. Their pizza is both very fairly priced and very tasty; they have a menu that is suitable for kids and they also have a playground which will keep the little ones entertained. I had a Hawaiian pizza and before you all start moaning about pineapple on pizza, it was delicious and I don't care. You can pick anything off their menu and be delighted by the taste, they're that good. Spice Route, similar to many other wine farms, is particularly popular in the summer months, but I urge you to give it a go even in the cold; the roaring fire at the La Grapperie will warm your bones and ignite your appetite for pizza! Their menu also features things that aren't pizza, and they include flammkuchen, schnitzel, eisbein, and plenty for delicious dishes.
A few years ago, Cape Town went a little nutty for gin. Every bar, pub and watering hole started designing gin cocktails. Gin bars started popping up and now the general public has discovered the delight of Wilderer Gin. This German-owned business started off as a Grappa producer only and decided to spread their expertise to gin too, and thank goodness they did! Wilderer Gin is one of the Cape's most popular gin's and you can find it in most cape restaurants. Their tasting experience will show you the best of their range, served neat, so it is certainly not for the faint-hearted. We had a little chat to the owners, and one of their favourite gin and tonic flavours is a classic slice of lemon, but they also suggested pineapple and curry leaves. These guys are the masters of gin and gin pairings so put your faith in their hands, and prepare for a delicious tour of the daring tastes of gin and grappa; you won't be disappointed!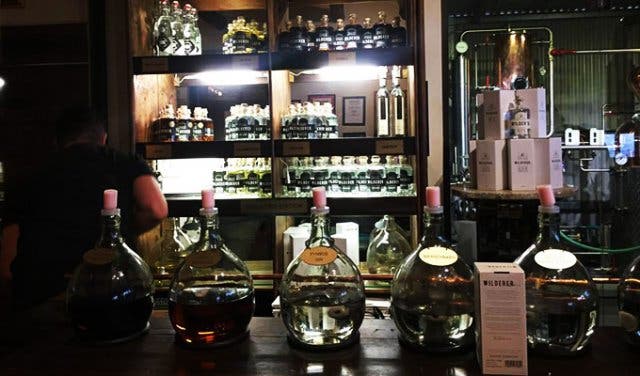 Since CBC is on the premises and Spice Route is located in Paarl, the addition of Barley and Biltong is a welcome one. This is the place to come for a relaxed bistro-style lunch. Their menu features the classics; burgers, pretzels, sausage, biltong platters and plenty more to delight your taste buds. What's more is the ability to pair your meal with some delicious beer from right next door! CBC beer isn't just good on its own, the flavours in the food also bring out the beer's flavour. Their restaurant is made up of pub-style tables, made to be filled with hungry people all having an awesome day out of the city and enjoying some delicious food. This is the place to eat if you're looking for a chilled out meal accompanied by a cold beer.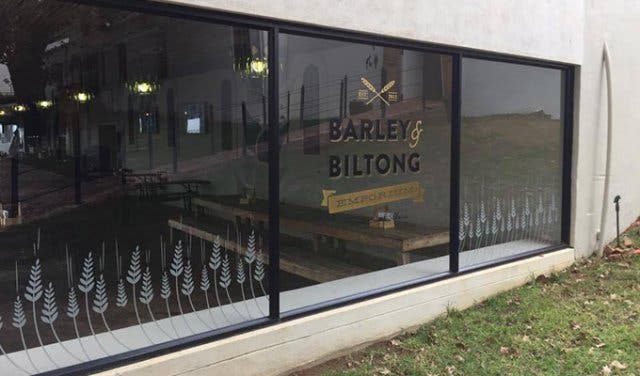 Spice Route also has an Art Gallery where you can view some really stunning works, a glass crafting workshop (called Red Hot Glass) which creates some of the most amazing glass pieces I've ever seen, as well as an ice-cream shop which has some mouth-watering flavours that you simply must try! Here's a little tip; if you sit inside at Bertus Basson at Spice Route (and you sit towards the left-hand side of the restaurant), you can see into Red Hot Glass and the view is amazing; you'll be delighted by glass works of every colour, gently sparkling in the natural light.
Now you've got all the info you need on what to do at one of Paarl's most popular wine farms; Spice Route. The kiddies will love the chocolate, ice-cream, pizza and all the space to run around, and the adults will certainly be able to sink their teeth into some delicious Bertus Basson meals, all the while washing it down with sensational wine. If you have any questions, you can give the general Spice Route number a call and they will be sure to help you; +27 (0)21 863 5200.
---
Learn to make Cape Malay sago pudding and an egg-free alternative with this sago pudding recipe.
Popular the whole year but particularly over Easter, we've got the inside scoop on making the ultimate pickled fish recipe.
If you're interested in other Area Spotlight guides, have a look at Kalk Bay, Hout Bay, Langebaan, Bloubergstrand, and Kirstenbosch National Botanical Gardens for a little inspiration!
Experience a one-of-a-kind sunset and unmatchable vibes at the Barley & Biltong Emporium's Sundowner Sessions.
---