Spend a Day in: Langebaan
An oasis only an hour outside of Cape Town
Langebaan, like many other seaside towns, is filled with activities that suit the whole family. Located only an hour and a half from Cape Town, Langebaan is the perfect distance from the city to getaway for the day. They've got it all for all members of the family, and you certainly won't regret the short trip along the R27 because it'll take you straight to paradise. We've compiled a guide to some of the best places and things to do in this charming town.
WHAT TO EXPECT FROM SPENDING A DAY IN LANGEBAAN
LIFE'S A BEACH
It's well within the realms of reality that you'd want to spend a good portion of your day in Langebaan lounging on one of their stunning beaches. When I went to Langebaan, purely for research, I found myself sitting on a stunning beach, soaking up the sun and even venturing into the water for a dip. Was it wise? Probably not if the weather was less than 30 degrees, which coincidentally it wasn't. Cape Town boats plenty of amazing blue-flag beaches so why should anyone bother going all the way to Langebaan? Quiet beaches are often the best beaches. You'll have some time to relax with just the sound of the waves gently lapping the shore and the occasional sea-demon, I mean seagull. I spent a full two hours on Calypso Beach and it was the best way to start my day in Langebaan. I even saw a seal surfing in the waves; you can't make this stuff up man.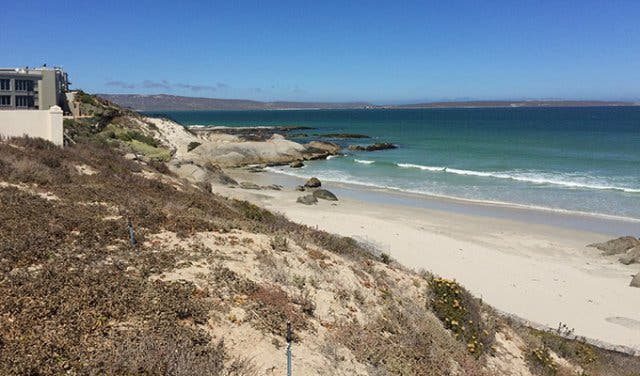 GREECE AWAY FROM GREECE
If you're looking into spending a day in Langebaan, you've probably heard of Club Mykonos. This Greek-style casino and entertainment world is like nothing else you'll find along the West Coast. There are plenty of restaurants and bars (on the beach side of course), plus lots of fun stuff for the the kiddies to do. You can join the fun and take the kids on a boat, teach them to sail and even let them have a go on the quad bikes. If you're heading to Langebaan sans les enfants, then the casino is something you can also take advantage of! Gambling is not for everyone but is most certainly worth a try if you've never been.
Marc's Beach Bar and its pirate ship shaped climbing frame is the perfect place to have a pre-lunch cool drink and maybe a few snacks while the kids play around and pretend they're salty seadogs on an adventure into the deep blue sea. On Saturdays and Sundays, a musician will take to the stage and make your afternoon even more special. They'll play music of their own creation, as well as old classics that everyone loves. The cocktail menu on offer is awesome, trust me I had the mojito and the sex on the beach, both of which were amazing.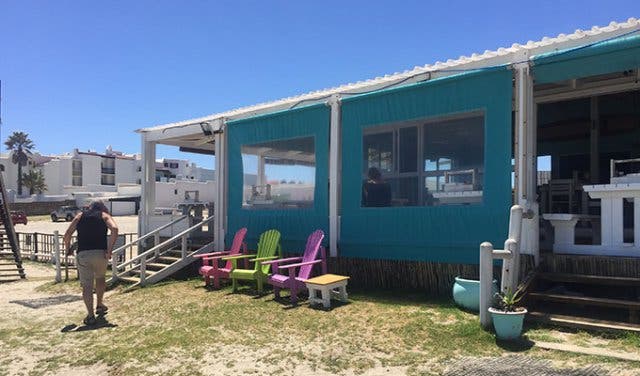 Along the same beach as Marc's Beach Bar is one other restaurant, which is charming and perfect for a bite to eat. Boesmanland Plaaskombuis has panoramic views of the ocean, a scrumptious menu and a very handy location. They do deliciously hearty meals, with homestyle breads made on site and we couldn't be more relieved to see a place that still does potjie! Call me old school, but nothing does down better than a hot potjie and an ice cold beer.
TAKE A WALK ON THE WILD SIDE
The obvious choice for an afternoon visit is the West Coast National Park. It boasts thousands of local seabirds, a smorgasbord of flora (plants, not margarine), stunning views and fresh air like you've never experienced before. There is something very holistic about getting back to nature and reconnecting with mother earth, but no venue is more picturesque than the West Coast National Park. At certain times of the year, the wildflowers come into bloom and the entire park is decorated with flowers of all colours. It goes from fynbos greens and browns to bright purple, cheery orange, pristine white and icy blues. You can also get on a bike and explore some of their mountain biking trails, most of which are suitable for the whole family. There's very few ways to work up an appetite stronger than physical exercise, so get a taste of adventure and a little workout at the same time!
Now, I realise that Elandsfontein Private Nature Reserve is a little outside of Langebaan, but who wouldn't want to see little bokkies? It was once the home of the largest inland migration of game in the history of the province. You can get up close and personal with these animals from the comfort of the safari-bus. While there are no lions, that does not mean you won't get to see one of the big five. That's right, they recently introduced Cape Water Buffalo to the park and these giants need to be seen to be believed. On the three-hour game drive, you can expect to see kudu, gemsbok, zebra, black wildebeest, eland and more. Return to what Africa used to look like with game roaming free at Elandsfontein Private Nature Reserve.
LUNCH TIME IS THE BEST TIME
Langebaan is no stranger to tourists, which is fair enough it is stunningly beautiful, but that's beside the point - they have enough lunch venues to sink a ship, not literally. Boat sinking jokes aren't really appreciated in small fishing towns.
Pearly's on the Beach, true to its name, is actually on the beach. It overlooks Langebaan Lagoon, and you can see the kitesurfers learning their skills on the aquamarine water. It's a very relaxing spot to grab a bite to eat, and their food is delicious. I had a pizza, and their offer (at the time) was half off all pizza's; so it's wallet-friendly too. Their strawberry daiquiris could easily match any of the bars in Cape Town and they're about a third of the price of an inner city bar. All of the flavour without all of the money; sounds like a pretty sweet deal. Pearly's also offer dinner, so if you find yourself drawn to another lunch venue, you can always circle back and have something delicious with the best view in Langebaan.
Cafe Graze Garden Restaurant, a hidden gem for sure, is also a lovely place to grab a bite to eat. Their garden section is adorable and their light lunch menu is perfect for hot summer days. The entrance is located through the Mooi Boutique, which is also well worth a visit if you're in the mood for some shopping. Once you walk through, you'll find yourself in a cool eden surrounded by artistic stone walls and littered with refreshing greenery. Their herb and cheese muffins will change your life and your opinion on savory muffins (if your current opinion is bad, if it's good then it'll simply reaffirm that love). They also do freshly baked goods everyday, of which the sweet variety are incredibly yummy.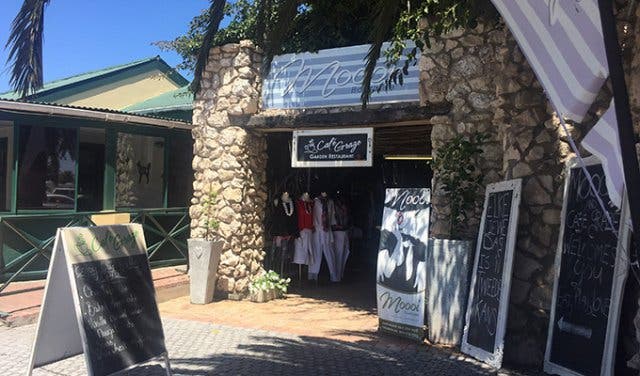 If you're not so hungry, and you just fancy a little something, you can also give The Pancake Place a go. I love pancakes, and I rarely need an excuse to eat one, but these are extra special. The Pancake Place even does savoury pancakes, waffles, samosas, bitterballen and sandwiches. If you want to have a bite to eat al fresco, you can order your yummies to go at no extra cost and go and relax on one of Langebaan's stunning beaches (just make sure you paste on the suncream, in a battle between you and the sun, the sun will win everytime).
LET'S GO SHOPPING
As I've said before, Langebaan caters for tourists, but they also have a host of shops that offer charming reminds of your visit, clothes for sale, adorable baby outfits and much more. I didn't go in many, so I just thought I would list the shops I think are worth a visit:
C-Kat sells beach goods, souvenirs, sunblock, locally produced clothing and some Urchin Art pottery items (as well as other pottery names).
Mooi Boutique has the most divine locally made clothing. It's all very stylish, lightweight for summer and most is made of real linen!
Neptune's Cave has the most impressive selection of shell-related goods that I think I have ever seen. You name it, and they've probably made it out of shells. Think dream catchers, mobiles, wind chimes and even jewellery.
Kat-Too is another charming addition to the list; they have a much more hippie-style vibe and you will definitely find some of those flower-bag pants that are all the rage (to who, I am not sure). They also sell ceramics and one of a kind items that you'll be sure to treasure forever.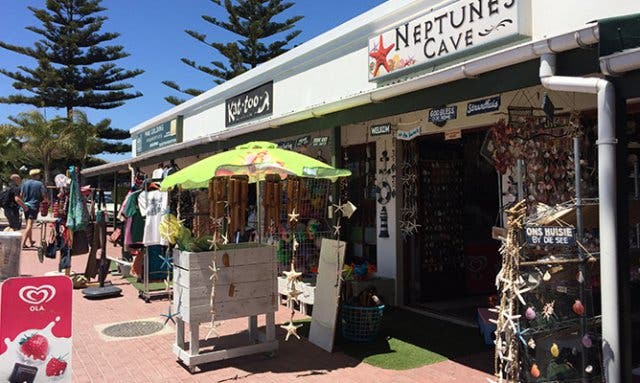 THE WAVES ARE CALLING
Watersports aren't for the weak hearted (jokes, they have lifejackets for that). You cannot possibly go to Langebaan and not try kitesurfing, it just doesn't make sense. There are plenty of operators, tour guides and very skilled freelancers willing to teach you all you need to know to tackle the waves of the lagoon. It's safe to say that the chance of getting eaten by a great white are considerably lower than the already minute chance of getting eaten in the actual ocean.
Here are some of the vendors that I saw on/near the beach in Langebaan and their contact details:
KiteLab - +27 (0)22 772 0026 - info@kitelab.co.za
Constantly Kiting - +27 (0)73 071 3878 - info@constantlykiting.com
Liquid Force - +27 (0)21 556 8172 - jarrod@liquidforce.co.za
DARLING, GET DRESSED, IT'S TIME FOR DINNER
Restaurants in Langebaan are incredibly diverse, meaning that everyone will find something they like to eat. They've got it all from fresh seafood and local meat products to Italian food and meal pairings. Wine is a big part of our lives, and Langebaan restaurants have a great selection for you to enjoy with your dinner.
First on the list is Breeze Restaurant and Wine Bar. They serve breakfast, lunch and dinner daily at their newly renovated location, just down the road from the main lagoon beach. Their menu includes burgers, curry, chicken and pasta, all of which can be paired with their wine menu seamlessly. All of the dishes were prepared and designed by James Preyser, and the restaurant requests that patrons do not order any substitutions.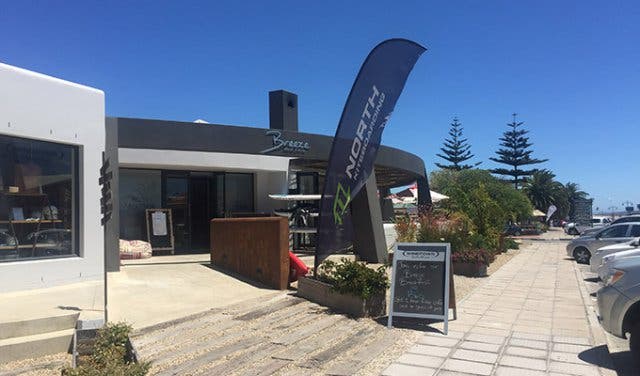 If you are in the mood for a more relaxed meal, then Husky's is the place for you. This chilled-out gastro pub offers delicious fare and cold beer. Husky's is popular with locals and they also welcome the furrier patrons so you can bring your doggie along with you. Their nachos and burgers are good, but their tapas menu is even better. After a very busy day of activities and eating, you might not want a heavy meal and you simply must head to Husky's for some tapas. Wash it down with some wine or beer and you've got yourself a pretty perfect evening.
Panorama at The Farmhouse Hotel has the best selection of seafood and an amazing view of the Lagoon. The interior of the restaurant is modern yet homely and you can even see into the kitchen directly! They take farm-style classics and add modern culinary twists to create a delicious menu filled with all of your favourite dishes.
Lastly, and certainly not least is Die Strandloper. This seafood restaurant is passionate about fresh delights straight from the ocean to your plate (after a stop in the kitchen for a bit of cooking), all of it served with a smile. Step onto the sand, head to your table and relax like is only possible at the seaside.
Article written by Charlotte Rogers.
---
Discover a cosy weekend away with these unique winter getaways.

If you are on the search for sunset spots to quench your thirst, why not check out our overview of Sizzling Sundowner Hotspots in Cape Town.
Have a look at some of our other area spotlights: Kalk Bay, Bloubergstrand, Hout Bay and Wellington.
If you are keen to learn the art of kitesurfing, you'll be a pro in no time with the expert guidance from the guys at High Five kitesurfschool.
---

Also, don't forget to follow us on Twitter, like us on Facebook, join our Google+ circle and check out our Pinterest boards for updates. Not to mention, subscribe to our newsletter to keep up to date with what's hip and happening in our pretty city.