The Relaxed Elephant Seal Loved by Everyone
Children are super intrigued by this huge beast
Buffel, the 1200+kg southern elephant seal lying with his imposing body in the middle of the beach in Fish Hoek, has drawn many onlookers. "This really is a super special experience," says ecologist Otto Whitehead, who spent a year living on South Africa's sub-Antarctic Marion Island.
WATCH: Buffel uses his flippers to throw sand over his body as protection against the sun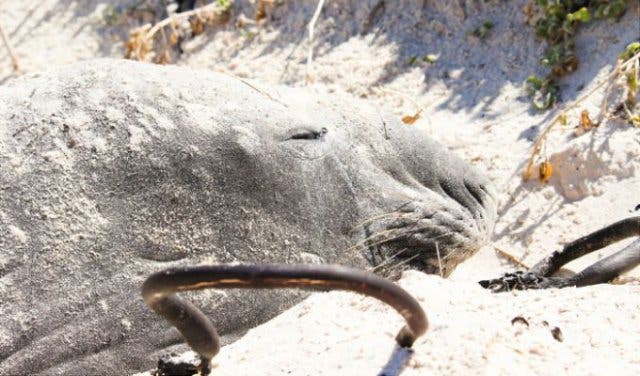 HE'S AN IMPRESSIVE SIGHT
Buffel the elephant seal is 4.2m in length, huge, thick with a short trunk and looks like he's quietly sunbathing. He's actually moulting, shedding fur for a new coat. Says Whitehead: "It is normal for elephant seals to exchange their old fur for a new winter one – a process that takes about four weeks. During the time they are on the beach, elephant seals don't swim, mate or eat. They simply survive on their large amounts of stored body fat." Buffel shifts around from time to time and uses his flippers to throw sand over his body as protection against the hot sun.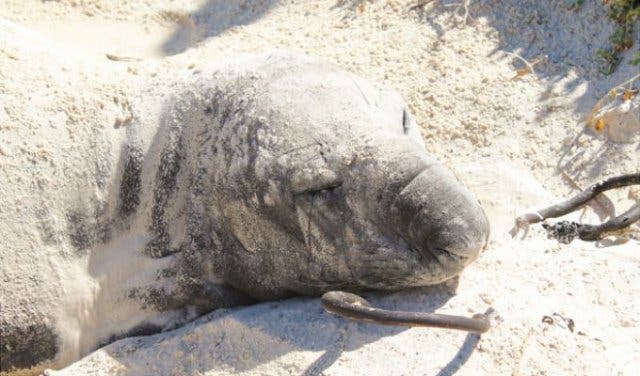 HE'S A CURIOUS, ADVENTUROUS SEAL
Buffel is a southern elephant seal (there are two types – the southern and the northern elephant seal). Southern elephant seals swim around the sub-Antarctic islands about 2000 kilometres south of South Africa. They find a beach somewhere between Antarctica and South Africa on which to moult. So what is Buffel doing on this beach alone? Whitehead thinks that Buffel is just a bit of a strange one. "He has no reason to be here, as there are no other elephant seals. But he's very relaxed with all the people around, who he seems to treat and regard as simply being big penguins."
If you do go experience this rare sighting of an elephant seal, leave him in peace, and stay behind the cordened area. Buffel's relaxed attitude means that people can see him – provided they stay well behind the erected barriers.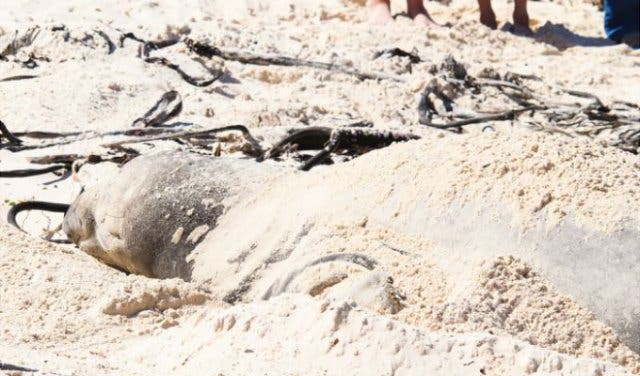 KIDS LOVE HIM
Buffel's new coat is already completely grown, so he will probably soon leave. "Normally you'd have to travel to the Antarctic or sub-Antarctic to see a seal like this. So this really is a very special experience – for so many people to see an animal like this in real life."
"I've noticed that the children are super intrigued by Buffel," says Whitehead. "Hopefully this experience will one day result in them choosing to study marine biology."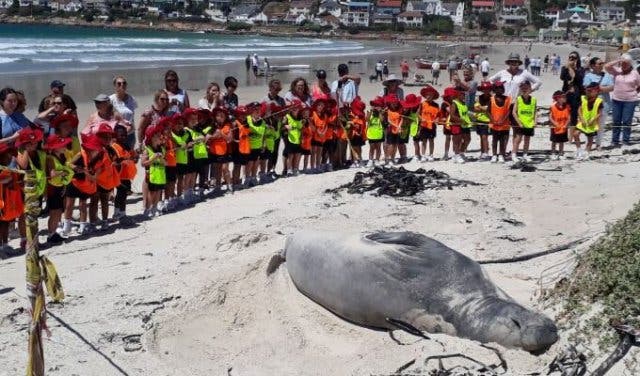 ---
Celebrate our 100-year-old surf culture and help break the World Record of 511 people in a paddle out.
There are so many other Ocean experiences in the Western Cape. Try these 9 Epic Ocean Experiences.
See whales, dolphins, penguins, Cape fur seals and mola mola (sunfish) on an awesome boat trip to see the Marine Big 5.
And get 10% off a Sea Snorkelling Experience.
---
Use our events section for an up-to-date overview of what's happening in the city, 'burbs and dorpies. Join our newsletter and get quick access on the go by adding us to your mobile home screen for the ultimate guide to discoveries in Cape Town.
Follow and like us on Twitter ❤ Facebook ❤ LinkedIn ❤ Instagram ❤ Pinterest for updates.