The Durbanville Coffee Shop Where Everything is R10
XPRESSO Café is the FIRST java-stop in the country to sell ALL of its goodies for only ten bucks a pop
A coffee shop where EVERYTHING – from delectable coffees and specialty teas to tasty pastries and healthy sandwiches – is ONLY R10 an item seems impossible, right? Right?! Wrong! VERY wrong.
XPRESSO Café, which officially opened its doors on 1 October 2016, is the first coffee shop franchise in Cape Town, not to mention the country, to sell ALL its menu items for ONLY R10 a pop. The trendy Northern Suburbs java stop strives to offer South Africans the opportunity to enjoy the much-loved bean experience at the best price possible, ONLY R10!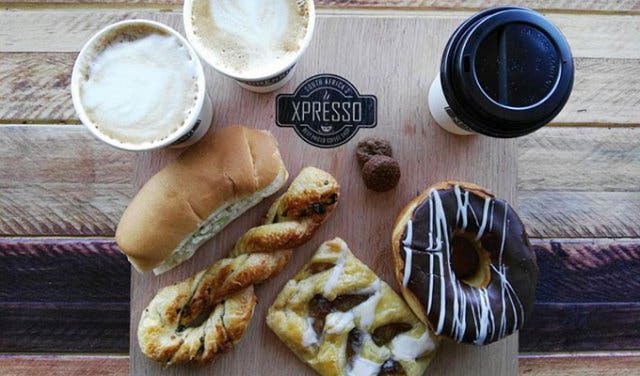 Foundered by Nicolene and Tomer Elhadad, XPRESSO Café's food menu comprises an array of yummy treats including apple Danishes, cinnamon chocolate twists, croissants, pretzels and brownies, to name but a few, as well as a selection freshly made egg, chicken, tuna and cheese salad sandwiches. On the drink front guests can order from a wide selection of coffees – flat whites, espressos, café macho etc. – and teas as well as freshly squeezed fruit juices and iced coffees.
XPRESSO Café's Locations:
1. 16 Wellington Road | Durbanville
2. Cape Gate Mall | Woolworths Entrance | Brackenfell | Open until 7pm
3. Shop 6 | Shortmarket Street | Cape Town | Open until 6pm
We Love that absolutely everything – from flat whites and red cappuccinos to custard Danishes and chicken salad sandwiches – is ONLY R10.
Top Tip: MAKE SURE YOU CHECK OUT XPRESSO CAFÉ!
NOTE: XPRESSO Café is a franchise. Those looking to become part of the R10-coffee shop revolution can contact franchise@xpressocafe.co.za for more information. Please note that all franchise info will only be available in January 2017.
STAY TUNED AND SUBSCRIBE TO OUR NEWSLETTER FOR MORE INFORMATION AND FUTURE UPDATES.
Opening Hours (Durbanville): Monday to Friday: 7am – 6pm | Saturday: 7am – 4pm | Sunday: 8am – 1pm
The Bill: EVERYTHING IS R10
---
Use our events section for an up-to-date overview of happenings in Cape Town. Also, don't forget to subscribe to our newsletter and if you have a smartphone, add m.capetownmagazine.com to your home screen for quick access on the go!
Follow us on Twitter, like us on Facebook, join our Google+ circle, connect with us on LinkedIn, check out our photos on Instagram and follow our Pinterest boards for updates on what's happening in and around the Mother City.