New Place: Mzansi Meets 'Merica With All-Day Brunch at Syrup.
A sweet or savoury slice of America (in healthier portion sizes)
Eat Street's latest addition is an (almost) all-American affair, having been founded by American couple, pastors Ashley and Jason Kennedy (could there be a more appropriate surname?). After spending a lot of time in South Africa and moving here six years ago, the Kennedys decided to open their third eatery (the other two are in the US) on local shores and bring a taste of some of the best State-side brunch offerings to the Mother City.
"If you were thinking of food, Bree would be the street you'd come to. I knew that if we were to open a restaurant here, this would be the street," says Ashley.
Spotting a "to let" sign outside the restaurant six months ago sealed the deal for the Kennedys and Syrup opened its cheerful yellow door at the end of May.
FOR THE NEIGHBOURHOOD, BY THE NEIGHBOURHOOD
Brunching at Syrup. means more than just filling up on some all-American goodness. It means contributing to the communities of Cape Town and Oklahoma City, home to the Kennedys' other restaurants. According to the couple, though Syrup. is a for-profit business, they run it as a non-profit and donate all the profit they make to charity.
They've also got small businesses involved in Syrup.'s interior design. Ashley is particularly proud of one element of the minimalistic decor. "The wooden slab wall you see as you walk in, the wall behind the till booth, and the tiles at the bar, were all made in my garage." And the tables are from a bespoke hand-crafted furniture shop from Durban, called The Streets Furniture.
Whether you choose to cosy up inside or and take in the mountain view and hustle and bustle of Bree outside, dining at Syrup. is an intimate experience.
WHY HAVE CORNFLAKES IN A BOWL...
… when you can have them drenched in egg and milk and covering thick slices of challah bread, sprinkled with berries and powdered sugar? This crunchy twist on traditional French toast is just one of the house specialities created by the Kennedys and Syrup manager, Mthokozisi Madzwila.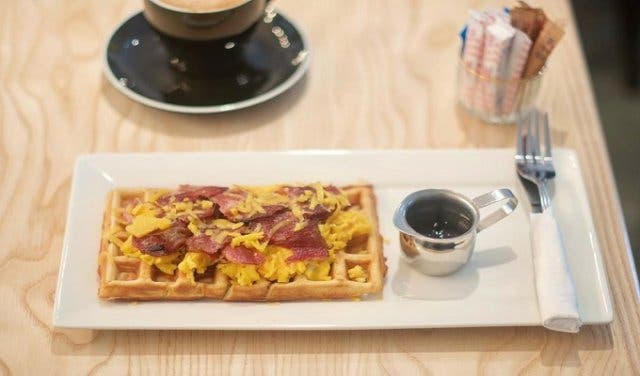 There's also the Morning Glory – a waffle meal with two eggs, bacon or sausage and topped with cheddar cheese and syrup – bound to become a hit.
MAKING THE CIRCLE BIGGER
It was the Kennedy's passion for food and people that motivated them to open their first restaurant, and their business strategy at its core is about building relationships. This is evident in Syrup's staff contingent, made up of friends, family friends, church friends and friends of friends. The Kennedys want their workplace to be a place where staff feel they can have fun, connect and become the best version of themselves.
SYRUP.
Address: 231 Bree Street, Cape Town Central
Hours: Monday to Saturday 7 am to 2 pm
Contact: 0848346261 or alternatively Jason@syrupbreakfast.com
By Simamkele Matuntuta
---
Your afternoon nachos cravings can be easily cured at Brunchbar.
Later in the day, link up with more friends down in Orphan Street for cocktails and possibly a night cap.
When you find yourself in Obz do go and order yourself some coffee and burgers at this new place.

---
Use our events section for an up-to-date overview of what's happening in the city, suburbs and dorpies. Join our newsletter and add us to your mobile home screen for the ultimate guide to discoveries in Cape Town.

Follow and like us on Twitter ❤ Facebook ❤ LinkedIn ❤ Instagram ❤ Pinterest for updates.