Mantra Cafe in Camps Bay
Stunning hotspot in The Mother City
Opened in December 2016, this fabulous cafe and bar is a welcomed addition to the Camps Bay area. The charming seaside venue, gives customers the opportunity to grab a bite to eat with breathtaking beach views whilst enjoying the comfortable welcoming decorations of the interior.
Melissa's being the umbrella of the cafe, gives you the yummy recognizable favourites on the menu. The range of meals is perfect if you are unsure what you really feel like - it happens to us often, don't worry! The breakfasts are always a divine choice, especially if you are in the mood for light fluffy pastries, accompanied with beautifully textured preserves.
Our favourite however is the Smoked Salmon Hash Brown from the breakfast menu. The baby marrow and potato hash brown is topped with smoked salmon, cream cheese and caper salsa- filled with flavour and surprisingly light (not overly oily at all), along with a free range egg- YUM!
The lunch and dinner menu is as satisfying as the breakfast, making it an all-day type of place - perfect for all times of the day. Our favourite from the lunch and dinner selection, if you are willing to fork out a little extra is the prawns; man-o-man are they fabulous. Grilled prawns and lemon butter sauce - can't hold us back, that's for sure!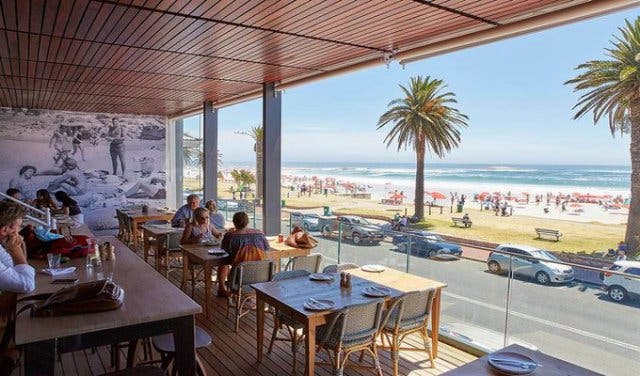 We love the stunning view from the restaurant onto the beach.
Tip: If you go towards late afternoon, order a platter for the table and then enjoy the sunset with a drink… or two!
Note: Mains can be a little pricey, but this is Camps Bay after all!
Opening Times: Monday - Saturday: 8am - 10.30pm; Sunday: 9am - 10.30pm
43 Victoria Road | Camps Bay | +27(0)21 437 0206
By Tarina Meiring
STAY TUNED AND SUBSCRIBE TO OUR NEWSLETTER FOR MORE INFORMATION
---
The Mother City is fast developing so to keep you clued up; we've rounded up some of the hottest latest additions to Cape Town in our New Restaurants and Hot Spots overview. Discover it
---
Use our events section for an up-to-date overview of happenings in Cape Town. Also, don't forget to subscribe to our newsletter and if you have a smartphone, add m.capetownmagazine.com to your home screen for quick access on the go! Follow us on Twitter, like us on Facebook, join our Google+ circle, connect with us on LinkedIn, check out our photos on Instagram and follow our Pinterest boards for updates on what's happening in and around the Mother City