The World's Strongest Coffee Is Proudly Capetonian
One cup of Black Insomnia Coffee Company's brew boasts the highest level of caffeine in Cape Town, and the globe.
"The 'World's Strongest Coffee'," I think to myself looking down at the beautifully designed – almost too pretty to drink – latte art leaf expertly created in the milk froth of my Black Insomnia Coffee Company's cappuccino. This is the strongest coffee in the world… Tentatively, I take a sip.
When I first heard 'world's strongest coffee', I couldn't help but think that the java flavour-palate would be bitter and burnt, possibly even a little sour, lacking depth and the much-loved aromatic allure. (Perhaps this is what you're thinking too.) But, as I take my first Black Insomnia sip breathing in its rich and naturally-sweet fragrance, hints of syrupy caramel and roasted nuts begin to dance across my taste buds and I immediately realise, this is most definitely not the case.
Sumptuous yet comforting and completely otherworldly, my cup of Black Insomnia is all that I want it to be – and so much more. Full-bodied and luxuriously silky with a serious and undeniable caffeine kick (more than any other brew on the planet), the local java brand's cup of Joe sits an unrivalled cut above the rest not only in the Mother City, but also the world.
And that's exactly what Black Insomnia Coffee Company's founder, Sean Kristafor aimed to create; the world's strongest coffee minus the stereotypical scorched savours and undelivered java-frills. Ultimately, Sean wished to reboot the Cape Town coffee industry by brewing something far stronger and darker, with an incontestable edge, than any of its global predecessors. Sacrificing nothing in the process, neither its delicious, bold flavour nor caffeine content, Sean endeavoured to produce the best tasting coffee known to mankind comprising the highest caffeine level on the planet.
And so, he did: Black Insomnia Coffee Company – 'the world's strongest coffee'.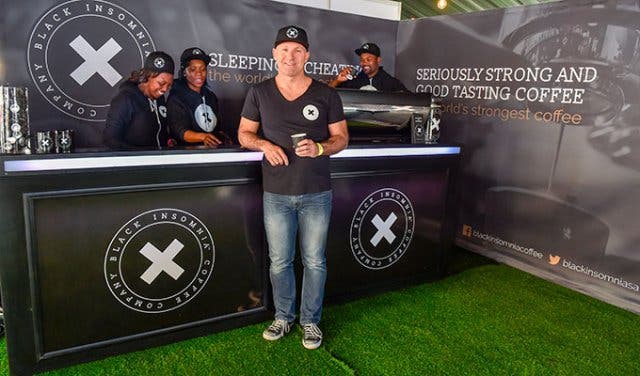 Businessman by trade and coffee-holic by nature; Sean knows a thing or two not only about starting a company, but also the magical java-bean. After retiring from the corporate life at the end of 2015, Sean decided to further pursue his love for the caffeinated warm beverage seeking to offer something a little different to the Mother City coffee culture realm.
"I thought to myself: Why do you drink coffee? For that caffeine kick", elaborates Sean. "I felt that there was a something missing in my coffee – that 'kick' that makes you want to jump up and take on the world. I looked around to find that special brew, but could not find anything that could do that while tasting really good and smooth."
At this stage, the title of 'world's strongest coffee' was held by an American java-company and while it then may have had the highest level of caffeine (per fluid ounce) in the world, according to Sean, it lacked flavour. So, he decided to create his own unique, proudly Capetonian (super) caffeine-infused and "kick-ass" tasting cup of Joe.
"The caffeine kick is surprising because we've always balanced the strength of the coffee to the flavour", says Sean. "We say 'the strongest coffee in the world' and everyone thinks that it's going to be very bitter, but that's not the case at all." And this, I can testify to.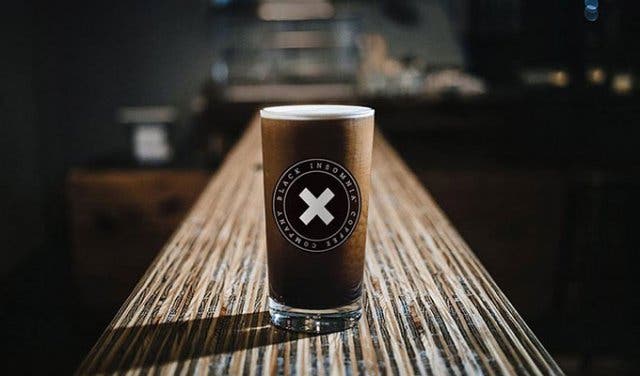 Proudly roasted in Cape Town by one of the world's foremost and 6th best – according to the 2012 World Roasting Challenge – coffee roasters, Gerald Charles (affectionately known in the java community at Dr G and founder of Rock and Roller Coffee Culture), Black Insomnia is made from a unique blend of Ugandan, Guatemalan and Brazilian beans. Comprising sweet and savoury notes of chocolate, caramel and hazelnut, the dynamic South and Central American and African fusion is roasted to Black Insomnia-perfection presenting java-lovers with great-tasting coffee comprising the hardest caffeine kick they've ever experienced.
Laboratory test results (using the High Performance Liquid Chromatography method) have found that Black Insomnia contains 57.5mg of caffeine per fluid ounce, which is just over 6% more caffeine than its closest US competitor's product (as well as a similar amount of caffeine to many much-used energy drinks minus all the sugars and additives). In 12 ounces (1.5 cups), Black Insomnia averages around 702mg of caffeine and since this result was released the international caffeine reference website, the Caffeine Informer, has officially accredited Black Insomnia Coffee Company as the 'World's Strongest Coffee'.
Using the powerful African robusta coffee bean for its intense caffeine level (robusta beans have a bolder, more bitter taste owing to its higher caffeine content) as well as the Brazilian and Guatemalan beans to round off the flavour, Black Insomnia offers coffee-enthusiasts a premium grade blend like none other in the world.
"The robusta bean and caffeine is not hidden by the other beans but rather complimented resulting in a well-balanced flavour – now that is true craftsmanship", states Sean referring to Gerald's expert coffee roasting abilities. "Gerald is cooking with flavours and has to repeat the exact blend with each batch so we have to test every lot for its caffeine content. We have an agreement that if the batch is below 16 900mg of caffeine, then we won't use it, but Gerald has never missed the mark."
Available online and at a number of coffee shops in Cape Town (and across the country), Black Insomnia's product range consists of roasted Coffee Beans (500g and 1kg), Ground Beans (500g and 1kg), Coffee Pods (which fit perfectly into all Nespresso® machines), Cold Brew* and Black Insomnia's latest addition, a new range of nitrogen infused – to give it a smoother and creamy stout-like texture – Cold Brew titled #BlackNitro.
"#BlackNitro is a powerful caffeinated cold brew that's been steeped for a minimum of 24 hours to make sure we extract as much flavour as possible from our blend of beans," explains Sean. "I think of it as the Guinness of coffee and it's really just as good as a cold beer on a hot day. It will literally kick-ass."
Although Black Insomnia Coffee Company doesn't have a fixed 'office space', the innovative java team can usually be spotted at its local hangout, or "cof-fice" (coffee-office) as Sean calls it, the Mother City's trendy Shift Espresso Bar in Green Point. It's also here that coffee-lovers can find #BlackNitro on tap in a keg format, similar to a draught beer. Soon the nitro-infused brew will also be available in a number of outlets including various nightclubs where party-goers can look forward to sipping the cold caffeinated drink straight up or in a cocktail.
Further solidifying Cape Town as the coffee capital of South Africa, and Africa (if not the world) – our pretty city is after all home to the best coffee shop globally (The Telegraph afforded Truth Coffee this title in April 2016), a multitude of world-class micro coffee roasters as well as numerous high-quality coffee experiences – Black Insomnia Coffee Company is truly taking the Mother City's coffee culture to new record-breaking caffeinated heights.
"I've been a coffee-holic for a long time and I love my coffees," concludes Sean. "And this coffee is kick-ass."
And "kick-ass" it certainly is.
Finishing the last of my Black Insomnia cappuccino, the picturesque latte art leaf a distant reminder of my recent and profound java experience, I find myself truly identifying with Sean's statement above as the sweet nutty flavours linger on my palate and the undeniable "serious caffeine kick" begins to take form. After all, as the world-class Cape Town coffee company maintains #sleepingischeating.
NOTE: In addition to its beans, grinds and cold brews, Black Insomnia Coffee Company has a range of caffeine-inspired merchandise available online ideal for coffee-fanatics who wish to wear their love for 'the world's strongest coffee' proudly on their backs. Products include crew neck and v-neck T-shirts (ideal for men and women), flat caps and hoodies. T-shirts cost between R250 and R285, flat caps R250 and hoodies R599.
Tip: Black Insomnia Coffee Company offers FREE DELIVERY for online coffee orders over R500.
Products and Prices: Beans (1kg): R500 | Beans (250g): R150 | Ground Beans (1kg): R500 | Ground Beans (250g): R150 | Cold Brew (#BlackBrew): R35 | Pods (10 pack): R100 |#BlackNitro (on tap): Available at Shift Espresso Bar | #BlackBullet (test tube): Available from October 2016
Black Insomnia Outlets and Resellers: Available online and at selected coffee shops nationwide. Follow Black Insomnia on social media to find out exactly which java hotspots stock 'the world's strongest coffee'. Black Insomnia can deliver internationally (to literally anywhere in the world) from its Montague Gardens facility.
Website: blackinsomnia.coffee
Outlet Stores Stocking Black Insomnia in Cape Town and Surrounds:
Last Updated: 21 September 2016
Shift Espresso Bar
Opening Hours: Monday to Saturday: 7am – 6pm | Sunday: 8am – 3pm
Cape Royal Hotel | 45 Main Road | Green Point | +27 (0) 21 433 2450
Haas Coffee
Opening Hours: Monday to Friday: 7am – 5pm | Saturday, Sunday and Public Holidays: 8am – 3pm
19 Buitenkant Street | Cape Town | +27 (0) 21 461 1812
Hard Pressed Café
Opening Hours: Monday to Friday: 7am – 8pm | Saturday: 9:30am – 1pm
1 Bree Street | Cape Town | +27 (0) 79 066 8888
Ginja Beanz
Opening Hours: Monday to Friday:8am – 4pm | Saturday: 8am – 2pm
Marra Square | Langebaan | +27 (0) 22 772 2221
*Cold Brew (cold brewed coffee): Coffee grinds are soaked in cool water for 12 - 24 hours (instead of the grind being diluted by the heat and pressure of the hot water, it soaks up the cold water and draws naturally); this mix is then processed through a filter. The result is usually a stronger and higher caffeine-intense product.
---
Keep your coffee game strong and try a cup of Joe at one of these other great Coffee Shops in Cape Town. And then, when you've had too much caffeine (if that's even possible?!) swing past The Tea Bar on Long Street for a smoothing cuppa. While you there, you might also want to try a bit to eat at one of these Top Brunch Spots in Cape Town.
---
Use our events section for an up-to-date overview of happenings in Cape Town. Also, don't forget to subscribe to our newsletter and if you have a smartphone, add m.capetownmagazine.com to your home screen for quick access on the go!
Follow us on Twitter, like us on Facebook, join our Google+ circle, connect with us on LinkedIn, check out our photos on Instagram and follow our Pinterest boards for updates on what's happening in and around the Mother City.