Treat Yourself To These Warm Winter Desserts
Fill your tummies with these yummies!
Last Updated: 23 May 2017
With winter fast approaching, there are a few things as reassuring as a baked dessert after a meal. Nothing keeps you warmer than a homemade pudding that satisfies your sweet tooth.
Sticking to the traditional South African desserts, with an exception here and there, below are some belly-warming desserts for you to try at home.
MALVA PUDDING
Rich Serves 4
Preparation: 20-mins
Cooking: 45-mins
Ingredients
375 ml (1½ c) caster sugar
2 eggs
15 ml (1 T) apricot jam
300 ml (1¼ c) flour
2 ml (½ t) bicarbonate of soda
pinch of salt
30 g butter
15 ml (1 T) vinegar
125 ml (½ c) milk
Sauce
40 g butter
80 ml (⅓ c) sugar
200 ml cream
2 ml (½ t) vanilla essence
80 ml (⅓ c) water
Custard
500 ml (2 cups) double cream
6 egg yolks
60 ml (¼ cup) caster sugar
5 ml (1 t) vanilla essence
Method
Preheat the oven to 180 °C. Grease a 30 cm ovenproof dish or 4 individual ovenproof bowls.
1. Beat the sugar, eggs and apricot jam in mixing bowl until pale and fluffy.
2. In a separate bowl, sift together the flour, bicarbonate of soda and salt, then whisk to mix.
3. In a pan over low heat, melt the butter then add the vinegar and milk, stirring until combined.
4. Add the dry ingredients to the sugar mixture. Add the milk mixture and whisk to form a smooth batter. Pour into the prepared ovenproof dish or bowls.
5. Bake for 35 minutes or until a dark brown colour and a skewer inserted in the middle comes out clean.
6. Sauce: In a small saucepan over medium heat bring all the ingredients to the boil. Reduce the heat and simmer for 10 minutes while stirring. Pour the sauce over the warm pudding.
7. Custard: In a saucepan over medium heat bring the cream to just below boiling point.
8. In a large bowl whisk together the egg yolks, sugar and vanilla. When the cream is heated, pour it slowly into the yolk mixture while stirring constantly. When it's all in, immediately return the mixture to the saucepan and reheat over low heat, stirring until it reaches simmering point.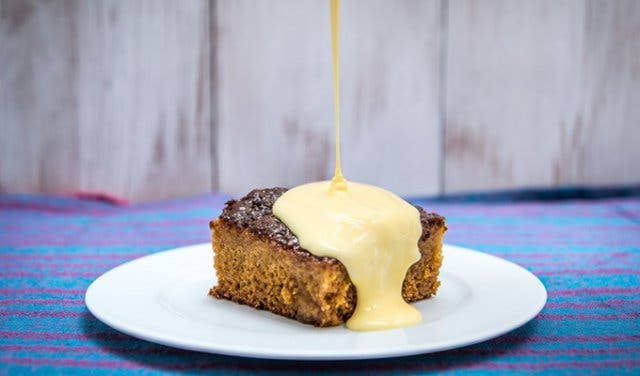 MICROWAVE CHOCOLATE MUG CAKE
Serves 4
Preparation time: 10 min
Baking time: 1-2 min
Ingredients
125 ml (½ c) self-raising flour
125 ml (½ c) sugar
60 ml (¼ c) cocoa powder
2 eggs
90 ml (6 T) milk
90 ml (6 T) oil
5 ml (1 t) vanilla essence
Method
1. Sift the self-raising flour, sugar and cocoa powder into a bowl.
2. Add the other ingredients one by one, mixing well each time. Spoon the batter into 4 mugs.
3. Insert all 4 mugs into the microwave for 1-2 minutes or until the cakes are just done.
4 . Serve the mug cakes with custard or cream.
TIP Add 25 ml (5 t) chopped pecan nuts to the batter for a nutty flavour.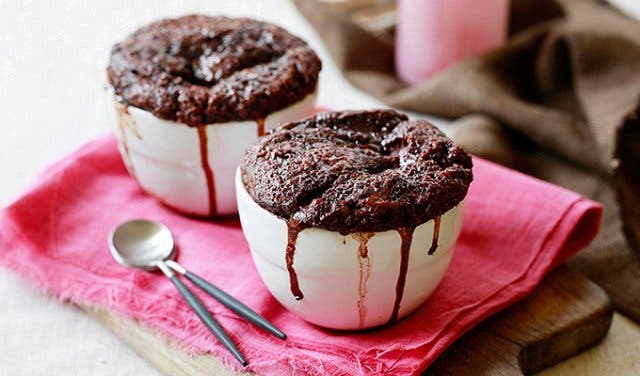 KOEKSISTERS-SOAKED TWISTS, PERFECT WITH A HOT CUP OF ROOIBOS TEA
Serves 2
Time: 20 Min
Ingredients: 13
Ingredients
500g cake flour
30ml baking powder
2ml salt
50g butter, diced
1 jumbo egg
250ml milk, sour milk, or buttermilk
oil for frying
Syrup
500ml water
1kg sugar
2ml cream of tartar
2thin slices ginger
1 lemon, finely grated rind and juice
Method

Syrup: Combine ingredients in a large saucepan and bring to boil, stirring until sugar dissolves.
Boil, without stirring, for about 5 minutes, or until light syrup forms. Strain into a large bowl. Cool, then refrigerate until well chilled.
Dough: Sift flour, baking powder and salt. Rub in butter until mixture resembles fine breadcrumbs.
1. Whisk egg with 200 ml (4/5 cup) milk, add to flour mixture and knead to make a soft, pliable dough.
2. Add remaining milk only if the dough is too stiff.
3. Shape into a ball, wrap in waxed paper and chill for a couple of hours, or overnight, if possible.
4. Roll out to 1 cm thick on a floured surface.
5. Cut into 4 x 8 cm strips, then cut each into 3 strips lengthways, almost to the top.
6. Plait together and pinch ends tightly to seal. Place on a tray and cover with a damp cloth.
7. Deep fry, a few at a time, in hot oil, turning constantly.
Watch the heat: koeksisters take 2 to 3 minutes to cook through and turn deep golden brown.
Drain briefly on kitchen paper and then, while still hot, dip into chilled syrup. Let them sit for a little while to really soak in the sauce. Strain off excess syrup back into the bowl. Drain koeksisters on a rack.
Note: If syrup gets too warm, place it in a larger bowl of cold water and ice blocks.
SAGO PUDDING
Ingredients
1 cup sago
1 litre milk
pinch salt
2 tablespoons sugar
2 eggs
1 teaspoon vanilla essence
butter
cinnamon or nutmeg
Method
1. Boil sago, milk, salt and sugar. Add eggs, vanilla essence and more milk if necessary.
2. Put into greased casserole dish, dot with butter, sprinkle cinnamon/nutmeg.
3.Bake at 180 degrees for 20 -25 minutes.
Serve warm with cream, custard or ice-cream.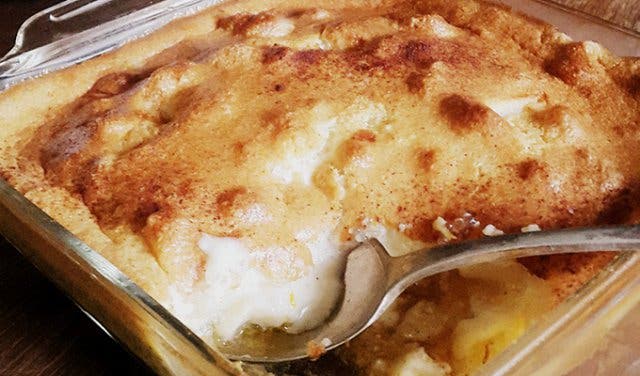 MILK TART
Ingredients
1 packet of Tennis Biscuits, crushed
125 g Butter, melted
500 ml (2 cups) Milk
A piece of cinnamon stick
60–100 ml Huletts White Sugar, depending on personal taste
2 Eggs
45 ml (3 T) Cornflour
45 ml (3 T) Flour
3 ml ( ½ t) Vanilla Essence
30 ml (2 T) Butter
Cinnamon and Sugar, for sprinkling.
Method
1. Combine the crushed Tennis biscuits and melted butter, and press into a pie dish.
2. Heat the milk with the piece of stick cinnamon to just under boiling point.
3. Meanwhile, lightly beat the eggs with the sugar, then add the cornflour and flour.
4. Pour the hot milk into this mixture, stirring rapidly. Return the mixture to the heat and cook, stirring until the mixture becomes very thick. Thorough stirring is important to prevent the mixture from catching on the bottom of the pan and to prevent lumps.
5. Off the heat, add the vanilla essence and the butter. Stir well until the butter is melted.
6. Pour the mixture into the prepared tart crust. Sprinkle with cinnamon
---
By Garth Prins
---
Need tips on how to keep your body in shape this winter? Well, why not check out our health and fitness guide?
Use our events section for an up-to-date overview of happenings in Cape Town. Also, don't forget to subscribe to our newsletter and if you have a smartphone, add m.capetownmagazine.com to your home screen for quick access on the go!
Follow us on Twitter, like us on Facebook, join our Google+ circle, connect with us on LinkedIn, check out our photos on Instagram and follow our Pinterest boards for updates on what's happening in and around the Mother City!