Party In Trenchtown, A Gay Bar, An Attic Or Irish Pub
Classics, old favourites and the hottest places to party
Last Updated: 29 October 2019
The Village Idiot is a neighbourhood bar and restaurant that really turns things on its head at party hour. Trenchtown is an island-themed restaurant that hosts various events like comedy shows, live music and 420 Sundays, and Beefcakes has amazing burgers and eve better drag shows. And we have more party spots locals and foreigners would love.
A DRAG AND A GIGGLE
What do you get when you pair daily drag shows with beefy waiters and gourmet burgers? Beefcakes, of course. Beefcakes is located near all the popular gay bars in De Waterkant and is known for its pink-and-blue colour scheme, tantalising burgers and great performances. From stand-up comedy to drag shows, try something a little different on your next night out. Tuesdays and Wednesdays there's no entry fee, but you'll pay R200pp to R300pp on Thursdays, Fridays and Saturdays for a show and dinner. On Thursdays it's currently Bitchy Bingo, a drag show; on Fridays, drag dinner theatre; and on Saturdays it girl's night out dinner theatre.
Ambience: The perfect spot to sit down, enjoy good food and a night of entertaining performances with friends. Slightly cheeky with shirtless waiters, ideal for a bachelorette party.
Cover charge: Tuesdays and Wednesdays are free. Thursdays cost R200pp. Fridays and Saturdays cost R300pp. All include dinner.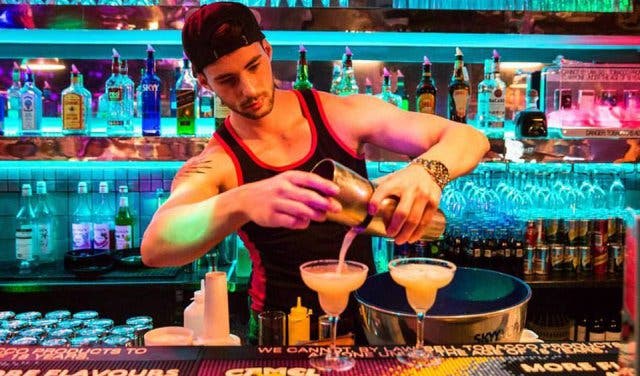 Sovereign Quay | 36 Somerset Road | Green Point | 021 425 9019 | capetown@beefcakes.co.za
IT TAKES A VILLAGE TO RAISE A RIOT OF FUN
A spot you can always bet on being vibrant and busy, The Village Idiot is a neighbourhood bar and restaurant that really turns things on its head at party hour. Head there early to try its South African braai-inspired dishes for a late lunch or dinner, and watch people trickle in before the dance floor gets packed and festive. With a giant ostrich behind the bar and a large wrap-around balcony with views of the city (and fresh air on dance breaks), it's hard for it not to become a favourite.
Ambience: A bustling and social setting. You'll probably see someone you know.
Cover charge: Free
32 Loop Street | Cape Town | +27 (0)21 418 1548 | info@thevillageidiot.co.za
DRINK UNDER CAPE TOWN'S NIGHT SKY
Airstream trailers on a rooftop bar isn't the norm, and that's exactly why you need to visit the Sky Bar at the Grand Daddy Boutique Hotel. The bar is smack bang in the centre of the city and the quirky space offers one of the most Instagrammable settings for sunset and golden hour. There are loungers and a bright blue pool on the roof too, make sure you're camera-ready for this one. Plus, its open on First Thursdays.
Ambience: Cool, very cool. It's South Africa's only rooftop airstream trailer park – what's cooler than that?
Cover charge: Free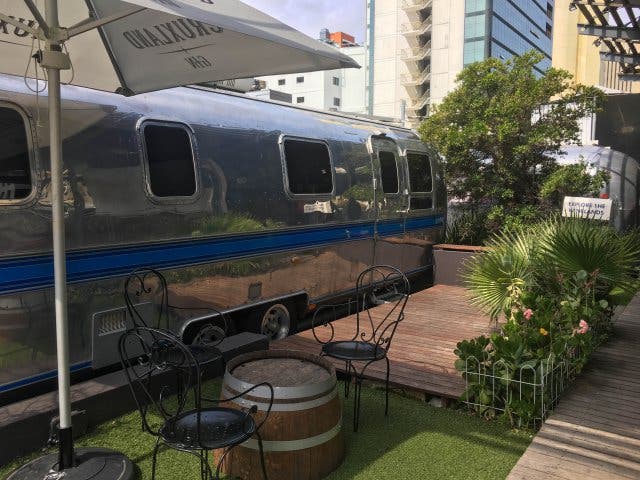 38 Long Street | Cape Town | 021 424 7247 | info@granddaddy.co.za
A TRENDY CAFE IN DE WATERKANT
Bright pink walls, cactus ornaments, umbrellas and fairy lights – things are pretty festive at Cafe Manhattan. And they're not just about pretty decor. The bar and restaurant serves the likes of burgers, ribs, pasta and even fish and chips. Plus, they're got some killer happy hour specials – like two-for-one cocktails and beers, as well as R10 coffees 4pm–6pm and 10pm–close.
Ambience: Neon lights, funky tunes and affordable drinks in bustling De Waterkant? Yes, please.
Cover charge: Free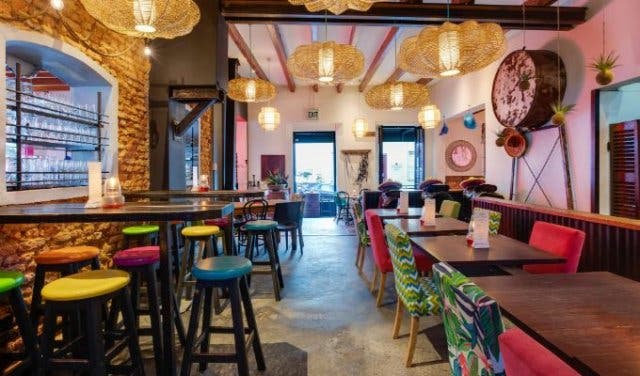 74 Waterkant St | De Waterkant | 021 421 6666 | http://www.manhattan.co.za/
THIS IS THE PLACE TO MEET NEW PEOPLE
If you're looking for something a little more eccentric, all you need do is travel to the top of Kloof Street to find it. A venue where you're encouraged to "let your hair down and stay up way past your bedtime", the bohemian restaurant and bar, The Bombay Bicycle Club, is a place to party. Surrounded by eclectic decor such as vintage paintings, ruby-red rugs and tassel ornaments, it's the perfect place if your kind of party is drinking a cocktail (or two) and tuck into ribs, burgers and having vibrant interactions and meeting new people.
Ambience: Chatty and electric. You're not going to be dancing on tables, but you'll probably find yourself in some intriguing conversations.
Cover charge: Free
158 Kloof Street | Gardens | 021 423 6805 | bombay@madamezingara.com
420 SUNDAYS AND REGGAE ALL DAY
Located in the vibey suburbs of Observatory, Trenchtown is an island-themed restaurant serving solid favourites like pizza and burgers and cocktails. Look out for the crazy weekly specials, such as the bottomless Monday special: pay R100 to access the bottomless area and you can eat as much pizza and drink as much as you'd like of selected brands. It also hosts various events like comedy shows, live music and 420 Sundays (yes, it's what you think it is).
Ambience: Easy going and chilled. Reggae music plays throughout the day and an outside seating area offers place to enjoy a warm weather day.
Cover charge: Entry various according to event ranging R40pp–R100pp.
96 Station Road | Observatory | 021 447 1787 | trenchtown.obz@gmail.com
NO UNDER 21S AT THIS 80S DISCO
True to the name, you'll need your dancing shoes at Boogie. The 80s-inspired nightclub is open Thursdays to Saturdays, 9pm to 3am. It's decorated in an 80s-style and plays exclusively sing-along songs, old and new. Thursday nights are for the students and no under 21s are allowed in on Friday nights, but every night you're guaranteed a boogie.
Ambience: A classic nightclub with an 80s flare. Popular songs that you'll possibly lose your voice singing along to.
Cover charge: R20pp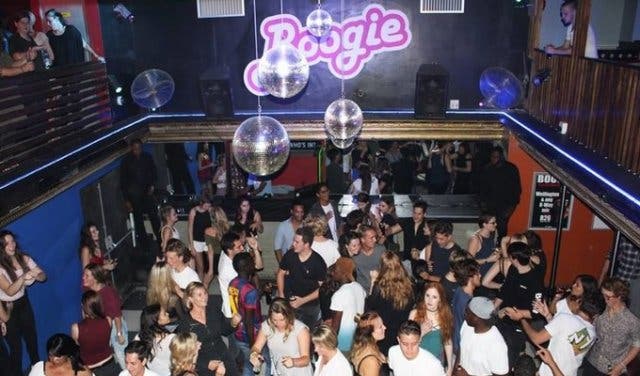 12 Stegman Road | Claremont | 021 671 2814 | boogieclaremont@gmail.com
HEAVY-HITTING DJS, CHEAP DRINKS AND FOOD
Love dirty beats, cheap drinks and great food? Die Mystic Boer in Stellenbosch might just be the place for you. Frequented by heavy-hitting DJs like PHFAT and Grimehouse, your visit to Die Mystic Boer won't be a slow one. The party spot is known for its tequila specials, friendly bartenders and generally festive atmosphere. Tuck into pizzas, burritos, ribs and other delicious, filling dishes from the extensive menu to line your stomach before things get crazy.
Ambience: Rock meets tequila in the middle of a student town.
Cover charge: Free
3 Victoria Street | Stellenbosch | +27 (0)21 886 8870 | mysticstellenbosch@gmail.com
NO-ONE PARTIES LIKE THE IRISH
Sports, beer and grills are generally what you can expect from The Dubliner in Long Street, but don't let that fool you. The Irish pub becomes the place to be late in the evening when it opens up a dance floor and things kick off with a DJ. First Thursdays, Friday and Saturday nights are when to head to this genuine Irish restaurant. Its fully stocked bar and prime positioning near the party street that is Long makes for a great start (or end) to a night out.
Ambience: Sing-along pub songs and a festive energy.
Cover charge: Free, but fees are sometimes charged on busier nights.
251 Long Street | Cape Town | +27 (0)21 424 1212 | info@dubliner.co.za
---
You can throw one helluva party at Rooftop on Bree.
Epic concerts on a luxury yacht at The Mirage Forever Summer Concerts.
Enjoy a CBD infusion experience on Long (CBD optional) at Infusion On Long.
First artist release for Cape Town Jazz Festival.
Celebrate your birthday at these special birthday places.
Host your best event at these function venues in Cape Town.
Do you really need an excuse to have a cocktail?
We celebrate the heroes that will get us home safely this festive season with Bavaria.
---
Follow and like us on Twitter ❤ Facebook ❤ LinkedIn ❤ Instagram ❤ Pinterest for updates.