10 Top Places to Hand in Old Clothes in Cape Town
One person's trash is another one's treasure
Last Update: February 7, 2017
Seasons change and trends expire, especially in a place as dynamic as Cape Town, and as a result a lot of clothing goes unwanted and ignored in the back of many a wardrobe. But instead of throwing old or used clothes out with the trash, why not turn them into treasure?
Donating old clothes gives garments twice the lifespan; not to mention, it does a lot for the countless communities in the city and surrounds that still struggle to cross the poverty line.
Thus, here is a selection of worthy Cape Town charities - from organisations that care for abused women and children, to shelters that care for the homeless, the HIV-positive and the terminally ill - to which you can make a donation, both large and small. In many cases, these enterprises can collect, it's merely a matter of nailing down a convenient day and time.
St Annes Homes
A centre for abused, destitute and disadvantaged women as well as pregnant women and children, this NGO is empowering their wards through counseling and skills training. They are a more than worthy cause, and they readily accept old clothes. Donate any women's and children's clothing you can offer. The centre can organise collection of a large donation, but if possible, would prefer direct drop-offs between 8am and 4pm, Monday to Friday. There is a weekend house mother who can receive the donations if this above schedule does not suit you.
48 Balfour street | Woodstock | Cape Town | +27 (0)21 448 6792
Lifeline Charity Shop
Open from 9am until 4.30pm from Monday to Friday and from 9am until 1pm every Saturday, this charity welcomes any and all donations at their lifeline offices. If you have a large load, they are more than happy to collect; all you need do is phone and make the necessary arrangements.
100 Main Road | Mowbray | Cape Town | +27 (0)21 685 1050

Help the Rural Child
All donations to Help the Rural Child go directly to children living in poverty-stricken, rural communities. Any parent can attest that children grow out of their clothes in no time, so be sure to pass on undersized outfits to help another growing child. Donate children's clothes between 9am and 5pm Monday to Friday and 8.30 until 1pm on Saturdays. Organised collections are also available.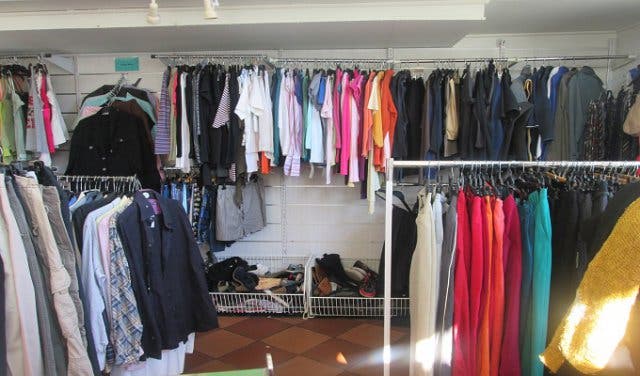 6 Victoria Road | Mowbray | Cape Town | +27 (0)21 689 9171

Nazareth House
No need to banish unwanted garments to the bottom of a dust bin - give to a charity that wastes nothing. Open from 6.30am until 6.30pm, the Sisters of Nazareth House provide accommodation for HIV/Aids sufferers, children and the elderly. To organise collections simply phone the number provided.
1 Derry Street | Vredehoek | Cape Town | +27 (0)21 461 1635

St Luke's Hospice
With over ten charity shops throughout the Western Cape,a St Luke's is bound to be within easy reach. This organisation partially finances their care for the terminally ill through profits gained by selling on your donations. They provide palliative care and try their best to cater for any other physical, emotional, social and spiritual needs of the patients and their families irrespective of the patient's ability to pay for the service. Visit their website to find a charity shop near you; you can either deliver clothes directly to their reception or call them to arrange a collection.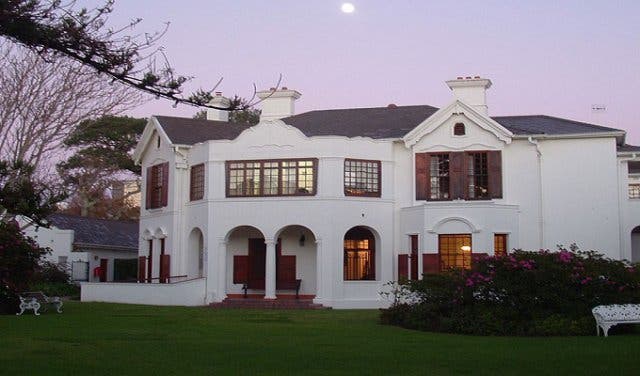 248 Blaauwberg Road | Tableview | Cape Town | +27 (0)21 557 8054 | www.stlukes.co.za
Salvation Army | Gift and Thrift Shop
Clothes donated to the Salvation Army will go to a trustworthy cause that works to eliminate poverty. The Gift and Thrift Shop (+27 (0)21 686 8328) is open from 9am to 4pm, Monday to Friday and on Saturday mornings. Bring donations directly to the shop.
94 Main Road | Mowbray | Cape Town |+27 (0)21 638 5511

The Friendly Shop
At The Friendly Shop – where the staff are as amiable as the name suggests - clothing donations will go, first, towards improving the quality of life of patients, and second, any surplus will be sold, with profits going toward initiatives that raise awareness of mental illness. The Friendly Shop is open from 10am to 2pm, Monday to Friday, and all types of clothing donations are welcome. Phone the number provided to organise collections of donations.
Valkenberg Psychiatric Hospital | Observatory Road | Observatory | Cape Town | +27 (0)21 4403288

St Giles Association for the Handicapped
Help the disabled and handicapped achieve an improved quality of life by donating to St. Giles. St Giles is open from 9am to 3pm, Monday to Friday and on Saturday mornings. Collections can also be organised for large donations.
71 Klipfontein Road | Rondebosch | Cape Town | +27 (0)21 689 8328
It's Your Turn
Give those 'princess gowns' still taking up space in your closet a second storybook chance. It's Your Turn focuses on collecting and redistributing old ball gowns/matric dance dresses to girls who could otherwise not afford the frocks for their own matric dances. Make a forgotten, momentous, once-off occasion of the past, memorable once again for someone else. Collections can be organised through Ryan.
http://www.itsyourturn.co.za/casual-heros/ | +27 (0)83 577 1123 – Ryan

Home of Hope
This charity cares for neglected children, and any donations are welcome. Donate children's clothes from Monday to Friday on premises.
"If my face wasn´t swollen I could give you a smile. If my soles weren´t covered in cigarette burns, I could walk a mile. I could give you a hug, But my one arm is broken. I could hear soft kind words, If only they were spoken. I could be a beacon of love, Not an object of hate. With a few minor ingredients I could be just great. I could be an incredible gift I promise, its true, I could conquer the world. It may just depend on you."
3 Fairbridge Road | Table View | Cape Town |+27 (0)21 556 3573

The Haven
The Haven have a number of shelters, from Claremont and District Six to Kraaifontein and Wynberg, which provide sanctuary and support for the homeless of this city. A fantastic organisation working tirelessly for the less fortunate, they would appreciate any clothing donations, most especially men's gear and warm winter stuff.
5 Fir Street | Claremont | Cape Town | +27 (0)21 671 4209
Remember, a lot of small changes make a big difference.
---
In the market for second-hand threads? Cape Town hearts vintage, we reveal the clothing stores reviving retro fashion.
---
Check out what happened in the 2017 Knysna Fires and how you can help! Check out the aftermath of the #capestorm - the biggest storm in Cape Town for 30 years.
---
Keep up to date with the latest trends, by visiting our fashion section, subscribe to our newsletter, follow us on Facebook and follow us on Twitter.