Special and Spectacular Backpackers in Cape Town
On a shoestring: the good and unique affordable accommodation options in the Mother City and surrounds
Last Update: 5 July 2019
Taking chances and 'going with the flow' are cornerstones of a backpacking culture held dear by anyone with a big sense of adventure and a small supporting budget. Though, gambling on your choice of hostel isn't necessarily a risk worth taking, especially in a South Africa that claims more than a few backpackers holding fast to the cheap-and-nasty philosophy. Luckily, in the Mother City and surrounds, there are a handful of hostels razing such poor standards to the ground.
What follows is our overview of these backpackers in Cape Town: budget accommodation options going out of their way to give travellers a clean, comfortable, stylish and vibey place to stay for a great price. All of the hostels included below are affordable, excellently located for one reason or another and well-reviewed on trusted sites like Tripadvisor.com and Hostelworld.com. So, you can rest assured (quite literally) and look forward to exercising spontaneity elsewhere.
BACKPACK IN AN OBZ MANSION
Stay over in this homely family mansion on Station Road when you pass through Cape Town. The backpackers, run by two friends who are passionate about what they do, has four- and six-bed dorms as well as private double and family rooms. The house is clean, spacious and feels like home. It's perfect for like-minded travellers to meet before they go on their next adventure. Read more about Wanderlust Backpackers.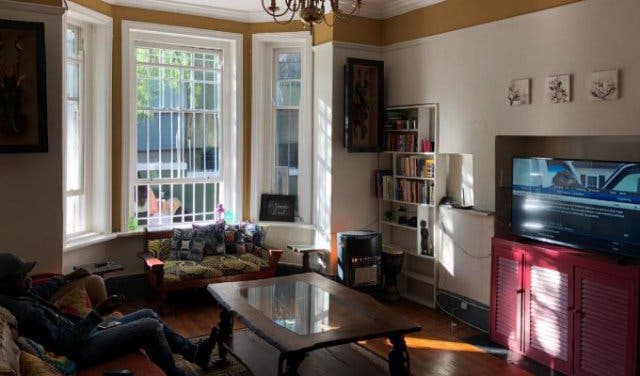 93 Station Road | Observatory | +27 (0)21 447 1332 | info@wanderlustbackpackers.com
BACKPACKERS MEETS BOUTIQUE HOTEL
Enjoy the comforts of a hotel (minus the cost) at this contemporary youth hotel, situated in the thick of things on vibrant Kloof Street. Choose from four-bed loud and proud dorms for the party people, book four-bed mixed or ladies only dorms, or hotel-style double rooms for couples. All rooms come with private en-suite bathrooms, free, fast on the go wifi and almost all bookings include a delicious free "On the Go Breakfast" daily. Certified fair-trade, it's the special details like excellent coffee and vibrant restaurant and bar Truly Yours, that makes a Once in Cape Town experience so unique. Cook for yourself in the communal kitchen or grab a bite at one of the three in-house restaurants. Guests can join on free daily activities organised by the Chief Entertainment Officers or go on organised tours with Once In Cape Town.

73 Kloof St | Gardens | +27 (0)87 057 2638 | book@onceincapetown.co.za
STAY AT THE CLOSEST BACKPACKERS TO THE BEACH
Muizenberg's Surfer's Corner is prime for surfing, and this vibrant hostel offers everything from surf lessons for beginners and intermediates (plus: rent your boards and wetsuits here) to yoga in their sea-facing studio – they even do combined surfing and yoga camps. Choose from four- or six-bed dorms, double quarters for couples or even family chambers for big groups. Their new cafe/bar does great coffee and cold beverages for sundowners, plus it's the only place in Muizenberg that has seriously fast fibre internet. Plus: Don't miss weekly events such as live music Fridays and movie nights at this great base for travellers who want the surfer experience that's not too far out of the city: African Soul Surfer.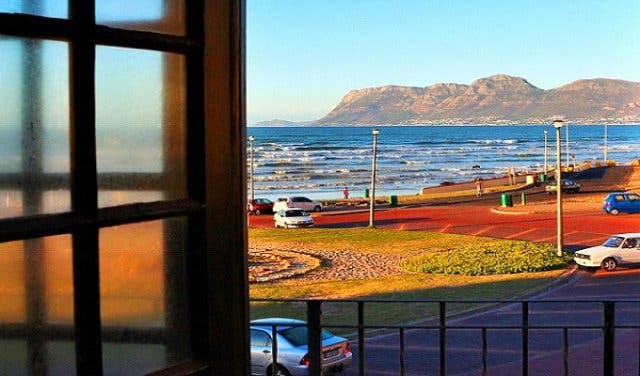 Surfer's Circle | Muizenberg | Cape Town | +27 (0) 21 788 1771
The Backpack in Cape Town
As the very first backpackers in South Africa, and with a city centre location that couldn't be more ideal, this multi award-winning hostel has cemented itself in the minds of travellers as one of the city's hottest, most social spots to stay. Spread out over four old Victorian houses, the hip and happening backpackers claims an uber-cool ambience, multiple communal areas for mingling, a swimming pool, an on-site bar, a travel centre, a high standard of service and a wide array of room types (anything from mixed dorms to four-bed family lofts) that are both well appointed and stylishly decorated. What's more, with a deeply entrenched commitment to making a positive difference in surrounding communities, the fair trade-accredited hostel is also a particularly responsible accommodation choice.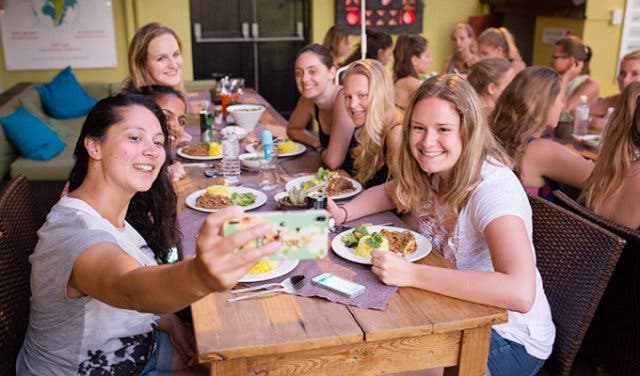 74 New Church Street | City Centre | Cape Town | +27 (0) 21 423 4530
BIG Backpackers in Green Point
Contrary to what its name might imply, this relatively new addition to the Cape Town backpackers scene (September 2012) is more an intimate guest house than a hulking high-rise of dorm rooms. With a focus on providing travellers with the comfort and convenience often yearned for while on the road, the boutique hotel-style backpackers prides itself on giving guests a stylish place to stay for a fraction of the price normally associated with such accommodation. Not to mention, as a quick glance on TripAdvisor.com can verify, the backpackers is quickly climbing the rankings thanks to its exceptional service and thoughtful extras (swimming pool, excellent coffee, free Wi-fi, beds bedecked in white linen, etc.). The hostel also offers up a simple continental breakfast and houses an on-site tourism booking centre.

18 Thornhill Road | Green Point | Cape Town | +27 (0) 21 434 0688
Hout Bay Backpackers
Perched on towering sand dunes in an oceanside suburb just 20 minutes from Cape Town CBD, Hout Bay Backpackers offers budget travellers the chance to holiday by the sea and momentarily escape the bustle of the city for a pittance. A sea shell's throw from the shoreline and with panoramic views of the charming Cape scenery, the hostel is the perfect place to relax, unwind and simply allow yourself to be whisked back to the days when your biggest concerns were sticky ice creams and sandy feet. The three-storey converted home boasts hotel-standard accommodation, braai facilities and a staff willing to travel to any length for guests. Not to mention, as it's connected to All Out Africa, a combined non-profit and travel company that specialises in responsible tourism, those keen on doing volunteer work in South Africa can explore links to a handful of altruistic endeavours.



8 Edward Road | Hout Bay | +27 21 790 0427
African Heart Backpackers in Cape Town
Based in the bohemian multi-cultural suburb of Observatory, this homely, small-scale hostel – it claims only seven rooms in a century-old Victorian house – is as arty, colourful and full of spirit as the lively region it rests in (there are numerous bars, clubs, restaurants and shops a short walk away). Aside from uber affordable rates, the vibrantly decorated backpackers offers travellers free Wi-fi, a complimentary breakfast (there's a self-catering kitchen for other meals), and the option of staying in either private or dorm rooms that come complete with quality bedding. Not to mention, the travel centre that runs out of reception is committed to giving guests a taste of the real Cape Town by introducing them to the city's hidden gems and sending them on tours and day trips that differ from the standard touristy options. In essence, this comfy well-rated hostel is a top spot to stay for some insight into what really makes the Mother City tick.



27 Station Road | Observatory | Cape Town | +27 (0) 21 447 3125
Hermanus Backpackers
Hands down one of the best budget-friendly overnight options from which to explore the Overberg region (roughly one hour from Cape Town), Hermanus Backpackers is as well known for its small-town hospitality as it is for its killer braais (barbeques). Situated just a five-minute walk from the village's centre, the colourful hostel is also but a hop, skip and jump away from many of the Western Cape's most famous activities: shark cage diving, whale watching, wine tasting, sand boarding and more. Though, even if you'd rather just chill out and enjoy Hermanus's laidback pace of life, the home-away-from-home's sparkling swimming pool, funked-up bar, comfy couches, free Wi-fi and complimentary breakfasts lend themselves to heaps of rest and relaxation. Not to mention, for those eager to escape the communal backpacker atmosphere, the property has two self-catering cottages ideal for travellers looking for cheap B&B-style accommodation.

26 Flower Street | Hermanus | +27 (0) 28 312 4293
---
Keen to splurge on one mind-blowing overnight? Check out our overview of unusual accommodation options in Cape Town and surrounds.
Stay over at one of the oldest houses in Observatory at Wanderlust Backpackers.
---
STAY TUNED AND SUBSCRIBE TO OUR NEWSLETTER FOR FUTURE UPDATES.
---
---
Use our events section for an up-to-date overview of happenings in Cape Town. Also, don't forget to subscribe to our newsletter and if you have a smartphone, add m.capetownmagazine.com to your home screen for quick access on the go!
---
Follow us on Twitter, like us on Facebook, join our Google+ circle, connect with us on LinkedIn, check out our photos on Instagram and follow our Pinterest boards for updates on what's happening in and around the Mother City.