What's Behind the Secret Shortmarket Street Door You Probably Didn't Even Know Existed?
A hidden door, a new secret restaurant with Latin-style aperitivo snacks and cocktails, easy food and select cuts of meat by the Argentinean chef you just might recognise – here's why we think you'll love Picadas, our latest discovery
18 April 2018
Remember where The Sneaky Sausage used to be? You know, where the secret sign inside The House Of Machines on Shortmarket told you whether or not the secret door to this quasi-hidden spot was open. Imagine our surprise when, purely by chance, we discovered that it's not there anymore. And made a completely new discovery, cosy Latin eatery Picadas, was prepping to open (and now has opened) in its stead.
Sneaking past the old (now closed) The Sneaky Sausage door, we walked into an all-new Latin place on the first floor. We were met by owner Juan who introduced us to Picadas and let us get an advance taste of the menu and their craft beer and aperitif selection, even though they were only officially opening a few days later, on Thursday 12 April 2018.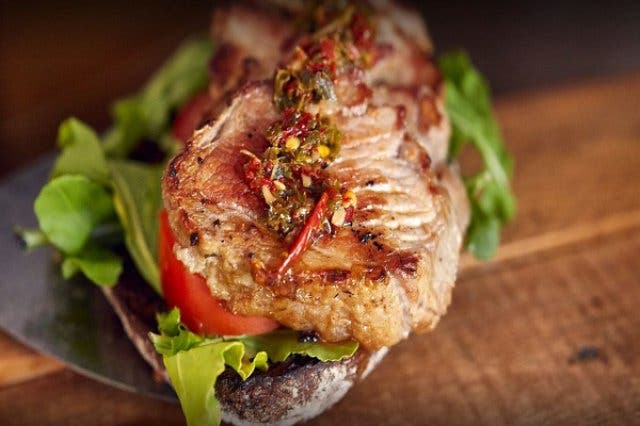 WHAT YOU DIDN'T KNOW YOU WERE MISSING
We sampled a series of remarkable tapas-style sandwiches with incredible steak and chorizo accompanied by a sauce we just had to ask Juan about. Turns out it was chimichurri or at least a variation thereof. And it's a good thing we asked because that's how we found out that he, Juan, was the Juan. You know, the guy with the deli at Mojo Market. The guy from the No. Juan deli brand who supplies spices, sauces and cured meats to a number of delis and butchers around the city.
Picadas is his new place. Now things were getting interesting.
Turns out that he made the chorizo we just ate. And the steak – incredibly flavourful yet easy to eat tapas-sandwich-style – was colita de cuadril, a very specific cut of beef South Africans normally disregard and grind up into mince. But in Argentina, it's big. Because it's just so flavourful. (You probably have to taste it to understand why, but we're going to side with the Argentineans on this one.)
AUTHENTIC ARGENTINEAN CREATIONS
Next thing, Juan had us sampling his cocktail selection. From your basic Aperol Spritz and Americanos, Vermouth and Cinzano-based drinks, to authentic Argentinean creations like a Mate-based cocktail (that's ma-te, a popular South American tea). Turns out the idea is to have regular aperitivo times, like in Italy, with cool aperitif-based cocktails and little bits of free food to sample and share. You know, the old (now closed) L'Aperitivo in Loop Street kind of vibe. But with a focus on excellent food first.
"And then, after 9pm or 10pm, the kitchen closes, we move all the tables and chairs to the sides and open up the dance floor and turn the whole thing into a Latin-slash-local dance spot," Juan beams.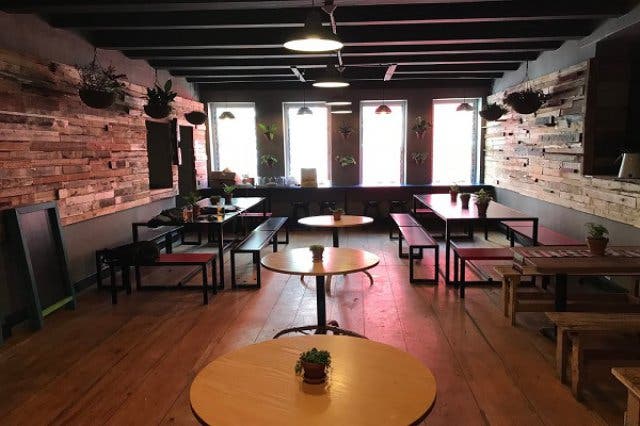 Ok, now there was no way we are missing this. Look out for our complete feature on Picadas coming soon. Never miss a new discovery by signing up to our weekly newsletter.
Picadas is located on the first floor at 84 Shortmarket Street. Go into The House of Machines and look for the "secret" door immediately to your right. Picadas is just up the flight of stairs.
Photos: from the Picadas website
…
If Latin food is your thing, then you'll love ceviche, sushi's South American cousin. Check out SA's first ceviche-only restaurant in Woodstock.
Else, sample the latest flavours and experiences the city has to offer, check out our continually growing list of hot new spots and restaurants.
Or find a place you love among our special selection of unique restaurants worth trying in Cape Town.
Looking for sushi or Asian food nearby? Check out new Shortmarket street place Tomo Japanese restaurant.
Also, check out new coffee and snack bar From Cape Town With Love on Long Street.
...
Use our events section for an up-to-date overview of happenings in Cape Town. Also, don't forget to subscribe to our newsletter and if you have a smartphone, add m.capetownmagazine.com to your home screen for quick access on the go!
Follow us on Twitter, like us on Facebook, join our Google+ circle, connect with us on LinkedIn, check out our photos on Instagram and follow our Pinterest boards for updates on what's happening in and around the Mother City!