The Striped Horse Bar & Grill in Muizenberg
An eclectic new beach-side haunt serving ice cold beers and tantalising pub grub
"The space has quite an eclectic kind-of vibe," says Jurie gesturing to the venue's interior. Today I'm at The Striped Horse, a new bar and grill located on York Road in Muizenberg, chatting to its charming and somewhat enigmatic owner, Jurie Blomerus.
From where I'm sitting – I've taken to the cushioned wooden benches located by the front window of the establishment (situated around the corner from the large bar area) – I can spot an array of mixed-matched gems; beautifully hand-embroidered floral bordello-style armchairs scattered with an assortment of velvet cushions, hand-crafted round wooden tables, various framed prints of the human skeleton and a small collection of taxidermies including a warthog head and puff adder. There's also a large painting of a human pelvis combined with what looks like an octopus' tentacles and various flowers along with the caption 'water' that I'm truly intrigued with (but more on that later).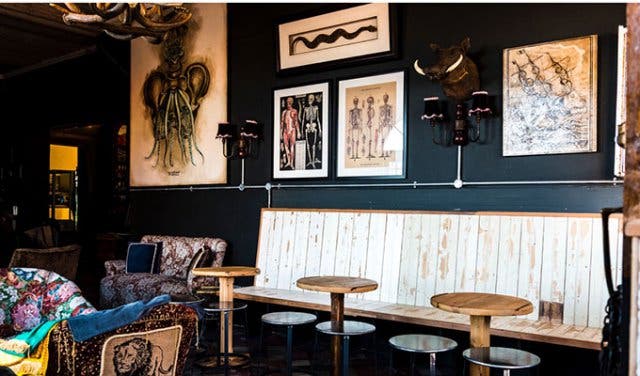 "This shop absolutely mirrors my travels. I've been travelling forever. Mexico and Spain – I'm very much into the whole Mexican and Spanish theme – the whole thing is just to have textures and layers," continues Jurie ardently, who has also had many years of experience in the restaurant industry.
The 100+ year-old building has a heartening, yesteryear sort-of feel; a captivating wild blend of explored destinations, cloudy memories and compelling emotions that seems to draw you further and further in the longer you stay. Wherever you look there is something new and unique; a piano in the corner, a lavish set of leather couches, beer kegs standing proud on the floor while images of Mother Mary and Shakespeare seem to be keeping an eye over the bar. (And that's just what I can see from my seat, I haven't even begun to mention the bar area's embellishments…)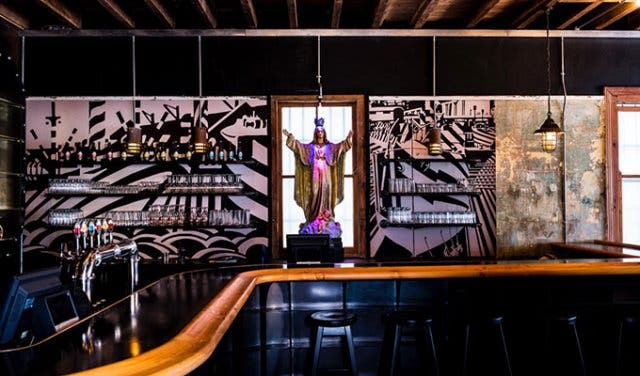 In essence, the sea-side bar – which officially opened its doors in September 2016 – has been divided into two sections; the large bar area, which has a sort-of sea-feel to it – the bar has been based on the hull of a boat – and the seating area (where I'm sitting with Jurie), which has a more "gypsy-meets-pirate-shanty" feel to it. In addition to the inside space, there is a great outdoor section looking out towards the majestic Indian Ocean.
"It has a certain nuance of special – it's a little bit out of the ordinary," Jurie elaborates. "I like this whole bordello-vibe, bar doors, a little bit saloon-ish and then this plush velvet thing. What I enjoy most though is the sentiment of it and that people resonate with it. We appeal to everyone."
And how very true. While I may not be a massive beer-devotee myself, I truly feel comfortable and at ease within The Striped Horse bar, welcomed and intrigued by its unique setting and deep, distinctive ambience.
"It's a little bit like couch travelling," the eccentric owner continues. "You'll sit here and notice this and that and wonder where it comes from. At least if you sit here and have nothing to converse about you can find something on the wall and chat about that." And how right Jurie is again as we spend majority of our conversation pointing out and discussing the numerous objects and titbits found on the establishment's walls, roof and floor before actually moving onto the haunt's offerings.
First and foremost The Striped Horse is a bar, and then it's a grill. Beer-driven – and in affiliation with much-loved local craft beer brand, The Striped Horse – the saloon serves the full Paarl-brewed range (lager, pilsner and the newly brewed pale ale) as well as a selection of other locally-produced CBC brews (the bar will soon stock the brewery's latest addition titled Harvest Lager) and some other interesting local and international draughts such as Belgium's Liefmans and St Francis' Beach Blonde light. If beer is not your thing, the bar also offers a range of reds and whites as well as various spirits.
To complement the ice cold beers, The Striped Horse's kitchen grills a tasty mix (the chalkboard menu comprises around 10 items) of Prego rolls (beef, chicken and halloumi and mushroom), Karoo lamb chops and chicken wings, to name but a few pub delights.
"It's easy and it's lekker," says Jurie referring to the bar's food offering. "It's not a lot, but it's all very good. We believe in simplicity, quality and moreish."
Rounding off our discussion – and the tasty steak Prego with shoestring chips I've been treated to for lunch – I quickly ask Jurie about the large octopus on the wall (as well as the other mollusc references I've spotted throughout) and learn of his love of the ocean and the octopus personifying his "ode to the sea".
"To have a bar by the sea, it has a great feeling," Jurie concludes with a content tinkle in his eye.
"I like to think that as people go, they will outstay their welcome. Which is a nice thing in a bar, it means that someone is closing it with you and I'm all good with that."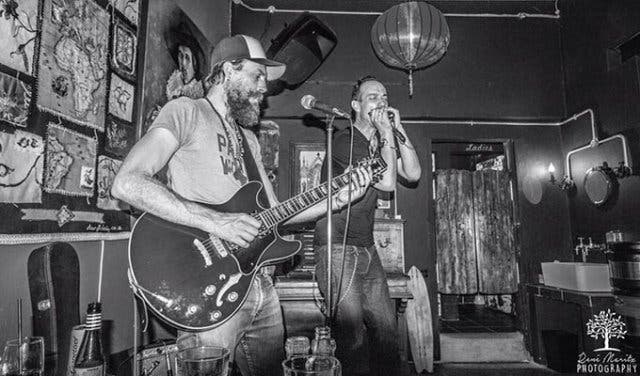 NOTE: In the future, The Striped Horse Bar and Grill is planning to open another two spaces; one in Cape Town's CBD and the other in Johannesburg.
Tip: Keep an eye out for the bar and grill's weekly events on Tuesday (open blues mic), Thursday (singer-songwriter), Friday (old-school 80's rock) and Sunday (live music with Lonesome Dave and guests).
The Bill: On the Bar & Grill's chalkboard menu items approximately ranges between R75 – R95.
Opening Hours: Tuesday to Friday: 12pm – 1am | Saturday: 11am – 1am | Sunday: 11am – 10pm | Monday: Closed
12 – 14 York Road | Muizenberg | +27 (0) 21 788 2979
by Krysia Gaweda | Video Credit: Josh Oates | Image Credit: Hein van Tonder
---
Authentic Mexican tequila, thin-crust pizza, live music, and beer on tap at Striped Horse Bar in Kloof Street.
---
ABOUT #CapeTownMagNew:
#CapeTownMagNew is a long-standing project that is dedicated to discovering exciting new places in and around our pretty city. We tell their stories, find out what they offer, and delve into what makes them unique. From cafés and restaurants to trampoline parks and dog hotels, there is always one new place in the city that we uncover each week. You can follow #CapeTownMagNew on Twitter and Facebook and subscribe to our newsletter to track recent features or read more here about more Hot Spots and New Restaurants in Cape Town and Surrounds.
DISCOVER OTHER EXCITING NEW SPOTS IN THE CITY:
Tafel & Tap Bistro and Bakery in Paarl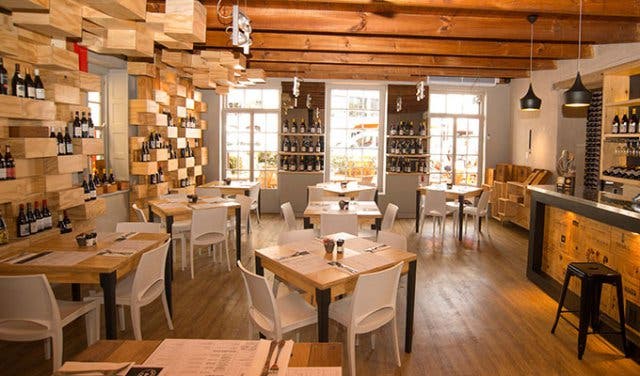 ---
Use our events section for an up-to-date overview of what's happening in the city, 'burbs and dorpies. Join our newsletter and get quick access on the go by adding us to your mobile home screen for the ultimate guide to discoveries in Cape Town.

Follow and like us on Twitter ❤ Facebook ❤ LinkedIn ❤ Instagram ❤ Pinterest for updates.