New Place: What An Architect is Doing To Get Tourists to Explore Cape Town on Foot
Layovers, early check-out and late check-ins come with many hassles. Here's why baggage should not be one of them
"As an architect, I know that you get to truly experience a building, people and their culture if you go at a slow pace," says Bryce Henderson, the founder of Bag Drop, the inner-city luggage storage service that's been running for over a month (started operating on 6 August). You leave your bags in a locker, set your own code and continue on to enjoy Cape Town till you're ready to leave.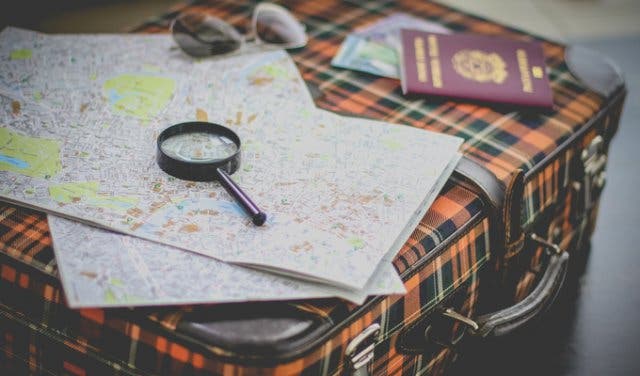 BEFORE YOU SAY GOODBYE
Bryce says his research shows that a great number of international flights depart Cape Town late evening. "The KLM flights to Paris and Amsterdam leave at 11pm, so people are often stuck in one location for hours." Bryce adds that with the popularity of Airbnb as an accommodation, the modern traveller is now saddled with lugging luggage along when they have time to fill between their flight and accommodation check-in or check-out times.
They end up spending three hours in a coffee shop guarding their belongings, when that time can be used to savour the final scenes of a city or tick off some last-minute things off your bucket list.
Bryce's other mission in launching Bag Drop is to encourage travellers to explore Cape Town on foot or public transport, and his address is the perfect location. The East City has been mushrooming into a cool precinct of chic brunch and lunch spots, such as Swan Cafe and Lekker Vegan, and is also home to popular gems like Portuguese restaurant Dias Tavern.


YOU'VE GOT HOURS TO KILL
The Waterfront and Table Mountain are great, but there are so many more yummy things to discover, only a walk away from Bag Drop's location on Buitenkant. Bryce recommends the District Six Museum, or to check out the crepes place Swan Cafe or go on further to the Castle. "I often send visitors to The Company's Gardens or to take a picture next to the statue outside parliament."
Bryce's company's aim is to keep luggage safe, but his mission is to push people to keep exploring our city – on foot, or in public transport (MyCiti is 500m from Bag Drop). This is how you get to know a city's people and culture, while the city gets to take in more Rand, Dollars and Euros.


Note: Opening hours are 9am to 6pm Monday to Sunday, but tailored times can be organised, and the service will likely be open for longer in the summer season.
Tip: Take the Red Bus Tour, you get to see so many things in a short space of time. You don't drive and can hop-on or hop-off, as you choose.
Bag Drop
Shop 3, 50 Buitenkant Street
+27 (0)71 584 1318
info@bagdrop.co.za
---
Take a unique gift home with you from the East City outdoor gear store, Just Like Papa.
Looking for a variety of delicious of international cuisine? Try one of the 42 vendors at the V&A Food Market.
Witness divers feeding the sharks during a visit to the Two Oceans Aquarium.
Tire your kids out before the flight at the exciting SuperPark.
Whether you like it sweet or savoury, you'll enjoy crepes at the new Swan Cafe.
Build a salad with a wide selection of fresh produce at TOSSD.
---
ABOUT #CapeTownMagNew:
#CapeTownMagNew is a long-standing project that is dedicated to discovering exciting new places in and around our pretty city. We tell their stories, find out what they offer, and delve into what makes them unique. From cafés and restaurants to trampoline parks and dog hotels, there is always one new place in the city that we uncover each week. You can follow #CapeTownMagNew on Twitter and Facebook and subscribe to our newsletter to track recent features or read more here about more Hot Spots and New Restaurants in Cape Town and Surrounds.
---
Use our events section for an up-to-date overview of happenings in Cape Town. Also, don't forget to subscribe to our newsletter and if you have a smartphone, add capetownmagazine.com to your home screen for quick access on the go!
Follow us on Twitter, like us on Facebook, join our Google+ circle, connect with us on LinkedIn, check out our photos on Instagram and follow our Pinterest boards for updates on what's happening in and around the Mother City!