Café du Cap on Loop Street
Café du Cap brings a taste of France to Loop Street
Neatly nestled at the entrance to Cartel House on Loop Street, lies the quaint French themed Café du Cap.
Owner Sam Mellor greets me at the entrance to Café du Cap where a whole new world of French antiques meet Dando coffee and classic French dishes. The space is beautifully decorated with French pieces that inspired Sam over the years. What's more, all the décor pieces on display are for sale too. The pieces are all sourced by Sam and her husband, William, on their family holidays, which have now become buying trips in the South of France. "Everything you see is part of the shop," says Sam. "We have antiques, including French napkins, kaftans and baskets from the markets which we bought in L'Isle-sur-la-Sorgue".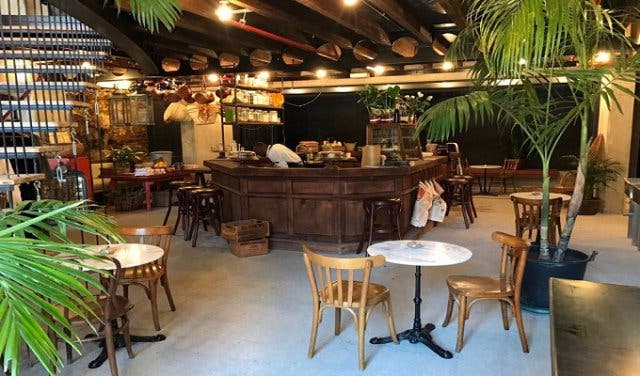 The décor is simply phenomenal with an unpretentious French charme, and designed by Sam herself. Think the beautiful artwork of South African artist Judy Wheeler, for example. The wooden finishes of the kitchen area, which is uniquely set in the centre of the space, is decorated with interesting jars, bowls, breads and thatched baskets containing some-or-other yumminess of a kind. There are also warm rugs that make the space quite cosy and gas heaters for the chillier days.
Sam started her retail journey many moons ago, when she worked as a buyer for Woolworths some ten years ago. After giving birth to her daughter Sam decided that it was time to start her own business, which would grant her flexi hours and, in turn, more time with her bundle of joy. "I love that she's allowed to be here while I'm working, which is why corporate didn't really work for me anymore," explains Sam. Once Sam decided to make this move and go it on her own, Cartel House approached William to open shop, as he has offices in the same building and the rest was history. In Sam's words, "It just worked out right!"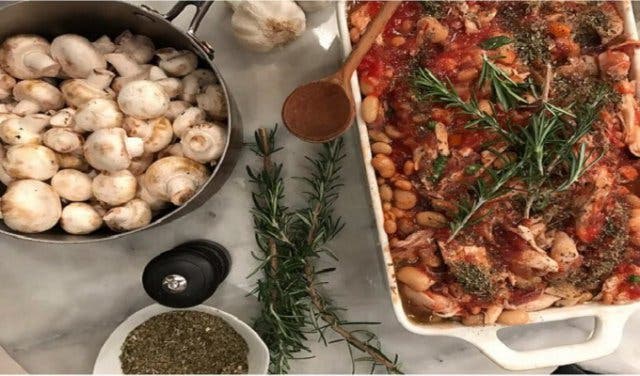 And it doesn't end there. Café du Cap not only presents a French-inspired look and feel, but also offers a taste of French cuisine with a local twist. Sam's favourite dish and one that is also popular with patrons at the moment is the Café du Cap Croque Monsieur. "Traditionally the croque monsieur is made with a béchamel sauce, but at Café du Cap we've created the same dish with a lighter white sauce," says Sam proudly. The Croque Monsieur features gypsy ham, mozzarella with crème fraiche, eggs, chives, herbs and a secret Café du Cap sauce.
Café du Cap offers a lunch table menu, which changes daily. Patrons are welcome to dish up whatever their hearts desire, and have their plates weighed for only R21 per 100g. Café du Cap caters to the #fitfam too, with the salad bar option, which is fresh and also changes daily.
Tip: Café du Cap is pet- and kid-friendly, so feel free to drop by with your furry friend and other snuggly members of the family!
Note: Café du Cap is awaiting its liquor license, and will extend its trading hours accordingly when it is issued. When that happens patrons can add Café du Cap to their itinerary for First Thursdays. Keep an eye on their Facebook page for updates!
To rent the gorgeous French-styled venue for a function or event, email Sam at: sam@cafeducap.com.
The Bill: Breakfast (all day): R18 – R75 | Lunch: R38 – R55 | Sandwiches and sourdough toasties: R35 – R60 | Naughty cakes: R10 – R45 | Hot drinks: R16 – R26 | Cold drinks: R18 – R20
113 Loop Street (Cartel House building) | sam@cafeducap.com
---
By Marian Volkwyn
---
ABOUT #CapeTownMagNew:
#CapeTownMagNew is a long-standing project that is dedicated to discovering exciting new places in and around our pretty city. We tell their stories, find out what they offer, and delve into what makes them unique. From cafés and restaurants, to trampoline parks and dog hotels, there is always one new place in the city that we uncover each week. You can follow #CapeTownMagNew on Twitter and Facebook and subscribe to our newsletter to track recent features or read more here about more Hot Spots and New Restaurants in Cape Town and Surrounds.
---
DISCOVER OTHER EXCITING NEW SPOTS IN THE CITY:

The Vic Bar and Grill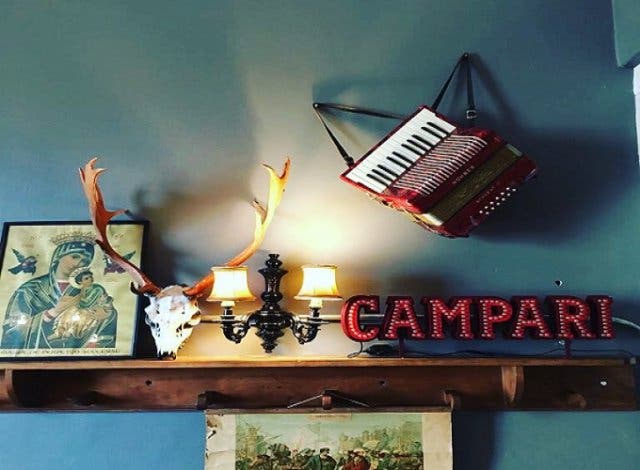 STAY TUNED AND SUBSCRIBE TO OUR NEWSLETTER FOR MORE INFORMATION
---
The Mother City is growing fast so to keep you in the know we've rounded up some of the hottest new additions to Cape Town in our New Restaurants and Hot Spots overview. Discover it.
---
Use our events section for an up-to-date overview of happenings in Cape Town. Also, don't forget to subscribe to our newsletter and if you have a smartphone, add m.capetownmagazine.com to your home screen for quick access on the go! Follow us on Twitter, like us on Facebook, join our Google+ circle, connect with us on LinkedIn, check out our photos on Instagram and follow our Pinterest boards for updates on what's happening in and around the Mother City