Cool and Exciting Places to Stay in Swellendam
From five-star hotels and guest farms to backpackers and campsites, plus: loads of exciting things to do in and around Swellendam


COUNTRY LIFE WITH CHARACTER + SUNSET SAFARI PICNICS
Large en-suite rooms in a reconstructed 16th-century thatch barn and private balconies overlooking the Buffeljags River on this working dairy farm. Plus: outdoor braai areas, large pool, a private SA Grand Prix trophy room tour and safari sunset picnics. Ideal for romantic or family weekend country escapes, boutique weddings, functions or group bookings in Swellendam (sleeps 40). Explore Rotterdam Guest Farm in Swellendam. And make use of their special CapeTownMagazine.com farm stay special.
Tip: You've never been this close to an eland – ask about their citrus addiction.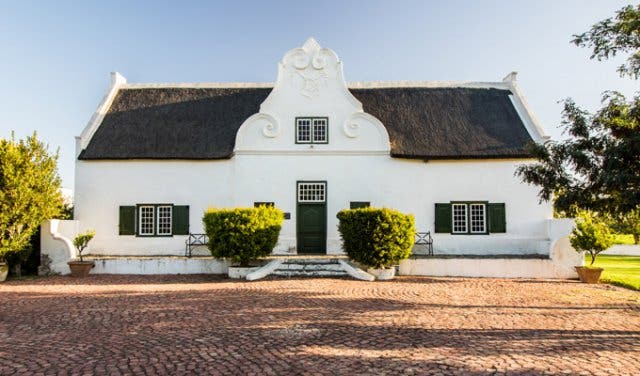 Rotterdam Guestfarm | Olivedale Rd, Buffeljags River, Swellendam | +27 (0)79 200 9098 | info@kambati.co.za
Bloomestate
A mere two and a half hours drive east of Cape Town, Bloomestate offers those willing to make the trip a weekend retreat that's second to none. Expect stunning views and friendly staff. The interior is urban chic with warm country undertones; attaining equilibrium that artfully balances nature, architecture and design. It is easy to see why the hotel's 'dare to be different' motto places them in a class of their own. The rooms are spacious and have a private lounge area. The hotel is family friendly, and the kids will enjoy playing in the ample garden and swimming in the pool. Only a maximum of fourteen guests are allowed at the estate, so privacy is ensured.
What you need to bring: The guesthouse's five-star rated rooms are well-equipped with all the necessary items, including a fireplace for those cold winter nights.
Trivia: Bloomestate was voted one of the top 25 B&Bs and inns in Africa for 2012 in the Traveller's Choice Awards by Tripadvisor.
Top tip: Ask for the Bloomestate picnic hamper on your excursion to the nearby De Hoop Nature Reserve.
276 Voortrek Street | Swellendam| +27 (0)28 514 2984

Schoone Oordt Country House
This meticulously restored Victorian homestead sits amongst fragrant lavender gardens and tranquil water features. The house features eight luxurious five-star suites equipped with all the modern-day comforts, and along with its grandeur, it retains the essence of a bygone era. Breakfast is included, as well as a complimentary drink and cheese platter on arrival. For the adventurous at heart, activities such as hiking, horse-trails, bike-trails and water sports will keep you entertained. This is the perfect retreat if you want to spoil a loved one.
What you need to bring: The rooms are well-equipped and include a small fridge.
Trivia: Built in 1853, Schoone Oordt was home to the Anderson sisters who started the first girls' school in Swellendam
Top tip: Make sure to try the breakfast, which includes delicious pancakes, pork sausages with sage and great coffee. They also make their own granola.
1 Swellengrebel Street | Swellendam | +27 (0)28 514 1248

Augusta de Mist
Experience stylish living on a 1.5-hectare estate of eclectic fynbos. The four-star guesthouse is situated in the historic quarter of Swellendam and looks out over the breathtaking Overberg mountain range. A short walk through the well-kept gardens will take you to the garden cottages, which are fashioned in line with the unmistakable architecture of the Cape Dutch era. The rooms boast DSTV, private patios, air conditioning and fireplaces in most suites. This is a perfect stop-over point as you head up the Garden Route.
What you need to bring: The rooms have all the essentials so you can pack lightly.
Trivia: The guesthouse dates back to 1802, and the homestead's reed ceilings are held together by over 200-year-old mud and clay.
Top tip: Reserve a table at the Augusta African Kitchen and sample their delicious pan-African cuisine. They also do their own range of Augusta de Mist wines, and we hear the Merlot sparkling wine is not to be missed.
3 Human Street | Swellendam | +27 (0)28 514 2425
De Kloof Luxury Estate
This 1.2-hectare estate is home to perfectly manicured gardens, secret woodlands and a large swimming pool. It is located halfway between Cape Town and the Garden Route and offers families a comfortable respite on their journey. The eight lavish bedrooms are African-inspired and come with free Wi-Fi in the rooms.
What to bring: The five-star boutique comes with all the bells and whistles; DSTV, air-conditioning, heaters and bathrobes.
Trivia: This Cape Dutch homestead was built in 1801, and still has much of its original woodwork in place.
Top tip: Make use of the free golf clubs and golf balls on the estate's own driving range and putting green.

8 Weltevrede Street | Swellendam | +27 (0)28 514 1303
Swellendam Backpackers Adventure Lodge
Swellendam Backpackers offers a variety of budget accommodation options, including luxury double en-suite rooms, cottages, cabins and dormitories. The family or self-catering cottage has a full en-suite bathroom, a double bed and two bunk beds; it sleeps six people. The tree-covered garden has a dorm room and four double wooden cabins. If you are more inclined to the great outdoors, choose from the safari tents on offer. The kids can roam the grounds and families will appreciate the adventure of outdoor-living.
What to bring: Since all the accommodation options are self-catering, make sure to bring all the usual necessities. Linen and cooking utensils are provided. If you are making use of the camping facilities, don't forget to bring your own mattress and sleeping bag. Another must-have is a GPS or map so that you can find your way around the spacious outdoor camping area. Maps and general information are available at the information desk in front.
The lodge serves breakfast, lunch and dinner on the premises, but if you prefer to cater for yourself, bring enough food and a cooler bag.
Trivia: Swellendam Backpackers Hostel is an official Baz Bus stop and the hop-on, hop-off backpacker's bus service is a convenient, flexible and safe way to visit Swellendam.
Top tip: Go for a mountain bike ride in the Marloth Nature Reserve, or get a bird's eye view of picturesque Swellendam with guided gliding flights.
5 Lichtenstein Street | Swellendam | +27 (0)28 514 2648
Kam'Bati River Resort
Kam'Bati is situated on an Overberg farm called Jubileeskraal, about 20km west of Swellendam. The Sonderendriver and Breede River meet on the property. Jubileeskraal is a working farm where pproducing barley, wheat, canola and corn. Kam'Bati River Resort offers grassed campsites with electricity and clean ablutions, self-catering cabins and five luxury Africamp tents, situated in a beautiful and quiet patch of forest close to the river.
What to bring: Make sure to bring your own food, bedding and tent. Electricity is available through the power points, so make sure you have all the cables you need.
Trivia: Grab those fishing rods and be prepared to enter fisherman's heaven. The resort is situated where the Riviersonderend and Breede Rivers meet, and it boasts the likes of carp, bass, eel, springer and barbel.
Top tip: Skiing on the river is permitted at certain times, while quad biking is only allowed with prior permission from the owner, so make sure to call ahead to avoid disappointment.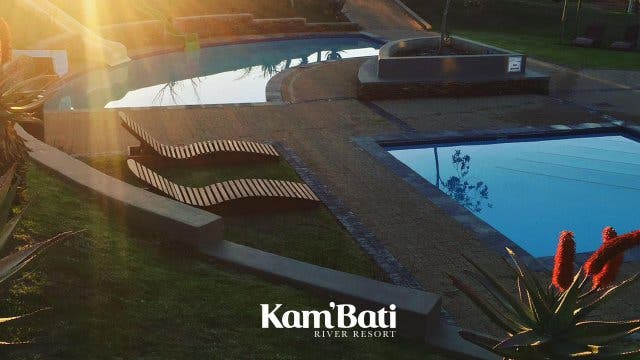 Jubileeskraal | Overberg | Swellendam | +27 (0)28 050 0130
Bontebok National Park
A mere 6 km from Swellendam town centre, the Bontebok National Park echoes the simplistic beauty and natural charm of the greater region. The Lang Elsie's Kraal rest camp offers guests four-star accommodation and is ideal for families interested in the fauna and flora of the Cape region. The rest camp houses ten chalets, and each chalet sleeps up to two adults and two children. For the adventurous at heart, activities such as hiking, game watching and kayaking will keep the adrenaline pumping.
What to bring: The chalets are equipped with bedding and a kitchenette, but guests should remember to bring a flashlight, grill, firewood, angling equipment, bathing suite, walking shoes, binoculars and wildlife reference books.
Trivia: The Bontebok National Park forms part of the Cape Floral Kingdom, and it promotes biodiversity conservation.
Top tip: Anglers must be in possession of a valid angling permit, and can be purchased at the Park reception.

--
Looking for an idyllic Swellendam farm-style getaway, boutique wedding or big group stay with some unique experiences? Have a look at Rotterdam Guest Farm in Swellendam.
Also see all the fun and exciting new experiences you can have in and around Swellendam.
---
Use our events section for an up-to-date overview of happenings in Cape Town. Also, don't forget to subscribe to our newsletter and if you have a smartphone, add capetownmagazine.com to your home screen for quick access on the go!
Follow us on Twitter, like us on Facebook, join our Google+ circle, connect with us on LinkedIn, check out our photos on Instagram and follow our Pinterest boards for updates on what's happening in and around the Mother City!