The Backpack in Cape Town
As the first backpackers in South Africa, this hip multi-award winning hostel is still leading the pack
There's nothing quite like life's firsts: first words, first steps, first kisses, first cars. So, it's not all that surprising that as the very first backpackers to grace South Africa's shores, The Backpack in Cape Town's CBD still stands out above the rest.
The city centre spot, which extends out over four historic Victorian houses, has consistently proven itself as one of the nation's hottest places to stay. To prove that, it has won a string of awards including the 2015 Most Socially Responsible Initiative and Most Green Initiative at the World Youth Student Accommodation Awards; the 'Second Best Hostel in Africa' on Hostelworld.com; the 'Best Value Stay in the World' recognition by Lonely Planet; and a spot in the 'Top 50 Design Hostels' global list by Hostelbookers.com.
Though, the pioneering hostel owes its success to far more than simply a long run in what's now a burgeoning field of business. With a location that places it within easy reach of major tourist attractions and just a hop and skip away from pumping nightlife stretch Long Street, a bar that stays open until midnight and a vibe that's magnetically cool and funky, the backpackers has, quite ingeniously, evolved into a buzzing local hangout.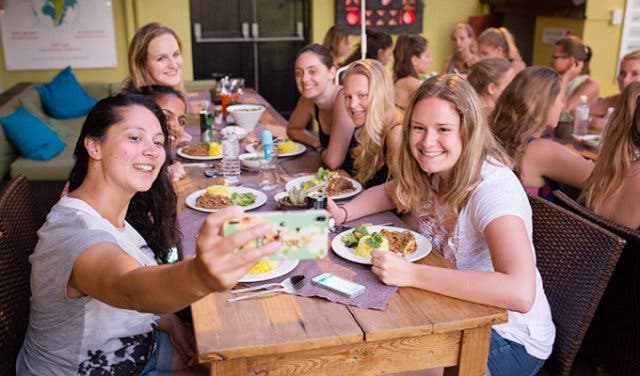 "We wanted to make it a hip design hostel," says co-owner Toni Shina; she and childhood friend Lee Harris have been refurbishing ever since they first opened the lodging in 1990, and since 2014, they've been working with a designer to create a really unique space for travellers that epitomises the heart and soul of Cape Town. "We want to stay number one."
But The Backpack isn't only at the forefront of this sector of the accommodation industry. As a venture backed by passion, integrity and a strong desire to do good, it's also leading the way in the realm of Responsible Tourism.
"It's not an option, it's not a fashion, it's just the way we are and the way we always have been since long before it became the thing to do," asserts Lee fervently when quizzed about their devotion to investing in the people, communities and environment around them.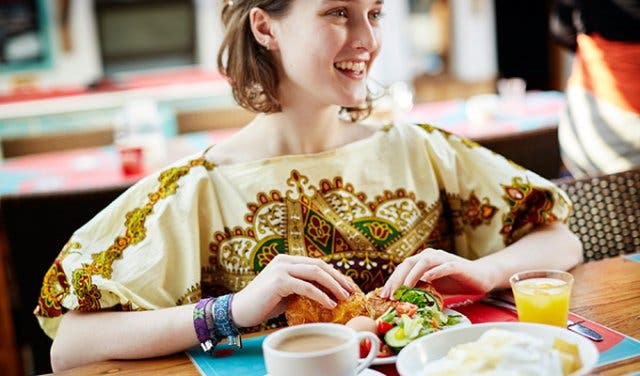 With 'choose to make a difference' as its mantra, the Cape Town hostel has acquired Fair Trade Tourism certification, invested heavily in the well-being and development of its staff (it's initiated a staff bursary fund, which supports the education of employees and their children, and it's increased the minimum wage of all workers), implemented a number of eco-friendly practices – recycling, worm farms, water-wise shower and tap heads, solar-powered geysers and more – and is currently actively involved in a range of commendable social initiatives.
Most notably, alongside contributing to a township animal clinic and a knitting project for AIDS orphans, The Backpack also supports Great Commission United (GCU), a Cape Flats-based community project run by former gang leader Mario van Niekerk that aims to keep impoverished kids off the streets and to give them hope and a brighter future through after-school sports activities (soccer and rope skipping) and tutoring and literacy programmes.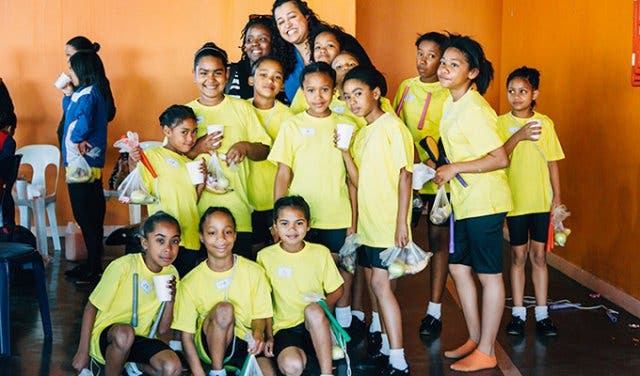 What's more, the on-site shop, which rests in the bright, cheerful reception area, sells an eclectic assortment of locally made trinkets and treasures – beaded jewellery, cushions, canvases, clocks, bags and key rings – all crafted by gifted individuals that are part of social upliftment and empowerment projects, such as the Hillcrest AIDS Centre Trust. By adding only a minimal mark-up on to these items, the store ensures that most of the money earned goes directly to the artists.
In so many ways then, guests at The Backpack can count on their holiday having a broad positive impact. Though, as an upscale hostel that values comfort and even, surprisingly, a certain level of luxury, The Backpack is equally committed to having a positive impact on guests' holidays.
"It's like staying in a one-star versus a five-star hotel… you can feel the difference," explains Toni, emphasising what sets the establishment apart from the mass of other budget backpackers that have popped up since hers was first born. "It's clear in the cleanliness, the en-suite bathrooms, the style, the design, the standard of service, the security, the fun."
Needless to say, the 38 well-furnished rooms that rest tucked away in cosy corners are a far cry from the cold, stark quarters that characterise many hostels. There's everything from single, twin and double options to mixed dorms, a girly ladies-only dorm, a three-bed self-catering apartment, private family lofts with skylights and even a two-bed tent out in the garden, and all come dressed in urban-chic décor and boast comfy beds (a few have been fitted with king-size options), fresh linen (some claim continental pillows), tea and coffee making facilities, access to safes and even hot water bottles and extra blankets for winter.
Several communal spaces, like the tropical swimming pool area that flaunts views of Table Mountain, the two laidback lounges with televisions, and the bar and café that serve up continental breakfasts (free for all guests), sandwiches, smoothies, craft beers and other booze, lend themselves to mixing, mingling and meeting new people (a major motivation for staying at the famously social backpackers). And a wide range of other services and amenities – a fully equipped self-catering kitchen, laundry facility, ATM, pool table, luggage storage and free, fast fibre-optic Wi-fi throughout the building – ensure that residents' stay is as comfortable as it is memorable.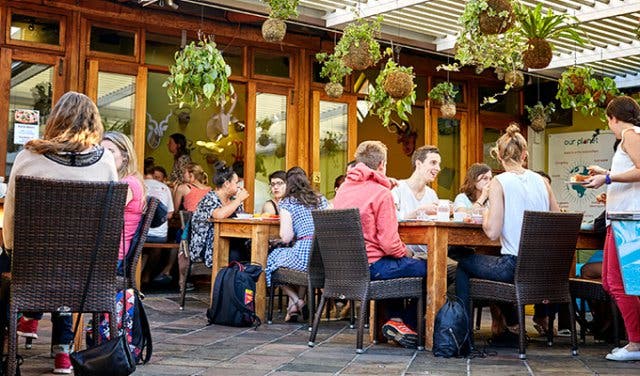 Not to mention, colourful city info boards help to guarantee that holidaymakers make the most of their time in Cape Town at large. Though, for those seeking more structured guidance, not only are the staff well informed, but the accommodation also claims a travel centre where visitors can book outdoor activities, day trips, township tours, overland safaris and expeditions along previously uncharted routes that The Backpack's team has made a pointed effort of opening up to the public.
Clearly, as an establishment that rests on 'firsts', this hip and holistic city centre hostel is adept at blazing new trails and breaking new ground in many more ways than one.
The Bill: The Backpack has both affordable room options for those on a tight budget and more luxury alternatives for those with a little extra to spend. A bed in the garden tent or in an eight-person mixed dorm goes for as low as R270p/p per night; whereas, those booking the four-bed en-suite family loft can expect to pay as much as a total of R1940 per night.
Tip: The Backpack's travel centre has put together a Fair Trade Travel Pass through South Africa that links various Fair Trade-certified establishments and activities together to create an exciting 'responsible' route. This 14- or 21-day package, along with many other customised options, can be booked online (Backpackers.co.za/fair-trade-travel-pass) or at the hostel's travel desk.
Booking The Backpack: All bookings for The Backpack in Cape Town must be done online via The Backpack's website; no telephonic reservations will be accepted.
---
Planning a trip to the Mother City? Have a look at the section of our site devoted to restaurants in Cape Town for ideas on where to dine. Looking to see other lodgings in the city? Have a look at our guide of 10 Top Backpackers in Cape Town.
---
Also, don't forget to follow us on Twitter, like us on Facebook, join our Google+ circle and check out our Pinterest boards for updates. Not to mention, subscribe to our newsletter to keep up to date with what's hip and happening in our pretty city.