10 Questions For: Carishma Basday
Carishma Basday is a trailblazing South African sensation with a captivating smile and a lot of heart. You might recognise this Cape Town-based actress from SABC3's Middle Eastern show Mela.
1. How would you describe what you do for a living?
As an actress I'm a storyteller and magic maker, I play dress up and conjure up intriguing worlds for people to get lost in. I take people on journeys of self-discovery, hope, love and life and encourage a tear and a giggle or two along the way. As a presenter I am an adventurer and explorer, I dive head first into people's lives and interesting situations and I find captivating ways of encouraging the viewer to come along for the crazy ride. As a yogi I aim to bring balance into my students lives, to open their minds and their hearts to endless possibilities.
2. What is your most vivid childhood memory?
Playing in the mango orchard in my backyard while my grandmother worked in the garden. I was surrounded not only by our many cats and dogs but also by monkeys who I soon befriended.
3. If you could invite any three people, dead or alive, for dinner, who would they be and why?
1. Michael Jackson – He was the epitome of an entertainer; besides being a huge fan I think he would be a very interesting dinner guest.
2. My paternal grandmother – She passed away when I was still too young to appreciate the wealth of wisdom she held, she was a huge part of my life and I would love to chat to her about so much.
3. Swami Rama – He is the forefather of the lineage of yoga which I trained under, he was a fascinating man full of wisdom and laughter and had an amazing outlook on life.
4. If you ever found yourself auditioning for a music reality TV show, what song would you sing and why?
Well, I hate to admit it but I'm a terrible singer but I have a huge inner diva that can't help but make appearances in the car, in the shower or when my favourite jam comes on. I would never in a million years enter a singing competition, but if by some glitch in the universe it does happen I would sing 'Summer Nights' from Greece. It's one of my favourite musicals and I played Cha Cha in my high school version of it.
5. How would you complete this sentence? The South African cabinet should include a Minister of _______________
Animal Welfare.
6. What would you say is the biggest misconception about you?
I'm pretty much an open book but I think I surprise people a lot. People tend to underestimate me because I'm a pint-sized pixie but I can actually be pretty bad-ass! I also love the glamorous part of my life (I mean, which girl wouldn't) but at home I'm very much the boho gypsy type, bare feet, wild hair, no make-up, usually found running in the mountains with my wolves or curled up by the fire in my pajamas with a book.
7. What is your (honest) opinion of Cape Town?
I think Cape Town is the most amazing city in the world. I consider myself truly blessed to live here. I am fortunate enough to travel extensively and no matter how much I am taken in by a place, I am always so grateful to come home. I know it's not perfect, but the grass is greener where you water it and I wouldn't choose any other place to call home.
8. What's the greatest fear you've had to overcome to get where you are today?
The fear of failure. I'm a perfectionist. I always give 150% and I want to be the best at everything I do. But that isn't how life goes and over the years I have learnt that you are never going to go into a situation knowing everything. You will make mistakes and you will learn and that's how you grow. Failure is a catalyst for growth and isn't that the point, to continuously grow and evolve?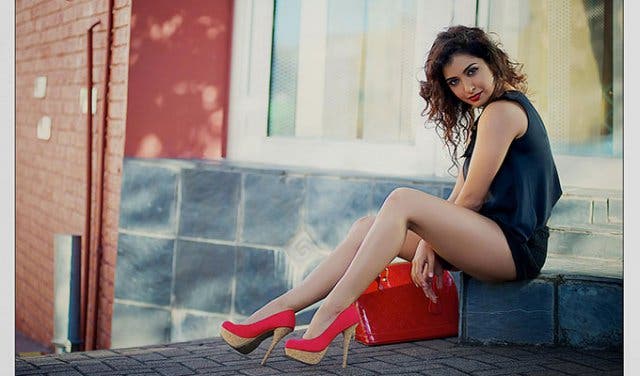 9. What's the one thing you'd like to achieve before you die?
I would like to blaze a trail for Indian women - not just in this industry but in life. I want people to see beyond the very stereotypical image of Indian women, which is still fairly prevalent. I would also like to visit (and probably eat my way through) every country in the world with the love of my life.
10. Which well known South African personality would you, without a doubt, be able to beat in a street fight and why?
I have absolutely no idea! I mean my brain doesn't even work like that, who thinks about who they would one day like to fight! People misjudge me because I'm so little, but yoga and boxing - amongst many other physical activities - will make you pretty damn powerful. Having said all of that, I'm totally a lover, not a fighter. I prefer to kill with kindness.
---
ABOUT #CapeTownMag10Q:
CapeTownMagazine.com's 10 Questions project gets to know some of the Mother City's most creative and inspiring people. From television personalities and musicians to politicians and entrepreneurs, we find out more about well-know and up-and-coming Capetonians. You can follow #CapeTownMag10Q on Twitter and Facebook to track recent interviews or read more here about our other awesome 10 Questions candidates.
A FEW OF OUR OTHER 10Q CANDIDATES:
10 Questions For Cape Town-born Singer Lakota Silver

10 Questions For Cape Town-based Comedian Dalin Oliver

---
Check out our events section for an up-to-date overview of happenings in Cape Town. Also, don't forget to subscribe to our newsletter and if you have a smartphone, add m.capetownmagazine.com to your home screen for quick access on the go!
Follow us on Twitter, like us on Facebook, join our Google+ circle, connect with us on LinkedIn, check out our photos on Instagram and follow our Pinterest boards for updates on what's happening in and around the Mother City!