Vegetarian and Vegan-Friendly Restaurants, Plus: Amazing Desserts Even Meat Eaters Will Love
Finally: from child-friendly veggie spots to places where you can proudly ask for the vegan menu. This is where to take all your friends
Last update: 6 January 2020
Life for a vegetarian or vegan has become refreshingly easy in South Africa. To help those who've forsaken meat to stay popular with their carnivorous friends, we've compiled an overview of carnivore-friendly spots that cater for vegetarians and vegans.
A VEGGIE MENU RIGHT ON THE BEACH
Dutchies is a casual beachside eatery overlooking the Blue Flag Grotto Beach in Hermanus. Raise a glass with friends and families against the backdrop of the sea and mountains while the sun sets. Once it gets dark, the century-old milkwood centrepiece lights up with glittering fairy lights. Dutchies offers an exclusive vegetarian menu, as well as a few vegetarian tapas options. Try the warming broccoli and cauliflower soup with blue cheese to start, and for mains, the Indian-spiced lentil and roast veg curry is a winner. Sit outside (with your dog in the courtyard garden) or inside in front of the fireplace at Dutchies in Hermanus.
Hours: Monday–Sunday: 9am–9pm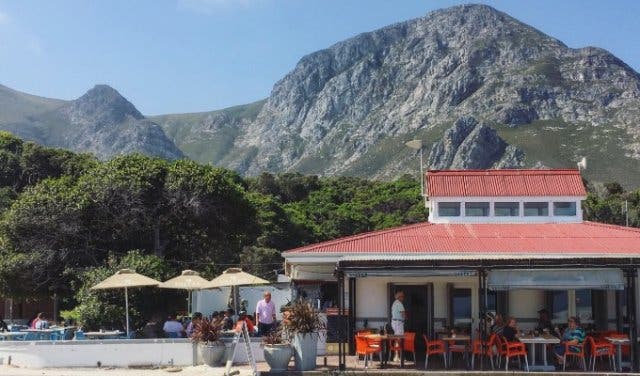 Grotto Street, Grotto Beach, Hermanus, info@dutchies.co.za, +27(0)28 314 1392, Dutchies website
HEALTHY ETHIOPIAN CUISINE
With an extensive menu that includes vegetarian and vegan options, this Ethiopian eatery on the corner of Church and Long Street is a fantastic place to share a memorable meal. The flavourful stews are served in a pancake-like sourdough base called injera, which is gluten-free, fat-free and which is meant to be shared in a warm and communal manner at Addis in Cape.
Hours: Mon-Sat: Midday–10:30pm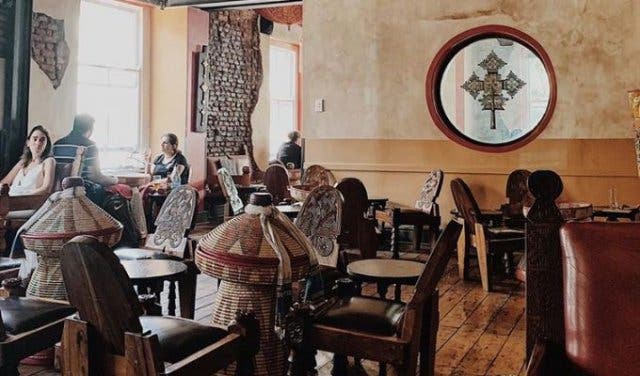 41 Church Street| City Centre | +27 (0)21 424 5722 | celebrate@addisincape.co.za
SOUTH-INDIAN AYURVEDIC TAPAS: VEGGIE AND VEGAN IN SEA POINT
Known for being vegetarian, but also vegan and ultra-healthy. Chef Seelan Sundoo's trendy Sea Point eatery serves Ayurvedic-style (food as medicine) cuisine that blends South Indian spice with Durban flavour, all in the heart of trendy Regent Road. There are no animal products in the sauces or preparation, and vegetarians will love the wild mushroom, baby marrow and homemade cheese tapas, or paneer and green pea curry. Vegans can savour the spices of a delicious bean curry, clay roasted vegetables or vegetarian platter. Discover Sundoo restaurant in Sea Point.
Tip: Discover ideal business lunches and dinners in Sea Point.
Opening hours: Mon–Sun: Midday–11pm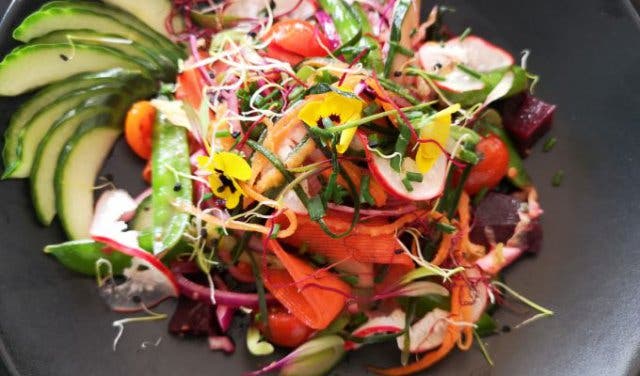 Shop 6, La Rhone, 77 Regent Road, Sea Point | +27 (0)21 433 0542
MARY-ANN'S IN MOUILLE POINT AND GORDON'S BAY
Mary-Ann's serves light healthy lunches and beverages and a delectable buffet lunch. Some of the dishes on offer include rice noodles and Thai vegetable stir-fry, potato rösti with a curried creamy tomato and leek sauce and other favourites such as gluten-free pizza. Learn more about Mary-Ann's in Mouille Point.

Mouille Point: 3 Park Street | Mouille Point | 021 433 0166
Gordon's Bay: 74 Mountainside Boulevard | Gordon's Bay | 021 856 2500
RAW AND ROXY
Danish-born chef Beatrice Holst embodies the benefits of living the lifestyle that her award-winning city bowl eatery promotes. The passion she puts into her raw vegan gourmet creations shines through in the Insta-worthy eats such as salad with truffle, tamari-infused portobellos, tomato, avo and parsley or morning glory breakfast bowl with chia pudding, cashew milk, homemade granola, fresh fruit and edible flowers. Find out more about Raw and Roxy.
Hours: Mon–Thurs: 10am–6pm; Fri: 10am–9:30pm; Sat: 10am–5pm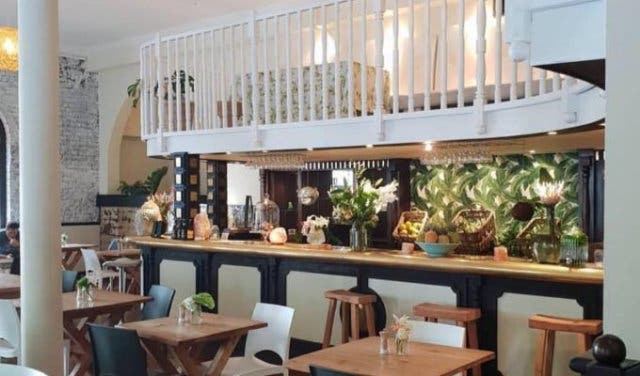 38 Hout Street | Cape Town | +27 (0)79 599 6277
PRASHAD CAFE
Why would anyone have the need or desire to eat beef in India when Indian veggie cuisine is so moreish? Mother-and-son team from the famous Maharajah Vegetarian brand collaborated to bring us the robust taste of vegan and vegetarian Indian cuisine. Look out for the bright pink beacon of veggie goodness at this modern-day cafe in Kloof Street.
Hours: Mon–Fri: 11am–9pm


Shop 11b, Palmhof Centre | Gardens | +27 (0)21 422 0264 | info@prashad.co.za
THE SUNSHINE FOOD CO.
This beacon of yellow sunshine in Three Anchor Bay creates nourishing vegan food. You have to try their burgers!
Hours: Mon–Sun 8am–8pm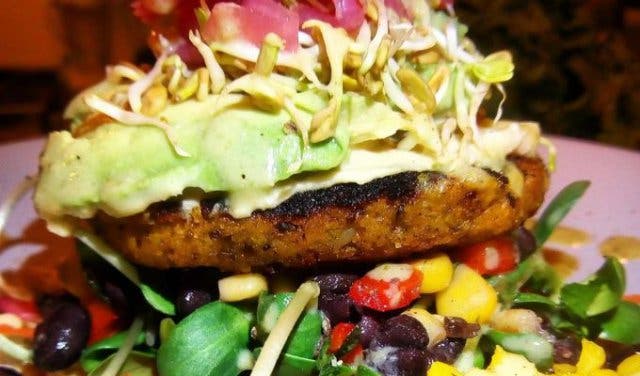 Corner Glengarriff Road / Main Road, Three Anchor Bay | +27 (0)81 825 0925 | thesunshinefoodco@gmail.com
GROUND ART CAFFE
Superb coffee along with beautiful food prepared with skill and freshly served. The menu is simple and highlights fresh, healthy ingredients sourced from the best of Cape Town's local produce. There are plenty of vegetarian and vegan options clearly marked on the menu. Any other items on the menu, which are not vegetarian or vegan, can be customised on request by substituting certain ingredients. Gluten- and lactose-free options are available too such as their Fruit Bowl with homemade granola and yoghurt (substituted with coconut yoghurt) or their Cous Cous Salad (substituted with quinoa) with rocket, Mediterranean vegetables and avo. Learn more about Ground Art Caffe.
Hours: Mon–Fri: 7am–4pm Sat: 7am–2pm


160 Strand Street | De Waterkant | +27 (0)21 418 1331 | info@groundartcaffe.co.za
THE HUNGRY HERBIVORE TAKEAWAY
The Hungry Herbivore is an artisanal plant-based eatery and snack manufacturer. They offer a delicious selection of takeaway vegan breakfast, lunch, drinks and decadent cheesecake. There are also multiple gluten-free options and your drink order comes with a paper straw! Find out more about The Hungry Herbivore takeaway.
Hours: Mon–Fri: 10am–3pm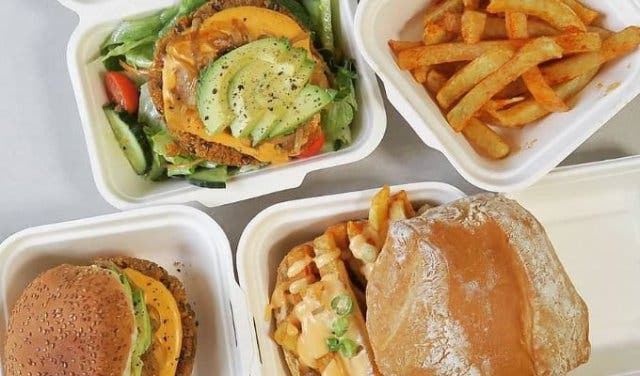 17B Platinum Junction Business Park | 4 School Street | Milnerton | info@thehungryherbivore.com
HARALD'S BAR & TERRACE
Overlooking Table Mountain and the city, perched on the 11th floor, Harald's Bar & Terrace offers a new vegan menu. Choose from starters, mains and desserts, and you can even enjoy vegan wine, a cocktail or smoothie as you catch some rays by the splash pool. Read more about the Park Inn Foreshore.
Hours: Mon–Sun 10:30am–11pm


29 Heerengracht Street | Foreshore | +27 (0)21 427 4800 | info.capetown@rezidorparkinn.com
NOURISH'D
This vegetarian and vegan sanctuary offers a colourful and seasonal menu of juices, shots, smoothies, salads, bowls, coffees and more. They source produce from local farms and engage in sustainable practices, for example, juices are bottled in glass jars that you can return for a refund, and of course, there are no plastic straws here!
Hours: Mon–Thurs: 7am–5pm; Fri: 7am–4pm; Sat: 8am–2pm; Sun: 8–12 noon.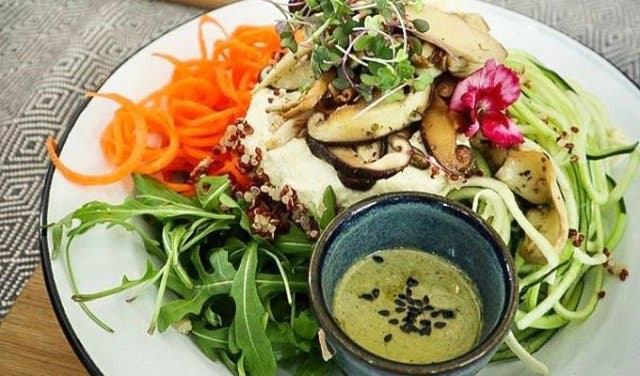 177 Kloof Street | Gardens | +27 (0)64 755-2431 | natasha@nourishd.co.za
186 Lower Main Road | Observatory | +27 (0)64 755-2431 | natasha@nourishd.co.za
SCHECKTERS RAW
Scheckter's Raw serves fresh plant-based food that looks as good as it tastes and bursts with flavour. In addition to their juices, smoothies, breakfasts, bowls, mains, and hot drinks, look out for their treats. All treats are sugar-free, dairy-free, raw and organic, sweetened with low-GI coconut nectar, and most are gluten-free too. Get your fix of Reese's Cups or Twix and indulge with none of the guilt.
Hours: Mon: 8am–4pm; Tues–Sun: 8am–8:30pm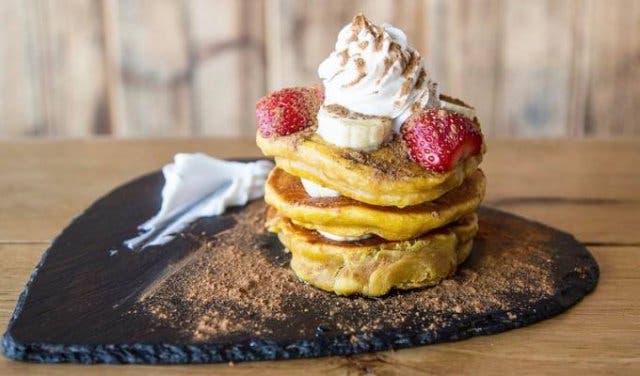 98 Regent Road | Sea Point | +27 (0)21 434 1364 | love@schecktersraw.com
PURE CAFE GREYTON
Pure Cafe supports non-profit organisation Greyton Farm Animal Sanctuary to raise awareness about the plight of farm animals and to showcase delicious and seasonal plant-based food. Pure Cafe supports local organic farmers and producers to ensure that most of the produce is fresh, seasonal, organic and locally grown or made.
Hours: Mon–Sat: 8am–4pm; Sun: 9am–3pm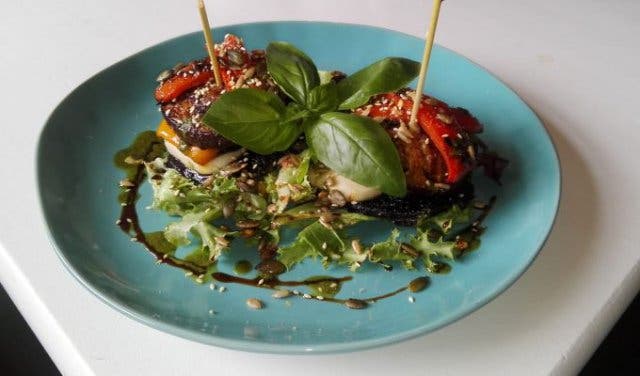 Unit 3, 41 Main Road | Greyton | +27 (0)82 558 7752 | nicolavernon@twk.co.za
O'WAYS TEACAFE
O'Ways boasts over 100 Nigiro teas hailing from all over Africa and Asia as well as coffee. The menu offers vegan delights such as pan-fried crumbed tofu with basil pesto and sweet-sour sauce served on a bed of pearl couscous with seasonal vegetables and a green salad. Learn more about O'ways Teacafe.
Hours: Mon–Fri: 7:30am–5pm; Sat: 9am–2pm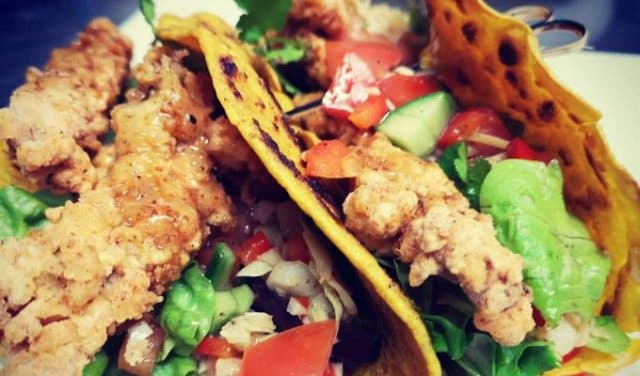 Shop 2, Heritage House | 20 Dreyer Street | Claremont | +27 (0)21 671 2850 | info@oways.co.za
PURE ELIXIR CAFE
This little hole-in-the-wall cafe is an organic superfood smoothie bar serving moreish vegan chickpea curry rotis. Have a look at their chalkboard for updates and specials and don't miss out on their magical elixirs that promote radiant health and longevity.
Hours: Mon–Fri: 8am–5pm; Sat: 9am–3pm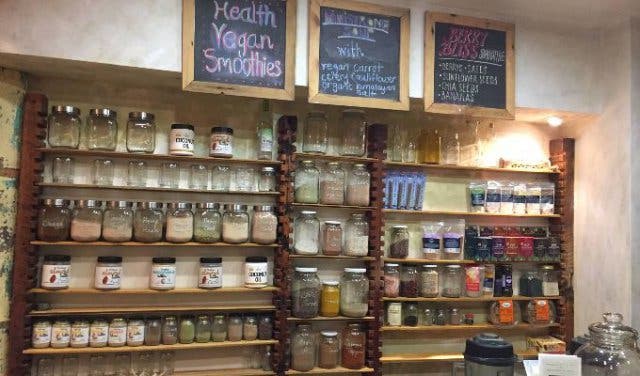 120 Bree Street | Cape Town | +27 (0)76 7416 828 | pureelixircafe@gmail.com
GROUND ZERO
GroundZero serves amazing Marley Coffee, hosts awesome musical events and offers strictly vegetarian and vegan food, snacks and juices. Think cinnamon-flavoured butternut salad served with homemade flaxseed crackers, gluten-free waffles and so much more.
Hours: Mon–Fri: 8am–5pm; Sat: 9am–2pm; Sun: 10am–5pm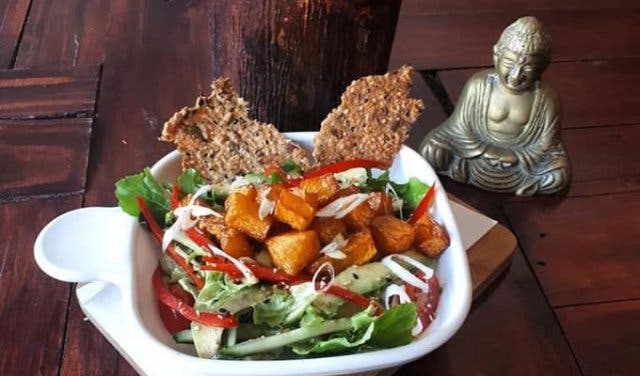 122b Lower Main Road | Observatory | +27 (0)76 300 4942 | groundzerocape@gmail.com
MAHARAJAH PURE VEGETARIAN CUISINE
Chef Theresa Peters' kitchen focuses on cooking healthy, vegetarian and vegan dishes with versatile favours and spices. The menu is entirely free of meat and uses soy and paneers in place. Recipes have been passed down from generation to generation, and dishes are served with biryani, rice or roti and with raita and dhal on the side. The hip cafe is also a popular student spot, and all dishes are available for takeaway.
Hours: Mon–Sat: 10am–9pm


6 Rondebosch Court | Fountain Square | Rondebosch | Cape Town | +27 (0)21 685 7891
ORCHARD ON LONG
Touted as the pioneer of the juicing scene in Cape Town, Orchard on Long was born out of a passion for nutrition. The dedicated team cold-press produce with state-of-the-art hydraulic juicers throughout the day to ensure the freshest and most nutritionally dense juices around. The vegetarian and vegan dishes include smoothie bowls, wraps, sandwiches, soups, salads, smoothies, and more. Read more about Orchard On Long.
Hours: Mon–Fri: 9am–5pm; Sat: 9:30–2pm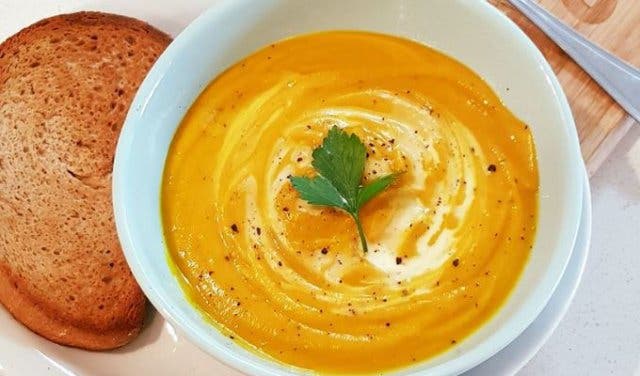 211 Long Street | +27 (0)21 424 3781 | manager@orchardonlong.co.za
ROYALE EATERY
The original Cape Town Craft Burger bar for over 15 years. Not just any burgers, but burgers that make your soul tingle and your dreams come true. With leftovers still wrapped as a swan. There are entire sections on the menu devoted to vegan and vegetarian burgers, and you're sure to come back again to try them all. Read more about Royale.
Hours: Mon–Wed: 12 noon–11pm; Thurs–Sat: 12 noon–11:30pm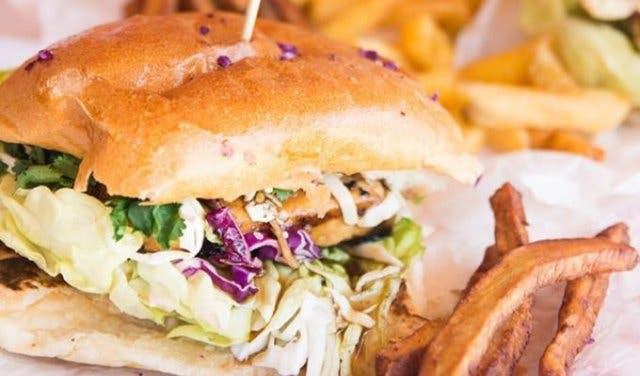 273 Long Street | Cape Town | 021 422 4536 | info@royaleeatery.com
PLANT
Plant is a vegan and vegetarian eatery that offers 100% meat-free dishes with a commitment to being deliciously conscious. Order drinks from the rainbow of fresh juices and smoothies and fill up on the Dirty Mac & Cheese (macaroni drenched in a rich and piquant cheese sauce topped with homemade Parmesan). Be sure to ask about their raw cakes, and if you're in need of vegan catering, Plant is your go-to!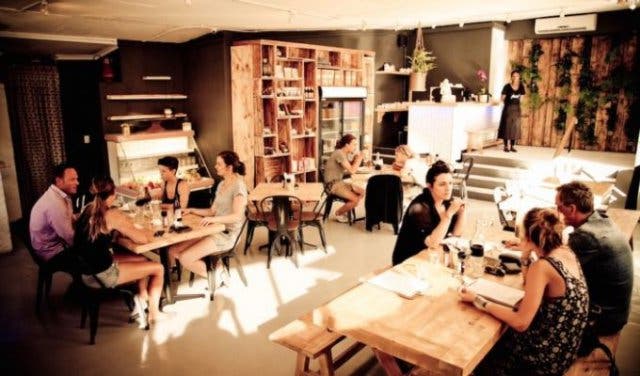 8 Buiten Street | Cape Town City Centre | +27 (0)72 521 9252 | info@plant.co.za
LEKKER VEGAN JUNK FOOD
The future of vegan fast food dawned on the city in late 2017 when Lekker Vegan opened its doors in the East City Precinct area. Since then, they have impressed vegans (and carnivores) so much that they have opened a second branch in Kloof Street. Lekker Vegan showcases how tasty vegan food can be through popular take-out dishes, typically seen as junk food. Find out what's on the menu at Lekker Vegan.
Hours:
Barrack/Harrington: Sun–Thurs: 12pm–10pm. Fri & Sat: 12pm–3am.
Kloof: Mon–Thurs: 10am-10pm. Fri 10am–midnight. Sat: 10pm–midnight. Sun: 11am–9pm.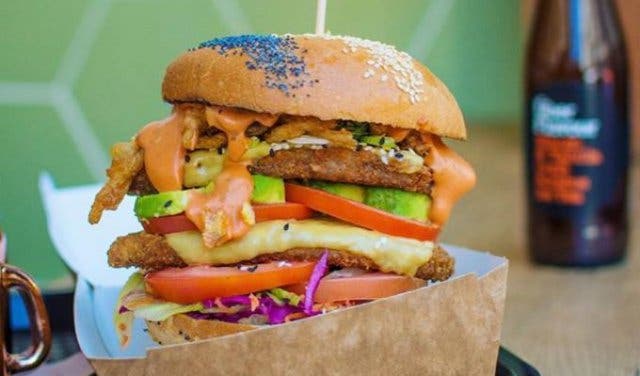 37 Barrack/Harrington Street | Cape Town | +27 (0)76 734 7098
105 Kloof Street, Palmhof Centre (Checkers Centre) | Cape Town | +27 (0)76 734 7098
FLOURISH BISTRO
This is a plant-based, gluten- and refined sugar-free bistro trying to make the world a better place one delicious meal or treat at a time. Follow them on Instagram to see what's on the menu.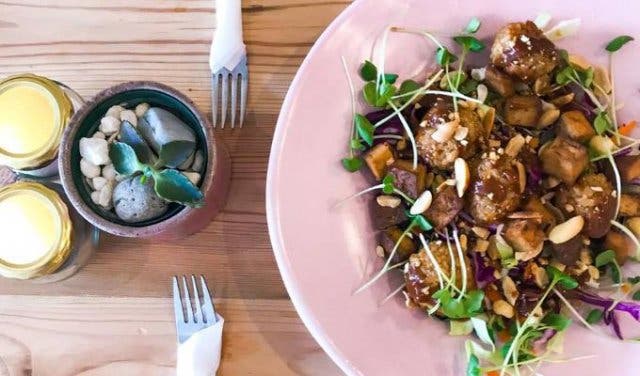 403 Albert Road | Woodstock | +27 (0) 61 491 9479 | hanna.rup@gmail.com
VANDIAR'S INDIAN CUISINE
This restaurant treats diners to a full-on taste explosion from Durban. The owner, Invin Vandiar, conjures up lekker, Indian dishes; the curries, many of which are vegetarian, are big favourites. The menu also boasts a hefty assortment of meat-free starters, and all dishes are freshly prepared – you'll find all local Durbanites praise the delicious food.
Hours: Mon–Sat: 11am–10:30pm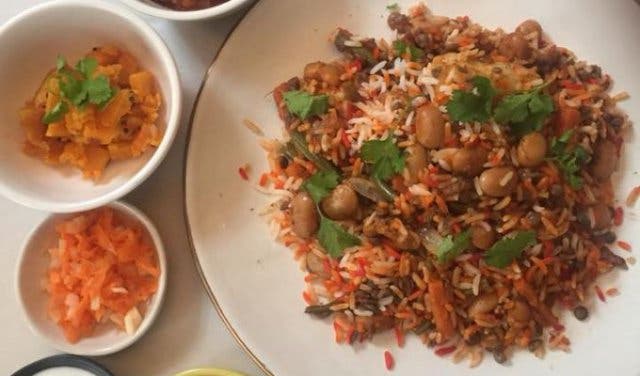 16 Barnett Street | Dunkley Square | Gardens | Cape Town | +27(0)21 462 6129
---
New: Fast and healthy plant-powered food at Bamboo Plant Power in Loop Street.

Discover a bevvy of meat-lover and vegan burger options at Robin Hood Burger & Grill.
Free yoga and acroyoga at the launch of Yogagarden in Cape Town.
Everything you need to know about a plant-based lifestyle at the Vegan Lifestyle Festival.
Cabbage to the rescue of your health and the environment with catering company McKay Cabbage Bowls.
Vegetarian and vegan fine dining at Grub & Vine's Veg & Vine.
An ideal spot for coffee, food and art at First Thursday at Ground Art Caffe.
A new inclusive yoga studio, reflective of local society at Holding Space Cape Town.
Get fresh, healthy soups as online favourite opens up their very first eatery, JarBar.
Take a look at our overview of healthy eateries in Cape Town.
If you are looking for vegan and/or vegetarian places to eat outside Cape Town have a look at our overview based in around these fine eateries in and around the Stellenbosch Area.
Customise private yoga classes or ask an instructor to come to your workplace with The Om Revolution yoga. The group classes are weather dependent and you can get the latest schedule online for outdoor yoga in Cape Town.
Whether a first date or a 50th anniversary, we have plenty of fun date ideas.
Enjoy decadent treats without compromising your health at Sea Point's newest spot – Guiltless Protein Bakery.
Use our events section for an up-to-date overview of what's happening in the city, 'burbs and dorpies. Join our newsletter and get quick access on the go by adding us to your mobile home screen for the ultimate guide to discoveries in Cape Town.

Follow and like us on Twitter ❤ Facebook ❤ LinkedIn ❤ Instagram ❤ Pinterest for updates.