A Bar And Grill Set In An Urban Forest
A bevvy of burgers and smorgasbord of sides for meat lovers and vegetarians alike
At Robin Hood Burger and Grill on Kloof, you don't have to plunder your way through the city to enjoy a good meal. It's all here, in this vibrant urban forest gem.

The restaurant, named after the medieval legend who stole from the rich to give to the poor, sits in a cool, urban forest setting in the heart of the city.

2 FOR 1 GRASS-FED BEEF BURGERS SPECIAL
Robin Hood, where meat lovers and vegans can come together to enjoy the best of the grill, serves everything from grass-fed beef burgers to a hearty selection of vegan/vegetarian-friendly dishes (desserts included), and even skinny burgers. And every Tuesday, from 11am-11pm, there's a 2-for-1 burger special, where you get the cheapest burger free.



If you feel like a beer and snack, there's a whole smorgasbord of sides to choose from, like fries, truffle fries, chilli cheese fries, sweet potato fries, nachos, corn on the cob, or roast veggies.

Pro tip: The owner's favourite burger is Azeem the Sarazin, which comes packed with nachos.

HOMEMADE LEMONADES, ICED TEAS AND COCKTAILS
There are enough drinks to make you merry. From homemade lemonades and iced teas to cocktails, and beers on tap, you'll find something to make you happy. Plus, the waitrons like to play a game: if you can guess all the ingredients in the Sherwood Forest lemonade correctly, the drink is free. All bottled drinks are served with paper straws to keep the forest (and world) green and clean.



MARGARITA HOUR OVER THE WEEKEND
The beers come with a description of flavour, alcohol content and bitterness. So if you're in the market for something new, scan through the list for flavours you like. Robin Hood is also part of the famous Kloof Street Beer Route. And on Friday and Saturday nights, from 11pm to midnight, it's Margarita Hour.

For the kids, there's a selection of milkshakes made with ice and syrups rather than ice-cream. And for summer, try the homemade iced teas, cold brew coffee, or frozen yoghurt as you enjoy the cool view and breeze on the outdoor deck.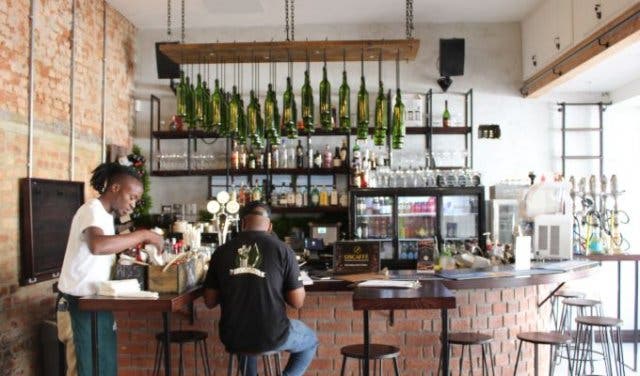 SHADY COURTYARD AND COSY FIREPLACE
This is one urban forest you will want to enter and set up camp. Picture this: exposed brick, wood benches, tree-stump chairs and a wall of living ivy. At night, a tree-branch chandelier wrapped in fairy lights and mandalas turns the forest into a magical place. It's almost like you're joining Robin and his merry band of thieves at their secret hideout in Sherwood Forest.

In Summer, the shady courtyard is perfect for chilling with friends away from the Kloof Street hustle and bustle. Come wintertime, the forest sheds its leaves and turns into a cosy hideaway, complete with a fireplace to keep you warm and cosy.



SMOKE A SHISHA IN THE MANDALA ROOM
No-one is left out. Smokers and lovers of Shisha are welcome to enjoy their meals as they puff-puff-pass in the mandala room, which is closed off from the rest of the restaurant.

Non-smokers are spoilt for choice: sit on the deck overlooking the street, in the main section of the restaurant, or out back in the cool courtyard. For intimate get-together, we recommend the courtyard. It's big enough to sit 20 of your closest friends/co-workers comfortably, shaded, away from traffic noise, plus you get to smell your burger being grilled to perfection.



THE TRUE ROBIN HOOD SPIRIT
In the legend, Robin Hood steals from the rich to give to the poor. Robin Hood Burger and Grill keeps the legend alive by supporting various charity initiatives in and around Cape Town through sales of their Robin Hood Lager.

For every lager sold, R1 is donated to the charity of the moment. In addition, patrons can add R5 (or more) to their bill in support of StreetSmart South Africa, which brings hope and help to street children.



WATER TANKS AND SOLAR PANELS
Robin Hood is always looking for ways to create a greener, cleaner tomorrow. That's why they have installed and use water tanks to water their plants and fill the toilets; solar panels for most electrical-needs, and have a strict recycling policy. Recently, they have stopped using individually-wrapped toothpicks to help stamp out single-use plastics, while their paper straws help to reduce plastic waste.



SMOKEY BBQ AND SPICY BBQ RIBS COMBO
Exciting things are happening at Robin Hood. Next time you're sitting down at one of the tree-stump chairs in the courtyard, try one of their smokey BBQ or spicy BBQ rib combos. You can also add wings, calamari or queen prawns to accompany them. Plus, look out for more seasonal specials.

TIP: Read through the menu carefully if you want to consume some fun facts on medieval English history.



---
City cafe is easy, affordable and open 365 days a year at Cafe Extrablatt in Cape Town and check out the wholesome buffet breakfast and Sunday brunch with the buffet at Cafe Extrablatt.

Discover the best cocktails in Cape Town.

Check out these places to watch soccer.

Find a restaurant near you that's vegan and vegetarian-friendly.

Discover the wonderful neighbourhood of Gardens.

---

Supercharge your event? Our Events Support Programme gets results. Contact support@capetownmagazine.com or +27 (0)21 565 0415.

Use our events section for an up-to-date overview of what's happening in the city, suburbs and dorpies. Join our newsletter and add us to your mobile home screen for the ultimate guide to discoveries in Cape Town.

Follow and like us on Twitter ❤ Facebook ❤ LinkedIn ❤ Instagram ❤ Pinterest for updates.