Sushi And Cocktails At Osetra In Kalk Bay
Stunning ocean views, a huge selection of wine, a deli shop, and vegan banana bread waffles!
Summer is upon us, and there's nothing better than sushi and cocktails on a sweltering day. Stroll down the main road of the seaside village of Kalk Bay and you'll find exactly the right thing at the right time, including new sushi and cocktail spot Osetra. Plus: Look out for sushi and cocktail deals every day of the week.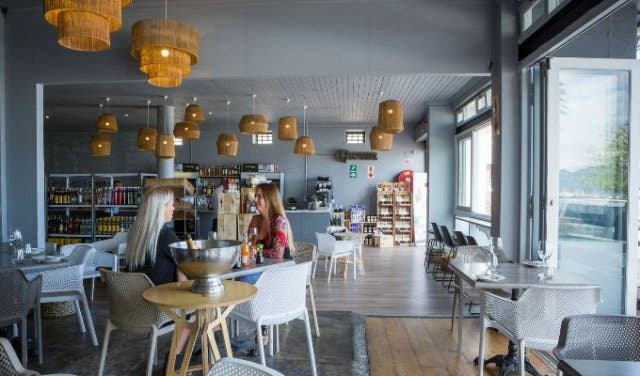 Named after one of the most prized and expensive types of caviar, Osetra is a new restaurant in Kalk Bay. The spacious restaurant faces the sea and the outside dining terrace is perfectly positioned to watch the interesting mix of people passing by.
View this post on Instagram
THE FOOD AND DRINKS
The restaurant is open for breakfast, lunch and dinner and offers amazing sushi specials.
There is an Asian influence throughout the menu with dishes that pair perfectly with Osetra's offering of over 250 fine local wines, all available by the glass. Osetra sources and procures ingredients from purveyors of fine foods, who also supply their on-site deli and retail store.
View this post on Instagram
THE OSETRA SHOP
Kalk Bay is a fun place for shopping and now you can stock up your pantry and wine cellar. The Osetra Shop treats you to all the produce used in the restaurant as well as speciality products that they and other artisans make.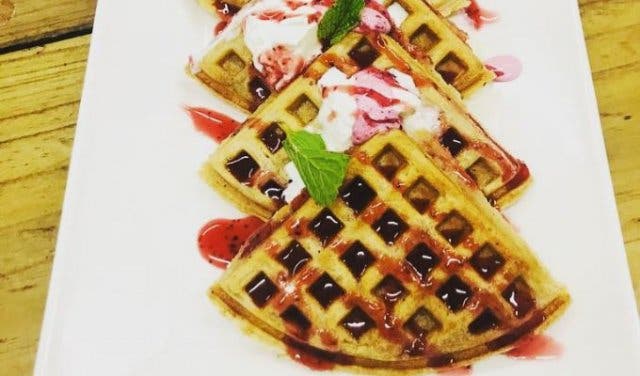 HALF-PRICE SUSHI AND COCKTAILS AT OSETRA IN KALK BAY
Mon–Sat: 11am–6 pm
Sun: 11am–11 pm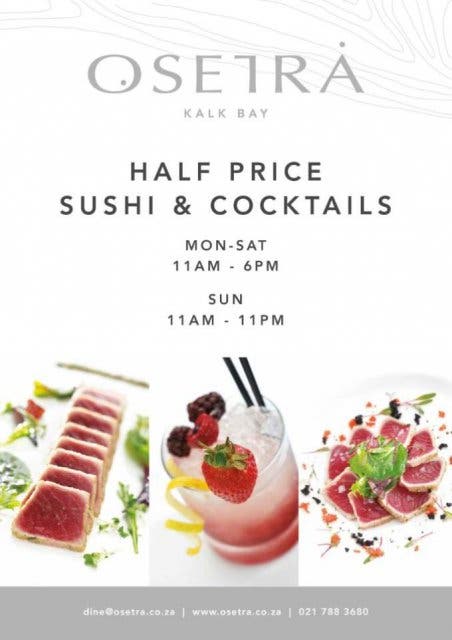 OSETRA IN KALK BAY
Address: 112 Main Road, Kalk Bay
Contact:
The Restaurant: 021 788 3680, dine@osetra.co.za
The Shop: 021 788 3240, shop@osetra.co.za
www.osetra.co.za/
Hours:
Mon–Fri: 9am–11pm
Sat: 7am–11pm
----
There are so many things hidden in the Deep South so start exploring Kalk Bay.
See what's new at city favourite, Beluga Restaurant.
Perfect for the smouldering summer, take a look at other Sushi restaurants in Cape Town.
Nothing better than fish and chips. Which have you tried in our overview of fish shops?

There a huge selection of sushi at Nuri Sushi Factory.
Another Deep South spot for great seafood is Harbour House.
---
ABOUT #CapeTownMagNew:
#CapeTownMagNew discovers exciting new places in and around Cape Town and the Western Cape. CapeTownMagazine.com celebrates entrepreneurship by telling the unique story of your business. Follow #CapeTownMagNew on Twitter and Facebook to stay up to date on new places and experiences or read more here about new places in Cape Town.
---
Use our events section for an up-to-date overview of what's happening in the city, 'burbs and dorpies. Join our newsletter and get quick access on the go by adding us to your mobile home screen for the ultimate guide to discoveries in Cape Town.

Follow and like us on Twitter ❤ Facebook ❤ LinkedIn ❤ Instagram ❤ Pinterest for updates.