The Elegant La Motte Wine Estate Restaurant Honours Our Culinary Heritage
Pierneef à La Motte is for extended lunches inside or under an oak tree
La Motte Wine Estate restaurant, with quirky ceramic plate chandeliers and wide open windows that look out over the tranquil gardens, has a homely elegance.
Named after South African artist Jacob Hendrik Pierneef (1886–1957), Pierneef à La Motte's menu is influenced by the master artists' love of the country's diversity and landscape, which is embraced and reflected in the ingredients and recipes.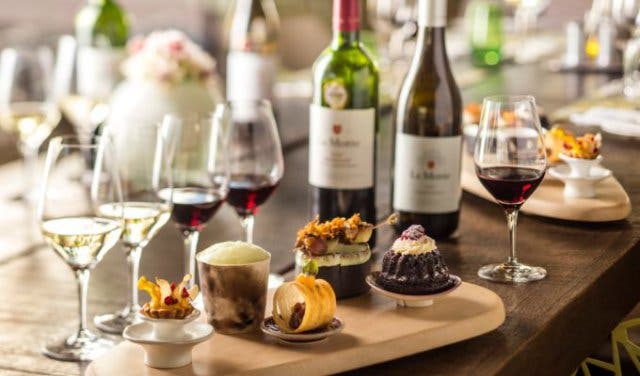 FROM SOUTH AFRICA WITH LOVE
Pierneef à La Motte has reinterpreted their menu to honour the culinary heritage of South Africa. The à la carte menu, served from 12pm to 3pm Tuesdays to Sundays and intended for extended lunches, is a selection of shared starters, main meals and desserts made from locally-sourced artisan ingredients that are seasonal and sustainable. All dishes are introduced with La Motte Cellarmaster Edmund Terblanche's wine recommendations, but the acclaimed wine list does, however, also include other interesting South African as well as international wine choices.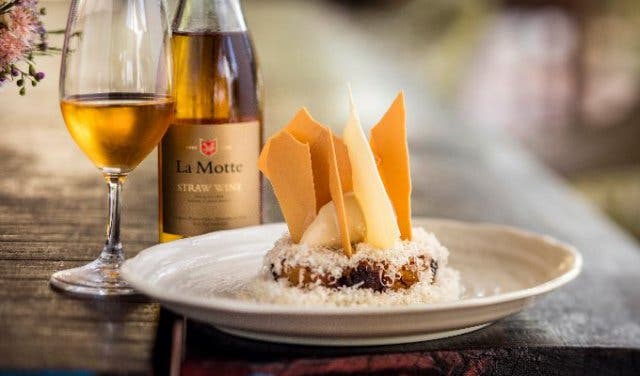 SMALLER SHARING PLATES IN THE GARDEN
From the Garden menu, guests get a more relaxed dining experience under a majestic oak tree, or on the stoep. Similar to the à la carte menu, the focus is on our culinary heritage, communal eating and the interesting local combinations of sweet, sour and savoury. You get to sample a selection of smaller plates while sipping on La Motte wines. This option is available from Tuesday to Sunday, enjoyed between 11am and 4pm.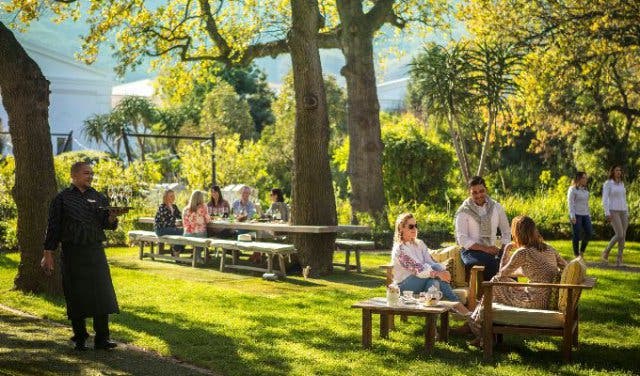 OUMA'S BREAD AND MORE AT THE STORE
Who doesn't love a good farm store? And La Motte's Farm Shop does not disappoint with the wide variety of items on sale. The selection includes Ouma's bread, a Shiraz loaf, pot bread or fruited rye loaf, a range of cakes and other baked goods. And even if you are just looking for souvenirs, you can find handmade stationery and books, music, kitchen items and even La Motte's own coffee blend and Arômes de La Motte body products.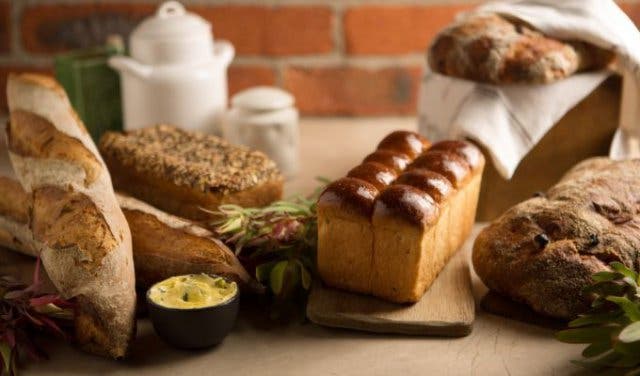 AWARD-WINNING FOOD AND WINE TASTING
To experience both the taste of the award-winning La Motte wines and the excellent cuisine from Pierneef à La Motte, book a Wine and Food Tasting. The wine estate is the 2019 Drinks International Wine Tourism Awards Winner for the fifth time, having won in 2013, 2015, 2016 and 2018.
Taking place every Friday morning, by appointment only, a wine ambassador escorts guests through an educational wine and food tasting. That is just one of the many special experiences you can have at La Motte.
__
Make sure to view the new exhibition: Celebrating the love of Art at the La Motte Museum.
Check out Pierneef a La Motte restaurant for the special Garden Menu or the Food and Wine Tasting weekly
Looking for a cosy restaurant with a fireplace? We have created a list of the restaurants you need to visit.
Taking a trip to Franschhoek and looking for the best places that pair good food and good wine? We have compiled a guide of wine estates with restaurants in Franschhoek.
Searching for a spot for your next event? Check out our list of function venues in the Western Cape.
__
Check out our events section for an up-to-date overview of happenings in Cape Town. Also, don't forget to subscribe to our newsletter and if you have a smartphone, add capetownmagazine.com to your home screen for quick access on the go!
Follow us on Twitter, like us on Facebook, join our Google+ circle, connect with us on LinkedIn, check out our photos on Instagram and follow our Pinterest boards for updates on what's happening in and around the Mother City!