New: Make Our Place Your Place On The Blouberg Beachfront
Have a cuppa and watch the baker prep artisan loaves and pastries at Our Place
Look who's moved into the old Melissa's spot on Blaauwberg Road. Flat Mountain coffee, delicious food and pastries are what the game's all about. Discover everything from freshly-baked pasties da nata and croissants to burgers and full English breakfasts and plenty of healthy options at the new bakery and restaurant Our Place. Charl Nel from Our Place says: "It's a place for the community to call their own. We identified a need for a space that offers a family environment, that offers something different."
OUR PLACE WHERE MELISSA'S USED TO BE
Our Place is located in the Aquarius building, within walking distance from Blouberg beach. The outside seating area offers great views of Robben Island and the bright kites catching the wind in this kitesurfing hotspot. As you enter the open and well-lit space, you're welcomed by the smell of freshly-brewed coffee and baked goods. Neutral colours soothe the soul and provide a relaxed atmosphere to connect to the Wi-Fi and work, read, catch up with friends or even view some art.
EXPLORE LOCAL ART AND RETAIL
Artworks by established and emerging artists adorn the walls as Our Place supports the local art community and artists are welcome to get in touch and display their work for sale. In addition, you can also browse a variety of crockery, candles and carpets in the retail section.
WATCH THE BAKER AT WORK
The open-plan seating area allows you to watch the baker at work producing artisan breads and pastries for the delicatessen. You can call ahead to place an order for fresh baked goods.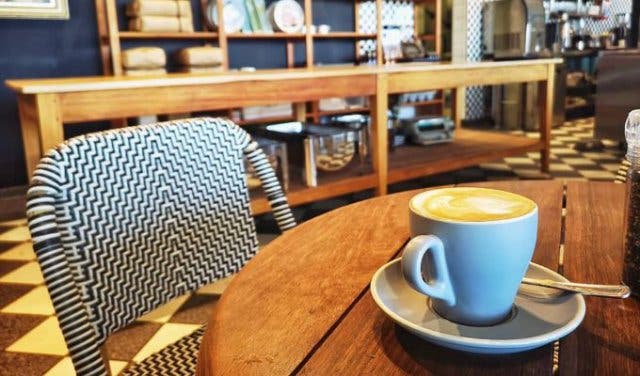 FROM GREEN SHAKSHUKA TO VEGAN NUT ROAST
The fruit smoothies and juices are fresh and baristas serve everything from espressos to beautiful lattes using Flat Mountain freshly-roasted coffee beans and even craft beer.
Our Place offers all-day breakfasts, light lunch options and hearty home-cooked beautiful meals at affordable prices. They cater to all tastes and dietary requirements, from full English breakfasts to health-conscious, vegan and vegetarian options.
For a North African culinary experience, try the Green Shakshuka (spicy green dish of poached eggs, merguez sausage, harissa paste and toasted sourdough) and the vegan nut roast (roast sweet potato, minced tofu in chimichurri tossed in coconut cream with roasted mixed nuts, pesto and carrot purée) – it's mind-blowing, even for meat-eaters. Tempt yourself with the online menu.
In the grab-n-go section you can get sandwiches, biscuits and bite-size cakes and a selection of drinks.
OUR PLACE
Address: 10 Blaauwberg Road, Tableview, Cape Town
Hours: Mon–Fri: 7am–4pm; Sat, Sun and Public Holidays: 8am–4pm
Contact: +27(0)21 300 5327, hello@ourplace.capetown, www.ourplace.capetown
---
Art lovers, have a look at other restaurants selling art and be sure to check out the inner city's Ground Art Caffe.
Get your caffeine fix at any of these great coffee shops and why not pair it with a slice of cake.
Where are your favourite breakfast and lunch spots in Cape Town?
ABOUT #CapeTownMagNew:
#CapeTownMagNew discovers exciting new places in and around Cape Town and the Western Cape. We celebrate entrepreneurship and we tell their unique stories.
Follow #CapeTownMagNew on Twitter and Facebook for the latest updates or read more here about new places in Cape Town.
---
Use our events section for an up-to-date overview of what's happening in the city, 'burbs and dorpies. Join our newsletter and get quick access on the go by adding us to your mobile home screen for the ultimate guide to discoveries in Cape Town.

Follow and like us on Twitter ❤ Facebook ❤ LinkedIn ❤ Instagram ❤ Pinterest for updates.