Top Sushi Restaurants in Cape Town
A selection of the finest spots to find this firm Japanese favourite
Last update: 20 September 2019
If you're on the lookout for premium sushi restaurants in Cape Town, then pick up those chopsticks and take a gander at our comprehensive overview of upscale spots below. From traditional Asian eateries to fine seafood restaurants that specialise in this popular Japanese cuisine, we've got the lowdown on just where to get your favourite bite-sized fix (not to mention, cash in on a few top-notch specials).
TRY THIS SUSHI-WITH-A-DIFFERENCE
This city-centre eatery, known for its Mediterranean dishes, has an open-plan sushi bar, which includes novelty creations such as the Sotano Fashion Sandwich (spicy salmon, prawn, avo and mayo with teriyaki sauce) or the Sotano Crunchy Salad, which is made of finely chopped marinated salmon, tuna and crispy bacon, seasonal vegetables, mixed nuts and Asian sauce as a topping. You'll find sushi with a difference at Sotano on Bree.
Hours: 7am–11pm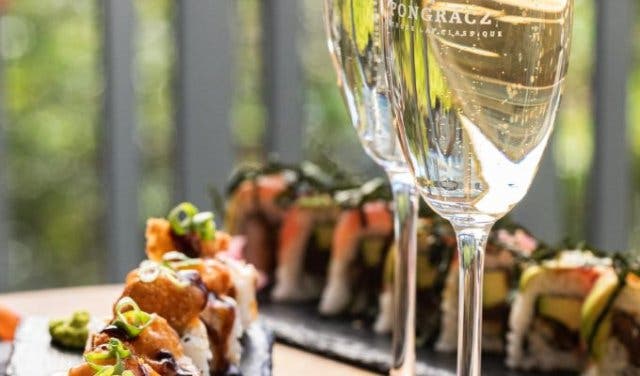 199 Bree Street | Cape Town City Centre | +27 (0)21 422 0567 | bookings@sotano.co.za
SUSHI SALAD WITH CRISPY BACON
This Mouille Point eatery, known for its Mediterranean dishes, have a sushi menu along with an open-plan sushi bar, which offers novelty creations such as the Sotano fashion sandwich (spicy salmon, prawn, avo and mayo with teriyaki sauce) or the Sotano crunchy salad (finely chopped marinated salmon, tuna and crispy bacon, seasonal vegetables, mixed nuts and special Asian sauce as a topping). It's sushi with a difference at Sotano Mouille Point.
Hours: 7am–11pm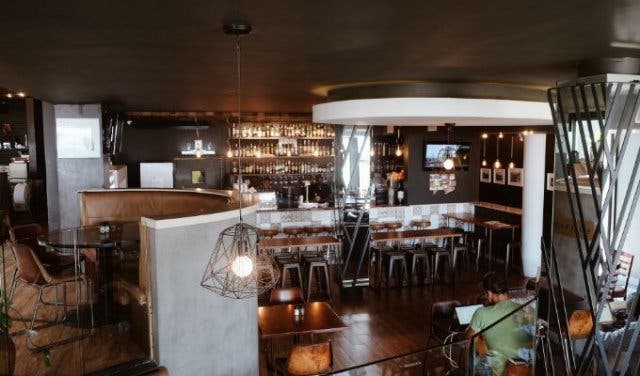 121 Beach Road | Mouille Point | +27 (021) 433 1757 | info@sotano.co.za
ASAMI'S ALL-WEEK SUSHI SPECIALS
Asami's is renowned for its sushi. All branches are in the gratifying habit of creating worthwhile sushi specials, like the two-for-one on sushi plates every Tuesday and Thursday, or the three-for-two on sushi combos every Monday, Wednesday and Friday. This makes eating there easy on the pocket and good for a get-together with friends. Prices on plates range from R28 to R66 and there are two options on sushi combos: R129 and R139. Let's not forget the all-you-can-eat sushi buffet everyday of the week for R179 per person (R115 for kids) at Asami's.
Hours: Mon-Sat: 11am-10pm, Sun: 11am-9pm (Stellenbosch closes at 9:30pm on Sundays)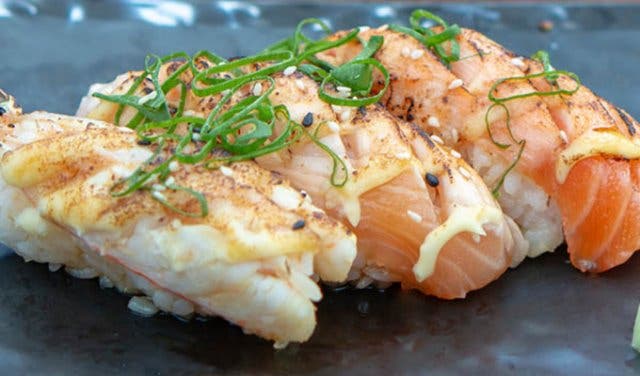 Cobble Walk Shopping Centre | Sonstraal Road |Sonstraal Heights | 072 263 2262
Tygervalley Centre | Service Road | Bellville Park | 076 219 9417
10 Somerset West Mall |Centenary Drive | Firgrove Rural | 072 925 5593
21 Waterfront Drive | Knysna Central | Knysna | 064 988 0450 / 063 5901 183
24 Main Road | Rondebosch | 021 685 3403
Paradyskloof Padstal | R44 & Blaauwklippen Road | Stellenbosch | 021 880 0416
SUNSETS AND SUSHI
Just beyond the dunes of Dolphin Beach in Blouberg (with an uninterrupted view of Table Mountain) sits this family-friendly eatery that is all about sushi, seafood and sunsets. Choose your sashimi, nigiri or maki from the sushi station or pick something from the made-to-order menu, such as the crunchy Mountain Top Nouveau or Tempura Prawn Roll at Blowfish. Be sure to check out their weekly half-price sushi specials.
Hours: 6:30am–10pm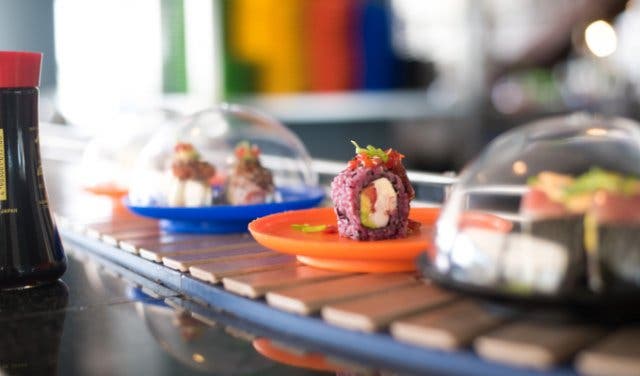 1 Marine Drive | Table View | +27 (0)21 556 5464 | info@blowfishrestaurant.co.za
SHIMMY BEACH CLUB
This seaside beach club has 17 different types of sushi that can be enjoyed while lounging on the man-made beach or at a table in the restaurant. What's more, carb-conscious diners needn't compromise their waistlines for a sushi feast. The chefs at Shimmy have come up with a rice-free substitute that tastes just as good as the original. Melt away on a sunny afternoon in one of the pools or spend time in the jacuzzi. Because Shimmy Beach Club has a kids play area, kitted out with a jungle gym, ball pit and face painting, the little ones won't get restless while you get some much-needed rest and recuperation in this laid-back setting. Read more about Shimmy Beach Club.
Hours: Monday–Friday: 11am–11pm, Saturday: 11am–4am, Sunday: 11am–2am

12 S Arm Rd | V & A Waterfront | Cape Town | +27 (0)21 200 7778
NOBU
Situated in the spectacular luxury One&Only hotel at the V&A Waterfront, the internationally acclaimed Nobu offers a first-class authentic Japanese taste experience. Founded by world-renowned celebrity chef Nobuyuki "Nobu" Matsuhisa, the restaurant dishes up classic oriental fare that's been given a contemporary twist with the use of distinct local flavours. Rather than focusing on the standard sushi options, Nobu's trendy Ceviche Bar serves innovative small-plate Japanese tapas made with fish pulled fresh from South Africa's coastline. Guests can choose from an array of unique combinations, such as Yellowtail Sashimi with Jalapeno, Foie Gras Sushi, Langoustine Sushi Rolls and White Fish Sashimi with Dried Red Miso. At the Nobu Lounge upstairs, visitors can then round off their meal with a selection of Japanese beers, sakes (a traditional Japanese drink made from fermented rice) or Asian-inspired cocktails, such as the Saketini (a mix of Grey Goose vodka, Hokusetsu sake, Takara Plum Wine, Cointreau and cranberry juice)
Hours: Monday – Sunday: 6.30pm – 11pm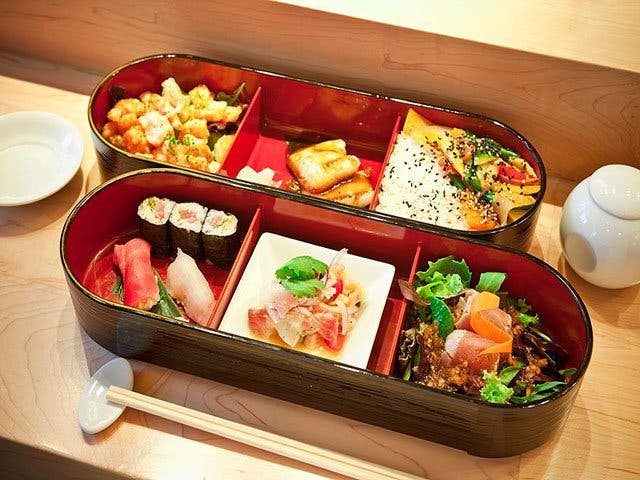 One&Only Hotel | Dock Road | V&A Waterfront | Cape Town | +27 (0) 21 431 4511
BELUGA
Sultry restaurant Beluga, based at The Foundry in De Waterkant, offers daily sushi, dim sum and cocktail specials. The specials run for lengthy scheduled periods every day of the week (including all day on Sundays). You can opt to share one of their generous platters among friends or mix and match your own individual creations (the extensive menu includes options like the Snow Dragon Roll or Sushi Doughnut). To complement the fresh fishy flavours, team your choice with a zesty cocktail (we suggest the Strawberry Collins).
Hours: Monday – Sunday: 12pm – 10pm
Specials: 12pm – 6pm every day, all day on Sundays
The Foundry | Prestwich Street | De Waterkant | Cape Town | +27 (0)21 418 2948

WILLOUGHBY & CO
A firm favourite among locals and visitors alike, this lively, lauded sushi venue spills out into the hustle and bustle of the V&A Waterfront's main shopping space. Take time out from Cape Town's relentless pulse to savour Willoughby's delicious bite-sized fare. Sink your chopsticks into a wide range of options, such as the Jalapeno Salmon Sashimi (thinly sliced salmon with jalapeno ponzu dressing) or the Salmon Grenades (salmon roses filled with spicy salmon, dressed with chilli mayo and sweet soya sauce and topped with spring onions and tempura). No visit to this seafood utopia would be complete without a browse through their in-store wine shop; bag a bargain from their selection of top-quality wines sold at competitive retail prices. Do note, Willoughby & Co is very popular and doesn't accept bookings, so expect to wait during busy periods.
Hours: Monday – Sunday:12pm – 10:30pm

Shop 6132 | Lower Level | Victoria Wharf Shopping Centre | V&A Waterfront | Cape Town | +27 (0) 21 418 6115
ACTIVE SUSHI
As the title suggests, this restaurant caters for lovers of sushi and everything that is sushi can be found at this hub. They offer sushi at very affordable prices and they've been doing so since 2008. The menu is being refined and updated constantly to suit the palates of customers. Active Sushi also has specials and platters on their menu and an extensive wine list to choose from.
Hours: Monday - Saturday: 11.30am - 4pm & 5:30pm - 10pm
32 Hudson Street | Cape Town City Centre | Cape Town | +27 (0)21 418 2604
SUSHI BOX
Sushi Box is a little Japanese eatery that's been around for around two years now and punters sit down to enjoy their freshly prepared, exquisitely tasty Japanese-style cuisine. There are some interesting options available on their exotic menu combined with the standard options you can expect on most any sushi menu. You can pick up California rolls either 8 piece or 4 piece with the choices of Salmon, Tuna, Prawn or Avo/cucumber, at varying prices, depending on your choice.
Hours: Monday - Sunday: 12am- 9pm

Lifestyle center | 50 Kloof Street | Cape Town | +27 (0)21 422 1894
Shop 8 | Cardiff Castle Centre | Kildare Road | 021 674 0820
Shop 5 | Cape Quarter | 27 Somerset Road | Greenpoint | 021 418 0396
Shop 5 | Silo 5 | South Arm Road| V&A Waterfront | 08610 78744
Shop G41 | Willowbridge | 39 Carl Cronje Drive | Tyger Valley | 08610 78744
KYOTO GARDEN
Described as a shrine to Japanese cuisine, Kyoto Garden is located in lower Kloofnek Road. This restaurant boasts a reputation for being one of the prime sushi spots in Cape Town and here you will be introduced to sushi as an art form. Popular options include the California Rolls in a 8 piece serving with the options of Tuna, Prawns, Salmon and Linefish, which is very popular amongst regulars. If you want to dine a bit more lavishly, you can opt for the Chef's creation, which includes a portion of sushi and sashimi. The creations come in 3 different sizes, small, medium, large. You won't want to miss out on this abundance of Japanese inspired cuisine.
Hours: Monday - Saturday: 5.30pm - 11pm
11 Kloof Nek Rd | Gardens | Cape Town | 8001 | +27 (0) 21 422 2001
SUSHI RESTAURANTS IN GREENPOINT, SEA POINT, MOUILLE POINT & CAMPS BAY
IZAKAYA MATSURI
This interesting hidden gem is located behind the Rockwell Hotel. It has a wonderfully ambient atmosphere and is cosy and warm, with fairy lights and lanterns providing a lucent dining experience. Beyond the enticing dishes on offer they boast a wonderful range of Japanese sake and beers. Try their tempura-Matsuri crunch roll, made with tuna, salmon, linefish, avo and cream cheese. Their sashimi and nigiri sushi platters comes in three options; salmon and tuna, salmon only and a deluxe platter. Tanoshimimasu (Japanese for enjoy).
Hours: Monday - Saturday:10:30am - 3pm; 5pm-10pm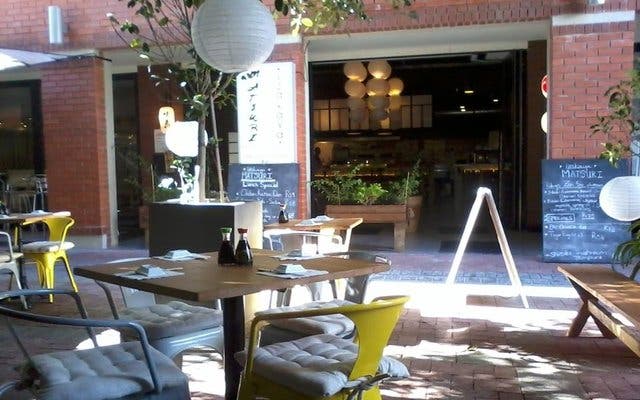 6 The Rockwell | 32 Prestwich St | Green Point | +27 (0)21 421 4520
THREE WISE MONKEY'S
Widely known around the Atlantic Seaboard area this little eatery is what can be described as a modern classic. They specialise in Ramen and Izakaya-style food. As we're focussing on sushi in this round-up we'll have to mention the 12 piece platter accompanied by a complimentary glass of red wine, beer or soft drink that will satisfy any sushi craving. Their menu is kept short and only includes quality options. The lay-out of the restaurant showcases some wonderfully simple, but modern design features. Great food coupled with a festive atmosphere promises a pleasant evening that anyone will look forward to.
Hours: Tuesday - Sunday: 12pm - 11pm; Monday: 3pm - 11pm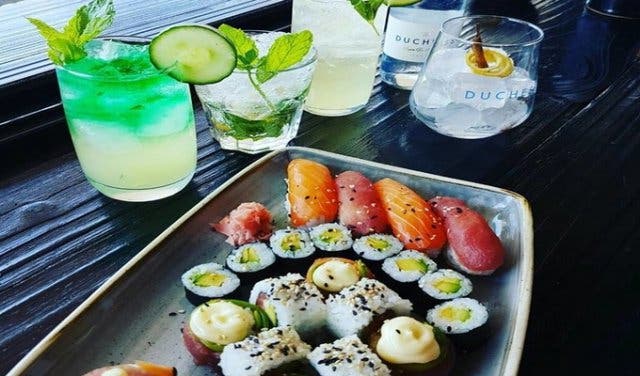 Shop 1 | 77 Regent Rd | Sea Point | Cape Town | +27 (0)21 433 1837
OSAKA SUSHI
This little Japanese eatery offers customers quality sushi at very reasonable prices. Head over to the Adelphi centre in Seapoint for an authentic Osaka experience that won't break the bank.
Hours: Monday - Thursday: 11:30am- 9:30pm; Friday - Saturday : 11:30am - 10pm; Sunday:12pm - 9pm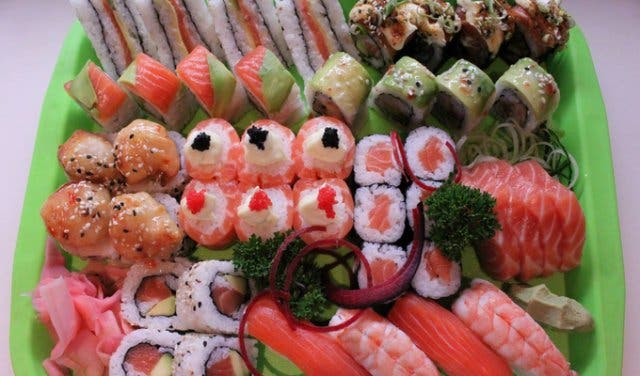 Shop 6A | Adelphi Centre | 127 Main Rd | Sea Point
MANGA
Manga offers a variety of choice items on their menu and you can be guaranteed of good food, drinks and service when dining here. Give the Manga signature dish a try. It is an interesting combination of tuna tartare, tuna sashimi, avocado and micro herbs all served on a sushi taco. The venue is a perfect setting to have your casual suppers with family, romantic evenings as well as for business meetings where you need to impress.
Hours: Monday - Friday: 10:30am - 10.00pm; Saturday - Sunday: 8am - 10pm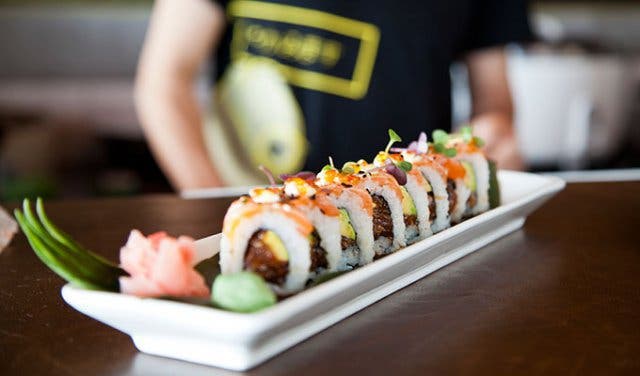 Cnr Beach Road & Rothesay Place | Mouille Point | +27 (0)21 202 2720
SUSHI RESTAURANTS IN OBSERVATORY
1890 HOUSE SUSHI
With a wonderful lounging area outside and a rotating sushi belt front of house, this wonderful little sushi house and grill is definitely one of the most popular sushi spots in Cape Town. Their prices are very reasonable and if you aren't too keen to spend big on a healthy, tasteful meal this restaurant is a definite. With vibrant friendly staff and an intimate set-up, customers can enjoy an ambient atmosphere along with good, quality food and service.
Hours: Monday - Saturday; 12am- 3pm; 5pm-10:30pm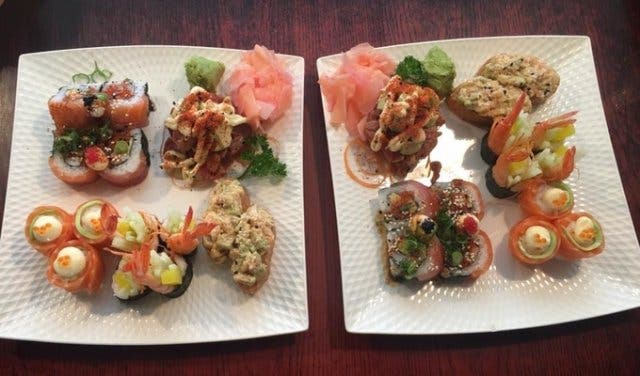 40 Trill Road | Observatory | Cape Town| +27 (0)21 447 1450
SUSHI RESTAURANTS IN THE SOUTHERN SUBURBS
ROCK SUSHI THAI
Cape Town component of the Rock Sushi Thai franchise has been serving delicious sushi to the people of Meadowridge and Newlands for many years. Their sushi is an interesting and creative interpretation of classic sushi dishes, with bold flavours thrown in. Rock Sushi Thai has two branches in Cape Town, one in Meadowridge and one on Dean Street in Newlands. Stop in for a quick bite or spend an afternoon lunching with friends, the choice is yours but rest assured that the sushi will compel you to return. Take a look at their specials board for seasonal dishes and new sushi creations!
Hours: Monday – Saturday 12pm – 10pm | Sunday – 5pm – 10pm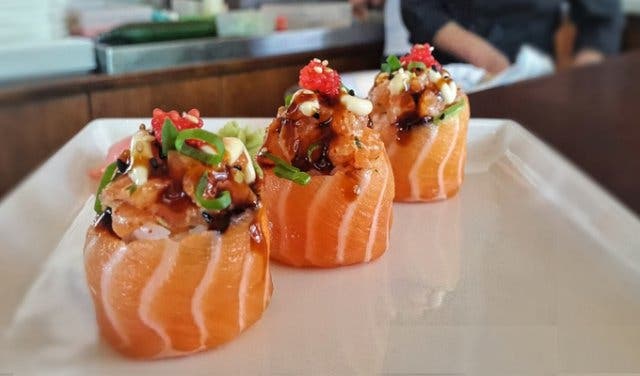 Rock Sushi Thai Newlands: Newlands Quarter | Newlands | +27 (0)21 685 9692
Rock Sushi Thai Meadowridge: Park & Shop | Meadowridge | +27 (0)21 712 2921
SALUSHI
Salushi offers a gourmet selection of dishes, as well as the standard selection of dishes such as California rolls, sashimi and hand rolls. Some of the specialities include deep fried prawn tempura rolls with spicy wasabi. Salushi is a bit of a secret gem where Capetonians go for a convenient and delicious lunch or supper enjoyed in a friendly surroundings.
Hours: Monday - Sunday: 12pm - 10pm

Intaba Building | Protea Rd | Claremont | +27(0) 21 671 4271
SUSHI RESTAURANTS IN CAPE TOWN SURROUNDS
CAPE POINT
Two Oceans Restaurant TWO OCEANS RESTAURANT
Located at Cape Point, the scenic stretch of land that forms the most southwesterly tip of Africa, the Two Oceans Restaurant overlooks the glistening sea that spreads out below and offers up cuisine fine enough to rival this panoramic view. Its chic new sushi bar – which was added in a July 2012 renovation and is now run by Thai chef Sarawut Sukkowplang – serves up innovative fare as fresh as the oceanic surrounds. Diners can choose to indulge in an assortment of sushi platters, all while taking in the captivating edge-of-the-world allure of this breathtaking setting.
Hours: Monday – Sunday: Breakfast: 9am – 11am (10:45pm); Lunch: 12pm - 4:30pm (last orders at 4:15pm)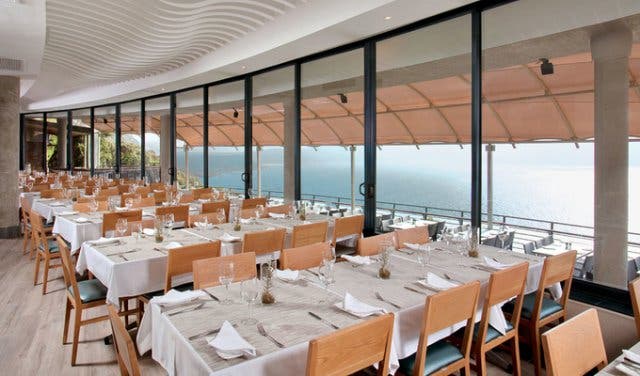 Cape Point Peninsula | Cape of Good Hope Section | Table Mountain National Park | +27 (0) 21 780 9200
HERMANUS
HARBOUR ROCK
If you want to enjoy dinner with a view, look no further than the architectural wonder of Harbour Rock in Hermanus. The Rock, as it has been nicknamed by locals, is definitely a hub for majestic views and delicious foods. The menu is quite affordable and you can easily end your meal off by spending R100 or less, dependent on how ravenous you are. Searching for a venue for date night? Bring your partner along to this eatery for a divine evening of wine, views and incredible sashimi!
Hours: Monday - Sunday: 10am - 2am

New Harbour | Hermanus | +27 (0)28 3122920
BLOUBERGSTRAND
BLOWFISH RESTAURANT
The eclectic energy inside and outside this sushi hotspot will have you driving to Blouberg every week for supper. The menu focuses on seasonal dishes, but also includes some timeless favourites. They offer a brilliant variety of dishes that include seriously scrumptious sushi. The venue provides the most gorgeous views of Table Mountain, so be sure to go there for dinners in time for the breathtaking sunset you are guaranteed to see on a clear day. You would definitely want to capture some perfect photos for those empty photo frames at home.
Hours: Monday - Sunday; 6:30am - 10pm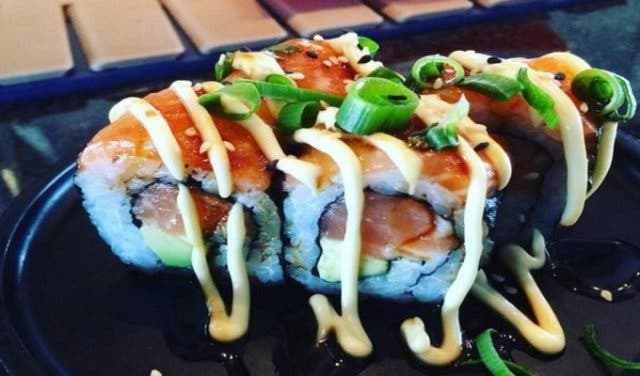 1 Marine Drive | Dolphin Beach | Blouberg | Cape Town | +27 (0) 21 556 5464
NOORDHOEK
VILLAGE SUSHI
Nestled in the quaint, sleepy suburb of Noordhoek, this hidden Asian gem is a must-visit when trekking over to the other side of the mountain. Found at the De Noordhoek Lifestyle Hotel in the bustling Noordhoek Farm Village, the eatery's relaxed atmosphere and focus on fresh, locally sourced fare fits in well with the ethos of the charming community it's located in. In addition to conventional favourites like maki, nigiri and rainbow rolls, the restaurant also conjures up a few unusual (and utterly delicious) options for those with a more adventurous palate, such as the Crispy Cajun Roll (fried salmon skin wrapped in rice and served as a California roll). If you find yourself overwhelmed by the sheer range of sushi options, opt to design your own 8-, 12-, 20- or 60-piece platter at a very reasonable set price. A takeaway option is also available.
Hours: Monday – Sunday: 7am – 10am; 12pm - 9pm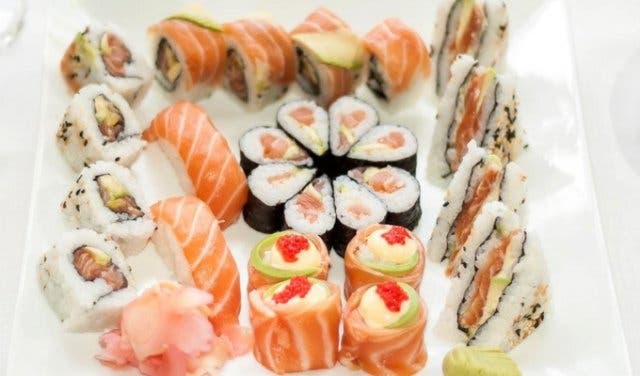 De Noordhoek Lifestyle Hotel | Noordhoek Farm Village | Noordhoek | Cape Town | +27 (0) 21 789 2760
STELLENBOSCH
GENKI SUSHI AND TAPAS BAR IN STELLENBOSCH
Blink and you could miss this gem in Stellenbosch's crown of fine eateries, which lies tucked away in a corner of the De Wet Centre. With minimal seating inside and only a small scattering of tables and chairs outside, Genki is an intimate hole-in-the-wall establishment that serves up surprisingly sensational sushi for its size. Owner and celebrated chef Arata Koga often joins his expert team behind the sushi bar, where diners can enjoy watching their food being prepared. A firm favourite would be the the Tempura Roll (a heavenly mix of deep-fried prawn, cucumber and avocado). Visitors can wash down their meal with a limited but top-notch selection of local Stellenbosch wine.
Hours: Monday – Saturday: 11:30am – 3pm; 5:30pm – 10pm

De Wet Centre | Corner of Bird and Church streets | Stellenbosch | +27 (0) 21 887 5699
WATAMI
This wonderful Japanese eatery is nestled in the picturesque little town of Stellenbosch. This in its own makes it a place worth visiting if you ever get tired of the hustle and bustle of being in the suburbs and the big city. The restaurant can definitely be described as unpretentious and here you will find that sushi buffet you've been looking for. On Tuesdays you can order two of their sushi combos platters and get another one for free as well as 30% off their sushi plates between 12pm - 5pm. Head over to this little piece of Japanese inspired heaven for a tantalizing experience you won't forget.
Hours: Monday - Sunday: 11am - 10pm

43 Andringa St | Stellenbosch | 7600 | +27 (0)21 886 5828
SUKI THAI
Whether you're a student or not, whether it is the beginning of the month or not you are not going to want to drive past Suki Thai without going inside for a meal. Their all-you-can-eat buffet, which costs you R150, runs every day and will keep you full for a year. The fabulous part about this is that you can sit at the conveyor belt and help yourself to as many plates as you want as often as you want. Or you can opt to sit down at a table and order from the à la carte menu. Note: The time-limit on the buffet is four hours.
Hours: Monday - Sunday; 11am - 10pm

Cnr Andringa & Bangkok Rd | Stellenbosch | + 27 (0)21 886 9373
OISHI
A uniquely conceptualised idea launched in 2012 where sushi lovers are able to order their meal online and eat in their own homes. No fuss around ordering either because it is all online so you will have your meal delivered to where you are and pay with either cash card or snapscan. Incredibly convenient if you want to order for a little later or if you want to have a sneaky fine dining experience at the office. Pop onto your laptop or phone and order from their online menu which caters for a wide variety of sushi lover tastes.
Hours: Monday - Sunday: 5pm - 9.30pm

orders@oishisushi.co.za | +27 (0) 214241473 | +27 (0)217611025
---
Charm all five senses at Maaya Cape Town.
Enjoy delicious Mediterranean dishes with a Lebanese twist at Sotano in Mouille Point. Check out their 2-for-1 lamb burger special on Wednesdays and their Monday Sirloin & Sauvignon special.
NEW: Try the menu and meet the couple behind Hout Bay's Nippon Sushi.
Say kon'nichiwa and discover Japanese culture at the rugby edition of Japan Day.
Get a voucher for an all-you-can-eat sushi experience at Asami's Sushi online.
Here a new oasis in the Deep South called Osetra in Kalk Bay.
Discover the spank-tjing new Tjing Tjing Momiji.
If it's slightly more pocket-pleasing sushi you're after, check out our overview of low-budget sushi restaurants in Cape Town.
Check out the new place on the Shortmarket and Loop Street block, Tomo Japanese restaurant.
Get Japanese dining experiences to feed belly and soul at Tjing Tjing House. Ever had a Japenese pancake? Discover that fluffy goodness on Pancake Tuesdays.
---
Use our events section for an up-to-date overview of what's happening in the city, suburbs and dorpies. Join our newsletter and add us to your mobile home screen for the ultimate guide to discoveries in Cape Town.
Follow and like us on Twitter ❤ Facebook ❤ LinkedIn ❤ Instagram ❤ Pinterest for updates.