Where to Enjoy Brunch in Cape Town
Where to enjoy brunch in Cape Town
Last Updated: 6 September 2019
Brunch, that long and lazy late-morning meal which stretches into the early afternoon. Whether it's a light affair, a hangover-buster or a bubbly, boozy meal that includes some serious eating, we've picked some of the brunch spots, in Cape Town and surrounds, that might tickle your fancy.

KNYSNA ASAMI'S OFFERS ASIAN FOOD WITH A VIEW
Sushi, Thai curry, sweet-and-sour chicken and tempura prawns are just some of the options when doing brunch at Asami's in Knysna. Plus, it's on the Waterfront drive so you have a breathtaking view and sea air to breathe. Of course, this being Knysna, there are oysters for starters and, assuming it's not to early for you, cocktails are served all day. So sleep in and skip breakfast, and do brunch at Asami House Knysna.
Food: Asami's are renowned for their sushi, but also do Chinese and Thai food.
Brunch: 11am-1pm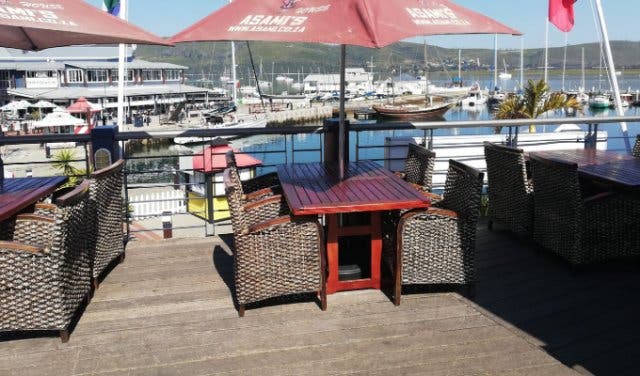 21 Waterfront Drive | Knysna Central | +27 (0)64 988 0450 | +27 (0)63 590 1183
WINE-TASTING AT BRUNCH? IT'S AS MUCH FUN AS A CHAMPAGNE BREAKFAST
Some Chardonnay with your eggs, ma'am? That's a question you'll be asked at The Bakery at Jordan if opting for the Chardonnay Brunch Experience. It's three courses made from locally sourced and seasonal ingredients, and each course is paired with one of the estate's award-winning chardonnays. From cellar tours to tastings in the tasting room or outside on the terrace (with a view of the Stellenbosch mountains and the farm's dam), there are more experiences on offer at Jordan Wine Estate.
Food: Selection of dishes of the day, charcuterie, breads, dips, cheeses and pastries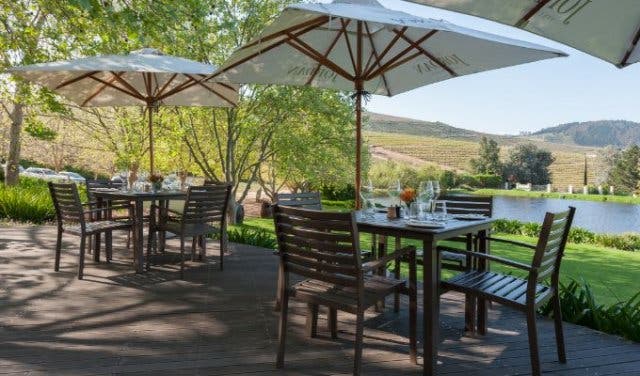 Stellenbosch Kloof Road | Stellenbosch | +27 (0)21 881 3004 | thebakery@jordanwines.com
SYRUP.
Its bright yellow door makes Syrup easy to spot on the mountain-end of bustling Bree Street. It's an intimate eatery that offers brunch lovers a playful menu that combines American and South African sweet and savoury flavours (try the Morning Glory and Good Morning Mzanzi). Enjoy brunch inside, taking in the minimalistic décor or outside, soaking up the views and buzz. Read more on Syrup.
Food: American-inspired brunch dishes with a South African twist.
Brunch: Monday to Saturday 7 am to 2 pm
231 Bree Street, Cape Town Central | 0848346261 or alternatively Jason@syrupbreakfast.com
THE PERFECT WINE AND TAPAS PAIRING
The wine list at this intimate eatery is unique and hand-picked, and pairs well with all the tapas on offer. Grab a quick bite to eat and a glass of wine at this quaint, cosy bar that adds a little extra flavour and atmosphere to the vibrant Regent Road in Sea Point. Read more about ChiCha!
Food: Best described as a fusion of worldly flavours.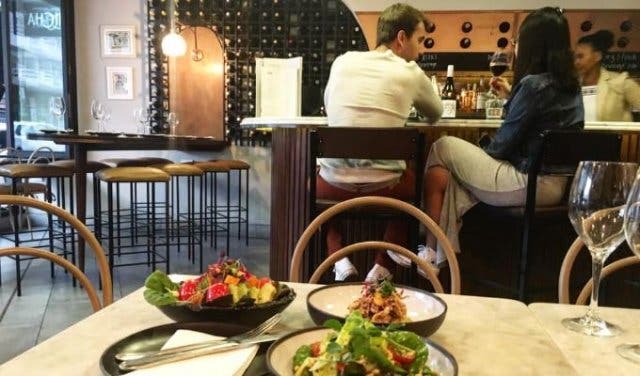 77 Regent Road, Sea Point | +27 (0)87 470 0014, info@chichact.co.za
SOCIAL DINING SATURDAYS
If there's one place that knows how to celebrate Saturday brunch, it's Grub & Vine on Bree Street. In fact, Saturdays are entirely reserved for brunch, with a two-, three- or five-course menu that brings Chef Matt Manning's flair for social dining and refined food together in a relaxed contemporary setting. With only 30 spaces available per event, booking is essential. Read more about Grub & Vine.
Food: Think bistro fare meets refined dining that focuses on fresh, seasonal ingredients and layers of textures and flavours. Choose between a two-, three- or five-course set menu.
Brunch: Every Saturday between 11:30am and 2:30pm
Cost: Starting at R250pp for a two-course brunch that includes a Bloody Mary on arrival. Additional R250pp for bottomless bubbles.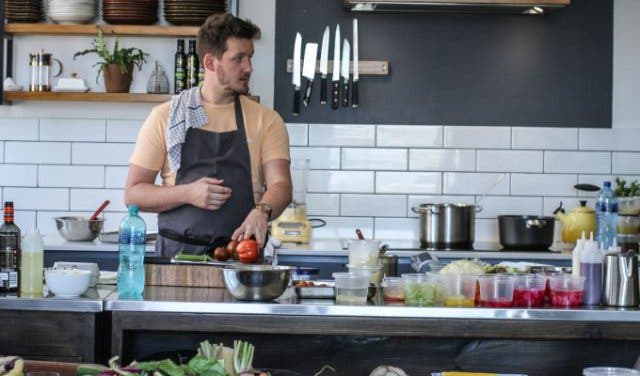 103 Bree street | Cape Town City Centre | +27 (0)76 256 8654
MULBERRY AND PRINCE
This plush New York style eatery – a minimalist space with stained glass, dirty pinks and lush velvets – is Sex and the City sleek. Take a seat inside its chic interior, or in their intimate courtyard and let the mimosas flow as you savour what's left of the weekend. Read more about Mulberry and Prince.
Food: It's American-inspired (think chicken and waffles, biscuits and gravy) but with a new-school take (try the french toast infused with nutmeg and candied bacon).
Sunday brunch: 10am to 2pm

12 Pepper Street | Cape Town City Bowl | +27 (0)21 422 3301
HARVEST CAFE AND DELI
The recently-opened Harvest Cafe and Deli in the Bo Kaap, with views of both Table Mountain and city forming an impressive backdrop, has a cosy, inviting atmosphere.The menu ranges from vegetarian and vegan food with banting options available the beetroot and berry smoothie bowl. Read more about Harvest Cafe and Deli.
Food: Try the eggs benedict on zucchini fritters and pumpkin fritters are favourites.
Brunch daily: 8am to 1pm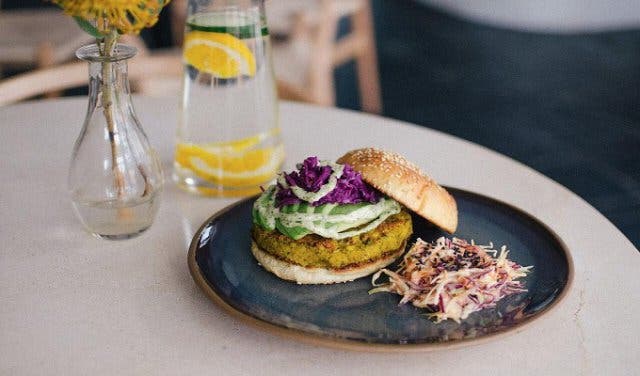 102 Wale Street | City Bowl | Cape Town | +27 (0) 79 448 1618
SUPERETTE
The Woodstock Exchange houses Suprette, a cafe serving breakfast and lunch daily, but on Saturdays is when their popular brunch comes to the party. Their All-Day Breakfast sandwich (sourdough bread with scrambled eggs, rocket, roasted tomatoes and bacon) that goes down a treat with coffee. Browse through the shop as there are seasonal and local artisanal goods on sale to be found. Read more about Superette.
Food: A specific brunch menu is available. The All-Day Breakfast sandwich features, but so do other brunch favourites like poached eggs and savoury waffles.
Saturday brunch: 8.30 am to 1.30pm

66 Albert Road | Woodstock | +27 (0)21 802 5525
STARLINGS CAFE
This cutesy café in Claremont serves up pasture-reared meat and locally grown veggies. This Claremont spot is vegan-friendly and sports a quaint outdoor seating area under vines.
Food: Expect scrumptious dishes like biodynamic eggs, brioche toast with bacon and Dijon hollandaise, and poached pears served with Greek yoghurt and toasted almonds. For those on Banting and Paleo diets, try the carbohydrate-free bread, soft-poached eggs, smoked salmon and cauliflower rice.
Saturday: 8am to 12pm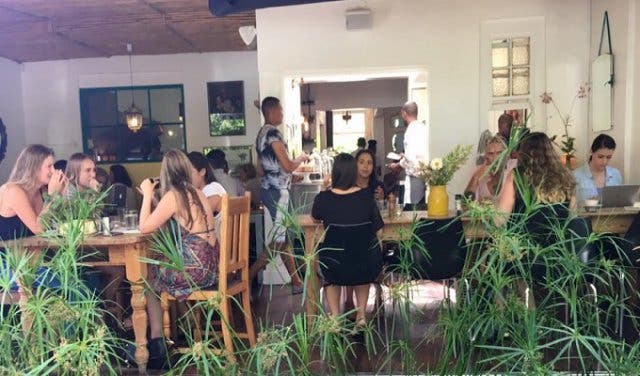 94 Belvedere Road | Claremont | +27 (0)21 671 6875
THALI THALI GAME LODGE
Enjoy your morning coffee with an unobstructed view of the Western Cape horizon at Thali Thali. Located only 120kms from Cape Town, the tranquil game lodge is the perfect place to brunch. The zebras, giraffes, springbok and lone camel wandering among the grounds, will make the perfect backdrop for your brunch. Read more about Thali Thali.
Food: The menu changes weekly so it is best to book and query about the menu options beforehand.
Sunday Mornings: Brunch is on Sunday 8am to 12pm.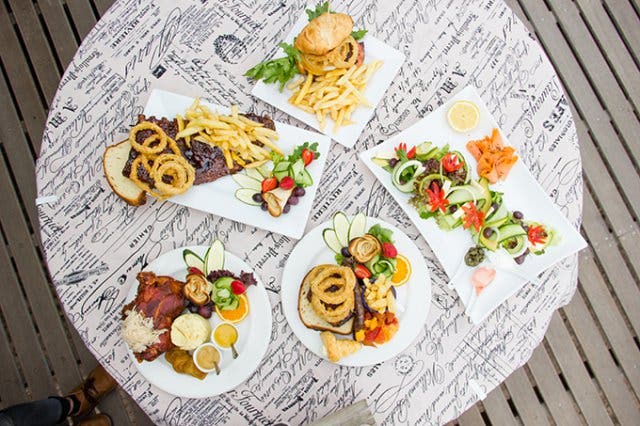 R27 | Langebaan | West Coast | + 27 (0) 82 372 8637
SCHECKTERS RAW
Popular for its plant-based menu, Scheckters serves gourmet healthy food at its best. The menu comprises of vegan and organic offerings and all the cakes and treats are gluten, sugar and dairy free. The doughnuts, sweetened and low GI, are delicious.
Food: Locals love the smoothie bowls and organic matcha flapjacks
Daily: 8am to 12pm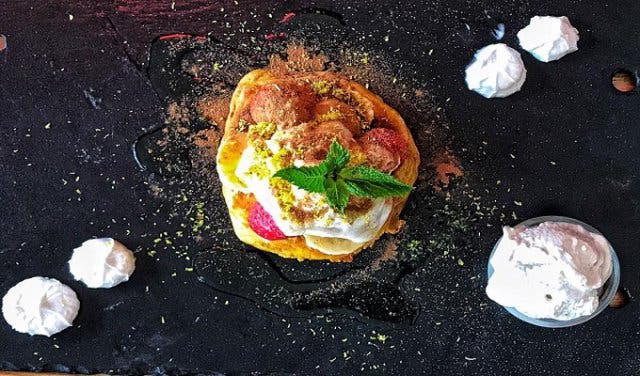 98 Regent Road | Seapoint | +27 (0)21 434 1364
SOTANO
Sotano is where brunchers gather with their friends, family, bring pets and take visitors to the city, because this Mediterranean-inspired restaurant has a satisfying breakfast and provides expansive ocean views. It's eclectic breakfast menu houses traditional favourites, including an English breakfast with all of the meaty trimmings. Read more about Sotano.
Food: Shakshuka or a flat bread with spinach, bacon, Parmesan cheese and sunny-side up eggs.
Saturdays and Sundays: 7am to 12:30pm

121 Beach Road | Mouille Point City Bowl | +27 (0)21 433 1757
ISABELLA'S CAKE AND FOOD SHOP
Sitting pretty in Durbanville, this quirky spot offers guests a wide variety of tasty morning fare. Breakfast is served all day, and not to mention, the coffee is bottomless.
Food: Guests are truly spoilt for choice: biltong, blue cheese, olive-filled croissants; toasted smoked salmon, egg and cream cheese bagels; and an open omelette with potato wedges, cheddar, sun-dried tomatoes, lamb, bacon, olives, onions and mushrooms.
Saturdays: 8am to 5pm
Sundays: 9am to 3pm
Shop 9 | Heritage Square | Vrede Street Durbanville | +27 (0)21 976 6037
JONKERSHUIS
Expect a bountiful breakfast at this Groot Constantia establishment with an unobstructed view of Cape Town's southern suburbs horizon. Break open a freshly baked bran or blueberry muffin, knifing out a generous helping of butter and watch it melt as you spread it across, or tuck into their poached eggs and Hollandaise on grilled sourdough.
Food: Try their breakfast beef burger, which has everything from eggs to bacon on a beef patty done to perfection.
Saturday mornings: 9am to 11.30am
Groot Constantia | Groot Constantia Road | Constantia | +27 (0)21 794 6255
HAUTE CABRIERE WINE ESTATE AND RESTAURANT
This family-run winery – and home of Pierre Jourdan – is located 75 km from Cape Town. Its eatery Haute Cabriére Restaurant offers a wide range of seasonal fare, and guests can choose from the a la carte menu or the True Marriage of Food and Wine menu. Read more about Haute Cabriere.
Food: Berry pancakes (served with maple syrup, butternut sorbet and seed streusel) and a fresh chef's salad (roast seasonal vegetables, hummus served with a basil vinaigrette).
Daily: 10am to 1pm
Sundays: 11am to 1pm

Lambrechts Road | Franschhoek | Cape Town | +27 (0) 21 876 3688

OU MEUL BAKKERY
This cosy and chic Willowbridge eatery serves up a classic brunch. Plus their baked goods are made on-site daily, which includes brioche, rye bread, croissants, and a sweet selection of pain au chocolat, sticky buns and toasted banana bread.
Food: Croque madame and eggs benedict are on offer, as well as a smashed avocado poached egg and meatball omelettes just to name a few.
Open daily: 7am to 6pm.
G40 Willowbridge Lifestyle Centre | Durbanville | +27 (0)21 914 0540
THE RESTAURANT AT 15 ON ORANGE
The spectacular, bottomless bubbly buffet at the chic and sophisticated Savour Restaurant at 15 on Orange hotel takes its cue from the lavish brunches held at famed New York establishments like The Plaza Hotel and Waldorf Astoria. This affair, priced at R495 per person, has more than 20 gourmet dishes, most of which reflect the time of day (less in favour of breakfast' and leaning toward lunch). Read more about the restaurant at 15 on Orange.
Food: Expect a host of decadent starters (roast vegetable roulade and duck liver crème brûlée); carvery items like chermoula lamb cutlets and beef filet mignon; a seafood selection including oysters; and the perfect brunch companion - a glass of MCC.
First Sunday of each month: 12:30pm to 4pm

15 on Orange Hotel | Cnr Grey's Pass & Orange Street | City Centre | +27 (0)21 469 8000
LIGHTHOUSE RESTAURANT AT THE BLUE PETER HOTEL
Based in the sea-facing Bloubergstrand, this eatery serves up a delicious buffet breakfast for R125 per person.
Food: Continental spread, everything from pastries to fresh fruit, to cold meats and cheeses, as well as the traditional English breakfast items.
Daily: 7am to 10am
8 Popham Street | Bloubergstrand | Cape Town | +27 (0)21 554 1956
---
Drink rosé, find inner peace and celebrate Women's Day at this seminar and brunch.
Grab a takeaway breakfast for under R40 (and maybe even a free coffee) at the brand new, Brunch Bar.
Discover your unique beauty and an innovative new app at this style, colour and image masterclass.
Here's a list of awesome places for lunch and brunch. More of an early riser? Have a look at our top places to eat breakfast.
Also, check out our selection of Happy Hour Specials as well as outdoor restaurants in Cape Town.
AC Hotel Cape Town has live music every Thursday and a weekly Sunday roast.
It's all-day, Mediterranean-inspired dining at Sotano on Bree. Check out the 2-for-1 lamb burger special every Wednesday and half-price sushi and bubbly every Monday.
---
Use our events section for an up-to-date overview of happenings in Cape Town. Also, don't forget to subscribe to our newsletter.
Follow us on Twitter, like us on Facebook, connect with us on LinkedIn, check out our photos on Instagram and follow our Pinterest boards for updates on what's happening in and around the Mother City.