Yoga When, Where, And How You Want It
Yoga on the beach, in the park, in your office, or anywhere you can imagine
The beauty of yoga is that you can do it almost anywhere, with minimal equipment. A studio is a great option, but doing yoga outdoors in nature has additional benefits.
The Om Revolution offers a regular schedule of yoga classes in beautiful locations with qualified instructors, because they believe that natural and uneven surfaces like rock, sand, or grass help develop stronger muscles by intensifying your yoga postures. They also want to make this great practice accessible for all. You can even customise your own private yoga experiences and classes.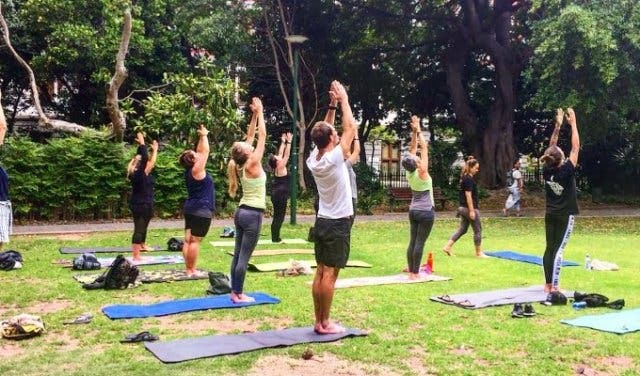 SET YOUR INTENTION OUTDOORS
The Om Revolution runs a regular schedule of budget-friendly group yoga classes in stunning outdoor locations with qualified instructors. They are 60 minutes long, suitable for everyone (whether you're a newbie or a seasoned yoga practitioner), and run between November and April every year. You don't need to make bookings and it's accessible for many at R50 per class. You don't need to book: just arrive at the scheduled time and look for The Om Revolution banner.
The classes are weather dependent and you can get the latest schedule online and read more about outdoor yoga in Cape Town.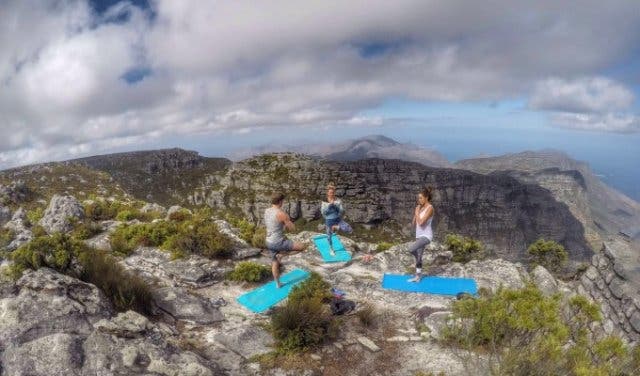 OUTDOOR YOGA WEEKLY SCHEDULE
| | | |
| --- | --- | --- |
| DAY | TIME | WHERE |
| Tuesday | 6pm | Mouille Point Lighthouse |
| Wednesday | 6pm | Century City's Central Park Field on the oval (Park Lane) |
| Thursday | 6:30am | Sea Point Promenade (Rocklands 1, Three Anchor Bay, Cape Town, near the Mandela Glasses art installation) |
| Saturday | 9am | Company's Gardens (the second lawn after the SA National library on the side closer to the Wale Street entrance to the gardens) |
| Sundays | 6pm | Clifton 3rd Beach (down the stairs to the left next to the big boulders). From mid-December, the class will start at 6:15pm to make the most of the sunset |
INHALE DEEPLY, EXHALE THE STRESS OF WORK
Not everyone has the time or ability to make it to the outdoor venues around Cape Town. Busy schedules, time constraints, and traffic can make it tough to find the time for yoga. The Om Revolution can come directly to your office. Groups of two to 30 can be accommodated to relieve stress and tension at weekly classes.
YOGA CLASSES IN YOUR SPACE, AT YOUR OWN TIME
Doing yoga in your own private space has the added benefit of focused personal attention, and can boost your strength and flexibility while enhancing the mental and spiritual benefits of yoga. If you are new to yoga, need rehabilitation from an injury, or want to take your practice deeper, you can book private classes at R450, and an extra R150 per additional person.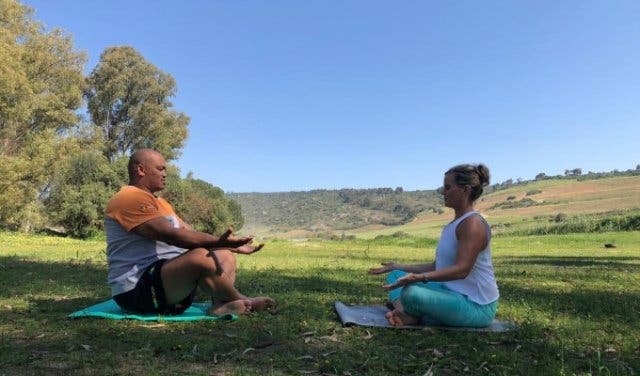 SAY NAMASTE TO YOUR INSTRUCTOR
The Om Revolution has around 30 certified instructors on its database. Regular instructors include Firdose Moonda and Tammy Sullivan. Firdose is a yoga teacher and sports journalist with an MA in the Traditions of Yoga and Meditation at the School of Oriental and African Studies in London. Anatomical knowledge underpins her creatively sequenced classes that she sprinkles with stories of yoga philosophy and history. Tammy is passionate about helping people discover their inherent gifts and natural abilities while focussing on breath – the tool to calm your mind.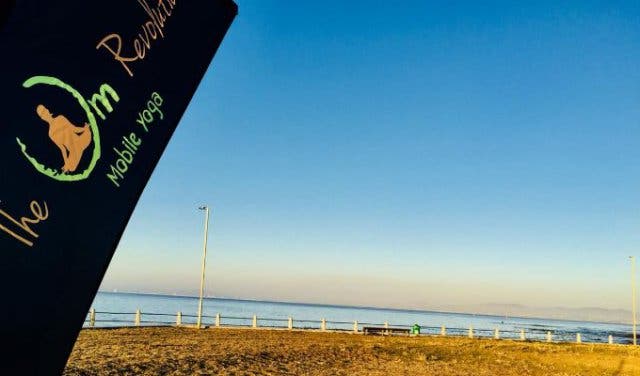 THE PERFECT YOGA MAT TO ALIGN YOUR BODY
The Om Revolution's yoga mat can actually improve your postures. In addition to guiding your posture alignment, the attractive design has markings to help you place your hands and feet correctly and align your hips, arms, knees, and chest in the right proportions. The mat is environmentally-friendly and made of recycled natural cork. It is naturally antibacterial and not slippery, even when wet. The Om Revolution sells these mats, priced at R960 and available online.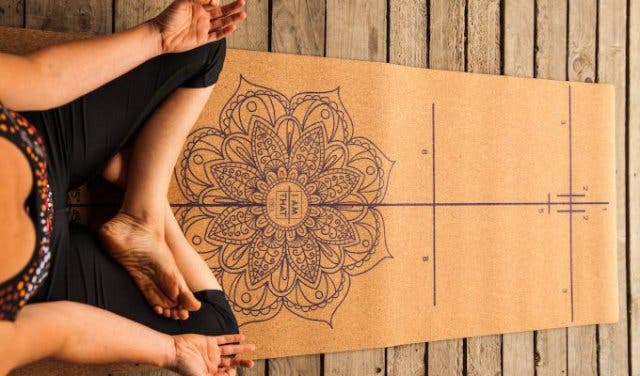 ---
Up your hula hooping game over a weekend in nature at Spiritfest.
Check out some of the excellent yoga studios in Cape Town.
Discover a breathing technique to see the world differently with the Wim Hof Method.
Come to the V&A Waterfront's new Battery Park precinct and experience open-air sunset and sunrise free yoga. Or, check out our list of fun and unique ways to stay fit in Cape Town.
Wellness-lovers will love our selection of vegan and vegetarian restaurants and healthy eateries.
---
Use our events section for an up-to-date overview of what's happening in the city, suburbs and dorpies. Join our newsletter and add us to your mobile home screen for the ultimate guide to discoveries in Cape Town.
Follow and like us on Twitter ❤ Facebook ❤ LinkedIn ❤ Instagram ❤ Pinterest for updates.