Top Wedding Venues in the Winelands
Vineyards make the ideal setting for your big day
Last update: 21 December 2017
From Stellenbosch to Franschhoek, Paarl and beyond there are plenty of options to find your ideal winelands wedding venue. From small affordable spaces to big luxurious farms; it's simply a matter of deciding what kind of storybook setting suits you. To help you on your way, we've put forth some of our favourite wedding venues in the Winelands. Happy hunting!
WHATEVER YOU IMAGINE: SPECTACULARLY VERSATILE
A courtyard and ponds ringed by ancient oaks. A private rose garden and a poplar forest for dusk-time photos with the green island lake and Lavender Lane beyond. And then there's the pergola enclosed by hedges and the Hou Moed mountains pink at dusk in the background.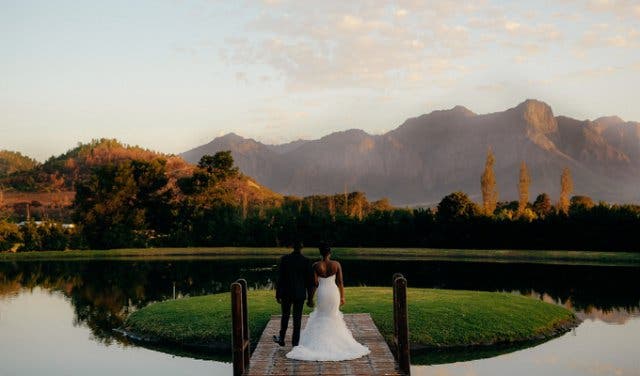 And that's just outdoors. Then there's the private cellar for smaller receptions, the famous estate bistro and the large Lyceum hall for accommodating up to 450 guests. You truly have so many more options with the spectacular La Paris Estate winelands wedding and functions venue in Franschhoek.
Best asset: It's green, like an oasis in this part of the world.
Wedding size: Any(extremely versatile), from 50 to hundreds
R301, Wemmershoek Road, Franschhoek | +27 (21) 8670171 | events@laparis.co.za

South Hill Vineyards
Once a neglected pear and apple farm in the bosom of orchard country (Elgin), South Hill exchanged the fruits of the tree for those of the vine in the early part of the millennium and has emerged as both a premium wine estate and small wedding venue over the last decade. Best described as a classic modern-day farm setting, the space is elegant but laid back. Ceremonies are generally conducted outdoors under a tree, the valley cascading below. A marquee or Bedouin tent is an option for large parties. However, brides and grooms can also choose to hold their ceremony inside at The Venue, which has space for a maximum of 70 people seated). The venue hiring fee includes two nights' accommodation on an exclusive basis for up to 16 wedding guests, which means the price is surprisingly affordable.
Best Asset: The full exclusive use of the 6 bedroom Guest House and Pumphouse Honeymoon Cottage for two nights, included in your wedding package.
Wedding Size: Small (20) to Mid (150 – Outside ONLY)
Services Offered: Catering, bar facilities, standard furniture, accommodation
Price: Affordable
Tip: South Hill and Kevin King wines are available at cellar door prices.
113 The Valley Road | Elgin | +27 (0) 83 627 7950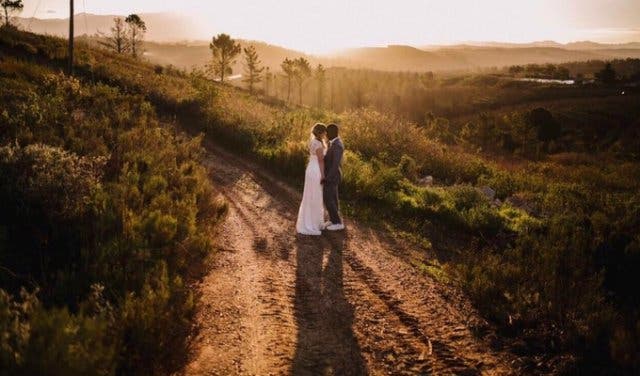 Au de' Hex Boutique Hotel
A relatively recent addition to the wedding venue Rolodex, Wellington's Au de' Hex has fast distinguished itself as a top spot to host intimate celebrations. Though still operated as a working wine estate, the property is more aptly centred on its boutique hotel, function and restaurant trade – which means it's well equipped to handle all elements of a wedding day. At its core is a restored Cape Dutch homestead that features French vintage décor, but around the back, just past a vine-covered terrace and a fragrant rose garden, is the estate's hero feature: a beautiful jetty that stretches out over a small dam. Here, couples can tie the knot (80 max) under a Bedouin tent; though, larger wedding parties can also be accommodated under the terrace and oak trees. Au de' Hex also claims 10 spacious suites and a kitchen that turns out gourmet cuisine with French flair.
Best Asset: The floating outdoor jetty that looks out at the Hawequa Mountains from the dam.
Wedding Size: Small (60 – without dance floor) to Mid (100 – outside ONLY)
Services Offered: Catering, bar facilities, standard furniture, accommodation
Price: Suited to bigger budgets
Tip: Consider booking the venue's incredible high tea: it comes complete with delicious home-baked sweets and savouries
245 Hexberg Road | Wellington | +27 (0) 21 873 0394
Bellingham Homestead
The elegant Bellingham Homestead is a peaceful, private venue ideal for intimate weddings (though it can also accommodate mid-sized affairs). Granted National Monument status, the main building dates back to the 17th century, and with it comes a strong sense of past. Most receptions take place on the green swatch of lawn in the 5-acre garden or in the old maturation cellar, which still claims large wooden casks of the good stuff. This venue tends to give couples the feeling that they are hosting their big day in their very own home; though, the staff can take care of everything from flowers to photography.
Best Asset: The historical atmosphere
Wedding Size: Small (60 guests) to Mid (120 – outside ONLY)
Services Offered: Catering, bar facilities, standard furniture, décor, flowers, photography,
Price: Affordable
Tip: The venue can create a menu for any budget, so you can name your price
R45, Franschhoek Main Road | Franschhoek | +27 (0) 72 612 7127
Kleinevalleij Estate
Among Wellington's plump guava orchards, boutique Shiraz producers and step-back-in-time hospitality you'll find the surprisingly contemporary and equally charming Kleinevalleij wedding and conference estate. The scenic property features two indoor wedding venues, the larger of which, Neo Venue, is a refurbished all-in-white Victorian homestead and the smaller of which is the funky on-site restaurant, Festa. The spaces' modishness is tempered by a beautiful outside area that features a small white chapel, vineyards, a lovely large terraced green and vistas that show off the surrounding mountains. It's also worth noting that the eatery's kitchen cooks up delectable 'boerekos with a twist', that there are a handful of small cottages on site for stay overs and that the team at Kleinevalleij can help you organise discounted furniture and décor hire.
Best Asset: Expansive terraced lawns that cascade down to the shoreline of a reedy riverbank.
Wedding Size: Small (up to 100 guests) to Large (250 – with dance floor | 300 – without dance floor).
Services Offered: Catering, standard furniture, bar facilities
Price: Mid to Expensive
Tip: Couples who host their wedding at Neo Venue get a discount on furniture hire and décor rental from in-house décor company Baie Goeters.
Bainskloof Road | Wellington | +27 (0) 21 873 0075


Kleine Zalze Wine Estate
As one of Stellenbosch's most widely recognised working wine farms, Kleine Zalze is an ideal choice for those looking for a quintessential Winelands wedding. Couples can say their 'I dos' out one the lush Lawn, either by the Pond, Vintage Barrels, or the Poolside. Kleine Zalze also has an indoor function room that is built into the winery and includes a sizeable dance floor. The farm's dedicated wedding coordinator will also help lovebirds organise all the details, including flowers, decorations and entertainment. Plus, venue hire includes a number of extras, like a night's free accommodation in the on-site lodge for the bride and groom, discounted overnight rates for other members of the celebration and a complimentary glass of estate wine for each guest on arrival.
Best Asset: The grounds. The view from the swimming pool is incredible, and the tree-filled lawns are also charming. The dedicated coordinator is also a big plus.
Wedding Size: Small (60) - Mid (120 –without dance floor)
Services Offered: Catering, bar facilities, standard furniture and accommodation
Price: Affordable - Mid
Tip: Look into hosting your reception at the lauded Terroir restaurant. The on-site eatery is one of the best in South Africa and boasts a gorgeous setting. Note: pricing is separate for this.
Strand Road | De Zalze Golf Estate | Stellenbosch | +27 (0)21 880 0740
Knorhoek Wine Estate
Celebrated by many a nuptials planner, Knorhoek wine estate's Towerbosch Restaurant has a reputation as a romantic, down-to-earth and kid-friendly wedding venue. The tree-filled grounds of this Stellenbosch-based property make for gorgeous receptions (there's also a lapa, expansive lawn and a pool area for pre-drinks), and little ones can play in the rock pools or on the playground. For indoor celebrations, the slightly funked up farm-style restaurant rests in the bend of a mountain stream - sweeping lawns and carpets of nasturtium flowers stretching out from its front door. Here, the kitchen creates unpretentious 'ouma's kos', with a focus on red meats. Additionally, there's an on-site guest house that includes eight lovely suites.
Best Asset: Farm-style feel and funky antique décor
Wedding Size: 30 – 120
Services Offered: A decorated, ready-to-use reception area, Catering, bar facilities, standard furniture, accommodation
Price: Affordable to Mid
Tip: The honeymoon suite is an on-the-house inclusion that comes with booking your wedding here.
R44 Street | Stellenbosch | +27 (0)21 865 2958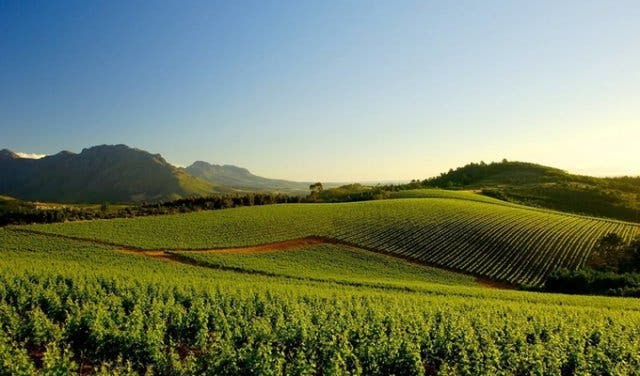 Langverwagt
Langverwagt balances on the fringe of the Stellenbosch wine region in a valley green with forests and flora. Though the historical property bills itself as a working wine estate, weddings here have more of a garden feel and less of a vineyard vibe thanks to an incredible and slightly wild tree-filled outdoor reception area. And while this open-air, fairy-like setting nestles among leafy canopies (p.s. it's wind-protected), there's also an outdoor cocktail space that sidles up to a water feature and an indoor dining room that makes a home in the building's original Cape Dutch wine cellar, which dates back to the 18th century. Accordingly, an elegant period feel pervades – what with the whitewashed walls, wooden ceilings, old-world furniture and romantic candelabras. Langverwagt also claims two lavishly furnished units for stayovers and a chef that can take care of the catering.
Best Asset: The rambling, authentic secret garden and the completely organic vegetable garden
Wedding Size: Mid (150 with dance floor)
Services Offered: Catering, bar facilities, standard furniture
Price: Mid to Expensive
Tip: Though it may sound like the farm is tucked away in a dense forest, Langverwagt also boasts a spectacular view of Table Mountain
Langverwagt Road | Kuils River | Cape Town | +27 (0) 21 903 1203
The Royal Hotel
Officially the oldest hotel in the Western Cape, Riebeek Kasteel's Royal knows a thing or two about memories, which is why it's also a great place to host an unforgettable wedding. The architecture is British in style (not Cape Dutch), and owner Rob Brendel (a Dutchman) has woven a David Livingstone-type colonial feel throughout the interior (think bamboo fans, old daguerreotypes, handsome leather couches and worn valises). The boutique property gives couples exclusive use of the accommodation for their special day and claims an amphitheatre for ceremonies, a vast veranda for pre-drinks and both indoor and outdoor dining areas for the rest of the party (they work best when used in conjunction with one another). Not to mention, the scenic garden view of a shimmering dam and the valley's vineyards is truly special (and we've been told that shooting stars regularly bejewel the night sky).
Best Asset: 'The longest stoep south of the Limpopo', where couples can host a Champagne, cocktail and canapé hour after the ceremony
Wedding Size: Mid (150)
Services Offered: Accommodation, catering, full bar facilities, standard furniture
Price: Affordable
Tip: The Royal Hotel requires that guests who hire the property as a wedding venue book out all 10 rooms, but in turn, these rooms come at a discount (be mindful of this when working out your budget).
33 Main Street | Riebeek Kasteel | +27 (0) 22 4481 378
Nooitgedacht Wine Estate
The meeting point of good taste and a good amount of money, Nooitgedacht, which is Cecil John Rhodes's former private residence, is a historic Stellenbosch estate that doesn't specialise in wine but rather special occasions. Weddings are a forte here and have been for the past 25 years. The grounds, with their 230-year-old oaks, are exquisite in an approachable way. They lend themselves to a variety of outdoor options: you can even get married in the centre of a small lily pad-clad pond while your guests watch from the edges. If you'd rather celebrate indoors, the authentic Cape Dutch building boasts an austere faunum (chapel) as well as a spacious banquet hall, which comes complete with beautiful wooden ceilings. It's also important to note that the property has more recently delved out a reputation for itself thanks to its gourmet food – the chef has cooked for a number of famous musicians. There are three suites for overnight stays on site, including a beautiful bridal suite.
Best Asset: The lane, where couples can host an outdoor reception under a canopy of 230-year-old oaks
Wedding Size: Mid (80) to Very Large (300 – indoors, without dance floor)
Services Offered: Catering, standard furniture, bar facilities
Price: Mid to Expensive
Tip: Ask about the special deboned leg of lamb on the spit
Koelenhof | Van Riebeeckshof | Stellenbosch | +27 (0) 21 865 2407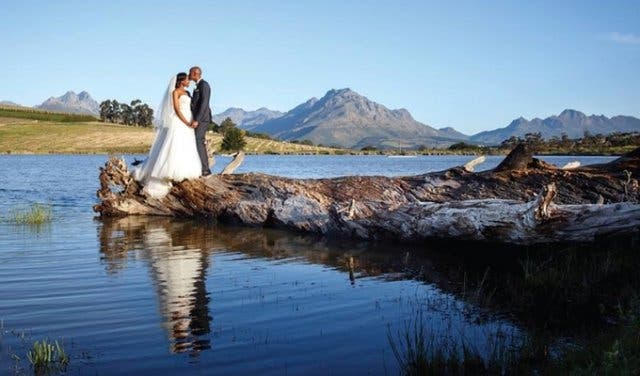 Montpellier de Tulbagh Wine Estate
Those who don't mind a slightly longer trek away from Cape Town proper (just under two hours) will find this beautiful wedding venue in the Tulbagh Valley on the banks of the Klein Berg River. Montpellier's been making award-winning wines since the late 19th century, and the working farm's been hosting warm, rustic weddings for the last few years as well. The breathtaking old hillside chapel is beyond a doubt one of the property's most striking features; though, the hosts' country hospitality, the 300-year-old Cape Dutch architecture and the venue's gorgeous grounds are worth a mention too. Couples can hold their reception in the leafy garden under dappled shade during warmer months or in the dome cathedral at one long wooden table or the charming chapel during the cooler season. And as Montpellier's accommodation can sleep up to 42 guests, there's no reason not to make a weekend of your special event.
Best Asset: The incredible old chapel, with its high wooden beams, takes the cake
Wedding Size: Large (200)
Services Offered: Catering, bar facilities, standard furniture, accommodation
Price: Mid
Tip: Montpellier is acclaimed for its outstanding Gewürztraminer, a German varietal that few South African wineries manage to do justice to. This wine makes for a great addition to summer weddings.
Montpellier Wine Estate | Tulbagh | +27 (0) 23 230 0656
MolenVliet Oosthuizen Family Vineyards
Those on the hunt for a large luxurious Winelands wedding would do well to check out MolenVliet. Listed as one of the venues in American publication CNBC.com's article 'Where the Wealthy Wed' and as an entry in Condé Nast Traveler's 'Over the Top Destination Weddings', the stunning Stellenbosch wine estate specialises in exclusive affairs. Couples can opt to recite their nuptials in the garden at the top of the estate, in the grass near the river or even in the vineyard. The reception venue itself, with its black and white chequered floor and opulent chandeliers, is primed for grand celebrations; though, there is also an option to use the adjoining deck (it spills into the vineyards) for pre-drinks or even dinner. There is no on-site restaurant, but the property recommends top caterers. There is, however, exquisite accommodation that parties can rent.
Best Asset: The feeling that you've rented an entire valley and the full use of an incredible estate
Wedding Size: Large (250)
Services Offered: Catering (outsourced from approved list), bar facilities, standard furniture, accommodation and even wedding coordination (optional)
Price: Very Expensive
Tip: Those looking to tie the knot in winter can use the estate's charming wine cellar (numbers limited to 150)
Old Banhoek Road | Helshoogte Pass | Stellenbosch | +27 (0) 21 885 1597
Backsberg Estate Cellars
Widely regarded as one of the area's foremost large wedding venues by a number of sources, Backsberg rests amongst rows of regimented vineyards in the belly of the Cape Winelands, equidistant from Paarl, Stellenbosch and Franschhoek. Despite its formidable size and reputation though, the well-known wine estate is still family owned, which means it holds fast to an approachable, welcoming air. The space itself is also, in actuality, incredibly versatile and thus caters to both couples hosting big and small celebrations. Backsberg claims manicured lawns, beautiful gardens, a large courtyard area, an incredibly ambient historical cellar that lends itself to winter ceremonies and, of course, a Mediterranean-esque indoor reception venue that lets in beautiful natural light (it also flows brilliantly into the outdoor courtyard area).
Best Asset: The beautiful established gardens, which are perfect for outdoor summer ceremonies
Wedding Size: Small (50 –with dance floor) to Large (200 – indoor/outdoor with dance floor)
Services Offered: Full service (can do as much or as little as a couple wants – from event planning to décor).
Price: Mid to Expensive
Tip: Backsberg has a range of Kosher wines available for Jewish weddings.
Simondium Road | Paarl | +27 (0) 21 875 5141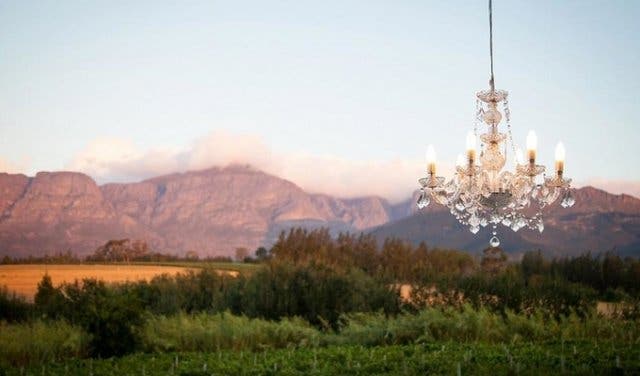 EXTRA TIPS FOR YOUR DREAM WEDDING
So now that you have a few venue ideas, consider these suggestions for other aspects of your wedding:
PHOTOGRAPHY SERVICE: The best way to keep the memories of special moments alive is through photographs. And your wedding is arguably one of the most special occasions of your life. Photofuzion knows how wonderful weddings are and offers a photography service that ensures every event they photograph is done so in a truly unique way. Their work starts prior to the wedding when they meet with the couple to get to know them a bit better and get a feel for their particular taste and style. With a style of shooting that can be described as photojournalism meets cinematography, Photofuzion believes the relationship they build with their clients is what helps to ensure that each photograph they take and every video they make captures the extraordinary details of a couple's big day. Photofuzion also offers custom-designed albums and coffee table books to make your memories last forever.

Booking info: +27 (0)84 509 6009 | info@photofuzion.co.za
ENTERTAINMENT: Now that you have found the perfect Winelands wedding venue for your special day, the next step is securing some top-notch entertainment, and we suggest the smooth stylings of Ricky Botsis. With a strong passion for swing music and entertaining from a young age, Ricky broke into the professional world of entertainment in 2008 and has since then performed at countless events nationwide, including weddings! Described as the "local version of Michael Bublé" or dare we say a young Frank Sinatra (less pop, more swing), Ricky's enchanting voice is perfect for every occasion and is a sure crowd pleaser. Although Ricky primarily prefers swing, he can sing any genre of music (as long as it in within his range, of course). What's more, should you want something that may not be on Ricky's song list, request for it in advance and provided he can get the music, a plan will be made!
Interested to hear him live? Catch Ricky's Swing Show every Tuesday night at Headquarters (HQ) Restaurant for their #DateNight special. Email Claire at rbotsis@gmail.com, or call +27 (0) 83 375 4450 for more information, quotes or availability.
INTERACTIVE FOOD THEATRE: Want to add a unique culinary touch to your special day? Then the Oyster King, an interactive food theatre company, might just be what you're looking for. Choose to be entertained and treated to specialty eats by a dedicated 'king' or 'queen' who goes around dishing out a treat of your choice to guests at the reception (it's a great way to fill the time for guests while you're off taking photos). From oysters, sushi and biltong to macarons, cake pops and fortune cookies, almost any kind of delicacy can be chosen to imbue your wedding day with a quirky, fun element.
Booking info: +27 (0) 860 697837 | info@oysterking.co.za
---
A leisurely walk through one of the oldest Pinotage vineyards at Top Of The Hill vineyard walk.
Healthy lifestyle for family and friends, young and old at Run The Vines.
More interested in a wedding venue closer to the city? Check out places to get married closer to Cape Town central.
Boutique wedding in a unique farm setting? Have a look at Rotterdam Guest Farm in Swellendam.
---