New Year's Eve 2019/2020: From The Party Of The Year To Silent Retreats
Also where the fireworks, fine-dining, family festivities are happening
Last Updated: Thursday 18 December 2019
(updated daily until 31 December 2019)
You want to never forget where you were "that New Year's Eve 2019/2020" in Cape Town. Because it should be a special, an iconic day. An evening never to forget. Your year could end with a tribute to the 1920s, a starlit cruise or a family-friendly countryside gig.
There's a New Year's Eve party for someone somewhere in the Cape this year. Scroll down to take our quiz to find out who you are on New Year's Eve and events best suit your personality. Make your choice and pencil it in.
Here's our epic list of events, but first the New Year's Eve party we'll be at on the 31st:
RIO HAS CARNIVAL. NEW YORK HAS TIMES SQUARE. CAPE TOWN HAS ALCAZAR.
A world-class destination city like Cape Town deserves a premium New Year's Eve Party. Rio has Carnival. New York has Times Square. Cape Town has Alcazar. This fairy tale New Year's Eve festival full of magic, held at the foot of Table Mountain showcases 12 hours of music by the reigning kings and queens of funk, nu disco, house and electronic. We should also mention there will be Cirque-style performance art by Olympic gymnasts and fire dancers across three distinctly decked-out stages, with VIP options. Watch, read and listen about the ecletic and iconic New Year's Eve magic of Alcazar.
ALCAZAR NEW YEAR'S EVE CAPE TOWN
Price: R390–R690 (book tickets online now)
When: 31 December, 4pm to 4am
Where: Fields outside Cape Town High School (opposite Mount Nelson) 105 Hatfield Street | Gardens
Contact: hello@alcazarenye.co.za, +27 (0)11 880 2199 (ticket queries)
Essential: Enjoy all info from VIP options and play lists with exclusive mixes to get in the mood.
THEME REVEAL ALCAZAR & 2018 AFTER MOVIE


STILL DON'T HAVE PLANS? TAKE OUR QUIZ TO HELP YOU DECIDE:
MORE SPECTACULAR NEW YEAR'S EVE EVENTS AROUND CAPE TOWN
FINE DINING AND AN AFTER PARTY WITH A TACO STATION
Dinner at Towers Restaurant is a fancy affair, and for New Year's Eve, they're kicking it up a notch. It's a buffet-style party with a smorgasbord of treats to choose from. You're spoilt for choice with starters: chilli and orange marinated olives; west coast oysters; honey-and-black-pepper-smoked salmon with radish and pickled red onions; and Vietnamese prawn and noodle salad, to name just a few. For the main course, choose between the beef fillet, glazed kingklip, or butternut and smoked ricotta agnolotti. There's a selection of desserts, too. Your ticket comes with a complimentary glass of MCC and access to the after-party, which starts at 10pm. Expect more food (beef steak sliders, tacos, calamari pitas, and more), a welcome drink, and DJs to keep guests partying until the countdown (and beyond). There's a cash bar, too, plus a sweetie station for kids. Countdown to the end of the decade with Marriot Hotel Crystal Towers.
Please note: Bookings are essential
Price: R795 per person (dinner and access to the after party) & R395 per person (after party only); R250 for children between 6 and 12; free for children under 5
When: 31 December 2019, 7pm–10pm & 10pm–2am
Where: Towers Restaurant, Crystal Towers, Century City
Contact: +27 (0)21 5253888 | capetown.sales@marriotthotels.com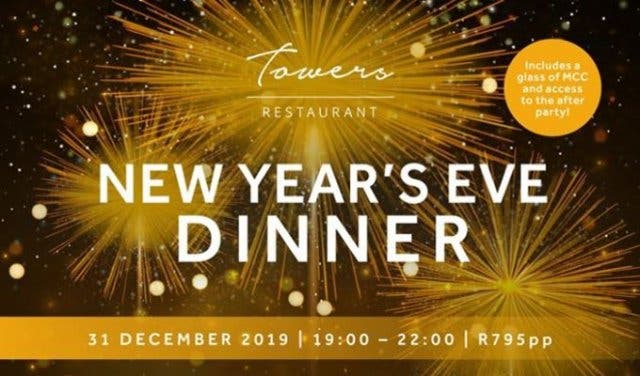 A BONGANI BANANZA WITH FOOD AND FRIENDS
New Year's Eve at The Piano Bar is a two-pronged, musical approach: Check out Bongani Nikelo, a local bassist, composer and vocalist who started his journey at the age of 13, or the international-acclaimed Mizz D & friends, who play everything from jazz and R&B to cabaret and soul. While you listen, grab some tapas and platters you can share with friends, or main meals you can have all to yourself. Check out The Piano Bar wings tossed in homemade basting sauce, cheese croquettes or falafel balls made from chickpeas, grab a bowl of olives or biltong as a snack, or share the cheese antipasti platters with a friend while you enjoy the music. Turn the last day of the decade into a musical bonanza at The Piano Bar.
Price: Bongani & Mr Bones: R300 per person; Mizz D & Friends: R300 per person
When: 31 December 2019 07:30pm–10:30pm; 10:30pm–01:30am
Where: 47 Napier Street, De Waterkant, Cape Town
Contact: +27 (0)21 007 5212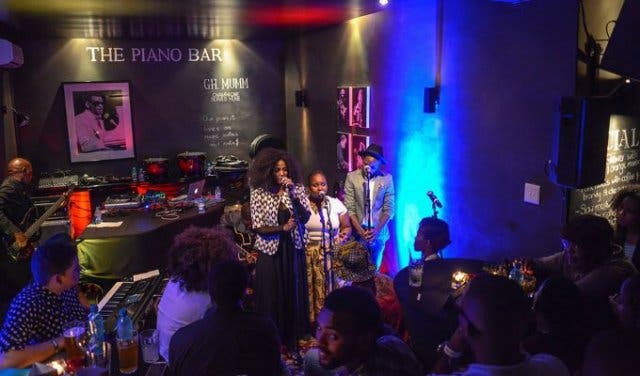 A NIGHT UNDER THE STARS
Lou Lou's Cocktail Bar is a hub of activity on most days. Add Pongrácz Méthode Cap Classique on New Year's Eve, and you've got yourself the ultimate way to end the decade. The theme is "a night under the stars" (don't worry, you don't have to dress up), and your ticket includes a glass of bubbly on arrival and at midnight. Festivities will run from 7pm to 1am, kicked off by DJ Dino Live and his fusion of traditional bongo drums and electronic synthesizers, so there'll be plenty of dancing. Standard tickets are R100, or you can opt for the three-course dinner with your entertainment, which costs R650 per person. If you have five friends, why not book a booth for six (R5000) that comes with a party platter and a bottle of Desiderius? From Easter to Christmas to New Year's Eve shopping and experiences, you're covered by Cape Quarter.
Price: R100–R5000
When: 31 December 2019 7pm–2am (Book your tickets now)
Where: 10 Jarvis Street, Cape Quarter Square, Cape Town
Contact: +27 (0)21 418 0015, info@loulous.co.za

LAUGH YOUR WAY INTO 2020
Bring in the new year with laughter and joy at The Cape Town Comedy Club. The Pumphouse at the V&A Waterfront will be shaking with chuckles as three of South Africa's funniest comedians entertain you on the last day of 2019. Catch Mel Jones, Yaaseen Barnes, and Shimmy Isaacs for a 90-minute comedy show, and then party the night away to tunes by DJ Shane Langdon. There's a welcome drink on arrival and another glass of bubbly for the countdown. The a la carte menu will be available and there is also happy hour from 6pm to 7pm if you show up early to the Cape Town Comedy Club NYE Party.
Price: R495 (meals not included)
When: 31 December 9pm till late (dinner from 6pm)
Where: The Pumphouse | V&A Waterfront
Contact: info@capetowncomedy.com, +27 (0)21 418 8880, +27 (0)79 495 3989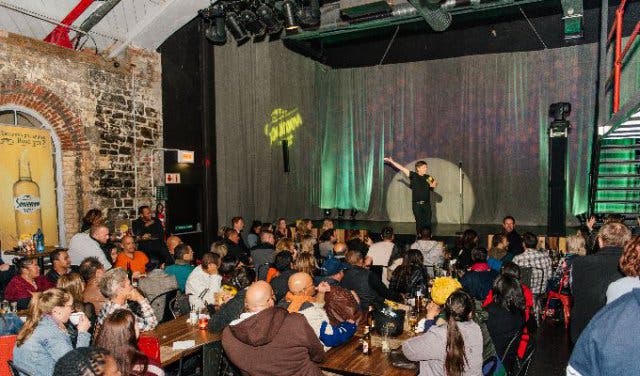 NYE DINNER OUT IN SWELLENDAM COUNTRY SIDE
The Rotterdam Boutique Hotel in Swellendam is a picturesque setting for a getaway or wedding venue. This is where chef Josh Conradie (2014 finalist of kykNET's popular cooking show Kokkedoor) makes country-style food to complement the rustic setting of lush grounds, towering oak trees and mountain views. Visit for a delicious NYE dinner at the Rotterdam Restaurant. After starters, the menu offers a choice: 200g beef fillet with root vegetables, creamed potatoes, and grilled pearl onion served with a wild mushroom reduction and roasted bone marrow; or pan-fried fish with roasted vegetables, new potatoes, and a caper berry and lemon butter sauce. Dessert is chocolate tart with salted caramel and ice cream at Rotterdam Boutique Hotel.
Price: R235
When: 31 December, from 8pm
Where: Rotterdam Boutique Hotel, Olivedale Rd, Buffeljags River Swellendam
Contact: +27(0)82 671 3548, chef@therotterdam.co.za, Rotterdam website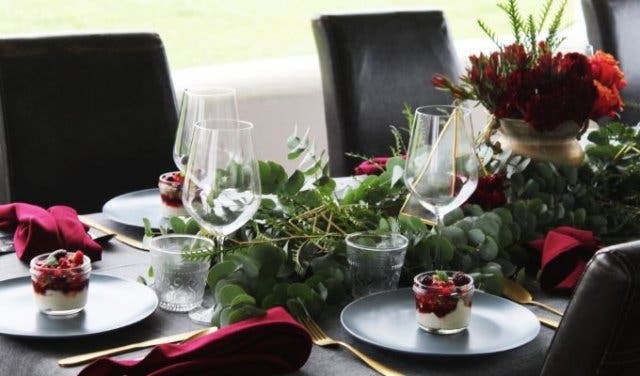 A SONG WITH YOUR SUPPER (AROUND OR ON THE TABLE)
Stardust is hosting a grand celebration of the new decade for New Year's Eve. You can expect performances by singing and dancing waitstaff, and festivities will continue until after midnight. The menu offers a choice of meat, vegan, or vegetarian, including an amuse bouche, starters, and a palate cleanser. There are many choices for the main course, including dark chocolate and chilli fillet, Norwegian salmon, a vegan stack, and more. The desserts are a mouthwatering selection of vegan treats such as coconut and cardamom panna cotta with mango and ginger reduction, all at Stardust dinner theatre.
Price: R1000–R1950
When: 31 December, show from 8pm
Where: 118 Sir Lowry Road, Woodstock, Cape Town
Contact: +27(0)21 462 7777, +27(0)21 462 4444, Stardust website

TAPAS AND LIVE MUSIC - A LA CARTE
Ring in the New Year with Spanish tapas, live music, and an awesome vibe. You should also be ready to dance all night to the sound of world music and commercial tunes, from the latest hits to some old school jams. The full menu is available, offering wagyu beef burgers, tuna poké bowls, and more. So book your spot for NYE at La Parada on Bree Street.
Price: A la Carte menu available (R200 per person deposit)
When: 31 December 5pm–2am
Where: La Parada, 107 Bree Street
Contact: breestreet@laparada.co.za, +27(0)21 426 0330, book a table online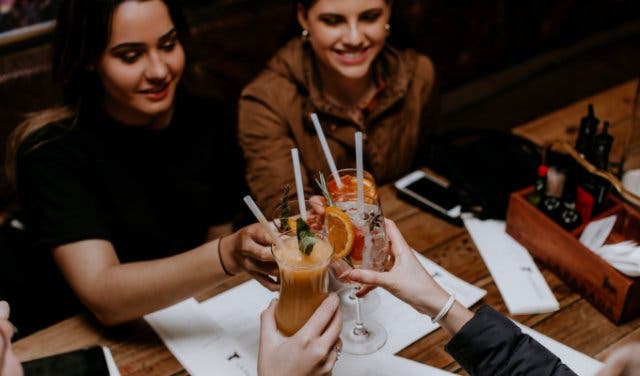 NYE NIGHT FEVER
HQ restaurant wants you to grab your bell bottoms, perm your hair and channel John Travolta's dance moves for their NYE Disco Glam party. In collaboration with Absolut Vodka, they're taking you back in time with a night of cocktails, canapes, and retro music spun by DJ Nick Birkby. There will be a welcome cocktail at the door, and of course, it's not an HQ experience without the famous grain-fed, top-cut sirloin steak covered in Café de Paris butter sauce, served with a cos and iceberg lettuce salad and a helping of skinny fries. The night's feast is topped off with a dessert of Lemon Vodka Sorbet and Chocolate Torte; afterwards, you're encouraged to hustle, bump and disco-finger the night away.
Price: R1250pp
When: 31 December
Where: Heritage Square, 100 Shortmarket Street, Cape Town
Contact: info@hqrestaurant.co.za, +27 (0)21 424 6373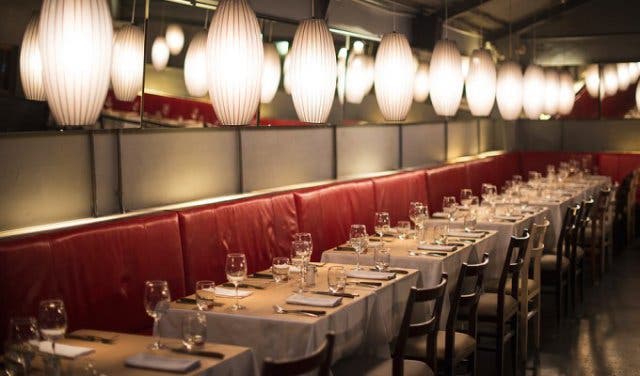 SAY NAMASTE OVER BUBBLES
Get into downward dog a stone's throw from the ocean with instructor Firdose Moonda of Om Revolution. Let the sound of the waves remind you to breathe deeply; breath is, after all, one of the most important elements of your yoga practice. Calm your mind, set your intentions for the new year, and toast the final sunset of 2019 with a glass of bubbly after the class. There's no need to book; just bring along a yoga mat, towel or sarong to experience The Om Revolution outdoor yoga. The group classes are weather dependent and you can get the latest schedule online for outdoor yoga in Cape Town.
Price: R50 (Cash/SnapScan/MyPay)
When: 31 December 6:15pm
Where: Clifton 3rd Beach. Look out for the Om Revolution banner down the stairs and to the left (near the big boulders)
Contact: yoga@theomrevolution.co.za, +27(0)63 868 0899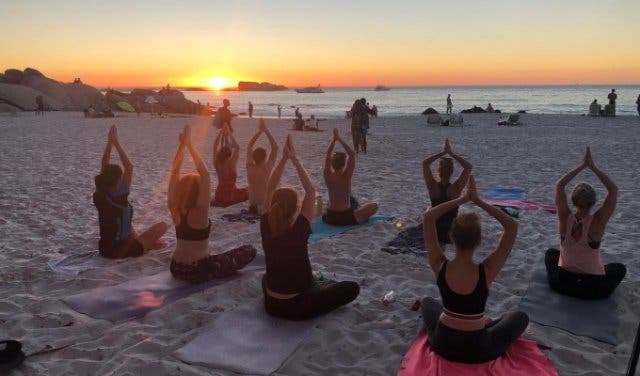 CELEBRATE ISLAND-STYLE WITH COCKTAILS
Dress up island-style – think bold florals and Meditteranean summer attire – and party at Sotano's cool inner-city venue. The evening kicks off with a welcome cocktail and canapés, and then there's plenty of space to dance to the tunes of DJ David Sandler (deep tech, deep house) right up until the year turns 2020 and beyond. Limited tables of six are available for booking for R3500, which includes a bottle of Tanqueray and Fitch & Leedes mixers at Sotano on Bree.
Price: R450 includes canapés and a cocktail on arrival; table bookings: R3500 for six tickets
When: 31 December, 7pm – 2am
Where: Sotano Bree, 199 Bree Street, Cape Town
Contact: +27(0)21 422 0567, bookings@sotano.co.za


LET LOOSE AND PARTY
Get set for a fun night of live entertainment and DJs, snacks, welcome drinks, and a party pack. Long Street will be closed to cars, so you can expect a lekker vibe on this iconic street. An acoustic band will play from about 7pm before the Boston Light Band from around 8:30pm. Resident DJ Uncle Jah will follow with everything from rock to old-school hip hop. The regular menu will be available, and included in both general and VIP tickets are snacks such as nachos and popcorn prawns (deep-fried prawns served with coriander, lime and sweet chilli sauce). VIPs also get exclusive access to the Rock Bar, pizza and burgers at Sgt Pepper in Long Street.
Price: R345–R745
When: 31 December from 7pm
Where: 194 Long St, Cape Town City Centre
Contact: +27(0)21 424 5638, info@sgtpepperct.com, website
SAVOUR A SEVEN-COURSE MENU (PLUS LEARN SOMETHING NEW)
There's a catch if you'd like to indulge in Chef Matt Manning's epicurean seven-course dinner menu – you'll have to help him make it. At this interactive dining experience, you'll first enjoy canapés and an amuse-bouche before Chef Matt demos the next two courses. Then it's your turn to help prepare the dishes in a state-of-the-art kitchen, before taking a seat at the dining table with the other guests to enjoy the masterpieces you helped create. Loosen your belts and relax as the next few courses are served. Count down, pop some bubbly and sing Auld Lang Syne to ring in the new year at Chef's Studio at Grub & Vine.
Price: R2200pp (includes 7-course menu, wine pairing and complimentary bubbly and canapes on arrival)
When: 31 December, 7pm – late
Where: The Chef's Studio, 103 Bree Street, city centre
Contact: info@mattmanningchef.com, +27(0)87 898 2207, website

TAKE A BEER AND BILTONG PRE-GAMING TOUR
Pre-game during the day on wine, beer and biltong safari with Kiff Kombi Tours. The Western Cape boasts incredible wine farms and craft breweries. This tour takes you to two craft breweries and two wine farms, each visit complete with tastings including wine and biltong pairing. Enjoy a South African braai (BBQ) lunch, all along the Stellenbosch wine route with Kiff Kombi Tours.
Price: R950
When: 31 December, 10am – ± 5pm
Where: Hostel pick-up, to Stellenbosch
Contact: bookings@kiffkombitours.co.za, +27(0)72 213 3888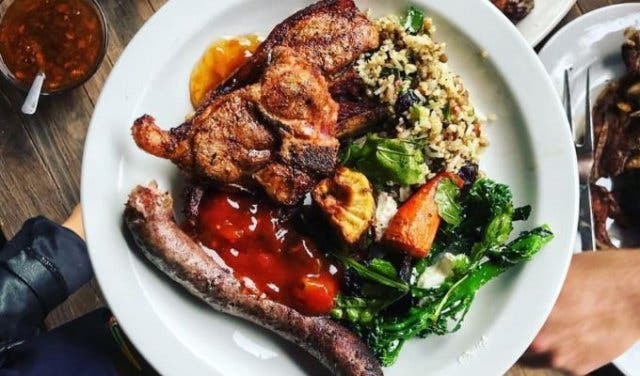 THE ART OF SILENCE IN FRANSCHHOEK
Give yourself the getaway you always wanted but never knew existed. The New Year's Art of Silence retreat invites you to rest and rejuvenate, re-align with your inner truth, and go deeper with guided meditations, silent inquiry and yoga during an all-inclusive four-day guided retreat with course teacher Mukesh Vassen. In order to attend this retreat, you must have completed part one of the Happiness Programme anywhere in the world. The Happiness Program is based on human values and brings together people and cultures of different backgrounds to create a deep sense of community.
Price: R3200 – R3400 including shared accommodation
When: 29 December, 7am – 1 January, 2pm
Where: Franschhoek Traveller's Lodge, 15 Akademie Street, Franschhoek
Contact: +27(0)83 301 3976, gerlinde@artofliving.org.za, website

OPT FOR A REFINED BISTRO NEW YEAR'S
If you prefer a more refined kind of evening, the five-course dinner at trendy Bree Street eatery Grub & Vine is an excellent option. It's headed up by Chef Matt Manning, who brings his London training, event experience and passion for social dining to his kitchen and your table. Make it a long, slow dinner and linger with a glass of bubbly to cheers to the new year, or make it the precursor to your midnight destination.
Price: R900–R1400
When: 31 December, 6pm – late
Where: Grub & Vine, 103 Bree Street, city centre
Contact: info@mattmanningchef.com, +27(0)87 898 2207, website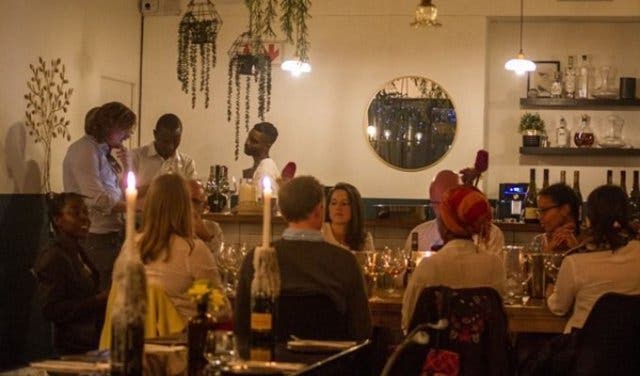 FAMILY-FRIENDLY DANCE PARTY IN THE CONSTANTIA VALLEY
Bring a picnic basket and get comfy at The Range, a verdant venue in the Constantia Valley countryside. Dance to classics and old favourites as The Professors perform covers. Drinks are available at the fully stocked bar and there are activities for children under the age of 12, such as arts and crafts and a jumping castle.
Price: R65–R275
When: 31 December, 6:30pm – 2am
Where: The Range, Orpen Road, Tokai
Contact: +27(0)21 713 2340, info@therange.co.za, website

DANCE INTO A MAGICAL DIMENSION
Dress up in your festival best, glitter, masks, capes, wings, lose your inhibitions and travel into a different dimension: the soundtrack is psychedelic trance (line-up yet to be released) and you'll be dancing to it amongst trees and nature. Pitch your tent at a site overlooking the river and mountains beyond. The Little Forest Festival trance party is hosted by Alien Safari and Vortex Parallel Universe productions.
Price: From R580 book online
When: 31 December, 10am – 2 January, 4 pm
Where: Blue Hippo Tipi Village, Blue Hippo Farm, Caledon Road, R406, Greyton
Contact: +27(0)21 674 3747, +27(0)82 741 8981, info@aliensafari.net, website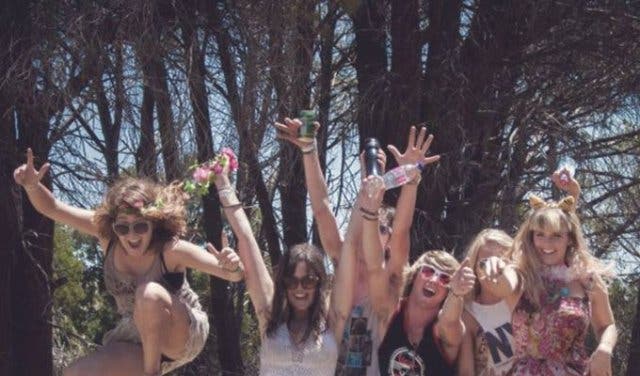 ODE TO THE 20S AS WE ENTER 2020
Don your tasselled sequined frocks or top hat and tails as you pay homage to this glamorous era at the 1920s soirée Années Folles (the name used to refer to the 1920s in France) at The 41 in Camps Bay. The dress code is Charleston, the dinner is four courses and the view is sunset over the beach. Dinner is over jazzy house music and the classically trained musician Liam Pitcher, will take to the decks and crank up the party from 10pm until 2am. You may also join for the party only, which commences after dinner at The41 in Camps Bay.
Price: Dinner: R1 600, Party: R500 – R800
When: 31 December, 7pm – 2am
Where: The41, 41 Victoria Road, Camps Bay
Contact: info@the41.co.za, +27(0)21 437 0558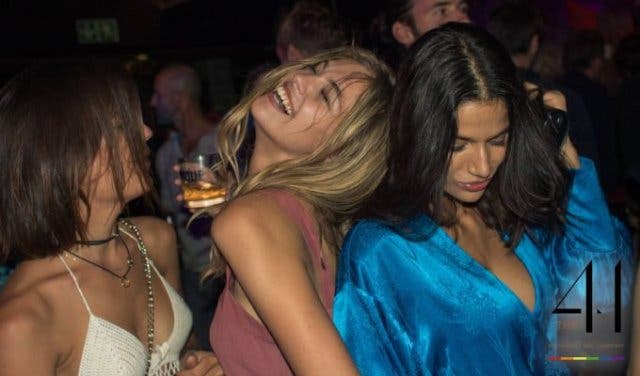 DRESS UP FOR THIS 80S PARTY IN THE SOUTH PEN
Shoulder pads and leg warmers – grab your (or your parents') 80s garb for a blast from the past and razzle until 2am at Cafe Roux in Noordhoek. The evening starts with burgers, pizza or pasta outside under a Bedouin tent, and then the dancing breaks out. Music for the Masses will have you dancing as they perform musical hits from the 80s and also a few Depeche mode hits.
Price: R500 including dinner, book online
When: 31 December, 7pm – 2am
Where: Cafe Roux, Noordhoek Farm Village, 270 Chapmans Peak Drive, Noordhoek
Contact: +27(0)21 789 2538, info@caferouxsessions.co.za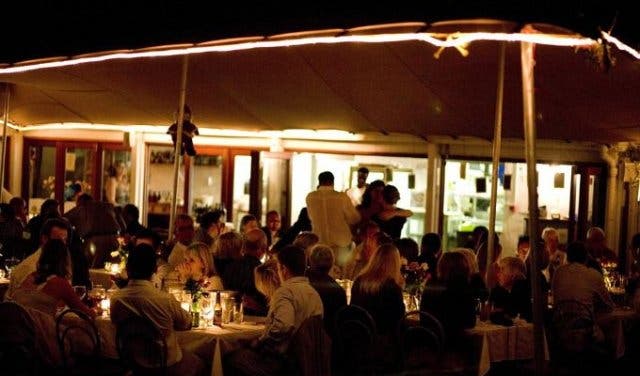 A HIGH-CLASS AFFAIR WITH BUBBLY AND OYSTERS
Get "Dressed To The Nines" for the Cape Point Vineyards NYE event with DJ Rene The Frenchman and Kiriya on saxophone on the spacious deck. There'll be bubbly on arrival, and snacks from 7pm to 9pm, a range of nibbles from pulled pork wontons with sweet-and-sour sauce and West Coast oysters with G&T dressing to mini chargrilled chicken tacos. There will be prizes for best-dressed.
Price: R350 to R750 book online
When: 31 December, 6pm – 3am
Where: Cape Point Vineyards, Silvermine Road, Noordhoek
Contact: +27(0)21 789 0900, shea@cape-point.com

THE SEXIEST PARTY IN IBIZA COMES TO CAPE TOWN
Ibiza's sexy Blue Marlin party concept lands at Shimmy Beach Club. Blue Marlin Ibiza is a concept that includes day-to-night dining, beach, sunbathing, music and dancing, all in one place at a sea-front venue. There'll be incredible dancers and live performances by Gore Performance (Spain) and a line-up of top local and international DJs such as Camilo Franco (Ibiza), Andy Baxter (Ibiza/UK), Nadja DJ (Ibiza) and Dean Fuel (RSA) at Shimmy Beach Club.
Price: R750 – R1850 (VIP grants you access via a separate entrance to the VIP lounge area, with VIP toilets, waiter service and unreserved seating) book online
When: 31 December, 7pm – 4am
Where: 12 South Arm Rd, V&A Waterfront
Contact: shimmybeachclub.com, +27(0)21 200 7778, tickets@shimmybeachclub.co.za, website

NEW YEARS EVE AND FIREWORKS
Please remember that the City of Cape Town has decided to forego designated sites for fireworks this year. The V&A Waterfront will submit an application to City authorities for permission to host a fireworks display. To limit the negative impact of fireworks, the V&A works only with professional pyrotechnicians. The V&A also restricts the display time starting at midnight and to last only a few minutes.
WATCH: HEARTWARMING VIDEO ABOUT THE HOLIDAY HEROES WHO GET US HOME SAFE
---
How do you celebrate New Year? Let us know about your event and it might make our selection.
---
THE MORNING AFTER: NEW YEARS DAY 2020
New Year's Day is a great time for adventure, but a lot of places are closed. There are, however, plenty of ways to celebrate: amazing breakfasts, unique experiences, and even pumping parties, in case you're not ready to jump right into January. Discover
things to do on New Year's Day
.
STILL LOOKING FOR THINGS TO DO AROUND CHRISTMAS?
MORE INSPIRATION FOR ADVENTURE OVER THE HOLIDAY SEASON
---
Want your event to gain fame and a following? Our Events Support Programme includes diverse and affordable packages guaranteed to get results. To learn more please contact support@capetownmagazine.com or phone +27(0)21 422 2444.
---
Use our events section for an up-to-date overview of what's happening in the city, suburbs and dorpies. Join our newsletter and add us to your mobile home screen for the ultimate guide to discoveries in Cape Town.
Follow and like us on Twitter ❤ Facebook ❤ LinkedIn ❤ Instagram ❤ Pinterest for updates.