Ramadaan Specials: Turkish Delights, Doughnuts, Persian Dates and More
These menus are perfect for iftar
Last updated: 14 May 2019
During Ramadaan, Muslims abstain from all food, drink, and vices like smoking, from dawn till dusk. Suhoor is the pre-dawn meal, and iftar is the meal served at sunset, which breaks the fast. Many Muslims will break their fast at home but for those looking for alternative options, these might certainly interest you.
PERSIAN DATES, MASALA, BOMBAY CRUSH
You must book in advance at Sundoo, the tapas bar that serves Durban and south Indian cuisine. On their decadent menu (serving 2–4) are mint and cucumber water, Persian dates, samoosas, chili chicken pies, spinach chili bites, breyani arancini with mushroom and baby marrow, masala chicken with roti and carrot salad; and Bombay crush or vermicelli with ice-cream. Iftar will be served from 6pm at Sundoo.
Price: R160pp
Good to know: Space is limited, so if you can't get in, there's a Sundoo is at the V&A Food Market (R100 per plate for a selection).

77 Regent Road | Sea Point | +27 (0)21 433 0542
SOUPS AND MEATY STEWS
Turkish and Kurdish restaurant Saray's iftar menu includes a corba (a Turkish soup) with bread; et sote (beef sauté) or tavuk sote (chicken sauté); baklava and cay (Turkish tea); and dates and still water.
Price: R160pp
Harbour Edge Building, 10 Hospital Street | De Waterkant | Cape Town | +27 21 418 1609
DOUGHNUTS AT THE DEN
Wanna jump straight to dessert? Dairy Den, the dessert shop famous for soft serve and ice cream, is serving R100 for 24 doughnuts for the cinnamon sugar and cinnamon snow doughnuts. That's a R44 save (it's R48 for eight). Did you know they have ice-cream cones made of doughnuts at The Dairy Den.

148 Main Road | Sea Point | Cape Town | +27 (0)76 401 9895
50% OFF TO FREE FOR KIDS AT THIS BO KAAP FAVOURITE
There's buffet every 6:30pm–10:30pm at 126 Cape Kitchen and Café in Bo-Kaap, including samosas, lamb kalya and desserts like baklava and dates. Standout main dishes off the menu are harissa-marinated sirloin, dukkah-crusted beef skewers and a butter chicken naan topped with mango atchar.
Price: R285pp; 50% off for children under 12; free for kids under 3.
Good to know: They have prayer rooms. There's also an Eid buffet from 12.30pm–3.30pm (R38pp, 50% off for children under 12; free for kids under 3)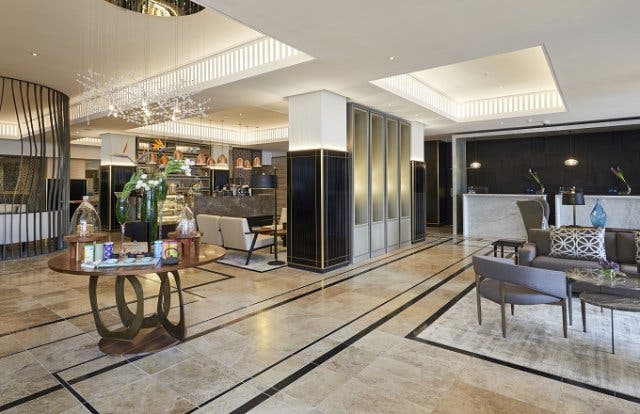 Hilton Cape Town City Centre Hotel | 126 Buitengracht Street | City Centre | Cape Town | +27 (0)21 481 3700
MALAY SEAFOOD CURRY FOR EID
On the Square, the Capetonian Hotel's on-site restaurant, serves an assortment of Cape Malay mains. Mince curry and fish of the day to Indian vegetarian dish. Plus there's a pasta corner, and the buffet includes dates, hot beverages and dessert.
Price: R149 per person.
Eid special: Eid buffet for R180 per person from 12.30pm–2.30pm. The menu includes Malay seafood curry, rosemary-crusted beef and Mauritanian spatchcock roast chicken. Book to reserve your space.
Pier Square | Heerengracht | Foreshore | Cape Town | +27 (0)21 405 5670
RAMADAN MENU AT ALHAMBRA
Alhambra, the family-run restaurant that is well-loved by the community of Lansdowne, only opens on Fridays and Saturdays 5:30pm to 8pm during Ramadaan. It's a menu of samoosas, koeksisters, and 11 different main dishes, including lamb kalya, roti and BBQ-chicken, as well as malva pudding or fruit salad as desserts. They have an Eid buffet, too.
Price: R240pp, children under the age of 10 pay 50% of the price. Drinks are R35 for a jug of juice and R40 for a jug of falooda.
409 Imam Haron Road | 2nd Floor Academia House | Islamia College | Lansdowne | +27 (0)21 824 0732
---
COMING IN JUNE: Discover authentic Turkish food, khave, shisha and more at EatStanbul in Kloof Street.
Have a look at these beautiful Ramadaan traditions that will make you discover the city anew.
We've rounded up a list of some unique Halaal eateries in the Mother City.
Want a taste of authentic Cape Malay treats? Check out Loop street cafe, Malay Coffee Company.
Looking for an Eid outfit? Get your tailored garments from The Local Designers.
Learn more about Cape Malay culture at the Bo-Kaap Museum.
---
Supercharge your event? Our Events Support Programme gets results. Contact support@capetownmagazine.com or +27 (0)21 422 2444.
Use our events section for an up-to-date overview of what's happening in the city, 'burbs and dorpies. Join our newsletter and get quick access on the go by adding us to your mobile home screen for the ultimate guide to discoveries in Cape Town.

Follow and like us on Twitter ❤ Facebook ❤ LinkedIn ❤ Instagram ❤ Pinterest for updates.