First Look: The Quintessential CBD Hotel on Orange Street Just Got a Facelift – Here's What's New
More leisure spaces, a new deck with pool, plus cocktail lounge and new restaurant (and menu) – discover the new 15 on Orange Hotel, Autograph Collection
More open space. More places to meet up and share a drink or a poke bowl. Easier access to the pool and loads of room to chill on the new Murano Deck. Walking into the new-look 15 on Orange Hotel, Autograph Collection is like stepping into a galleria space in Milano, except you can put on your swimming trunks, order a cocktail and go take a dip in the pool right on the first floor.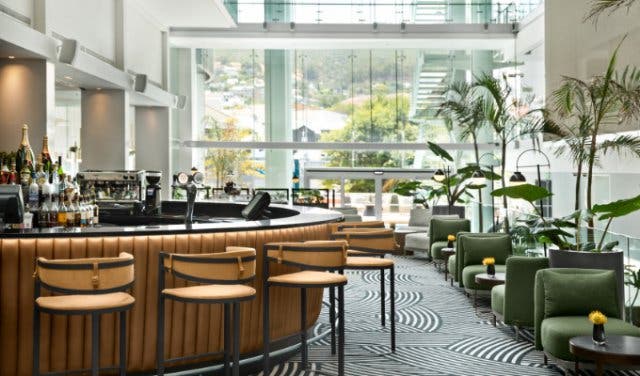 FEELS LIKE HOME, JUST BETTER
"It's all about leisure and comfort for us," says the 15 on Orange Hotel, Autograph Collection's marketing co-ordinator. "So we've completely redone the hotel, from the atrium and conferencing facilities to the new deck and bar areas and the restaurant.
"There's more natural light and fresh air when you walk into the hotel, and we've got loads of couches and chairs and tables, so you can relax and feel at home almost anywhere you go."
And how. They've brought in lots of plants, created new indoor-outdoor conferencing areas with a more leisurely feel. There's an open reception on the first floor and a concierge area one floor below, all connected with as many stairs and lifts as anyone could ask for. The restaurant and bars are all open and easily accessible, so you can easily walk in and enjoy the breakfast buffet.
CapeTownMagazine.com had a chance to check out the new 15 on Orange Hotel before the official launch, and here are all the little discoveries you should know about:
1 ALL-NEW JUDGES LOUNGE AND NEXT-GEN FUNCTION SPACES
"We've cut down the conferencing spaces from 13 to 7, and made them more dynamic, with leisure aspects and the ability to go from indoor cocktail areas to outdoor balconies with greenery and endless views," says Lauren.
"It's just fresher. The overly formal old school conferencing style was too stiff for us. So we've created a few smaller, more adaptable spaces. And we supply all the furniture, so you can change up from something more formal to a cocktail-style space, or take it outdoors – whatever you want for your birthday, wedding or function."
Plus: There's a kitchen nearby and coffee station right at the main Judges Lounge functions space. So it's functional, versatile and just nice and easy for hosting any kind of event.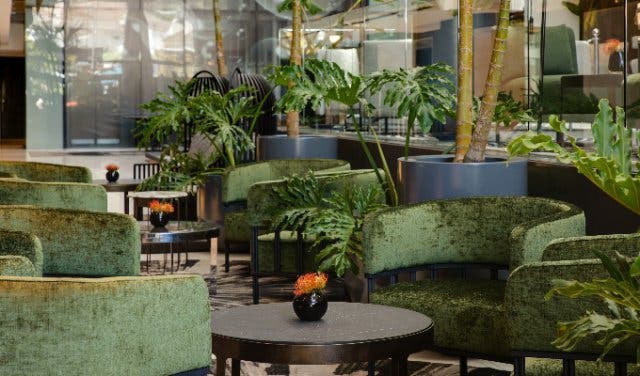 2 PLENTY OF QUICK MEETING SPACES IN THE LOUNGE AND NEW CHAMPAGNE BAR
The new central atrium is now completely open and accessible, with loads of light, plants, tables and couches for a quick informal meeting or to share a drink. There's a new champagne bar right in the centre with a big wine and cocktail selection, as well as a light bar-snack menu for a quick bite to eat.
It's much vibier than before, as the hotel brought in a new sound system and all the new leisure spaces invite you to sit down and have a chat. So there's this pleasant din in the atrium for most of the day.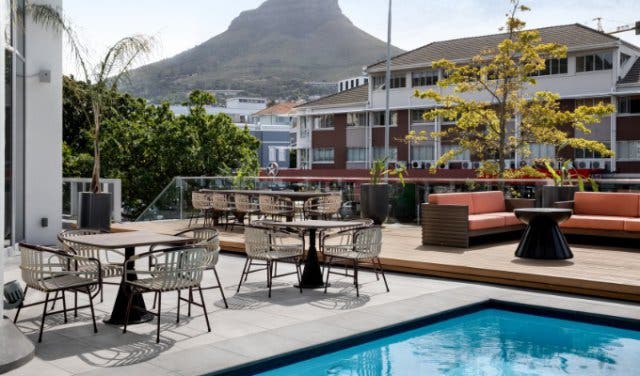 3 HINT: TRY THE CRUSHED COCONUT MOJITO
This cocktail is unique to 15 on Orange Hotel. The management team had tasted a coconut-based drink while on hotel recon in Bali and brought a rough description back to their barmen here in Cape Town. They tried several variations and eventually came up with a test recipe for the Crushed Coconut Mojito. It was so popular, it's now on the menu. Order it at the champagne bar.
4 NOTE THE NEW "CIRCLE OF LIFE" DESIGN MOTIF IN ALL THE DECOR
Those who've visited the hotel in the past (that's most of us, it's kind of a Cape Town staple) will remember that it used to be all stark lines and square shapes. Come have a look at it now. There's a new circle motif been brought in, to signify "life", and you'll notice it everywhere from the finishing elements on decor from fixtures in reception to the new poolside bathrooms.
You'll even notice it in the placement and design of furniture, with rounded booths, couches and tables echoing the "circle of life" feel at the hotel.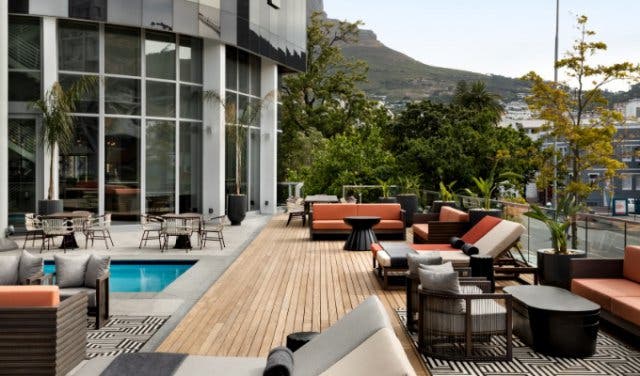 5 NEW POOL AND MURANO DECK
And now we get to the best part. The pool is now on the first floor (it used to be on one of the upper floors), incorporated into the newly extended overhanging Murano Deck area with loungers and easy access to the new bathrooms with showers. And it's all serviced by the new pool bar (hint: look up, the chandelier is just awesome) where you can order anything from cocktails and healthy juices to vegan desserts and smoothies to light lunches.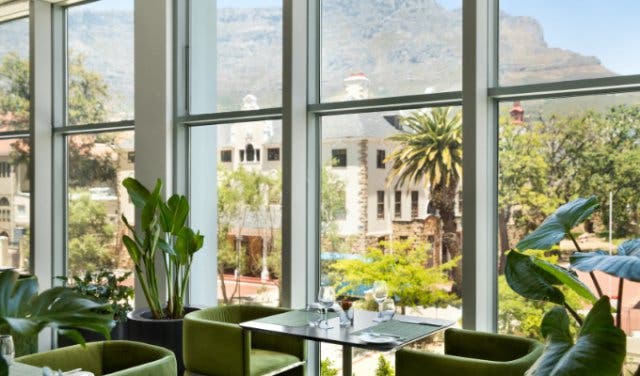 6 NEW RESTAURANT: DINE WITH A VIEW OF TABLE MOUNTAIN
The old Savour Restaurant is gone. And with it went all the walls, booths and private dining areas that used to obscure the hotel's awesome ceiling-to-floor glass walls looking out at the mountain. Now, it's all open and everyone in the restaurant can enjoy mountain views with their meal.
There's an all-new healthy eating policy, with a new menu to explore, including poke bowls and a tapas selection that was so well received, they all sold out on launch day. (Don't worry, they won't sell out again, you can safely bring your friends for lunch or dinner).
In fact, the restaurant is so fresh, it doesn't have a name yet. The 15 on Orange Hotel, Autograph Collection is part of African Pride hotels and was recently acquired by the Marriot Group (who OK-ed the hotel's awesome revamp). And in all the excitement with remodelling and rebranding, they've yet to finalise what the new restaurant will be called. We refer to it as the "restaurant with no name", but we have all the info for you on the new 15 on Orange restaurant.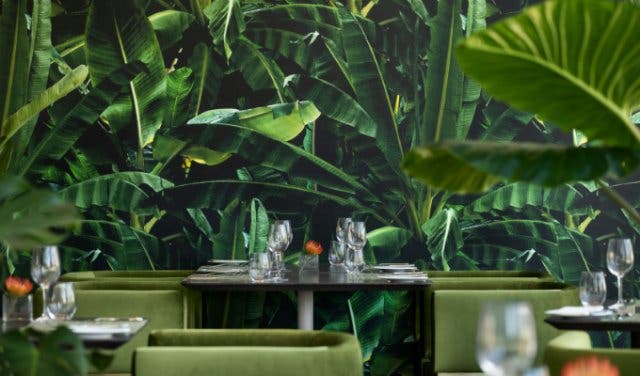 7 FOUR MENUS, NEW LIVE KITCHEN AND EGG STATION, PLUS BREAKFAST BUFFET
Along with the health-food and all-new vegan options comes a complete "open" policy, which means the kitchen is open, so you can see where food comes from. And, of course, the 15 on Orange Hotel is famous for anything, it's their breakfasts and especially the buffet.
There's a new live egg station opposite the hot buffet area, where a speciality chef will cook you eggs in more ways than you'll care to count. But there are a la carte breakfast options, too. So it's perfect, whether you're a guest or just for popping in for brekkie on the way to work.
And there's no limit on what you can order, when and where. There are four different menus, but the hotel advocates all-day dining, so no one's going to tell you that you can eat lunch at midnight or supper for breakfast. Get what you want, when you want.
"Our rooms are still the same size, with all the creature comforts and maybe just refreshed with our decor and design motifs," Lauren says. "And we've retained our 2018 prices for the 2019 year, so we can get as many people as possible to come and experience our new hotel and vibe."
Of course, there's more to experience. Like the standard rooms that come with the option of enjoying your meals in a glass pod suspended several storeys up against the inside of the atrium. But we'll leave it to you to come and discover those for yourself.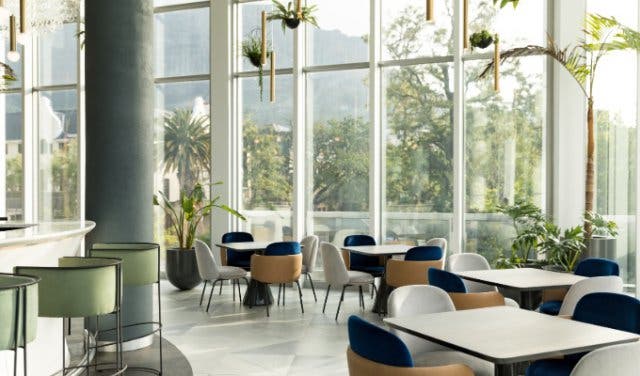 Plus: Did you know that 15 on Orange Hotel is African Pride's flagship property in their Autograph Collection series? Hmm. Definitely worth checking out.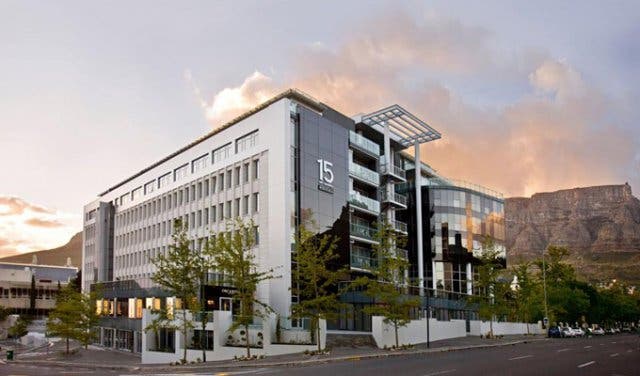 ---

Start Mother's Day a day early at a first of it's kind pop up workout hosted at the Val De Vie estate and called Chase The Sun.

Discover unique and exciting function venues in Cape Town, awesome rooftop bars and where to get cocktails and sundowners, as well as things to do at night.
Alternatively, check out these private pools that are open to the public.
---
Use our events section for an up-to-date overview of what's happening in the city, suburbs and dorpies. Join our newsletter and add us to your mobile home screen for the ultimate guide to discoveries in Cape Town.
Follow and like us on Twitter ❤ Facebook ❤ LinkedIn ❤ Instagram ❤ Pinterest for updates.