Live, Local and Lekker Music Venues Around the City
Cape Town's top places to listen to live music in the city's centre
Last Update: 17 January 2020

In terms of performance spaces, the Mother City has it all, from speakeasy-style jazz clubs and grungy dive bars with dilapidated stages to swish lounges and large-scale concert halls. And, truth be told, you don't even need to venture outside of the CBD to catch a solid session of righteous tunes. So, without further ado, here's our overview of Cape Town city centre's live music venues.
THERE'S SOMETHING HAPPENING EVERY SINGLE NIGHT
A moody De Waterkant musical revue joint,The Piano Bar is the place to go for easy listening funk, soul and blues. The sophisticated venue features live music every night of the week. While Sundays to Wednesdays are low-key, featuring performances by solo artists, the tempo picks up on Thursday through Saturday with gigs by bigger bands and DJs. What's more, the upmarket venue is as committed to serving up innovative cocktails and Spanish-style cuisine as it is to giving passionate artists a much-needed platform. The music starts at 7:30pm most nights at The Piano Bar.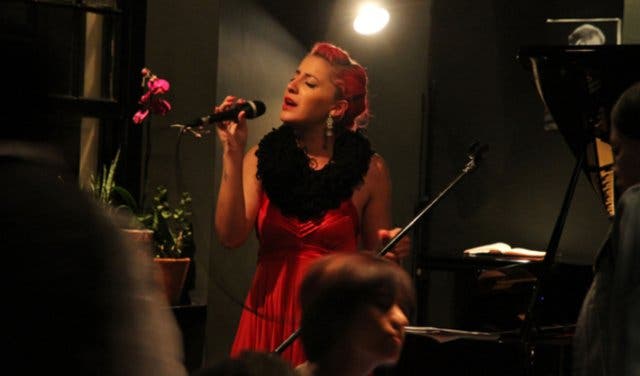 47 Napier Street | De Waterkant | +27 (0)21 418 1096 | bookings@thepianobar.co.za
THURSDAYS AND FRIDAYS ARE SET
Make every weekend a long weekend with La Parada on Bree Street: Finery Thursday comes equipped with DJ Rene The Frenchman and craft gin from Finery (if you buy a double, the mixer is on the house). It's like First Thursday, but it happens every week. And you can carry the party over to Friday with Sunset Sounds, with music from DJ Cosher, DJ Tanner, ALT EGO or Acoustic Element. Jam to house, hip hop and electric guitar and violin with La Parada on Bree.

107 Bree Street | Cape Town City Centre | +27 (0)21 426 0330 | breestreet@laparada.co.za
CHILL MID-WEEK WITH THIS GOOD-DEAL LAMB BURGER
Once the sun's gone down, the laid-back Mediterranean lifestyle continues at the Bree Street eatery, with live entertainment and relaxed vibes. There's reggae by The Rivertones every Wednesday between 7pm and 9pm in conjunction with Sotano's 2-for-1 Burger Wednesdays. On Fridays, a DJ is in the mix if you're keen for some dinner and dancing at Sotano on Bree.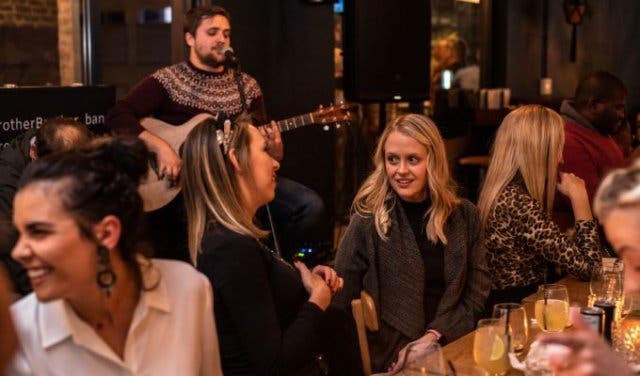 199 Bree Street | Cape Town City Centre | +27 (0)21 422 0567 | bookings@sotano.co.za
FRESH AIR AND TUNES AT SOTANO IN MOUILLE POINT
Sotano is the perfect Friday after-work regular. From 7pm to 9pm this beachfront eatery across from the Mouille Point promenade is a great place to unwind after work while local bands and DJs provide the tunes. The music's on again on Saturday (3pm–6pm) and Sunday (2pm–7pm). Pair a glass of wine with some tapas, sushi or one of their Mediterranean inspired dishes at Sotano Mouille Point.

121 Beach Road | Mouille Point | +27 (021) 433 1757 | info@sotano.co.za
COCKTAILS AND BEATS
Spend a leisurely Saturday afternoon sipping on your favourite boozy beverage and enjoying some top-notch sushi at Beluga in De Waterkant. they have live music every Saturday and Sunday afternoon from 1pm to 4pm (check out their Facebook page to see who's on the bill each Saturday). They're also making wintry Wednesdays a bit warmer with live music from 6:30pm (which ends at the end of August).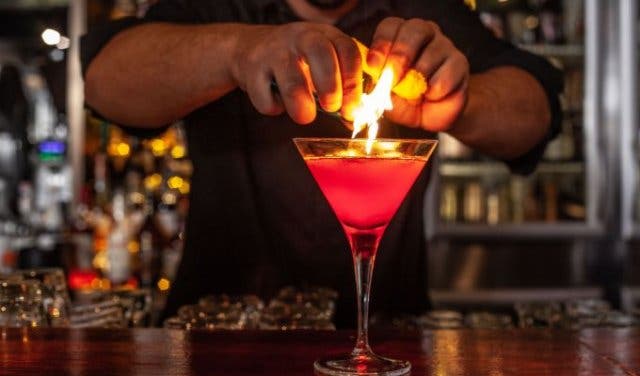 70 Prestwich street | The Foundry | De Waterkant | +27 (0)21 418 2948
ROCK THE NIGHT AWAY IN LONG STREET
Live music at this Cape Town rock haunt is the cure for any bad-day-blues. A pearl of a jam awaits, with top tunes, legendary pizzas, and a vibey venue – the perfect formula for a good time. On Thursdays, you can take advantage of their two-for-one burger special and catch a live acoustic performance while you're there. On most nights, when the sun goes down and the balcony lights twinkle on, Sgt Pepper's resident DJ takes over and the dance floor officially opens. Read more about Sgt Pepper on Long Street.
Tip: Thinking of organising a birthday bash, or a celebration of any kind? Sgt Pepper will host your party for free on Mondays.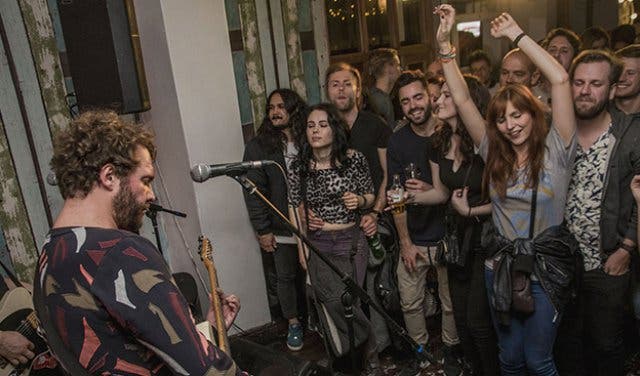 194 Long Street | Cape Town | +27(0)21 424 5608 | info@sgtpepperct.com
LIVE BANDS AND THE SEASONAL MENU ON THE DECK IN THE WINELANDS
A courtyard ringed by ancient oaks and 17th-century farm buildings. The deck strung with fairy lights and lanterns spilling out from the bistro loved by Franschhoek chefs. Live music outdoors and the delightful din of conversation. The vibe is electric, and the food is exceptional farm-to-table fare from the chef's speciality menu. Discover an entirely new winelands experience with live music Fridays at La Paris Bistro in Franschhoek.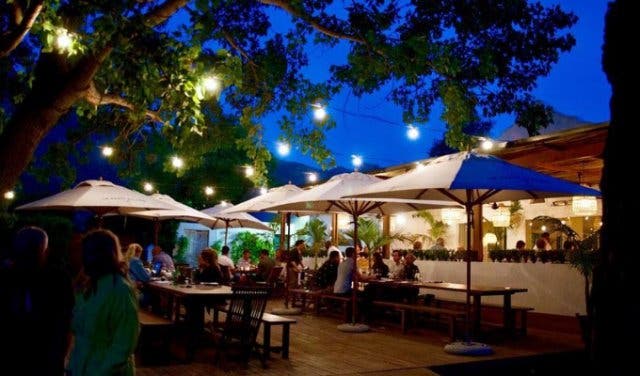 R301, Wemmershoek Road, Franschhoek | +27 (21) 8670171 | events@laparis.co.za
Dizzy's Camps Bay
This local legend not only serves as a consistently enjoyable watering hole, but is known for its vibey and live tunes on Friday nights. This hosting of up-and-coming local talent is the perfect way to set the tone for a fun-filled Cape Town weekend. Considered the Mother City's preeminent spot for a good time, Dizzy's won't disappoint so grab your friends and make your way down to this epic sea-side bar. This long-standing, local hangout is the laidback, grounded member of the Camps Bay family. The come-as-you-are pub is open all year round and welcomes casual types for incredible pizza specials, great drinks deals, vibey live music and a little bit of boogie on select nights. If you prefer being on the other side of the mic then their Tuesday karaoke nights are for you.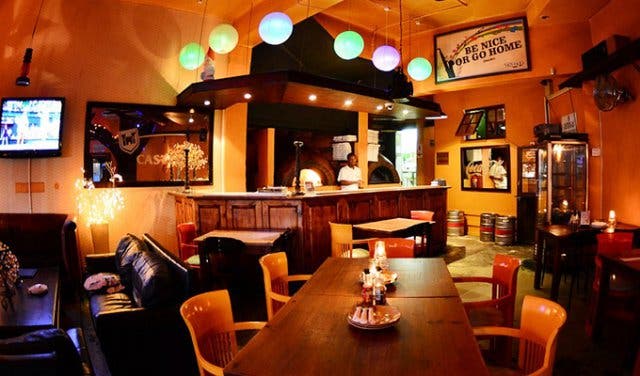 Dizzy's Camps Bay | 41 The Drive | Camps Bay | info@dizzys.co.za | +27 (0)21 438 2686
Aces 'n' Spades
This neighbourhood rock 'n roll bar is bursting with the coolest kids and chicest cliques in the Mother City. Aces 'n' Spades is the kind of joint where The Black Keys and Gary Clark Jr (had they been South African) got their start, a place that worships at the altar of Jimi Hendrix and plays the Rolling Stones' Satisfaction at closing time. The acoustics and size of the inner-city watering hole make it the perfect venue for intimate live music events. Every Friday, patrons are treated to a free performance by local bands. On Wednesdays, aspiring rockers and avid air guitarists can take to the stage for some karaoke. The red neon lights of Aces 'n' Spades, pinched between two buildings on Hout Street, will beckon you from Long Street. The irresistible drink specials will draw you in and the pulsating music will keep you coming back for more
To find the Friday Night Live lineup, visit the Aces 'n' Spades Facebook page.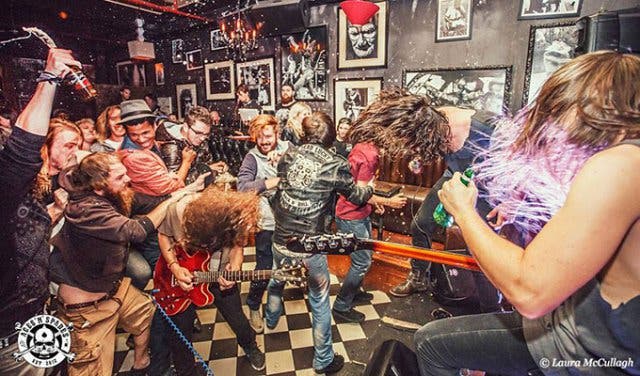 62 Hout Street | City Centre | Cape Town | +27 (0)21 424 1620
Cape Town City Hall
Built in 1905, the Edwardian-style Cape Town City Hall has since exchanged its role as home to government for a life spent hosting many of the city's finest arts and culture events. The honey-coloured building's grand and acoustically sound auditorium makes for a dazzling live music performance venue, and appropriately, the artists booked to play atop its stage are of the highest calibre. Thus, if the opportunity arises to catch what's likely to be a world-class act within this Mother City gem, go out of your way to attend. The best way to find out about events scheduled at the Cape Town City Hall is to keep your ear to the ground and, well, subscribe to the CapeTownMagazine.com newsletter.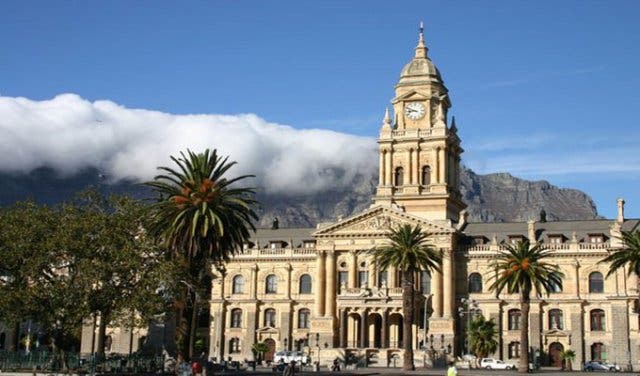 Darling Street | City Centre | Cape Town
"Kaapse Stories from the Mother City" at The Rockwell Theatre
On Tuesdays, Thursdays and Saturdays, Green Point's only dinner theatre regales both locals and those from farther afield with the musical revue Kaapse Stories from the Mother City. The performance, which uses well-known international and South African songs to illuminate the colourful history of Cape Town and her people, hinges on audience participation and comedic interludes. Aside from the supper stage entertainment though, The Rockwell Theatre is open every day of the week from 7pm to enjoy the glorious buffet spread the restaurant offers hungry diners. For the dinner theatre shows, guests should arrive by 7:30pm and booking is recommended if you want to avoid the disappointment of not getting a table. Tickets for Kaapse Stories is R480/p while children aged 12 and under pay half price and children under the age of five get in for free. Bookings can be made via Computicket.com, by calling the venue or via bookings@rockwelldinnertheatre.co.za.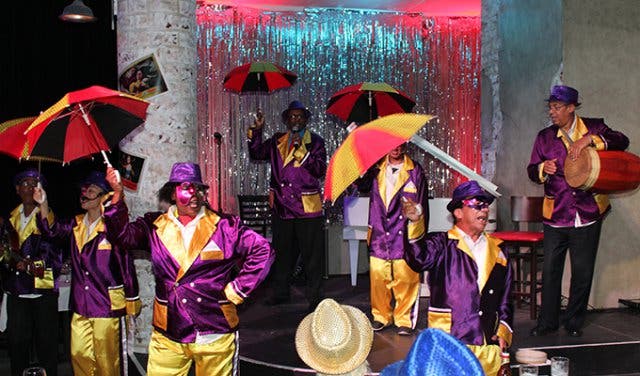 32 Prestwich Street | Green Point | Cape Town | + 27 (0)76 144 4890
Sotano
This easy, breezy Mouille Point Mediterranean eatery treats visitors to a heady dose of The Rivertones, a Bob Marley tribute band, every Sunday from 3pm to 6pm. With a casual outdoor area that looks out onto a bustling greenway and the vast ocean beyond and a slightly more formal interior that comes complete with a fireplace, the restaurant beckons to those looking for a groovy sundowner session in either summer or winter. The laidback venue specialises in wine – it has nearly 80 reds and whites by the bottle and almost 40 by the glass – and is devoted to the concept of simple, fresh fare prepared well: think Spanish-style tapas, seafood-heavy mains and seasonal salads. The performance is free of charge when paired with the purchase of anything off the restaurant's food and drinks menu.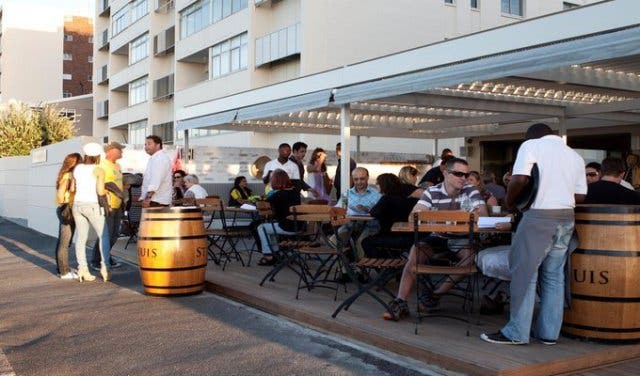 121 Beach Road | Mouille Point | Cape Town | +27 (0)21 433 1757
The Waiting Room
Slotted in above legendary local burger joint Royale Eatery, this retro, lounge-style venue is every bit as funky as its downstairs foodie sibling. A long-time Long Street haunt, The Waiting Room features live bands – mainly smaller acts and acoustic ensembles – on Tuesdays and Wednesdays in its main space, a fairly intimate area that claims comfy couches, cushions, wooden flooring and a patch of dance floor. Those who tire of sitting or crouching during a performance – this tends to be the vibe – can enjoy a dop on either the venue's large second-storey or rooftop balcony. Visit The Waiting Room's Facebook page to find out the week's line-up and associated cover charges.

273 Long Street | City Centre | Cape Town | +27 (0)21 422 4536
Stardust
Famed for its theatrical dining experience, the restaurant gives a stage to talented Mother City performers who tackle hits made famous by the likes of Etta James, Miriam Makeba and Adele. The charismatic and energetic entertainment (which often results in patrons dancing on tables) is complemented by a North African and Mediterranean-inspired menu and makes for a top-class dinner and show celebration. Performances start at 8pm every night and continue well past midnight. Bookings are essential, and it is possible to book for 180-200 guests, if you book far enough in advance. They are open Tuesday - Saturday, with the bar opening at 7pm and shows kicking off at 8pm.

118 Sir Lowry Road | Woodstock | Cape Town | +27 (0)21 462 7777
---
Local artists celebrate South African music at KDay.
Epic concerts on a luxury yacht at The Mirage Forever Summer Concerts.
Want to see a ghost riding a motorbike? Check out Hout Bay's Deus Ex Machina Homestead Of Perpetuity.
Check out First Thursdays at Frogitt & Vonkel. Check out the live music every Monday at Frogitt & Vonkel.

For live music, dancing and tapas, head to La Parada on Bree for Sunset Sounds. Start your weekend early at La Parada's Finery Thursdays. For a vibe, 2-for-1 specials and yummy tapas, check out La Parada on Bree Street.
First artist release for Cape Town Jazz Festival.

Come for dinner and listen to the Alvin Dyers Trio, or better yet bring your own instrument and jam with them at the Cape Town Comedy Club Jazz Jam Sessions.
Experience the city's hottest new live, local music venue – The Jagger Lounge.
Get SA food with an international flair at The 41 in Camps Bay. And they have live music every Thursday.
---
Use our events section for an up-to-date overview of what's happening in the city, 'burbs and dorpies. Join our newsletter and get quick access on the go by adding us to your mobile home screen for the ultimate guide to discoveries in Cape Town.

Follow and like us on Twitter ❤ Facebook ❤ LinkedIn ❤ Instagram ❤ Pinterest for updates.